Lena Katz View Profile

Sr. Travel Correspondent | JustLuxe
Touring World Famous Architecture Destinations
Aug. 10th, 2012 | Comments 1 | Make a Comment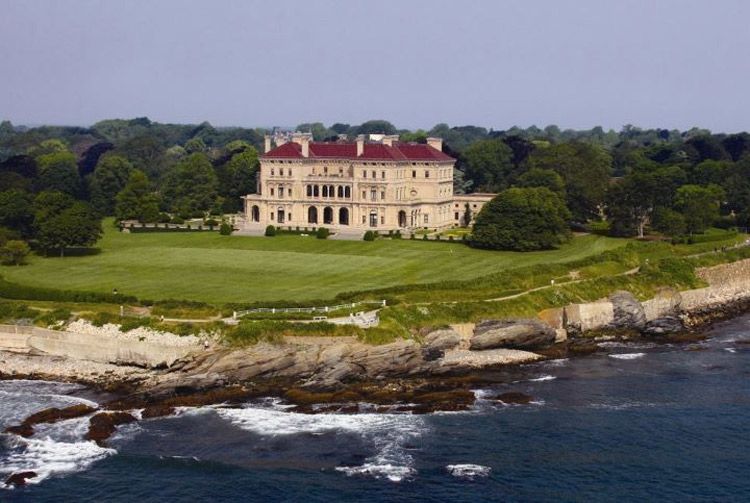 Photo Credit: Preservation Society of Newport County
One unsung bonus of travel is that it makes students of us all. Subjects like religion, world history and art—which many people snoozed through in school—become a thousand times more interesting when you're actually in the place that that the saints walked and the world-changing battles were fought.

And architecture, which links art with history and engineering, is one of people's favorite travel focuses. In places like Newport, Rhode Island, which is famous for its "Gilded Age" mansions, touring the former homes of Rockefellers and Doris Duke is practically a must-do. "Newport has long been synonymous with the legendary 'summer cottages' of the Gilded Age, so it comes as no surprise that tens of thousands of visitors make the mansions one of their first stops when visiting Newport," says Newport tourism professional Andrea McHugh.

A hundred years ago, these were private homes where only the wealthiest people were invited to visit, even for an afternoon. With 10 Newport Mansions now under the care of the Preservation Society of Newport County, they've effectively become monuments to the Gilded Age—open to anyone who can buy a viewing pass. (Photo credit: Preservation Society of Newport County)

In a similar niche but different geographical area, there are also the antebellum plantations of the Deep South—or for those who prefer to stick within a more condensed area, the historic downtown of Savannah, Georgia. Though the feeling is Gone with the Wind not Great Gatsby, the appeal of seeing how "the 1%" lived many generations ago is the same.

There is a sub-section of people serious enough about their architecture interests to seek out buildings by a specific architect, or visit neighborhoods rich in a certain style—the "students" who aren't going for a degree or a grade, but just seeking knowledge for knowledge's sake. These are the people who will travel to a place like Buffalo in upstate New York just to do the "All Wright All Day" Frank Lloyd Wright special. Or, on the West coast, they'll skip Palm Springs' many golf courses and spas, instead opting for a walking tour of the city's Midcentury Modern buildings. (Photo credit: Bernhard Wagner, fotoGraphix)

Enjoying the look of a place doesn't need to be a serious, note-taking sort of thing, though. Most of the time it's just a casual stroll, or a search for good photo ops. Santa Teresa, a charmingly Bohemian neighborhood of Rio de Janeiro, is known as much for its graffiti as its historic homes. "Its unique architecture, a mix of neo-Romantic, Art Deco, nouveau and modern, allows one to take journeys to long-forgotten times when nobles and artists from all over the Old World had their homes here," says local tour guide Gionia Belmonte.

Yes, many of those historic homes crumbled halfway to bits, then were restored as eclectic little arts retreats with studios in the back and graffiti depictions of the Rio soccer team on the neighboring walls. But this mish-mash of old and new, dirty and beautiful, is what defines Santa Teresa. It's a neighborhood where street murals by underground artists exist just blocks away from the Museu Chacara do Ceu, whose private collection includes artworks by Portinari, Picasso, Matisse and Dali. (Photo credit: Pedro Kirilos/Riotur)

In most of Europe's old city centers, wonderful architecture and historically significant buildings are at every turn. Travelers can stay in grand French chateaux, stately Scottish castles, or former convents in the hillside of Portugal. One of the great cities for this sort of immersion is Venice—not only because of its buildings, but also because the canals. Without the noise of traffic in one's ears, it's suddenly easier to stop and enjoy the sights.

Or lately, smell the roses. In an inspired bid to improve the "historic palace stay" experience, Venetian hotelier Francesca Bortolotto Possati recently enhanced two of her properties (one a former 16th century palace, and one an abandoned 16th century convent converted to a luxury hotel) by developing a 3-acre garden in the formerly unused land between them. From the front, her Palladio Hotel & Spa looks like one more grand and forbidding historic edifice. (Photo credit: Bauer Hotels)

But behind the façade, there's a wonderland of colorful blooms, splashing fountains and meandering stone pathways. Guests can often be seen at sunset around the gardens, doing a little horticulture appreciation along with their architecture touring. Or, in other words, drinking an aperitivo before dinner, taking in the view, and smelling the flowers. (Photo credit: Palladio Hotel & Spa)
You might like :
Luxury Tours in Europe
Featured Luxury Hotels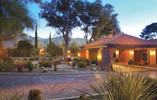 Tucson, United States
Canyon Ranch in Tucson
Enjoy endless healthy pleasures at Canyon Ranch in Tucson, the world's premier...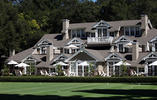 Napa Valley, United States
Meadowood Napa Valley
Located in a beautiful, two hundred-fifty acre valley, Meadowood Napa Valley is...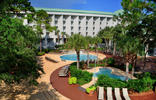 Hilton Head, United States
The Westin Hilton Head Island Resort & Spa
Nestled amid lush landscaping along a pristine stretch of white-sand beach, The...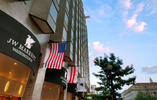 Washington, United States
JW Marriott Washington, DC
The JW Marriott Washington, DC is a luxury downtown Washington, DC hotel...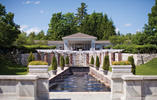 Lenox, United States
Canyon Ranch in Lenox
The unhurried tempo of New England meets the energizing atmosphere of...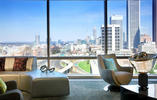 Atlanta, United States
W Atlanta - Downtown
Contemporary sophistication is all yours at this savvy southern W Atlanta...