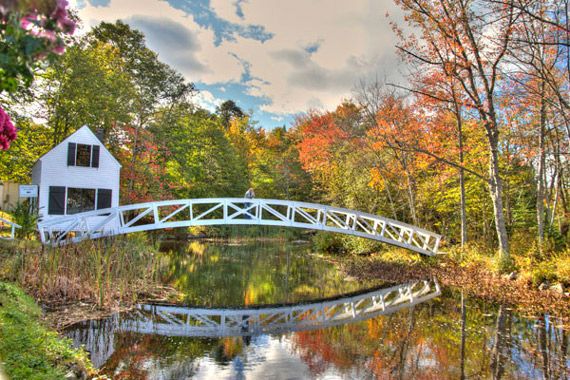 Photo Courtesy of MaineFoliage.com
We know summer isn't officially over just yet, but what's the harm in looking ahead to some great
fall travel destinations
? Besides the crisp weather and wardrobe change, a tale-tell sign that autumn has arrived is the colorful conversion of the leaves around us—from vibrant yellow and orange to deep red and brown.
It might not seem like the most glamorous vacation you can take this season, but a relaxing drive to appreciate the simple pleasures of nature can be just as fun, fabulous and family friendly. Here are a few places around the U.S. to consider for your next
leaf-peeping trip
.
Tennessee and North Carolina
As the most visited state park in the U.S., the Great Smoky Mountains National Park attracts nature lovers throughout the year, but fall is a great time to make the trip. The leaf season varies year to year in the mountains nestled between Tennessee and North Carolina, with the elevation being the main factor in the timing. As quickly as mid-September, trees at the highest elevations like the American beech, pin cherry and yellow birch, start their metamorphosis.
Early to mid-October is the time to see the new colors of heights above 4,000 feet, with scenic drives through Clingmans Dome or the Foothills Parkway being the best routes. To see the display of rich reds, oranges and yellows stretch down to the lower elevations, mid-October to early November is your best bet. This is when the sugar maples, scarlet oaks and sweetgums really show off their brilliant hues. Attributing to this natural color wheel is the fact that there are over 100 different species of trees in Great Smoky Mountains National Park, each offering their unique shades throughout the season. (
Photos courtesy of NPS
)
Maine
It wouldn't be a leaf peeping excursion without going to New England, but instead of sticking around Connecticut or upstate New York, we suggest heading all the way up to Maine. While most any region in the state will offer opportunities to see those beautifully changing colors, Eastern Maine (mid-coast and downeast) will not disappoint.
Depending on the coastal route you take, you can hit Damariscotta State Park, Acadia National Park, or Quoddy Head State Park, any of which will feature water views, wildlife and lighthouses. MaineFoliage.com is a great resource for tours and peak week guides for whichever area you find yourself in. For the Eastern Maine/coastal tours, make sure to get there at the peak of the season during the second week of October. (
Photos courtesy of MaineFoliage.com
)
Oregon
For a chance to see a variety of scenic wonders including waterfalls, architecture and of course, boldly colored leaves, a drive along Columbia River Highway is the way to go. The 70-mile road follows the Columbia River in Northern Oregon and can take anywhere from three to five hours to drive the entire length. Many visitors stop along the way to hike, bike, kayak or white-water raft to get a different perspective of the lush trees including cottonwood, Oregon ash, big-leaf maple and twisted pines. (
Photo courtesy of Travel Oregon
)
A drive along the Highway isn't the only way to leaf-peep, however. National parks with vast stretches of hiking trails can be found all over the state. From downtown Portland, you can travel to the Hoyt Arboretum either by foot, train, car or bicycle. What's cool about this park is that it's actually a "living laboratory" for students and scientists to study the plant and tree life that have come to Oregon from around the world. Spanning over 187 acres with 21 trails over 12 miles, you can see more than 1,000 different species that are organized by their type and geography. Using seeds from these trees to be replanted in their natural environments where they may be endangered or demolished, is just one of the many focuses and goals of the Arboretum. (
Photo courtesy of Hoyt Arboretum
)
Colorado
Colorado is another great destination to revel in the natural wonders of fall. With 25 Scenic and Historic byways cutting through the mountains and bright foliage, it's easy to hop on one and cruise around the colorful, curvy roads. West Elk Loop is one such byway cutting through the cities of Gunnison, Crested Butte and Carbondale, as well as mining communities and national forests showcasing stunning rivers, meadows and canyons. Getting through this 205-mile stretch will take about 8-10 hours, so most make a two to three-day encursion out of it, stopping along the way to visit museums, antique shops and farms.
The Top of the Rockies Byway, in the Northwest region of Colorado, was designated a National Scenic Byway in 1998, as one of only 53 in the U.S. Wedged between two ski resorts, this 82-mile road lingers above 9,000 feet nearly the entire time on its way from Copper Mountain to Aspen. As you follow the winding Arkansas River, you'll pass the Continental Divide, old mining towns and the staggering 14,433-foot Mount Elbert. Besides all the leaf peeping you'll be doing, look out for indigenous wildlife like the big horned sheep, red tail fox, elk, mountain goats and deer. (
Photos courtesy of Colorado Tourism
)