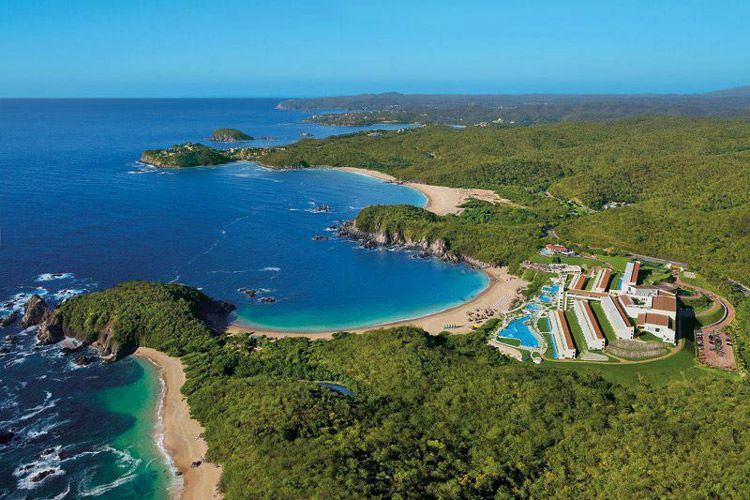 Photo Courtesy of Secrets Huatulco Resort & Spa
What happens when you want to immerse yourself in the culture and cuisine of your
luxury vacation
locale and your companions want to soak up the sun? Head for Huatulco where everyone will be happy. Located on the Pacific coast of Mexico, in the state of Oaxaca, Huatulco's tourism is centered on its nine bays where the foothills of the Sierra Madre del Sur Mountains meet the Pacific Ocean providing a stunning vista.
Huatulco is one of Mexico's most recent tourism enclaves. It is a pristine area where nature and development intelligently coexist and complement each other. In fact, it was the first sustainable tourist community in the Americas, the only one in Mexico, and the third worldwide to date that was awarded the Green Globe International Certification for this achievement.
Although accommodations and activities are varied and plentiful throughout the area, you can't beat the all-inclusive for a carefree vacation. Forget about the real world with all its hassles. Allow yourself to relax and be pampered with every possible indulgence right on your doorstep.
The newest, poshest, adults-only resort is Secrets Huatulco Resort & Spa. The stunning, contemporary buildings are nestled within a secluded bay, offering privacy and exclusivity to its guests who are welcomed home every time they enter the cool, spacious, hip lobby with opened vistas to the sea.
This Unlimited-Luxury® resort boasts all ocean front suites, 24-hour room service, unlimited premium brand beverages, gourmet dining options, a full schedule of activities, nightly entertainment, pool and beach wait service and complimentary access to facilities, restaurants and bars on property as well as at nearby Dreams Huatulco Resort & Spa which caters to families.
You might start your day with a walk on the secluded beach or a morning plunge into the warm bay or sparkling pools. Consider some of the endless activities from archery to zumba or just make your way to the Marketplace where an endless array of breakfast items awaits. Take an excursion or find your own special place on the sand until lunch when your only decision is whether to dine poolside, near the swim up bar, or on the hill overlooking the coast where Castaways Restaurant will tempt you with modern interpretations of Mexican fare.
Lazy afternoons melt into happy hours with pre-dinner movies and music. Nightly live performances, live music, lively karaoke and dancing the night away all follow a luxurious meal at one of several specialty restaurants offering Mexican, Italian, French, Asian, steak and seafood options designed to satisfy and delight the palate. As bedtime approaches, sweet dreams of another day at Secrets Huatulco Resort & Spa bid you a good night.
Difficult as it may be to even consider leaving this coveted cove, there are many delights to experience in the surrounding area. Just beyond Secrets, guests can explore the recently discovered archeological site, Copalita Eco-Archeological Park and the world-class Tangolunda Golf Course.
Excursions to the nearby towns of Santa Cruz and La Crucecita allow guests to mingle with the locals and visit producers of mezcal, textiles, and coffee. A boat tour of the surrounding bays includes snorkeling in the warm, turquoise sea and dining surfside with the freshest seafood imaginable on offer. If the Sierra Madre Mountains call, take a trip to the waterfalls, and coffee plantations.

Since there may be no better or more pleasurable way to understand a culture than through its food, book a cooking class called Chiles and Chocolate at Cafe Juanita in Santa Cruz. Through demonstration, hands on practice, tasting and the masterful teaching technique of Chef Alfredo, you will come to understand and appreciate the history, creativity and dedication that make the Oaxacan cuisine with its moles, salsas, tortillas, sopes and tlayudas renowned for its richness, refinement and depth of flavor.