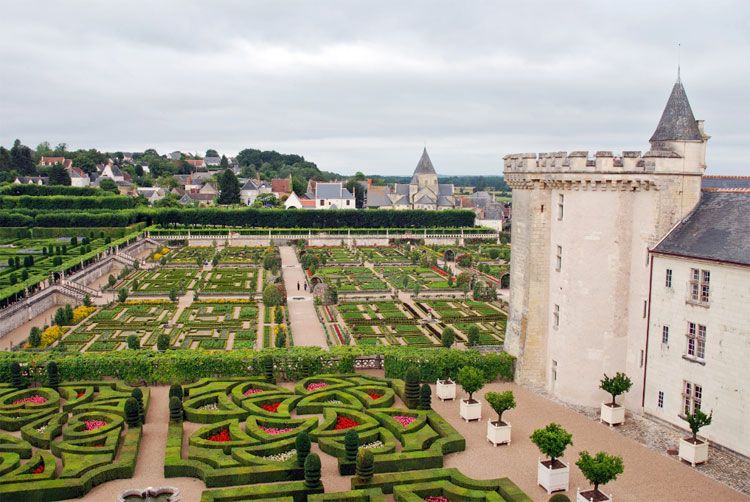 Photo Courtesy of ThinkStock
Although often overlooked in favor of France's more prominent wine regions like Burgundy and Bordeaux, the Loire Valley is fast gaining worldwide recognition for world-class wines and varietals; Chenin Blanc and Cabernet Franc are attracting devoted followers around the world. Once the playground of the French monarchy, the area boasts imposing chateaux and quaint villages tucked among the rolling hills. Only a quick train ride from
Paris
, the region is a great place for a quick daytrip from the City of Lights or a leisurely jaunt in its own right. 
Make the medieval city of Tours, named for its famous towers, your hub since it sits within easy distance some of the region's most famous wine appellations including Chinon and Vouvray. The fast TGV train from Paris' Gare de Montparnasse takes just over an hour and costs approximately $60 each way.
L'Hotel
Just a five-minute taxi ride from Tours' main rail station, the
Suites Beranger
is a tiny luxury inn housed in a former mansion originally built in 1860. It has been beautifully restored by its current owners, who also act as hosts, along with a small staff. They take care of everything from making sure the complimentary high-speed WiFi is working and your room is stocked with Hermes Orange Verte products, to taking your breakfast order in the intimate
salle à manger
in the morning.
The hotel has three rooms and two suites, including a separate family-friendly cottage that is located in the former carriage house across the garden from the main house. The guest rooms in the main house are named after teas, including the Caramel Room which is one of the larger spaces at 350 square feet. It has a king-size bed, a work desk and minibar, a small sitting area with two armchairs and huge windows overlooking the garden, whose grassy lawn is adorned with contemporary sculptural pieces.
Rates include a full breakfast each day, and the other little touches that make this experience truly luxe include full walk-in showers in the rooms, individual air conditioning controls, a handy little elevator, soundproofing and cable television in every room—all of which make the classic touches like hardwood floors, crown-molded ceilings and floor-to-ceiling windows even more enjoyable. (
Photos courtesy of Suites Beranger
)
Tour Tours
Most folks come to the Loire on tourist-filled buses to see the region's famous chateaux; but the university town of Tours itself is a cultural gem with a medieval city center of charmingly crooked lanes named after trees and the guilds whose artisans once occupied them, ancient buildings and cafes filled with local students.
Just off the old city center and a few minutes' walk from the Beranger, visitors can take cooking classes at a beautiful little restaurant called
Rive Gauche
. Or have a full degustation menu that might include courses such as roasted scallops with watercress puree and Mediterranean tapenade; or Dombes duck filet stuffed with prunes and accompanied by seasonal vegetables and mead jus, all set in a swanky dining room lined with bookshelves. (
Photo courtesy of Rive Gauche
)
On the more casual side, Casse Cailloux is tucked away on an unassuming little city street and serves a different three-course prix-fixe menu every night. Courses might include delicacies like fresh-picked spring asparagus with crème fraiche and balsamic, and onglet de boeuf in red wine reduction with spring potatoes.
Work off the filling cuisine with a stroll around the parklands of the
Domaine de Candé
, a palatial country manor where Edward VII married Wallis Simpson in 1937. You can still see a display of the wedding dinner setting, tour the private chambers, and time your visit to attend various country fairs and other special events. (
Photo courtesy of Domaine de Candé
)
Chateaux et Caves
Don't spend all your time in town, though, when there is so much else to be seen—medieval and Renaissance chateaux that once played host to the kings of France, and tiny artisanal wineries producing some world-class vintages that are fast gaining a worldwide audience in regions like Sancerre and Chinon.
Forty-five minutes west of Tours, through some of the most beautiful forestlands in France, is the chateau of Chinon, where Joan of Arc first met the Dauphin, and which also produces the world's most prominent Cabernet Franc-based wines. Try the biodynamic wines of
Domaine Fabrice Gasnier
to get an idea of the region's benchmarks and learn more about the terroir specific to this particular region. (
Photo courtesy of Domaine Fabrice Gasnier
)

In the other direction from Tours and across the river, you come to Vouvray, where you can taste Chenin Blanc-based wines that range from crisp and dry to fruity and effervescent at producers such as
Vigneau Chevreau
. Head even farther west to the chateau town of Amboise to try the regional range of wines at Paul Buisse, a merchant that sells wines from all over the Loire where you can also visit a hidden wine chapel tunneled into the bedrock.
Whether it's a quick daytrip for wine tasting, or a weeklong adventure visiting chateaux and cellars, the Loire Valley is one of France's not-to-miss destinations for foodies and history aficionados alike.