The Evolution of Argentina's Mendoza Wine Country
For many years now, one wine has become practically synonymous with Argentina: Malbec. This hardy red varietal has garnered fans across the globe thanks to its popular fruit-forward, robust qualities and affordable price point. Argentina's wine industry has ridden its popularity to worldwide acclaim for about two decades.
However, the country's wine industry has continued to evolve dramatically since then, especially in Argentina's primary wine region of Mendoza. A cadre of dynamic young winemakers are actively exploring the area's various terroirs and making distinctive new wines from them. Visitors can taste at any number of gleaming, palatial wineries and intimate luxury wine lodges, many of which have sprung up only in the last decade or so. Much like Napa or Sonoma on the cusp of becoming their present-day incarnations, Mendoza is poised to become the next international luxury wine destination.
The wine districts here, all of which are encompassed in the name Mendoza, include Maipu close to the city, Lujan de Cuyo just a bit farther out and including sub-appellations like Agrelo and Perdriel where some of the area's most prized Malbecs vines are. Then about two hours south of the city lies the Uco Valley, which is fast gaining international attention thanks to the sophisticated and elegant wines being produced there, which has attracted massive international investments.
Not only that, but travelers have more options than ever for accommodations, ranging from budget to ultra-luxury, whether they choose to stay in the city or out in the vineyards. What was once the province of backpackers stopping through to get in some cheap wine tasting between hiking and white-water rafting excursions has become a top-shelf wine destination in its own right.
Although the Park Hyatt Mendoza has dominated the city's central Plaza de Independencia for over a decade now, it has recently been joined by a Sheraton (2008) and an InterContinental (2011) for brand-conscious international travelers. There are also charming boutique options like the Villaggio in the heart of town and the Bohemia Hotel Boutique, a contemporary hidden gem a few blocks from the Plaza. It is out in the vineyards, however, that more and more travelers are choosing to stay, and for good reason. Dozens of boutique hotels and vineyard inns have opened, many on the luxury side of the spectrum, and many offering easy, direct access to wineries.
Spearheading the trend, Cavas Wine Lodge (pictured above) opened its doors in 2005 and was one of the first Relais & Chateaux properties in South America. Cavas is situated on a private road amidst its own vineyard in Lujan de Cuyo, neighboring some of Mendoza's most outstanding wineries. It has just 18 freestanding villas (with plans for more soon) that start at nearly 1,000 square feet of indoor and outdoor living space and boast outdoor patios with private plunge pools, wood-burning fireplaces in the room and on their rooftop patios, beds dressed in Egyptian cotton, as well as a spa-style bathroom with a deep soaking tub.
Martin Rigal, who opened the lodge along with his wife Cecilia Diaz Chuit, discusses the process of opening Cavas. "There was nothing at all like this in Mendoza, but we found this vineyard and because of Cecilia's background in hospitality and a clear vision of what we hoped to do, we knew we could open a luxury hotel at this level." That vision proved to be true. Soon the lodge attracted international attention from major press outlets, joined the Relais & Chateaux family, and has since been setting the standard for luxury in the area.
That is thanks to unique amenities such as private guest wine tastings and harvest experiences, not to mention the intimate spa's vinotherapie treatment, complete with a soak in Bonarda wine to invigorate the circulation and rejuvenate the skin. Equally impressive is the hotel's fine dining restaurant where guests gather each evening for meals prepared by Chef Martin Dolz. A spread might include a tasting menu of dishes such as confit suckling pig with blood sausage cream and apple compot in a torrontes wine sauce; or salmon and shrimp crudo with avocado cream and lemon air.
Cavas' success spawned a veritable trend here, and now visitors have a full roster of vineyard hotels and spas to choose from including Entre Cielos and the more rustic-chic six-chalet El Aguamiel. About a 30-minute drive from Mendoza, Club Tapiz is nestled among vineyards with stunning mountain views and is part of the enormous Tapiz winery (they also produce El Zolo) that was once owned by Kendall Jackson but has since changed hands.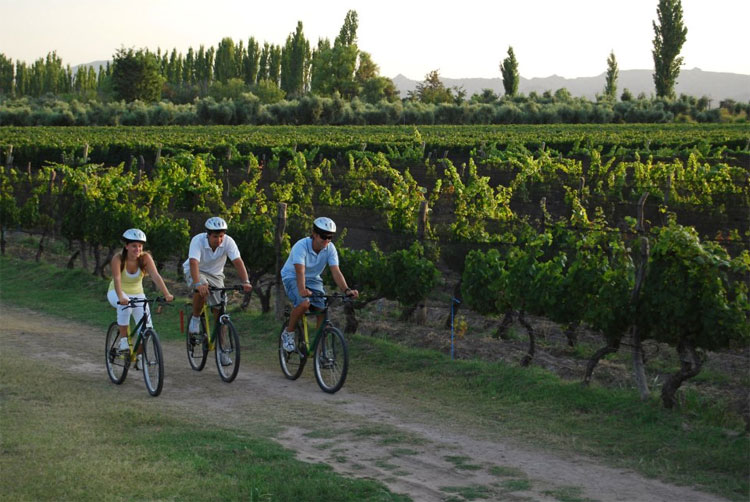 For those venturing to the wineries farther afield to the Uco Valley, Posada Salentein is the place to stay. Set far back in the vineyards of the winery with which it shares its name, backing right up onto the Andean foothills, this little inn is a hidden treasure with contemporarily decorated rooms, enormous bathrooms stocked with bespoke wine country products, and a little parrilla, or grill, serving up a sizzling array of meaty specialties for guests each night. Guests can walk or bike down the tree-lined rocky road from the inn to the dramatic winery.
Even more interesting than the developments in tourism infrastructure, however, is how Mendoza's wine culture has developed over the past decade or so. Once upon a time, you would find low- to mid-range bottles of Malbec with perhaps a few Cabernets and Merlots thrown in, and the odd bottle of Argentina's other national red grape, the spicy, fleshy Bonarda. Nowadays, however, winemakers are becoming bolder than ever when not only blending Malbecs from the areas various sub-regions, but also in terms of exploring the permutations of other varieties here, such as Cabernet Sauvignon, and how they are distinct from those produced in other parts of the world.
A good place to start is the sprawling Familia Zuccardi winery in Maipu. A veritable legend in Argentine winemaking, the winery was founded in 1963 by a civil engineer named Alberto "Tito" Zuccardi who applied the skills of his craft to winemaking infrastructure, equipment and water needs. Since his time in the mid-20th century, two subsequent generations of winemakers have undertaken to grow the estate. Now the winery produces everything from supermarket wines to single-block, vineyard-specific vintage wines at what can best be described as several wineries within the winery.
Visitors can stop at the Mondavi-esque winery for a guided tour of the facilities and perhaps a leisurely lunch in one of the two restaurants on the grounds (where you can also sample the olive oils they produce). Settle in for a tasting that will hopefully include some of their single-vineyard offerings like the Aluvional La Consulta (with luscious dark berry and wildflower flavors) or El Peral Tupungato Malbecs (finer tannins and more delicate fruit), which third-generation winemaker Sebastian Zuccardi describes as wines that "tell you about the place they come from, not just the grape—making these wines is about finding a unique place and expressing all it has to offer."
On the other end of the spectrum is one of the most well-respected names in Argentine wines, Vina Cobos. It's a boutique winery with an outsize reputation due to the involvement of international wine consultant and co-owner Paul Hobbs. Hobbs was one of the first foreigners to see the potential in Argentina's wine industry on an international level and his influence on the industry's development here cannot be underestimated—both because he helped raise expectations of the quality of wine Argentina could produce as well as signaling the start of more and more international wine industry interest in the country.
Hobbs partnered with Andrea Marchiori (whose father is also a distinguished winegrower) and her husband, Luis Barraud, to create ultra-premium, vineyard-designate wines that exemplify their terroir. The Bramare Appellation and Vineyard Designate Malbecs from Lujan de Cuyo, and especially those from the Marchiori Vineyard, are complex and spicy with some flinty notes as well as some coffee and caramel from the new French oak barrels in which they are aged. On the more affordable and immediately drinkable side, the Felino line of wines including Chardonnay, Malbec and Cabernet are blends from all over the Mendoza region and represent an overall snapshot of the characteristics wines from here take on.
By contrast, a two-hour drive to the hinterlands of the Uco Valley—where winemakers are fully exploring a variety of different terroirs in this vast appellations various sub-regions—visitors can enter the enormous private domain of Clos de los Siete, a multi-million dollar investment by some of France's most illustrious wineries including Malartic-Lagraviere and Chateau Leoville-Poyferre, all overseen by world-renowned wine consultant Michel Rolland, who also has a winery on the massive property. The project's flagship wine, to which all these wineries contribute some of their production, is the eponymous Clos de los Siete red, which is a mix of Malbec, Merlot, Syrah, Cabernet Sauvignon and sometimes a little Petit Verdot depending on the year.
The wine exemplifies one of the new directions in which Argentina is moving: producing wines that are in the mid rather than low-price range that exhibit the same high qualities as top-tier products from other markets and that are incorporating varietals traditionally found elsewhere, but that are here being used both to temper and enhance the Malbec that still makes up the majority of production. Not only that, but although there are several wineries all on the same property and cooperate on several levels, each is producing a line (or lines) of its own wines under its own staff and direction. This is a completely new model for Argentina and one that allows them to work together while still being able to create individual identities for their wineries and produce distinct wine lists.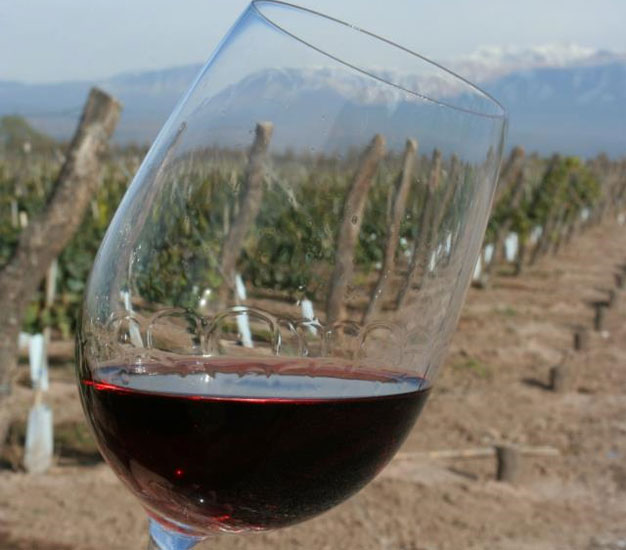 On these, you're likely to see some interesting varietals you would not have found before in Argentina, such as Viognier, as well as new interpretations of previously overlooked ones such as Cabernet Sauvignon, which here takes on interesting characteristics of green notes, peppers and red fruits that you won't typically find in Cabernets from other parts of the world.
With all the recent interest in Argentine wines, it's no wonder that the country's wine industry, and the region of Mendoza in particular, has developed so much in so short a time, both in terms of the wine being produced and the ways in which visitors can experience it. What was once an offbeat wine tasting stop on larger South American itineraries is fast becoming an international jetset destination in its own right, and one which any wine lover should be sure to visit.