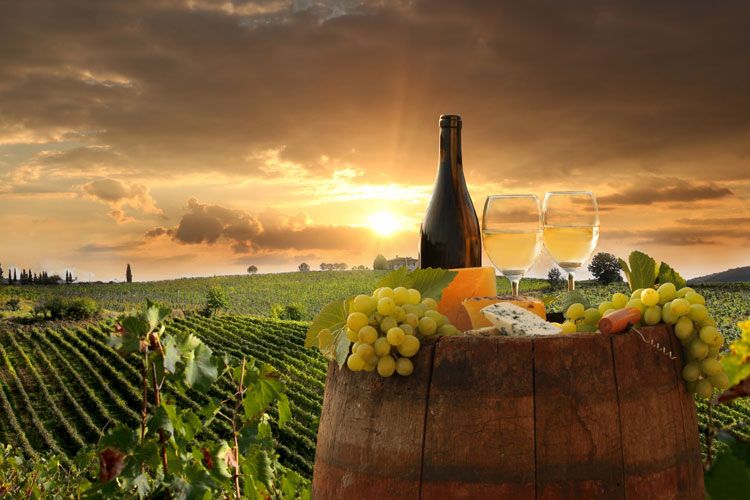 Photo Courtesy of Shutterstock
Wine tours are a quintessential part of traveling through Europe, as its regions hold some of the most famous vineyards, brands and family-run wineries in the world. If you're a frequent traveler to The Old World you may be looking for something a little different this next time around. Like you, we were itching for that extra twist that made a tour stand out among the rest. Below is a compilation of some of Europe's unique wine experiences.
Photo Courtesy of Shutterstock
Become a Winemaker in Médoc, France
France's wine country is rich with a number of varietals and the little town of Médoc is no different. In the 1600's, Dutch engineers arrived to begin draining the marshes in this area for viticulture. As the years went by, aristocrats, tycoons and large estates began to take over the land and began farming vineyards. Today the region is filled with labels like Margaux, St Julien, Pauillac, St Estéphe and Haut-Médoc.
Cellar Tours
offers a customizable wine tour of Médoc with a variety of one-day tours. While the tours vary according to your preferences, a sample itinerary gives a good idea of what to expect during the day. First, be chauffeured around in a Mercedes and visit cru classé wine estates in the region before heading off to vertical tasting of Margaux wines. Two hours later lunch will be served which includes a chef's taster menu and wine pairings at a Michelin starred restaurant. After the tasting, it's time to get more hands-on with your grapes during a
wine blending master class
in St Julien. During the private class at the Château Lagrange winery you will learn how winemakers select their percentage of vinified single varietal wines for their blends. Then it's time to
make your own!
After finishing your product, you'll get to savor your blend. Maybe next time, visitors will be stopping into YOUR winery.
Photo Courtesy of Il Borro
Fashion and Wine in Tuscany, Italy
Tuscany Travel Experts
know that good fashion and good wine fit amazingly well together, even if it means drinking a nice wine after a day of shopping. On their full-day wine tour guests will get to experience a little bit of both. Begin your day in Tuscany by
shopping at the Prada outlet
for your favorite styles and accessories. Then explore the area for your perfect lunch spot (not included) before visiting Il Borro winery. Any fashionista may enjoy knowing that the owners of this world-famous winery are none other than the Salvatore Ferragamo family. Afterwards, head over to the I Selvatici winery, hailed by Wine Spectator Magazine for its Super Tuscan and Vin Santo wines. Of course you should dress accordingly; you never know who you may run into on this fashion-centered journey.
Photo Courtesy of Shore Trips
From a Bird's Eye View in Portugal
For a really cool experience, instead of having a private chauffeur drive you around, how about enlisting a pilot to take you to each winery? Picked up at the cruise ship pier in Portugal,
Shore Trips
will send a car to take you to the helipad at the Lisbon International Airport where you will
head off by helicopter
to the Alentejo region. Prior to arriving to the Herdade do Esporão, one of the most emblematic wineries in Portugal, you will pass through medieval villages and lush landscapes. Sip on wines and enjoy the views until lunch where you will be hosted at the estate restaurant.

Guests will have the chance to taste the local olive oils and cheese paired with the wines (cheese pairings are always a great idea in our book). Next you'll be off again and headed towards Igrejinha to the Coelheiros Wine Estate. While in the air, take notice of the beautifully colored landscapes and small white village below. Produced in very small quantities, the exclusive wines by Tapada dos Coelheiros will be the served, full of scents from Alentejo fruits and herbs. Finally, your day will end with a flight back to the Lisbon helipad.
Photo Courtesy of Cellar Tours
Portugal is for Lovers Too!
Honeymooners, Portugal has just the tour for you provided by
Cellar Tours
. On this romantic excursion, you'll fall in love with not only the city filled with untouched villages and landscapes, but also the exquisite wines of the country. Travel through lush vineyards with your new husband or wife from the Douro Valley to the fishing villages of the Algarve. To make your day even better, the team of organizers will plan special experiences for you throughout the afternoon.
Chauffeured via Mercedes, you'll set out on an adventure of meeting locals, Portuguese aristocrats, knowledgeable winemakers and talented chefs. This eleven day journey takes you through Lisbon, Cascais, Sintra, Óbidos, Porto and Algarve. Included in the package are accommodations for ten nights in five-star hotels, ten full breakfasts, seven lunches and tastings including a meal at a four-star rated Michelin restaurant and two exceptional dinners. Aside from the hotel and meals, you and your loved one will be treated to a
massage and spa circuit
in Lisbon and an exclusive
horse-drawn carriage ride
in Portugal's nature reserve. Take to the sea on a private boat tour of Algarve Coast and learn about Lisbon's art culture on your guided walking tour; this plus a number of complimentary wines are all part of the Honeymoon package.
Photo Courtesy of Hidden Trails
Spanish Vineyards by Horseback
Nature enthusiasts will enjoy our next tour. Presented by
Hidden Trails
, the company specializes in outdoor adventures, one being a
horseback riding experience
through Spain's Ribera del Duero's vineyards. Since the 1990's, the region has been known for producing some of the country's finest wines on its 28 acres of land. Home to over 180 vineyards and over 8,000 wines, riders will get to explore this bountiful landscape while enjoying a number of tastings.
Throughout the eight-day adventure, guests will get to venture through Hoces del Rio Duraton (which boasts great archaeological and historical sites), visit vineyards in Ribera del Duero, tour through wine museums and stop along the way to view some of Spain's oldest castles and abbeys. Along the way you'll also get to enjoy the region's best cuisine like juicy lamb roasts and full flavored sheep cheese. To make things a little easier, you'll only have to move hotels every second day so you won't be packing each morning.
Photo Courtesy of Cellar Tours
How you want to explore Europe's wine regions is up to you, and based on the above suggestions, you've got options. Become a winemaker in Italy, easy enough; take to the air before sipping on full-bodied reds, we love it; or simply fall deeper in love with
wine
your best friend in Portugal. Wine, the European countryside and tasty foods, sounds like a plan we will happily cheers to.