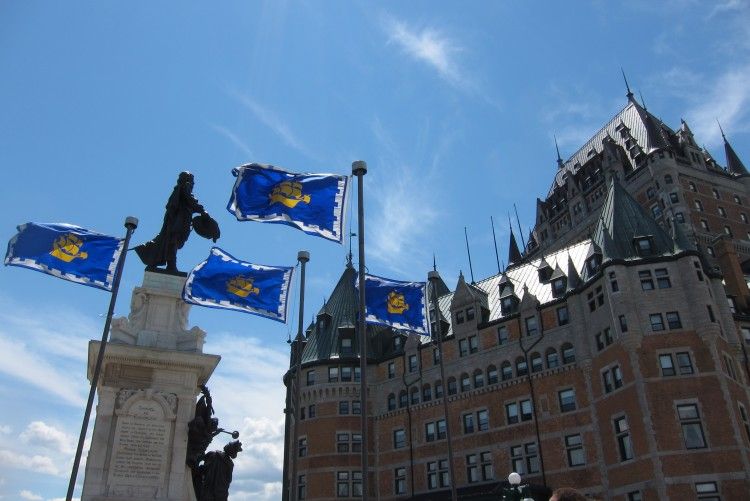 Photo Credit: Cynthia Dial
Close your eyes and imagine winding cobblestone streets, a collection of world-class museums, sidewalk cafes serving crepes and croissants and French spoken everywhere. If your imagination takes you to Paris, you would be wrong.

Welcome to Québec City, Canada. Showcasing an Old Town behind fortification walls and buildings spanning four centuries (17th-20th) — all from a dramatic cliff-top location overlooking the St. Lawrence River — every corner unveils a piece of the past. It's these historical credentials that explain its unique stature as North America's first urban ensemble and a UNESCO World Heritage Site.
Photo Credit: Cynthia Dial

Beginning as a fur trading post in the early 1600s, the history of Québec City is saturated with well-known figures, from its founder French explorer Samuel de Champlain to France's Louis XIV, who transformed the modest outpost into a North American French provincial capital. Coupled with its on-again, off-again connection to the British Empire (all battlefield-determined), today's city is a beckoning mix of British and French, with 95 percent of its 632,000 population speaking French. Let's explore the "Paris" of North America, starting in Old Québec's Upper Town, follow me.
Photo Courtesy of Fairmont Le Château Frontenac
Fairmont Le Château Frontenac

Fairmont Le Château Frontenac, called simply The Château by locals, this is the city's centerpiece and the nation's icon. Sitting at its highest vantage atop Cap-aux-Diamants, the soaring copper-roofed château-inspired structure was constructed in the 1890s. It was the crown jewel of Canada's grand railway hotels, including the Banff Springs and The Empress. Reportedly the world's most photographed hotel, a step inside this Fairmont landmark underscores its exclusivity: walls of inlaid tapestries, fireplaces of Vienna marble and a staircase derived from the Petit Trianon (the residence of Madame de Pompadour).

Serving as a much-loved gathering place for Québec's citizens, visitors should follow their lead and visit Château Frontenac for Afternoon Tea (Thursday-Saturday). Or enjoy evening cocktails in its intimate, dark-wood Bar & Lounge where among its famous martinis are the Winston Churchill, the F.D. Roosevelt and the Maurice Duplessis (named after three of the Château's most illustrious guests).
Photo Courtesy of Fairmont Le Château Frontenac
Dufferin Terrace

Only steps outside the hotel's doors is a wide, wooden boardwalk which provides a stroll along the city's most prime of properties. At its beginning is Paul Chevré's statue of the founding father, the Champlain Monument, whose base is from the same stone as Paris' Arc de Triomphe. Offering a 180-degree lookout, the setting provides everything like tour guides sharing the city's colorful history, street musicians playing favorite tunes, couples walking arm-in-arm and playful school children climbing its collection of cannons. My tip: Grab a coveted bench seat and enjoy all of the above.
Governors' Garden

Adjacent to Château Frontenac, this quiet green space within the city's busy bustle originally served as Governor Charles Hault de Montmagny's private walled garden in the 1640s; today it belongs to the public.
Photo Credit: Cynthia Dial
Maison Jacquet

Constructed in 1675 the distinctive red-and-white structure is Québec City's oldest house. Located at 34 Rue Saint-Louis, it is the current home to Restaurant Aux Anciens Canadiens; so if your timing concurs with hunger pangs, the eatery may be a worthy stop.
Ursuline Convent

Having opened its doors in 1639 the convent is one of Québec's oldest institutions. It remains an establishment that continues in the educational role for which it was first founded, a girls' school. My tip: Visit the convent museum to view the fine silk, silver and gold thread embroidery work of the Ursuline nuns.
Photo Credit: Cynthia Dial
Cathedral of Holy Trinity

Constructed in the early 1800s as the first Anglican Cathedral to be built outside the British Isles, the church provides this traditionally French city's most British environment. Interior treasures include the Royal Pew (though Queen Elizabeth and Prince Philip sat elsewhere during their 1987 visit), a silver alms dish embellished with a relief of the Last Supper (a gift from King George III) and a rare 18th century English chamber organ (one of only seven in the world).
Hôtel du Parlement

The Parliament Building, an imposing structure comprising four majestic wings, is one of North America's finest examples of Second Empire architectural style. As capital of the province of Québec and seat of the National Assembly, it represents the most important historical site in Québec City. Its impressive exterior is immediately recognizable. The building's façade is decorated with 26 bronze statues that pay tribute to the men and women who helped shape Québec society and the Tourny Fountain marks its entrance (it was a gift on the city's 400th anniversary). At night, dramatic lighting transforms all of the above to life. My tip: Take a guided tour of the Parliament Building, they're offered in French, English, Spanish and Italian.
Photo Credit: Cynthia Dial
Observatoire de la Capitale

Admire Québec City's maze of streets, adjacent river and surrounding mountains from its highest point: the 31st floor of the Marie-Guyart Building.
Old Québec City Funicular

Opened on November 17, 1879, the old-time railway connects the Upper Town to the sites of Old Québec's Lower Town, including the historic Petit-Champlain district, the port and the Musée de la Civilization. An alternative route, aptly called Breakneck Stairs, provides a prime opportunity for those seeking a Stairmaster-like workout.
Petit-Champlain District

At the base of the funicular lies the area's initial neighborhood, which gives a back-in-the-day peek into yesteryear's Québec City — today a picture-perfect sector resembling a historic riverside village. The colony's first residences, now restored to showcase the city's architectural heritage, line the narrow cobblestone streets and are current homes to bistros, art galleries and boutiques. Its romantic European atmosphere makes it a popular year-round attraction.
Photo Credit: Cynthia Dial
Port of Québec

As the oldest port in Canada and the second largest in the province of Québec, viewing the city from the water is a completely memorable experience. My tip: Board a boat, such as the M/V Louis-Jolliet, for a guided river cruise tour.
Musée de la Civilisation

Celebrating its 25th anniversary, this museum has built a solid reputation as one which continually showcases groundbreaking exhibitions. Its current world-class Parisian exhibition on the Belle Époque, Paris on Stage (1889-1914), runs until February 23, 2014. Its unique details come from the exhibit's artistic director Jeannot Painchaud who comes from a circus background (Cirque Éloize). An entire room is devoted to the oversized Les Halles (13x20 feet) painting, while belongings of Sarah Bernhardt are also provocatively displayed. Its finale is a replication of the Eiffel Tower's top level surrounded by a black-and-white rendering of Paris as you would have seen it during the Belle Époque years.
Photo Credit: Cynthia Dial

From its Winter Carnival to the Québec Summer Festival and everything in between — whether it's Festibière de Québec (Beer Fest), Festival de Magie de Québec (Magic Festival) or Festival Grand Rire (Comedy Event) — Québec City begs to be explored any time of the year. Representing 400 years of charm, Québec City has it all from ancestral to avant-garde attractions. How many of us have ever felt that we've time traveled? That's the premise there. Au revoir, Québec City, pleasure meeting you.