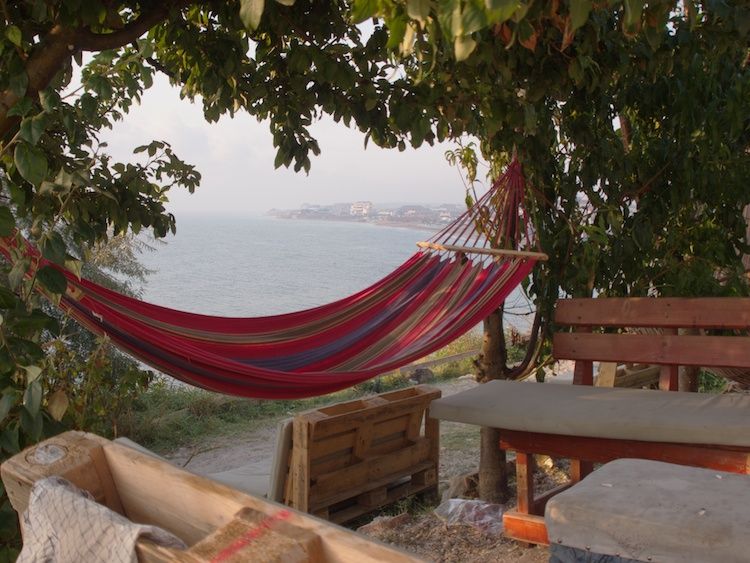 Photo Credit: Columbia Hillen
If you're tired of gleaming steel, concrete glass resorts, and rows of designer label shops, you may also be nostalgic for the bohemian attitude of the '60s. Dare to be different and reach back in time to campout at Vama Veche, the little-known Venice Beach town of the Balkans.
Photo Credit: Columbia Hillen
Displaying a bohemian ambiance and charming rusticity that once marked places like Venice Beach, Saint Tropez and Copacabana, the Romanian Black Sea village of Vama Veche near the Bulgarian border is a popular vacation destination for those wanting to enjoy the great outdoors. Walking towards a sandy ribbon of beach straddling the Romanian-Bulgarian border on a sunny afternoon, I heard music and singing and saw cameras, clapboards, sound equipment and a throng of exotically dressed people. You know a place has something special when both a music video (Aylin) and a movie (
Liceenii 2000
) are being shot there at the same time.
Photo Credit: Columbia Hillen
It has been known to be a melting pot for the creative energies of
Romania's burgeoning artistic community
, a place of retreat as well as a serious place for all-night parties. Musicians, singers, painters, intellectuals and students have all graced its beaches over the years. Today, many still arrive with their backpacks and pitch their tents on specially-designated, nude or clothed camping areas. Others travel in camper vans, stay in the small hotels dotted around or in the homes of local families who offer unofficial 'cazare' by jingling their house keys enthusiastically roadside.
Photo Credit: Columbia Hillen
Straddling several partially paved interlinking streets, Vama Veche is a ramshackle collection of thatch-roofed, bare-table pubs, cafes, hotels, restaurants and a series of sand-floored live music venues. The surrounding décor is clearly esoteric, with one canvas tented beach bar with hay bales for seats. The bar, MASH, reflects elements of the U.S. television comedy series. Hotel Amphora offers canopied four-poster beach beds and a talented masseuse whose techniques guide you through a heavenly journey.
Photo Credit: Columbia Hillen
Within a five-minute walk, one's live music choices range from pulsating hard rock to soft acoustic folk or the dreamy notes of a Duke Ellington-Ella Fitzgerald style of jazz. (Some offer no cover charges or an admission price of less than $5 USD). Papa La Soni and Bibi's, under the supervision of manager Claudiu Balan, are two of the most popular live music venues. Vama Veche also hosts one of the
nation's largest folk festivals
: the cutely named Folk You attracts thousands of people each year over three-days on the beach.

For entertainment of a different kind La Pescarie is a good choice; a cliff-side terrace bar with plum and cherry trees owned by Ioana Reichle and featuring friendly, women-only bartenders. It is located at a quiet end of Vama Veche with a cozy, adjoining open-air amphitheater where plays are held regularly throughout the summer.
Photo Credit: Columbia Hillen
For the most part, cuisine is still of the traditional variety at Vama Veche's around 30 modestly-furnished eateries. Dishes such as bean purees, fish soups, minced beef rolled in cabbage leaves, mini grilled meat rolls and an assortment of local fish are served throughout the area. Reflecting Romania's expanding international outlook (especially since its entry to the EU six years ago when travel restrictions were lifted), more sophisticated dishes such as Angus beef steaks and sushi have begun to make their appearance. Interestingly, 'grandma's dishes' are becoming trendy choices, often served up in traditional settings. Povestea Ceaunului, offers food made in huge cast-iron pots that resemble witch's cauldrons hung above open fires, while the ever-popular Bibi's has introduced 'sloi de oaie,' an age-old mutton dish eaten by shepherds high in the mountains of Wallachia and Transylvania.
Photo Courtesy of La Pescarie
Bars in Vama Veche offer a diverse range of drinks including domestic beers such as Ursus (meaning 'bear') and Ciuc (named after the town of Miercurea Ciuc where it is brewed). In addition to the perennial beach favorites, some cocktail creations have a distinct local taste including 'cozonac,' named after a traditional Romanian cake and is a mix of three liquors emanating a taste similar to the celebratory dessert. There's also 'alapanyag,' a mix of Unicum, Szilva (plum brandy) and lemon. For more intrigue, simply ask Pescarie's lead bartender, to make you an Empathic — a cocktail based on her analysis of your personality.
Photo Credit: Columbia Hillen
If you miss the days of flower power and frequently proclaim the motto 'Born to be Wild,' perhaps Vama Veche is the place for you. It's a stray from conventional vacations, a place that allows for your complete freedom of expression.