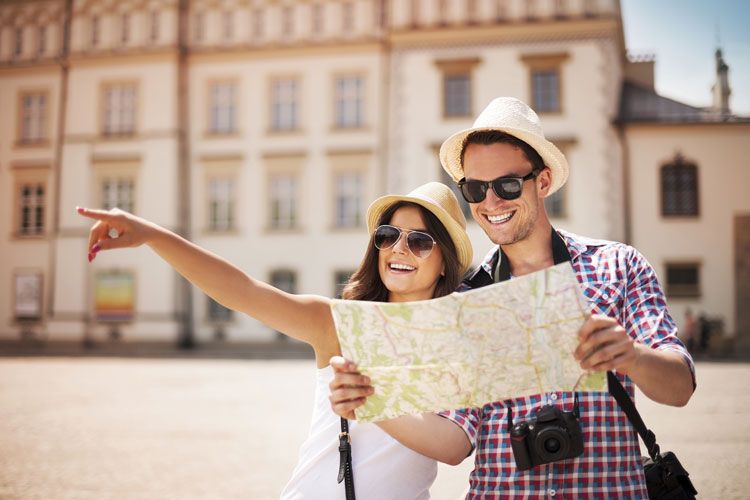 Photo Courtesy of Shutterstock
The holidays aren't a competition, they're all about love and giving and those Fa-la-la-la-las. But say for one second, that they WERE a competition. You'd want to win, right? It just so happens that Flexjet and Abercrombie & Kent really want you to come out on top as well by offering this year's Ultimate Holiday Gift.
Give your loved ones a Passport to the World and experience more joy than Tom Cruise on Oprah's couch. Partnering together, the two companies have created a two-week vacation you won't forget and all through the luxury of a private jet experience taking you around the globe. On the journey, guests will venture through the hidden wonders of the world and make stops everywhere from the Forbidden City to the Taj Majal.
Photo Courtesy of Abercrombie & Kent
"Traveling by private jet makes it possible to visit some of the most inspiring World Heritage sites in just two weeks, which under ordinary circumstances would be difficult — perhaps impossible — to see on a single trip," adds Geoffrey Kent, famed explorer and founder of Abercrombie & Kent. "By combining Flexjet's exceptional travel experience with Abercrombie & Kent's unparalleled global travel network — with more than 50 offices around the world — this remarkable worldwide journey is well within reach."
As it turns out, the package is for up to eight people (so you won't have to stay at home) and includes a 16-day Abercrombie & Kent journey on your own private Challenger 605 aircraft. The jet boasts cutting-edge avionics, state-of-the-art studio and video systems, larger/higher windows, global Wi-Fi and of course, reclining leather seats that turn into beds. Don't even worry about customs and all those travel nuisances, A&K will also assist with expedited clearance at all locations to maximize time spent in each destination.
Photo Courtesy of Abercrombie & Kent
Itinerary Highlights:
Osaka / Kyoto, Japan (two nights) – Explore Kyoto, home of the famed Toji Temple, the tallest pagoda in Japan and enjoy exclusive access to Toji's Five Storied Pagoda and the emperor's private retreat. Since they are closed to the public, you'll really feel like royalty. Follow this with a trip to what has been described as one of the world's best Japanese restaurants, Arashiyama Kitcho. Accommodations will be at the Ritz-Carlton Osaka near the district of Nishi-Umeda.
Photo Courtesy of Abercrombie & Kent
Beijing, China (three nights) – At this stop, travelers will experience 3,000 years of history, firsthand. A visit to the great monuments built during the reign of the Ming emperors, the Temple of Heaven, to get a Tai Chi lesson from a resident master. Then get your flying shoes back on for an aerial tour via helicopter of the Great Wall and lunch at the very top. Accommodations will be at The Peninsula Beijing near the Forbidden City and Tiananmen Square.
Photo Courtesy of Abercrombie & Kent
Hong Kong, China (two nights) – Now, onto the dazzling jewel of the Far East, Hong Kong. Travel to the top of Victoria Peak for perfect views and Facebook-worthy pictures of the great city. If you're curious about your future, draw a joss stick at Man Mo Temple for a fortune reading by a temple priest. No Hong Kong trip is complete without a true dim sum meal and the city's only three-star Michelin restaurant Lung King Heen will gladly oblige. Accommodations will be at one of the world's legendary 1920s grand hotels, The Peninsula Hong Kong.
Photo Courtesy of Abercrombie & Kent
Agra, India (two nights) – In India, arrive at the palatial Oberoi Amarvilas hotel, to receive your red-powdered bindi to be worn on your forehead (as a mark of respect). Here, you'll visit the Taj Mahal and watch as the monument seemingly changes hues throughout the day.
Photo Courtesy of Abercrombie & Kent
Istanbul, Turkey (two nights) – Istanbul is the only city that was an imperial capital for 1,700 years and aside from its vast history, it also holds some of the world's best architecture. Trek through the Chora Church which is known to hold the richest repository of Byzantine interior wall decorations. Your Turkish dining experience will be inside a stunning 18th-century wooden mansion of an Ottoman royal where you'll also witness a demonstration of Whirling Dervishes. Accommodations will be at the modern Ciragan Palace Hotel Kempinski Istanbul.
Photo Courtesy of Abercrombie & Kent
Paris, France (two nights) – Since love is an integral part of life (did this just become an after-school special?), the next stop is in Paris where you'll get to dine at the Jules Verne restaurant atop the Eiffel Tower. This choose-your-own-adventure stop allows guests to create their own personalized itineraries by choosing from an extensive list of exclusive activities. To name a few: private, after-hours access to the permanent collections at the Louvre Museum; tour the private quarters of Louis XV and Louis XVI with the the Hidden Versailles Tour; or enjoy a walking tour with a Parisian restaurant critic and food expert. Accommodations will be at Le Meurice, one of the most sophisticated and ranked among the most elegant hotels in the world.
Photo Courtesy of Shutterstock
Shannon, Ireland – You won't want it to end, but it will have to by the time you reach Shannon. What better way to experience the last hurrah than with a round of Guinness among friends? Sixteen days later and you're guaranteed plenty of stories to reminisce over at the bar.
Photo Courtesy of Abercrombie & Kent
The Abercrombie & Kent 16- day Passport to the World experience starts at $750,000 for land arrangements (up to eight people). The Flexjet 25 jet card for a Challenger 605 business jet begins at $750,000. The full trip (air and land) is $1.5 million. To book, call 800-323-7308 or visit AbercrombieKent.com.
See, told you you'd be winning putting smiles on your loved one's faces. You'll be the best mom, dad, son, daughter, grandparents, next-door-neighbor-random-cat lady of this holiday season.