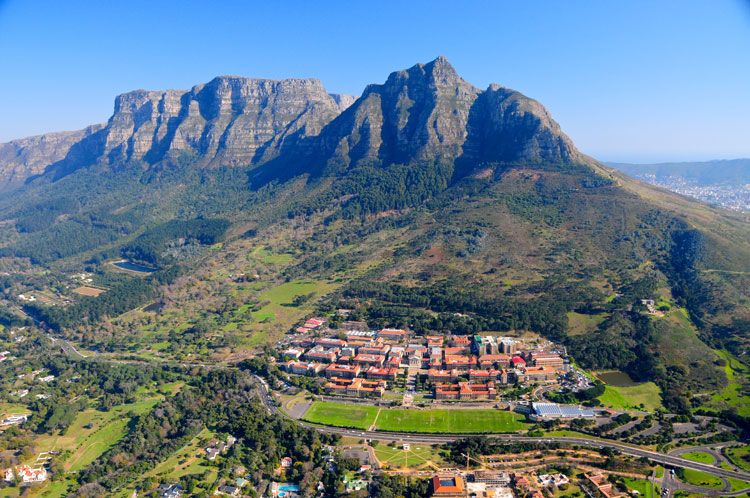 Photo Courtesy of Shutterstock
With picturesque Table Mountain as the backdrop and a variety of things to do ranging from cage diving with great white sharks to hanging out with adorable penguins, Cape Town, South Africa is a great destination for adventurers. There are enough exciting things to do and see to jam-pack a two-week stay, but for a shorter trip, here are some tips on the city's highlights…and then some.
Photo Credit: Dorothy Cascerceri
Cape Peninsula
If you're comfortable driving on the left side of the road with the steering wheel on the right side of the car, rent a car for the day and explore the Cape Peninsula. With only one road in each direction, no GPS is needed. Just follow the highway, always making sure the various picturesque bays are to the right, and it's impossible to get lost.
To begin the journey, check out Hout Bay, stopping at any one of the many roadside seafood haunts for fish and chips. Continue on to Simon's Town and visit Boulders Beach where getting up-close-and-personal with African penguins is a fun way to spend an hour or two. There is also a wheelchair-accessible boardwalk from which to view the colony of cute critters, but if you continue on to nearby Foxy Beach, visitors can actually walk onto the white sand and view the adorable black and white birds even closer.
Photo Credit: Dorothy Cascerceri
Continuing on toward Table Mountain National Park, drive to the Cape of Good Hope, which is the southwestern-most point of the African continent. Snap a few photos at the latitude-longitude sign, and avoid long lines of people with the same idea by going late in the day close to the park's closing time, which varies by season. Keep your eyes peeled on your way out of the park for baboons, ostrich and other wildlife — and keep your windows closed.
Photo Credit: Dorothy Cascerceri
Stellenbosch and Franschoek
Hire a driver (most hotels can arrange this) and explore Cape Town's gorgeous wine country towns of Stellenbosch and Franschoek. With scenery that looks like a watercolor painting and complex blends of favorite varietals like Chenin Blanc and Chardonnay, a day in wine country is a relaxing and educational way to explore. Delaire Graff Estate is not-to-be-missed with its sweeping views and fabulous art and sculpture collection. A quick wine tasting easily turns into a two-hour stop, and be sure to request the biltong snack, which is South Africa's version of beef jerky.
Photo Credit: Dorothy Cascerceri
Another famous winery and one of the area's oldest is Boschendal. Go for the wines but also for the outdoor tasting room under a towering Oak Tree that is 300 plus years old. For lunch, visit La Petite Ferme restaurant situated in an old farmhouse and serving up rustic contemporary dishes featuring lamb, fish and chicken. Ask to sit outside on the patio to take advantage of the hilltop views.
Photo Credit: Dorothy Cascerceri
Before heading back to Cape Town, spend 30 minutes or so at Cheetah Outreach in nearby Somerset West where you can pet adult cheetahs with the help of their trainers. A small donation to the organization gets you an 8x10 printed photo of you running your fingers through the beautiful animal's fur.
Photo Credit: Dorothy Cascerceri
Victoria & Albert Waterfront
Enjoy High Tea at the five-star Table Bay Hotel followed by a tour of the Victoria & Albert Waterfront and Mall, also known as the V&A Waterfront. High Tea inside the historic Table Bay Hotel, where President Obama and celebrities like Kimora Lee Simmons have stayed in the past, offers visitors a full menu of tea choices along with tea sandwiches, tarts, pastries and a full spread of desserts. The indoor décor is regal and traditional, but the patio provides views of the harbor — not to mention the fact that this hotel is a stunning place to stay. The area is also prime for a day of shopping both indoors and outdoors — and with a clear view of Table Mountain and seals swimming in the harbor — have your camera ready to capture some beautiful moments. For a meal, try Sevruga for a cosmopolitan treat.
Photo Credit: Dorothy Cascerceri
Gaansbai
For the very adventurous travelers, connect with a great white shark-diving outfitter, such as Shark Diving Unlimited, for a day of swimming with the dangerous predators. The majority of great white sharks off the coast of South Africa reside in a place called Gaansbai, which is a two-hour drive from Cape Town. Most tour companies provide transportation both ways, as well as hot showers, homemade soup and fresh-baked bread following the dive since the water off the coast can dip as low as 50 degrees F in the spring.
The great whites are lured to the dive site with chum in the water and a fish head on a hook. Travelers brave enough to take a deep breath and hop into the cage attached to the side of the boat can catch a glimpse of the monstrous fish within kissing distance. The number of great white sharks worldwide is diminishing year after year, with some reports estimating only 5,000 left in the world, and 1,000 of those located in southern African waters. Close encounters with several at a time underwater with some weighing two ton or more is a once-in-a-lifetime experience. For those travelers prone to sea-sickness, bring Dramamine, because once the boat anchors, it's a rocky experience.