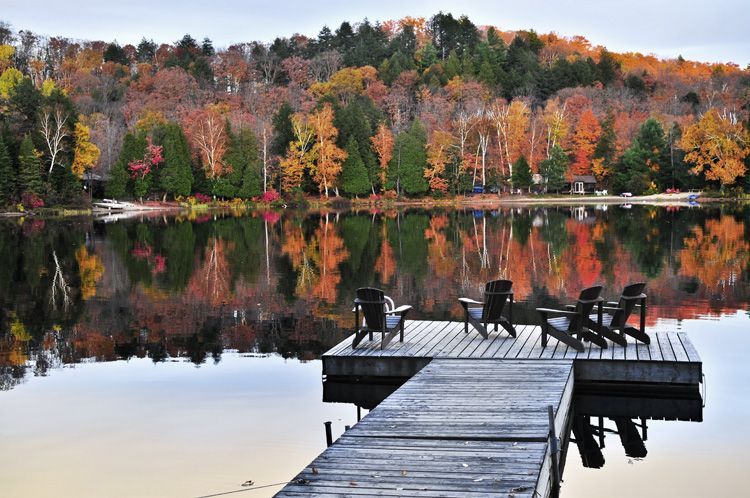 Photo Courtesy of Shutterstock
The structure of a vacation sounds like an oxymoron, as structure and improvisation (that word usually defining a great vacation) seem such like such opposing concepts. But usually, there is organization to a vacation, especially if you rent from a vacation rental firm as a part of a vacation club. I wrote about Demeure, an online travel provider that operates its own travel marketplace, four years ago. I thought then, as now, that CEO and founder Peter Schwartz's vacation concepts are unique to the field, as they have substantial social and philosophical roots.
This is the final article in a series of three. For a full picture of what encompasses a Demeure vacation, read the interview with Demeure CEO and founder Peter Schwartz, and follow that with the in-depth lake house experience: BG Lake Cottage on Muskoka Ontario's Lake Rosseau Is a True Canadian Gem.
Photo Courtesy of Shutterstock
I have known Schwartz for five years now and never took a Demeure vacation, though I certainly know the ideas that he has put forward to make a vacation exceptional. All this changed in October of this year when I visited the lakes region of Ontario, Canada, about a 2-3 hour drive north of Toronto. Demeure's ideas-into-action were everywhere on the trip, one being the Gateway City idea which allows travelers to first rest and relax in a Demeure preferred boutique hotel, for a day or two after long plane trips prior to arriving at their final vacation spot. This worked perfectly for me, as I traveled from Salt Lake to Denver, then from Denver to Toronto.
With the gateway city being in Toronto I stayed at Le Germain hotel, a small, elegant property on Mercer Street downtown. Staying there two days, with the help of a Demeure private assistant (travel agent) and the hotel's concierge, an itinerary was mapped out. Sights included the old Distillery district, toured the CN Tower, went to Casa Loma, and stepped into Wayne Gretzky's Sports Bar, right up the street from the hotel.
Photo Credit: Susan Kime
Two days later, a limo picked me up, and we went to Lake Rosseau in Muskoka, Ontario. Because of Demeure's collaborative marketplace, all the services that included property hosts who know the area best, are part of the package. The trip involved staying at an exceptional lakefront cottage, enhanced by a private chef, a concierge and a housekeeper. But it was the experience of being on a lake during low season, and still having much to do, that was exceptionally impressive.
Photo Credit: Susan Kime
The accommodations were at a Demeure Masterpiece property owned by entrepreneur Bobby Genovese. In addition to a 50-foot waterfall, a rock climbing wall, and a waterslide that quickly moved you from the waterfall to the lake itself, he had a collection of watercrafts that included antique speedboats. Utilizing one of the boats, we took three great excursions around Lake Rosseau, stopping at Abbey's Bake House, a bakery that was in a converted church on the lake. The seductive scent of the fresh breads and the Canadian butter tarts on that rainy morning was memorable. Our private chef, Mark Anins, bought some butter tarts, both plain and maple bacon, and served them later that day.
Photo Credit: Susan Kime
In the afternoon, the Demeure property host Glen Kri and I took a town car back to Oviinbyrd, a private golf resort which was followed by a helicopter ride around the lakes region to see the Fall colors from above. Kri was the best companion to have on this trip, as his company Serenity Property Management attends to many high-end homes in the area. He knows the lay of the land from below and above, so he could discuss the locations and whose mansions were sprinkled around the landscape. Martin Short, Catherine O'Hara, Kurt Russell and Goldie Hawn, and many Canadian hockey players own homes there.
Photo Courtesy of Shutterstock
At every destination, a town car was provided with excellent, timely service. The service at Le Germain, at the Lake Cottage, and at Oviinbyrd, all seemed so well thought out. Peter once said, "We and all of our partners take service very seriously. We view it as an obligation, not negotiable." Yes, all of this made the structure of the Demeure experience exceptional. I could not have asked for more. It is rare when a company's vision and a consumer's reality become one; but in this vacation experience, the Demeure vision and my vacation reality melded well, and actually became one.