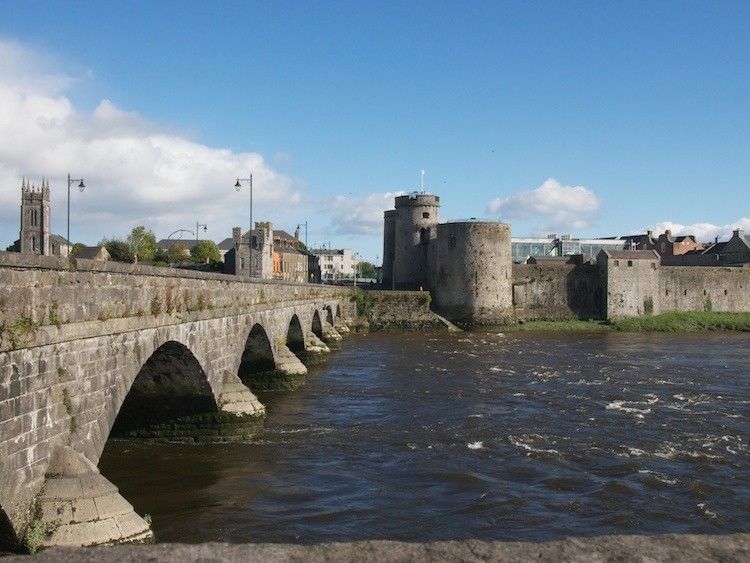 Photo Credit: Columbia Hillen
Limerick, a southwestern Irish city that has fought strongly to overcome a negative, violence-related image, is set to take center stage as Ireland's first national City of Culture, an initiative that hopes to create more culturally relevant events around the country. The year-long program of diverse happenings is set to begin in January.
Photo Credit: Columbia Hillen
With a budget of more than USD $8 million, the city — which has already undergone major downtown rejuvenation with pretty, pedestrian walkways and shopping areas — will launch its special year with a New Year's Eve extravaganza that will include the Procession of Light. The event will be comprised of illuminated floats, a carnival atmosphere, drama and community performers.
In the same month, a six-night run of Riverdance, the Irish theatrical show, will take place. Notably, composer Bill Whelan, was born in Limerick. The kick-off to the show's 20th anniversary celebration will take place at the University Concert Hall, Limerick theater with seating for 2,500 people.
Photo Credit: Columbia Hillen
Pat Cox, chairman for Limerick City of Culture 2014, said other program highlights will include the Irish premiere of NoFit State Circus, the UK's leading contemporary circus company; the Irish Chamber orchestra performing in the Milk Market with Ballet Ireland; a People's Museum running throughout the year; a Proms in the Park-style event in the summer; and a concert by flautist James Galway at the University Concert Hall.
In The Irish Times, Karl Wallace, artistic director of Limerick National City of Culture, said the year-long program would be "edgy and contemporary" with the Irish premiere of the South American Show Fuerza Bruta in March described as a "club event with a mixture of acrobatics." Another Irish premiere will be Faust directed by Silviu Purcarete whose raw content, including nudity, is expected to attract large, curious crowds.
Photo Courtesy of Frank McCourt Museum
Altogether, the entire cultural program has 13 different categories: street events, visual art, music, food, fashion, Secret Limerick, craft, children's, architecture, and sport. Over 100 Limerick groups have successively applied for funding to stage events.
Aside from a diverse range of special productions, Limerick has already developed a number of tourism attractions including the Frank McCourt Museum who was a Pulitzer Prize winner in literature for his autobiographical novel Angela's Ashes. Brooklyn-born McCourt spent most of his formative years in this city before heading back to New York at the age of 19, becoming a school teacher and then developing his illustrious writing career. Brainchild of creative and dynamic artist, Una Heaton, a Limerick native and friend of the McCourt family, this multi-faceted museum in the Tudor-style Leamy House grants visitors interesting insights into the writer's poverty-stricken upbringing and his professional successes later in life.
Photo Credit: Columbia Hillen
Artifacts include many of the international awards McCourt won, as well as personal letters, old photographs, first editions, and multiple translations of his novel. Interestingly, even some of McCourt's ashes are there in a sealed box high above a recreated 1930s classroom similar to one the author would have attended. So enthusiastic is she with visitors, Heaton may even draw your portrait on a stand-up mirror as she did us.
Photo Courtesy of King John's Castle
With an around USD $8 million investment completed this year, King John's Castle is a major tourist attraction. The stunning new exhibitions opened this year bring to life over 800 years of the castle's dramatic history through touch-screen technology, dazzling animations and ghostly projections connecting visitors to tales of siege and warfare. Likewise, the stylish North Munster Masonic Centre in Limerick just across the street from the castle displays a wide range of exhibits with Masonic connections showing the historical links and interaction between the ancient Order and the commercial life of Limerick over the last 300 or more years. Entrance is by appointment and is free of charge.
Photo Credit: Columbia Hillen

Limerick has many fine restaurants and pubs, one highlight, known for its many activity nights, is Dolan's Warehouse. It recently partnered with Interactive Theater International to show a performance of Faulty Towers, a popular British television series that was the theme for an evening of participatory comical entertainment featuring three actors, with dinner included.
Just a little over 12 miles south-east of Limerick is the recently-restored Lough Gur Heritage Center with an adjoining walking trail that takes one alongside interesting archaeological sites, including a 113-stone circle; a wedge tomb dating back to circa 2,500 BC; stone forts at Carrig Aille (500 to 1,000 AD) as well as the ruined castles of the Earls of Desmond and the medieval New Church.
Photo Credit: Columbia Hillen
All in all, with new events and entertainment options being added on a regular basis to its developing year-long City of Culture schedule, Limerick may be the place worth visiting in Ireland next year.