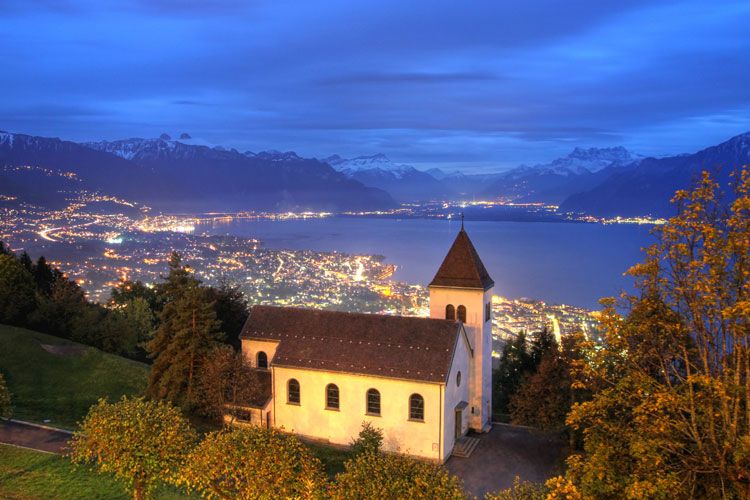 Photo Credit: Cynthia Dial
A trip to Switzerland can be like visiting three separate countries—France, Germany and Italy—all uniquely distinctive, all wonderfully special, all within Switzerland. Constricted by time, I chose a French-style excursion through the country.
"Good afternoon," said the driver. "Welcome to Geneva," saying the name as if it were an imported chocolate. And with that greeting my introduction to Switzerland's French region—Lake Geneva and beyond—began. My purpose was to explore the area's exceptional food and drink, along with its extraordinary lodging; and this promised to be a gourmet odyssey.
Photo Credit: Cynthia Dial
On the shores of Switzerland's largest lake and at the foot of Europe's highest mountain of Mont-Blanc, lies Geneva—noted for its iconic flower-laden clock and its 459-foot waterspout spewing from the lake called Jet d'eau. Celebrating 2,000 years of history, this city is the birthplace of Swiss watchmaking, the International Red Cross and the United Nations European headquarters. It is home to 30 master chocolatiers, 40 museums, 15 five-star hotels and 10 gourmet restaurants starred by Michelin's guide.
Photo Courtesy of Hôtel Président Wilson
I discovered Geneva from Hôtel Président Wilson, the kind of hotel with a seawater pool, Spa La Mer (Switzerland's first spa using La Mer Crème) and the Royal Penthouse Suite (one of the world's most expensive at $75,000 per night), which has entertained such guests as the King of Saudi Arabia and Céline Dion.
Photo Courtesy of Hôtel Président Wilson
Their restaurant Bayview helmed by Executive Chef Michel Roth (One Michelin star), appeals to the beluga set. During a four-hour, eight-course extravaganza, the highlight of the meal was marinated Brittany sea scallops served with DuBarry cream soup and colored cabbages, complemented by Sauvignon Blanc, D. Villard, Genève, 2011. Chef Roth's philosophy: "I like guests to feel as though they have been invited for dinner at a friend's, while at the same time discovering some surprising and original dishes."
Photo Courtesy of Crans-Montana
Nearby, Crans-Montana, a ski resort can be reached by train to Sierre, followed by a short walk to the funicular and a 12-minute ride up the mountain. Situated amid the Alps, it's at the intersection of summer fun and winter wonderful. Made famous by nature—rich pastures accentuated by the bells of resident cows, valleys sprouting thousands of wild flowers, hillside vineyards and a plethora of mountains—it has been compared to such Swiss resorts as Gstaad and St-Moritz (but with 300 days of sunshine). Resident Sir Roger Moore explains: "Nowhere in the world will you find a place more peaceful or more beautiful."
Photo Credit: Cynthia Dial
Whereas Hôtel Président Wilson is ritzy, LeCrans Hôtel & Spa is cozier. Illustrative of lifestyle in the mountains, the luxury chalet is defined by traditional Alpine-style architecture, expansive wooden decks, floor-to-ceiling windows and snow-covered peaks appearing like surround sound. The hotel's restaurant, LeMontBlanc (16 points Gault Millau), is a great experience that includes a chef's table menu that is served in the kitchen. (Note: Like Michelin, Gault Millau is one of France's most influential restaurant guides). The eight courses and eight pairings were enhanced at its conclusion by a cone of homespun cotton candy and the dessert wine, Blandice Banc, Varone 2009.
Photo Credit: Cynthia Dial
Located in the Swiss Riviera on the shores of Lake Geneva, the town of Vevey pays homage to its rich history. The narrow streets are filled with pleasures for the pedestrian such as artisan's stores, chocolateries and sidewalk cafes. The scenery is serene, a placid lake, strolling promenade and chair-like seating upon rocks overlooking the water. Its charms are so enticing Charlie Chaplin selected the setting as home for his last 25 years. The town's tribute to its most famous resident is a life-size sculpture of the actor. As Nestlé's headquarters, Vevey's iconic fork sculpture sticking into the lake announces that the Nestlé Food Museum is nearby.
Photo Courtesy of Shutterstock
A vineyard train runs through the grape-growing region of Lavaux, Lake Geneva region's UNESCO wine area representing an 800-year tradition and featuring 250 winegrowers. Here the vintners have created exceptional wines in a confined territory of almost 3,500 acres—with Chasselas representing over two thirds of the local production, followed by Gamay and Pinot Noir. The area's most special event is the Vintners' Festival, a traditional celebration in tribute to the wine world which occurs four to five times each century. Think Mardi Gras meets Carnivale meets Rose Bowl Parade and you've got the picture. The next festival is scheduled for 2019.
Photo Courtesy of Hôtel des Trois Couronnes
Created in 1842, Hôtel des Trois Couronnes in Vevey remains one of Switzerland's oldest prestigious hotels and one of Europe's finest. Red carpet runs the length of its front steps to an open, multi-level entrance hall set with marble columns. Since its opening it has provided accommodation for such illustrious guests as Emperor Bonaparte, the Prince of Wales and Tchaikovsky; and the hotel's love affair with its guests continues. Assistant manager Sébastien Cheneval explains, "The Swiss work to get a smile from you—to make you happy."
Photo Courtesy of Hôtel des Trois Couronnes
Chef Lionel Rodriguez with restaurant Les Trois Couronnes (15 points Gault Millau, One Michelin star) focuses on Southern French cuisine and regional products. "Our restaurant's menu evolves along two themes, 'gourmandize' and well-being," explains Rodriguez. The dinner didn't disappoint, especially the sea bream tartar with citrus and crunchy endive starter.
Photo Credit: Cynthia Dial
Lausanne's (a French-speaking city in Romandy) old town, the Cité, testifies to the past existence of a lively medieval town. Situated on a series of steep hills (locals claim this typography is responsible for its ladies' lovely legs), it is headquarters of the International Olympic Committee and home to a cathedral considered a jewel of Gothic architecture. Terraced vineyards seem to be everywhere, typically overlooking Lake Geneva. And not surprisingly, locals appreciate good wine as much as they love good food.
Photo Courtesy of Beau-Rivage Palace
Beau-Rivage Palace is one of the city's two five-star hotels and ranked among the world's 50 best luxury hotels. Surrounded by 10 acres of private gardens and an interior of fresh hydrangeas, marble floors, stately columns and crystal chandeliers, the lobby felt luxurious and worthy of an evening gown. Its Ballroom Sandoz (1908), an architectural masterpiece of the Belle-Époque, was the setting of Diana Ross's wedding. For nearly 150 years, the hotel has been the world's most attractive palace resort with a guest list including such social luminaries as Somerset Maugham and Coco Chanel, who purportedly visited to escape the boredom of her Paris home.
Photo Courtesy of Beau-Rivage Palace
Its notable restaurant is Anne-Sophie Pic (18 Gault Millau points, Two Michelin stars). An example of the chef's artistry is Simmental beef smoked with Arabica coffee, orange blossom spinach and garlic mousseline. And with its Cinq Mondes Spa (the first of its kind in Switzerland), it is little wonder its accolades continue to grow.
Photo Credit: Cynthia Dial
In planning your own trip, it is recommended to fly to Switzerland on Swiss Air and travel within the country on a Swiss Pass (provided by the Swiss Travel System, it covers rail, road and waterway travel). In a quest for the finest foods, the tastiest wine and the most luxurious lodgings, I discovered a region overflowing with all that I sought. As Mae West once said, "Too much of a good thing is wonderful."