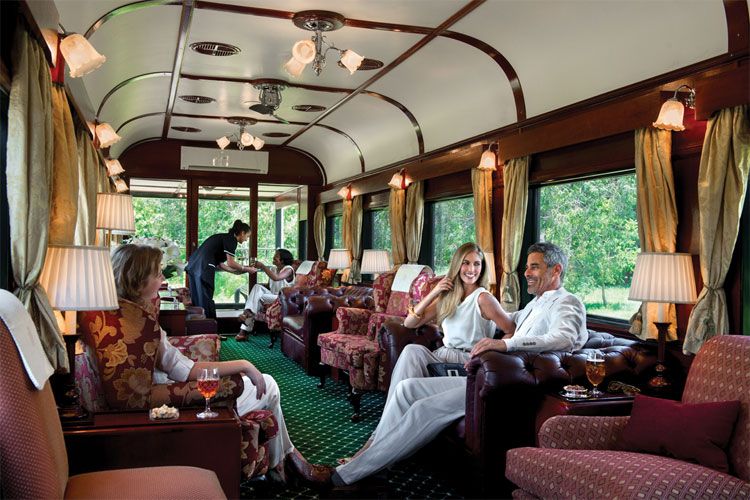 Photos Courtesy of Rovos Rail
Go ahead, kick up your heels, lean back with cocktail in hand and watch the African countryside pass by inside your luxury rail car. Luxury train company Rovos Rail takes guests back to a simpler time, a time when railways ruled the travel industry and romantic locomotives regularly transported guests from location to location.
Since 1989, Rovos has been moving its patrons across Africa in remodeled and refurbished wood-paneled coaches. During a time when travel is a rushed experience necessary simply for getting from point A to point B, the trains recall a time when the journey was just as important as the end destination. Even rider attire is more formal than a typical travel wardrobe, with a smart-casual dress code in place. Lasting from 48 hours to month-long escapes, the journeys are laid out in eight options and a few special packages that combine destinations.
All of the trains are either hauled by diesel, steam or electric locomotives and are made up of a generator car, staff car, guest sleepers, a non-smoking lounge, 42-seat dining cars, kitchen car, guest sleepers, smoking lounge and an observation car. With a maximum of 72 passengers allowed aboard, the 36 guestrooms are more spacious and designed for the ultimate comfort.
The 118-square-foot Deluxe Suites accommodate two passengers and offer a lounge area inside a chic wood-paneled sleeper coach. While the interiors have been refurbished, the en-suite bathrooms still use their original fittings but have been updated with modern amenities. The Royal Suites take up half a carriage, ensuring patrons won't feel crowded in their rooms. Each comes with full bathrooms, Victorian bath tubs and classic Edwardian period features.
On the three-day summer Durban Safari, guests will travel between Pretoria and Durban experiencing game drives, a battlefields tour and will learn about unusual African ceramics. Set on 20,000 acres of malaria-free bushveld, the Nambiti Conservancy in KwaZulu-Natal, is a Big Five game reserve where guests will get have a chance to view some of their over 40 species of game including cheetahs, giraffes, hippos, and zebras. There is also an impressive range of biodiversity from the savannah to grasslands and thornveld to tall acacia trees.
Golf enthusiasts will enjoy the African Golf Collage nine-day sojourn from Pretoria to Cape Town. If traveling with non-golfers, the itinerary includes a schedule for both parties. Guests on this adventure will drive through Kruger Park, a famous game drive before heading to Zululand for game viewing at Hluhluwe. Taking the scenic route though the Garden Route, the train will wind through the winelands for a brandy distillery visit. Along the way to Cape Town, golfers will get a chance to play Leopard Creek at Kruger, Durban Country Club, Humewood in Port Elizabeth, Fancourt in Knysna & Ernie Els Oubaai in George.
With any journey, all meals and beverages (including alcohol) are included while on board. Dining takes place in a Victorian-era car and is prepared by a team of chefs serving fresh local ingredients and traditional dishes. Rates for short journeys (per person sharing/per night) start at around USD $1,362 and long journeys begin at USD $3,801.