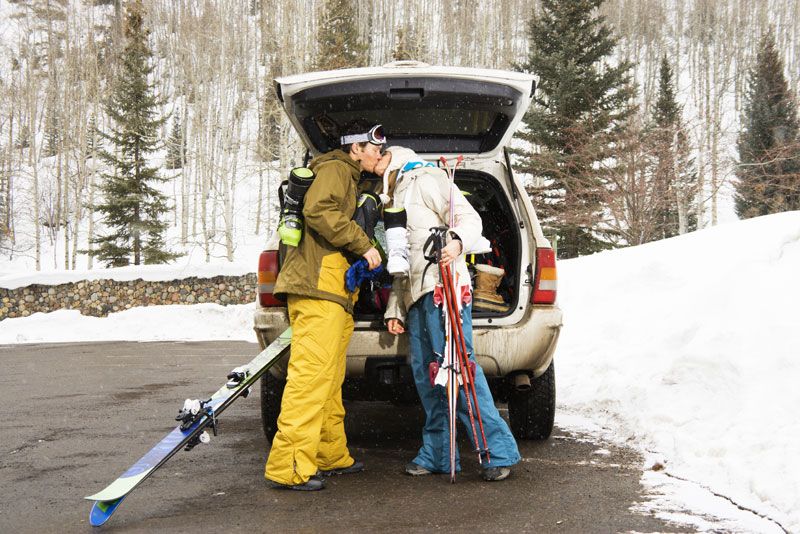 Photo Courtesy of Shutterstock
Colorado is made for lovers, with spectacular outdoor views, natural beauty, fresh air, great restaurants and friendliness all around the great state. Take your honey on a romantic rendezvous and steal a kiss at seven of our favorite posh places.
Photo Courtesy of Beano's Tavern
At a Romantic Mountainside Dinner at Beano's Tavern
The mountainside five-course dinner is only accessible by snow cat and Beano Cabin's own open-air sleigh ride up the scenic mountain. After you arrive at the rustic, yet upscale cabin, be prepared for a feast that would give any Michelin Star restaurant a run for their money. From the impeccable service to watching the sunset and the live music, this is an experience to ignite amorous feelings in anyone. Menu highlights include the Wood Grilled Organic Egg, Winter Squash Salad and Whisky Glazed Berkshire Pork Porterhouse.
Photo Courtesy of Visit Aspen
On a Gondola Lift
Aerial views and snowcapped mountains can make for romantic moments, and Colorado offers lots of chances with its several romantic Gondola lifts. Check out the Silver Queen Gondola in Aspen, Sky Cab in Snowmass, Connect Gondola in Breckenridge and Gondola One in Vail.
Photo Courtesy of Vail Cascade Resort and Spa
At Vail Cascade Resort and Spa
Colorado has some of the most beautiful, mountainside resorts, some complete with luxury condo collections for rent. We checked out Blue Spruce West at Vail Cascade Resort and Spa and fell in love. Decked out with wood burning fireplaces, outdoor hot tubs and BBQ's, you can get cozy in your spacious 2,700-square-foot, four-bedroom, 4.5-bathroom dream home. Rustic elegance at its best, spend your days skiing on Vail Mountain (with chair 20 located right on the property), and your nights by the fire with a bottle of wine. If you want to spend time at the resort, call the free shuttle service and all of the resort amenities (including hot tubs, pools, gym and spa) are at your fingertips.
Photo Courtesy of Ajax Tavern
Après Ski & Champagne in Aspen
Have Champagne wishes & downhill dreams? After skiing the beautiful Aspen Mountain, meet down at the bottom at Ajax Tavern for some après ski Veuve Clicquot style. The mountainside patio comes to life around 4pm with renewed energy, lively music, bottles of Champagne and a spirited crowd.
Photo Courtesy of James Mattil/Shutterstock
On a Romantic Train Ride
Colorado is known as a majestic state that can be adventurously explored by train, on routes that can't be seen by the average traveler on the road. Try a day trip, or sunset ride through the Rocky Mountains over tracks that have been in operation for over 130 years.
Photo Courtesy of Shutterstock
On a Sleigh Ride
Nothing says romance like a classic old-fashioned horse-drawn sleigh ride. Explore snow-covered meadows, bubbling streams and a snow-capped winter wonderland as you cuddle under warm blankets.
Photo Courtesy of Vail
On the Heated Cobblestone Streets of Vail
Check out the shops, boutique and eateries of this quaint ski village while walking hand in hand. Pick up a bottle of Colorado Wine at Alpine Wine and Spirits, and don't forget to toss a coin and make a wish in the fountain!