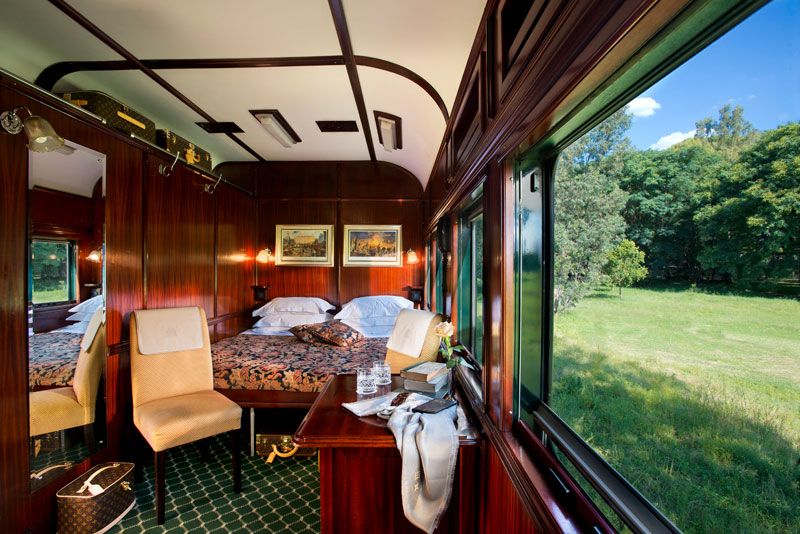 Photo Courtesy of Rovos Rail
It's no secret around here that our Executive Editor has an crush extreme love of travel-by-train excursions. Maybe it's the slow-paced life inside the richly decorated, wood-paneled rail cars, or the hours of conversations you're afforded with other passengers as you pass through beautiful countrysides, either way, there really is something very romantic about locomotive travel today. Though trains used to be the primary way of getting from place A to B, today they are a luxury reserved for those who know that half the fun of getting somewhere, is the journey itself. Since there are many train tours available for both domestic and international travel, we chose six of our favorites that offer overnight accommodations, unique experiences and exciting locations to share with you.
Photo Courtesy of Belmond

Epic Thailand — Belmond
Belmond, previously the Orient-Express, is offering a seven-day, six-night Epic Thailand trip starting and ending in Bangkok. The trip takes guests to numerous exotic cities and sites such as Prasat Sikhoraphum, Lampang, Chiang Mai, and the 12th-century Khmer temple Phanom Rung. Most of the locales offer tour guides to help travelers make the best of their time. Guests can choose from four cabin categories: Pullman Single, Pullman, State Cabin and Presidential Cabin. All offer elegant cherry wood and elm burr paneling, fine fabrics and come fully air-conditioned. Pullman Cabins offer berths/single beds which transform into seats during the daytime hours. The dress code is "relaxed refinement" with smart casual in the day and evening glamour at night (so please be courteous and leave your favorite jeans and sneakers at home).
Dates: November 14-20, 2014
Vacation Length: 7 days, 6 Nights
Price: $9,200 per person
Photo Courtesy of Uncommon Journeys

Great National Parks of the West — Uncommon Journeys
Beginning with an arrival by train in Whitefish, MT, the Great National Parks of the West train vacation will take guests to world-famous national parks like Yellowstone, Grand Teton Range and Yosemite. Overnight, travelers will depart for hotels along the way, which are covered with the price of the trip. During the Jackson Hole tour, travelers will be able to participate in a float trip on the Snake River and discover the Teton Fault on the 40-mile long mountain front. In San Francisco, a Bay cruise circling Alcatraz and sailing under the Golden Gate Bridge are part of the full-day's itinerary.
Dates: July 29, 2014 - Aug 9, 2014; Aug 26, 2014 - Sept. 6, 2014
Length: 12 Days, 11 Nights
Price: $2,995 to $4,495 per person
Photo Courtesy of the Danube Express

Istanbul to Prague — Danube Express
The Danube Express is a bit more relaxed than the other train tour companies on our list, but still a great option for travel. As you've probably surmised from the trip's name, this journey takes guests from Istanbul to Prague with a ton of sightseeing along the way. During the trip, guests will experience sightseeing in Kazanlak, Veliko Turnovo, Sighişoara, Braşov, Kecskemét, Keszthely, Vienna, Bratislava and Cracow. Ever been to medieval Sighişoara? Its rumored to be the birthplace of Dracula and is one of the stops you'll make along the way. On day eight, you'll make your way through Vienna and Bratislava where you'll tour a stunning castle in old town. Deluxe suites feature en-suite showers, low beds and air conditioning. Additionally, these packages come with a three-night stay at the four-star Hotel Astoria in Budapest. You can also book a full package through the company which would include your flights, hotels (classic or superior) and the train adventure itself.
Dates: May to September, 2014
Length: 10 Days, 11 Nights
Price: £5490 to £8290 ($9,200 to $13,900) per person
Photo Courtesy of Golden Eagle Luxury Trains

Arctic Explorer: Quest for the Northern Lights — Golden Eagle Luxury Trains
Over the past 21 years, Golden Eagle Luxury Trains has held over 250 private train tours and has operated in 15 countries. Carrying 20,000 guests (and counting), the company has traveled nearly 1.5 million miles in Russia, China, Africa, Western Europe, India and Canada. Their goal is to unite adventure travelers with beautiful and oftentimes remote locations by way of luxury rail cars. On the Arctic Explorer tour, guests will travel from St. Petersburg, Russia to Moscow in pursuit of the Aurora Borealis. Along the way, take in some of the country's most beautiful cities and landmarks and celebrate New Year's Eve with a party on the elegant Gala Caviar Dinner car. The Golden Eagle has three cabin categories, all with en-suite facilities and come with large picture windows, air-conditioning, premium bath robes and slippers, turndown service and L'Occitane shower gels.
Dates: December 29 – January 9, 2014
Length: 12 Days, 11 Nights
Price: $11,995 to $22,295 per person
Photo Courtesy of El Transcantabrico Clasico

León to Santiago de Compostela — El Transcantabrico Clasico
Inside the chic train, blues and whites color the cars and Spanish décor fills the lounges. Traveling from León to Santiago de Compostela, passengers on El Transcantabrico Clasico will get to experience the lesser-known sights of northern Spain. León is steeped in history and is home to Basilica of San Isidoro, a Romanesque-style church build on the site of an ancient Roman temple, and one of the three most important Cathedrals on The Way of Saint James, the Gothic Cathedral. In Oviedo, the capital of the Principality, guests can relive the scenes pictured in Woody Allen's Vicky Cristina Barcelona. Unlike other trains, this locomotive only has one suite option with double beds, en-suite bathrooms, air-conditioning, hydro-saunas, turbo massage showers and carpeted flooring. Four lounge cars are available to travelers and the bar car hosts live entertainment nightly. The others boast quieter atmospheres for reading, sight-seeing or catching up with friends. Gratuities, drinks ordered outside of meals and mini-bar purchases are not included in rates.
Dates: June 14 – October 25, 2014
Length: 8 Days, 7 Nights
Price: $3,332 - $4,044 based on double occupancy
Photo Courtesy of Rovos Rail

Dar es Salaam — Rovos Rail
Currently one of the Rovos Rails most popular trips, the 14-day Dar es Salaam Journey travels through South Africa, Botswana, Zimbabwe, Zambia and Tanzania. Starting off with the historic village of Matjiesfontein in Cape Town, passengers will get to experience two nights in the Madikwe Game Reserve before heading to Zimbabwe with an overnight at Victoria Falls Hotel. Along the way, travelers will get to see sights such as the Kimberley Big Hole and Diamond Mine Museum, Chisimba Falls in Zambia, Great Rift Valley, Selous Game Reserve and will venture on a Zambezi River sunset cruise one evening. Choose between three luxe suite options that all include comfortable sofa seating, en-suite bathrooms, wood paneling, and modern conveniences and technology. There's also a bar fridge that can be filled with the passenger's beverage of choice. Throughout the month, travelers will get to also stay at a few properties such as Cape Grace Hotel, Four Seasons First Residence Hotel and the Hilton Luxor Resort & Spa. Rates include accommodation, meals, excursions, taxes, off-train gratuities, on-train beverages including alcohol and all local beverages during off-train meals.
Dates: All-year long
Length: 14 Days, 13 Nights
Price: $10,600 - $18,900 based on double occupancy