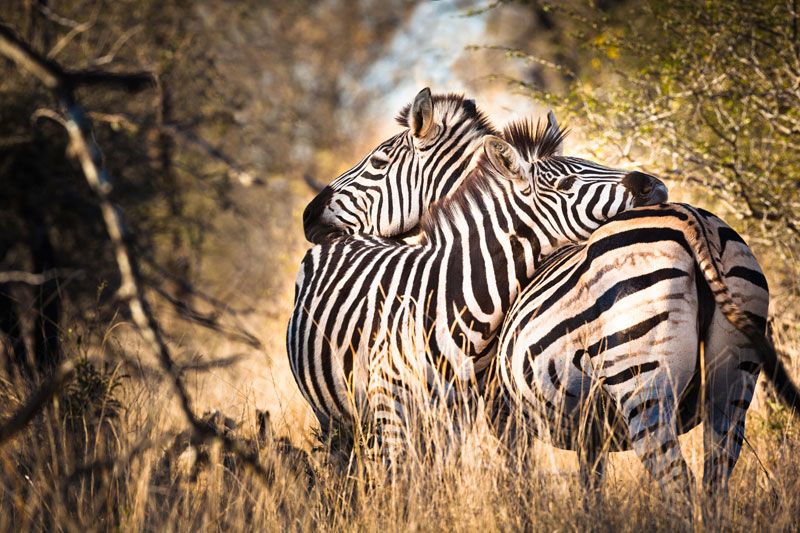 Photo Courtesy of Shutterstock
With more and more couples, families and singles traveling to South Africa to experience the adventure and magic of a true safari, many wonder where to stay, what to pack and what to expect. For most people, the closest they have ever come to a three-ton elephant has been at their local zoo, but the African safari peels away fences, gates, and barbed wire, and allows travelers to witness these magnificent creatures (among many others) in the wild in a safe, oftentimes luxurious atmosphere.
Photo Courtesy of Shutterstock
While Kenya and Tanzania are popular safari destinations, the Sabi Sand Private Game Reserve, otherwise known as the Sabi Sands, is an area adjacent to Kruger National Park and provides the perfect place to see the animals with close proximity to Cape Town and other attractions. This particular destination won't provide views of the sweeping plains or mass animal migrations like somewhere such as Kenya, but it is known for the most "Big 5" sightings of anywhere else in Africa. The "Big 5" refers to the most difficult and most dangerous animals to hunt in Africa including the lion, African elephant, Cape buffalo, leopard and rhinoceros. Many visitors see all five during a typical stay in the Sabi Sands, whereas during a Kenyan safari, you might drive around for hours without seeing one animal.
If you are planning your first safari and have limited time, a three-night stay is generally enough time to spend in what is referred to as "the bush," such as the Sabi Sands. Below, is a guide for first-time visitors:
Photo Courtesy of Shutterstock
Getting There
Like most places in Africa, the Sabi Sands is not easy to get to, but its well worth the trip. From OR Tambo International Airport in Johannesburg, a private charter company called Federal Air offers several flights on small charter planes with an average flight time of two to three hours, stopping at several airstrips in the Sabi Sands, where most lodges have a complimentary open-air vehicle waiting to whisk guests and their luggage to the reception area 10-15 minutes down the road. There are also flights into nearby Nelspruit and Hoedspruit, but depending on where your lodge is located, those airports often require longer ground transportation travel time. Most lodges are more than happy to assist with accommodations, so don't be afraid to ask.
With any air travel, weather can oftentimes be a problem, and that is especially true in the Sabi Sands because the planes dropping off and picking up guests are such small aircrafts. For travelers who are uncomfortable with a four- to eight-seater plane, ground transportation from Johannesburg is another option, but trips can take anywhere from seven to 10 hours.
Photo Courtesy of Shutterstock
What to Pack
Depending on the time of year you are visiting, bring comfortable, casual clothes and leave the stilettos and evening gowns at home. Most lodges provide insect spray, but malaria medication is a must, according to the CDC. Unless you plan to take a "bush walk," which is a nature walk with a guide who is armed in the off-chance you encounter any wild animals, feel free to wear any kind of shoes inside the vehicle, including flip flops in warm weather. The only time you will be permitted to step out of the vehicle is during the morning break where coffee, tea and breakfast treats are served and during the evening drive break where "sun-downers" are served, which is the South African version of happy hour with a variety of beverages. In case of rain, most vehicles come equipped with ponchos, but packing a pair of tennis shoes or hiking boots for muddy terrain is always a good idea.
Photo Courtesy of Chitwa Chitwa
Where to Stay
There are a variety of lodges to choose from, varying from budget-friendly to very high-end, but if you are looking for a higher-end option offering personal attention, gourmet meals, a top-notch spa, chic accommodations, and state-of-the art safari vehicles Chitwa Chitwa has it all. Family owned and operated, Chitwa Chitwa is located on one of few watering holes in the area, attracting animals from all over, allowing guests to enjoy their breakfast while watching herds of elephants taking their morning bath directly in front of the dining area. Each of the lodge's villas boast a pool for use during the hot summer months, and their close proximity to the water source allows visitors to fall asleep at night to the sound of hippos right outside their doorsteps.
Photo Courtesy of Shutterstock
What to Expect
Depending on where you decide to stay, most lodges operate around the same schedule, providing two game drives each day for guests, one in the early morning, lasting three hours, and one in the evening (also three hours long), with meals served back at the lodge in a variety of settings in between the drives. Most vehicles used for game drives are open-air, accommodating up to nine guests, in addition to the guide, who drives and communicates with other guides who all share information about animal locations via a radio, and the "tracker" who sits on a special chair in the front of the vehicle scanning the ground for animal tracks and any signs of wildlife.
Photo Courtesy of Shutterstock
Upon encountering your first animal—maybe a dominant male lion roaring at the top of his lungs or enjoying a wildebeest carcass—you will wonder what prevents the animal from attacking the entire vehicle since oftentimes you are only a few feet away. As the guides, who are highly-trained, will explain, the animals register the vehicle as a harmless object in their midst as the result of years of growing accustomed to it within their environment. This explains why remaining seated is the utmost important thing to remember during a game drive, in addition to never, ever under any circumstances, exiting the vehicle.