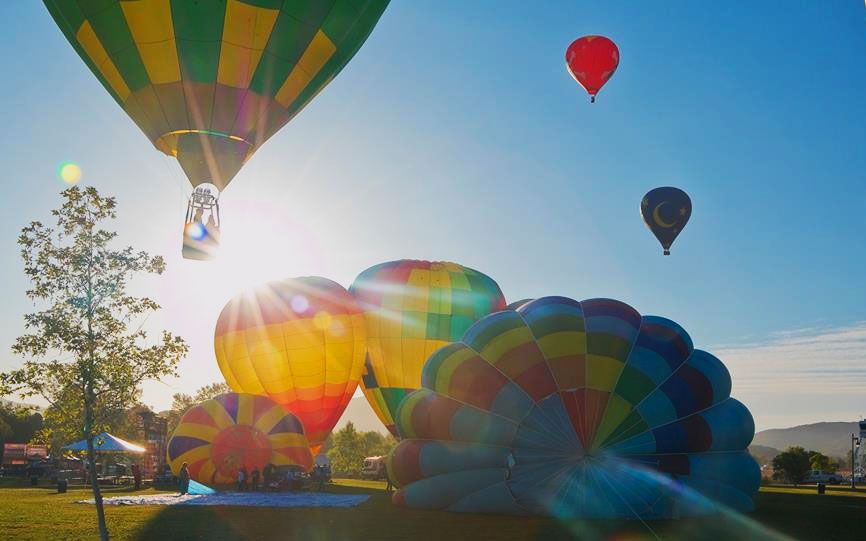 Photo Courtesy of Temecula Valley CVB
With the pull of a lever, puffs of fire shot up above our heads, warming the surrounding air and filling the checkered-rainbow hot air balloon as we rose higher and higher. Lofty Idea, as she is called, slowly moved farther and farther from the ground, quietly showing you how small you really are. On this crystal clear day the wind was tranquil, which meant the women piloting this Wizard-of-Oz vessel would have to heavily rely on finding just the right air space to cause the balloon to move right or left.
Luckily, they were skilled at waiting and watching. Both are veteran flyers, and have flown over many states and countries over the years, including joy rides through Asia. As we paused in the air, the valley was spread out before us; golden rolling hills met with lush green vineyards and Lake Skinner sat still below.
Growing up with a father who works in Napa Valley, CA, and learning about vintages as soon as I could take my first sip of the delicious grape juice, I found myself wondering how Temecula Valley could compete with one of the world's best wine countries. Is it supposed to, or would it prefer to be its own entity, not claiming any competition with its neighbor to the north? Making my first real trip to the city, I wanted to discover everything it had to offer.
Photo Credit: Kimberly Gilroy
Hot Air Ballooning
Temecula Valley is only 60 miles north east of San Diego and 90 minutes from Los Angeles, and aside from its vineyards, hot air balloon rides are another major attraction to the over 266,000-population city. If you've never experienced this before, it comes wholly recommended.
One of the interesting things about the 60- to 75-minute rides is that you aren't strapped into anything, which can tend to worry riders; however, because of the slow ascent and descent, it isn't as frightening as it would seem. There are also weight limits that vary on each balloon so if hoping to go up with more than yourself in the basket, be sure to know how much weight it can fit before reserving. (Note: If you're a taller person, you will feel the heat of the flames atop your head, wear a baseball cap if that would make you uncomfortable).
Photo Credit: Kimberly Gilroy
There are four tour operators available, and rates range anywhere between $126 for a basic ride with two to six passengers to $740 per person for a private tour. A Grape Escape Balloon Adventure offers a $599 per person Private Sweetheart package for two which soars through wine country and comes with a continental breakfast, Champagne and a stop at Europa Village Winery for wine tasting.
Each year, the valley also hosts the Temecula Valley Balloon & Wine Festival at the end of May where attendees can venture through different wine and food booths and learn more about the area's local vendors. All ages are welcome to attend and live music is performed on two stages. Last year, Justin Moore, the 2014 ACM New Artist of the Year performed to a horde of cowboy-boot-wearing men and women all singing along to his country hits. Exclusive Festival Experience tickets include a full hook-up campsite at the fest plus an exclusive backstage meet and greet with the entertainer of your choice, among its other perks.
Photo Courtesy of Temecula Valley CVB
Wine Tasting
Temecula's climate is similar to Napa Valley's with warm, dry days and cool evenings, yet since it's farther from the Pacific Ocean than Napa, it gets less rain which offers more sunny days. Ranging from the mid to high 80's in the summer, the valley makes for a great destination for an afternoon of wine tasting.
Before you get started, look into hiring a private driver for your day. Sunset Limousine & Transportation offers a range of vehicles from towncars to SUV limos. If you're heading out with a larger group, consider their Ultimate Limo Party Bus so that your guests can spread out instead of bumping knees in smaller limousines. It comes with two Champagne buckets, three large ice buckets with waters and sodas, glassware and cups, 4200 watt stereo system, DVD/CD player, iPod connection, 2 TVs, 12″ sub woofers, fiber optic lighting, neon lighting, strobe lights, led lighting, lasers, stainless steel trim, and of course, a dance pole.
Photo Courtesy of Robert Renzoni Vineyards
Stopping at a few local wineries to sip on various reds, whites, bubbly's and rosés, Robert Renzoni Vineyards found its way to the top of my list for a must-try while in the valley. Walking up to the winery, its façade is reminiscent of a Tuscan-style villa with stone accents laid on top of the earth-toned building with Spanish-style roofing. Inside, dark wood wine racks line the walls behind the tasting counters and light hardwood flooring is paired with hanging mini pendant light bulbs and exposed wood beams.
On their tasting menu, a few standouts were the 2010 Barbera aged in 100 percent French oak and had deep plum notes, hints of dark chocolate, violet aromas and a cozy warm finish along with the 2010 Sangiovese suggestive of fresh berries, toffee and small subtle essences of vanilla. We made sure to leave with a bottle (or two) of this one. Robert Renzoni also has a couple outdoor areas to enjoy (particularly with your own bottle of wine), and the views are gorgeous, so make sure to allot some time to sit and relax.
Photo Courtesy of South Coast Winery, Resort & Spa
Dining
When it comes to dining, Temecula has no shortage of exquisite cuisine to choose from, covering a range of tastes from delicious comfort foods to elegant spreads at the valley's top restaurants. One of those eateries is The Vineyard Rose located inside of South Coast Winery, Resort & Spa. Winner of the 2013 Wine Spectator Award of Excellence and 2014 OpenTable.com Diners' Choice Award, The Vineyard Rose is a fine dining venue open for breakfast, lunch and dinner.
Using locally grown ingredients, all their dishes are creatively designed to be complemented by their award-winning wines. The dinner menu features items such as Golden Bear Charcuterie, Wild Mushroom and Duck Linguini, Peppered Skuna Bay Salmon and Bison Short Rib Confit with green pea and pearl onion sauté, balsamic glaze, hazelnut gremolata and crispy chili polenta. For a real treat, request a seat on the patio where the acres of vineyards create a stunning backdrop in shades of green.
Photo Courtesy of South Coast Winery, Resort & Spa
If looking for a more intimate setting, the Chef's Table Dinner is a five-course meal personally served to you by the chef for $135 per person. Featuring fresh meats, seafood and locally grown produce, the chef will explain each course which will come paired with wines.
Photo Courtesy of Temecula Creek Inn
Accommodations
South Coast Winery Resort & Spa is also a beautiful hotel for those staying overnight. The spacious villas and suites are designed with a Tuscan feel and rich warm colors decorate the rooms. Among the other four- and five-star choices in the valley, Temecula Creek Inn is particularly impressive with its opulent log-cabin façade set against a 27-hole championship course. Hidden down a tree-lined road, the resort sits on 300 acres of land boasting sweeping mountain views and a picturesque creek flowing through the resort.
With over 130 accommodations, guests can choose from smaller rooms for quick trips or a private three-bedroom house for a more home-away-from-home feel. Around the property, guests can take a dip in the pool, enjoy a meal at Cork | Fire Kitchen or spend some time on the four-star golf course considered one of Golf Digest's "Places to Play." But if you'd rather just spend your afternoon lounging on the resort's outdoor patio, that's fine too.
Photo Courtesy of Temecula Creek Inn
Following a $2.5 million renovation, the rustic, yet refined, Cork | Fire Kitchen emodies everything that is good about farm-to-table dining. Their fresh, locally-sourced dishes (their herb gardens are planted right outside the hotel's main entrance), highlight the daily bounty from local farms. From the first bite until the last, you may begin to feel like a true foodie as you describe each ingredient you taste and which herbs give it just the right hint of flavor.
Photo Courtesy of Temecula Valley CVB
On the final day of my Temecula excursion, I found myself having a newfound love and respect for the valley and its people. Everywhere we went, people knew each other, hugs were shared and stories were told. While Napa's community has a similar feel, there was something a little different about Temecula's residents. Maybe it was the year-round sunny weather or the small-town atmosphere, but everyone seemed to have a very contagiously joyful disposition.
Speaking with Marlene Wallace, Temecula Valley Convention & Visitors Bureau's Marketing PR Coordinator, she told us of her tales of living in Italy for the past five years, regaled stories of dating a well-known musician's father (you'll have to ask her who), and talked of her many travels. This is the kind of person you'll find in Temecula, the free-spirited type with a zest for life, its cuisines, and adventures, and constantly taking note of all its beauty. Aside from all the region has to offer, they are the heart behind the city and the reason visitors will continue to return. It's not Napa Valley, but it doesn't need to be.
Photo Courtesy of Temecula Olive Oil Company
Temecula Olive Oil Company
Photo Credit: Kimberly Gilroy
Old Town Sweet Shop
Photo Credit: Kimberly Gilroy
Old Town Root Beer Company
Photo Credit: Kimberly Gilroy
Old Town Spice & Tea Merchants
Photo Credit: Kimberly Gilroy
Justin Moore, Temecula Valley Balloon & Wine Festival