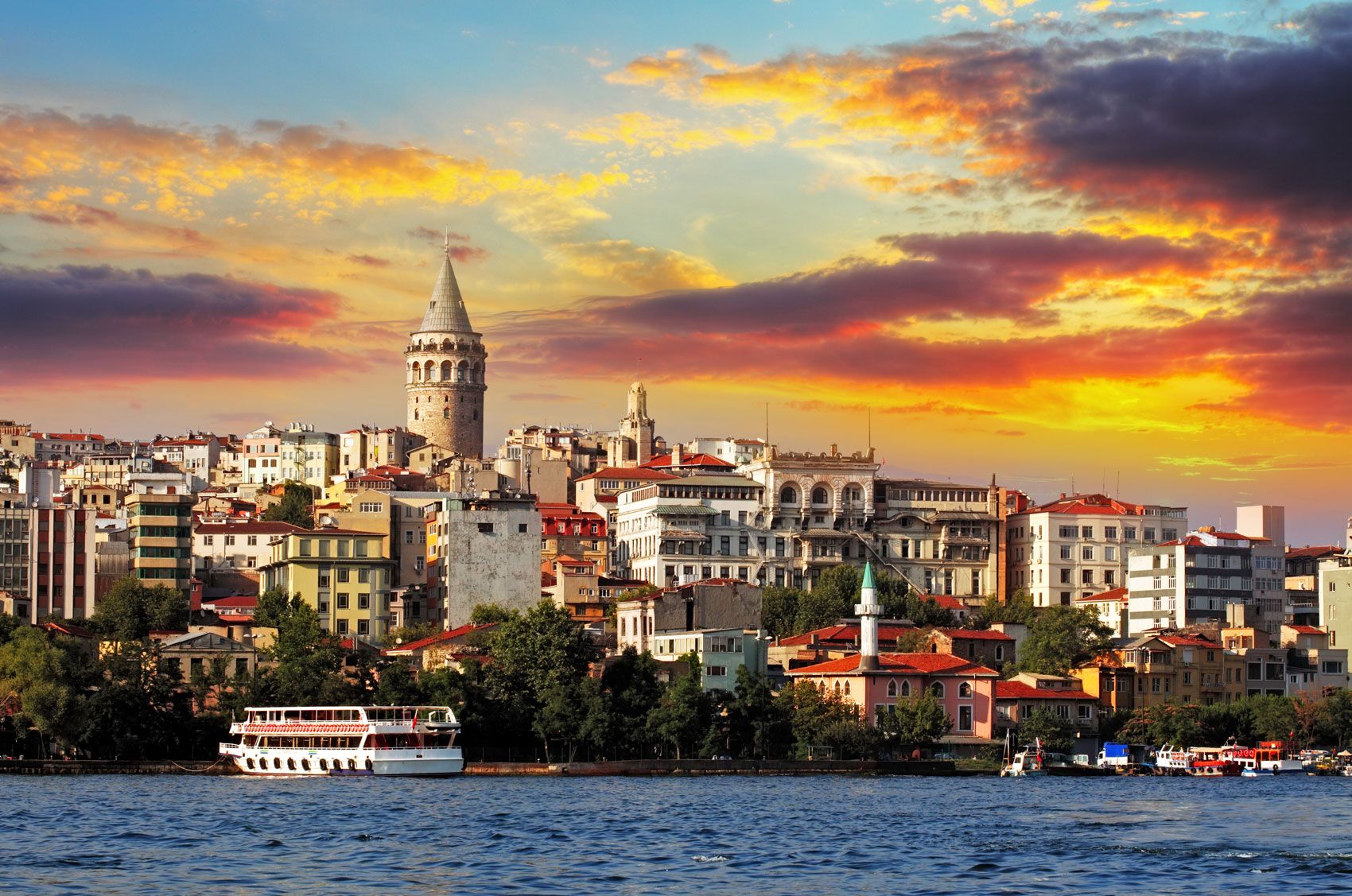 Photo Courtesy of Shutterstock
Istanbul is hot these days, and we're not just talking temperature. A slew of hotels, high-end boutiques and ritzy restaurants are opening left and right in both the old and modern sections of this ancient city. If you haven't made it to the alluring land that connects Europe with Asia, now is the time to go.
Photo Courtesy of Vault Karaköy
The Hotel Scene
Once a 19th century bank, Vault Karaköy— that latest of boutique-chic House Hotel's properties to open—has oodles of personality. Many of the building's neo-Renaissance details were kept, from the original steel cage elevator leading to the vault (now the wine cellar), to safes which now house an ATM and bottles for the bar. The basement also houses a full spa, complete with a vintage Turkish bath house. The 69 rooms, however, are all 21st century cool with flat screen TVs, iPod docking stations, rainforest showers in the marble bathrooms, and free Wi-Fi (plus a full and varied breakfast buffet).
Photo Courtesy of Raffles Istanbul
Raffles Istanbul opens September 1 within the luxury Zorlu Center Mall in the city's modern Besiktas region. Each of the 181 rooms has a balcony, with some facing the famous Bosphorus Bridge. Even the lowest category accommodations are the size of a mini-suite with enough space for a chaise lounge, walk-in closet, and hammam-style steam shower that takes bathing to another level. Butler service is provided for every guest, whether they arrive by taxi or via the helipad on the hotel roof. In addition to the two restaurants, the Singapore-based hotel group brought in many of the original hotel's same touches that have made the brand famous, like the Long Bar (birthplace of the Singapore Sling) that offers an outdoor terrace that looks out onto the city and makes sunset cocktails super romantic. But it's the Champagne Room, with its extensive list of sparkling wines that makes us bubbly with excitement.
Rendering Courtesy of The St. Regis Istanbul
The St. Regis Istanbul will throw open its opulent doors in the upscale Nişantaşi neighborhood (near Şişli) come February 2015. With just 118 rooms, the intimate, but grand hotel will provide personal service like free butler service for each guest. Some rooms will have panoramic views of Macka Park or the Bosphorus, though everyone gets a front-and-center seat to behold the magnificent strait and the colorful nighttime bridge display when they stop by the hotel's rooftop terrace for sips and snacks.
Word is the Viceroy is coming to the Bebeköy area, near the Bosphosrus in the next year (delayed from a 2014 opening) and a 130-room Mandarin Oriental will open in the Beşiktaş waterfront area in 2016.
Photo Courtesy of Alexander Tolstykh/Shutterstock
Turkey's Top Shopping Spots
While the tradition of purchasing goods from the Spice Market and Grand Bazaar will always be on the must-do list for Istanbul visitors, locals are embracing the mall more than ever. Retail complexes are bringing in designer goods, and for travelers, the Turkish Lira (currency) may make some purchases a better bargain than at home, especially in tax-free shops.
The Zorlu Center Mall in Besiktas is a mega shopping center housing some of the biggest names in fashion. Opened in October 2013, it's already become popular with Istanbul's well-heeled crowd. There they can satisfy their need to buy Aldo staples as well as the latest styles from Lanvin and Valentino. It even houses Turkey's first Apple store. If shoppers get hungry from all that retail therapy, there are over 40 options, including Jamie Oliver, Eataly, and a full-scale Godiva restaurant to refuel.
Photo Courtesy of Kanyon
Kanyon is a 160-store open-air mall in the Levent financial district that's expanded beyond its original 140 outlets, adding a MAC and Max Mara shop. British brand Harvey Nichols remains the retail anchor, but there are plenty of Turkish stores as well, like the well-known fashion and silk purveyor Vakko and glassware maker Paşabahçe. Bonus points to the developers for making access to this out-of-the-way-area easier via a simple train ride from the Taksim region.
Photo Courtesy of Ferah Feza
The Rising Restaurant Revolution
Turkish street food is the stuff of legend. The pavements are filled with vendors selling kebabs, mussels on the half shell, fresh roasted corn, and nuts. But there's also a growing restaurant scene for those who want to shake up their gastronomic experience.
The rooftop bar/restaurant FerahFeza quietly opened in August 2013. The appropriately named eatery, which means "open space," is housed in former bank in the Karaköy neighborhood. The Pan-Mediterranean-style eatery is a secret to most tourists, but is packed to the gils with Istanbulites who not only come for the filo pastry stuffed with goat cheese and red-wine roasted octopus, but for the extraordinary views of the historic Galata Tower, which looks magnificent lit up at night. Whether you come for dinner, or just glasses of raki on the outside terrace, it's a must-see.
Photo Courtesy of Çırağan Palace Kempinski
One of the city's most classic and classiest hotels is the Çırağan Palace Kempinski, but that doesn't mean it's old-school and stodgy. They're able to mix and match with the best of them. This summer they jumped on the pop-up restaurant trend, with a garden bistro featuring chefs from the Culinary Arts Academy of Istanbul. And those who want a taste of true Ottoman cuisine can experience the new menu at Tuğra restaurant. Traditional börek, savory pastries filled with meat, cheese, or vegetables, Testi lamb casserole, and other items dating back to the 15th century will be on offer along with outdoor tables overlooking the palace gardens and the Bosphorus.
Photo Courtesy of Palazzo Donizetti
Duble Meze Bar is the new kid atop of the Asmalımescit area's Palazzo Donizetti hotel. Opened early this year, and designed to be a modern Turkish tavern or "meyhane," this spot serves small plates called meze. Those with time to spare order many dishes and savor a dinner of Ottoman risotto or sea bass steak with Swiss chard. Others come up to get a quick fix of high-end street fare like stuffed mussels and pickled cured beef as well as the restaurant's view of the Golden Horn waterway.