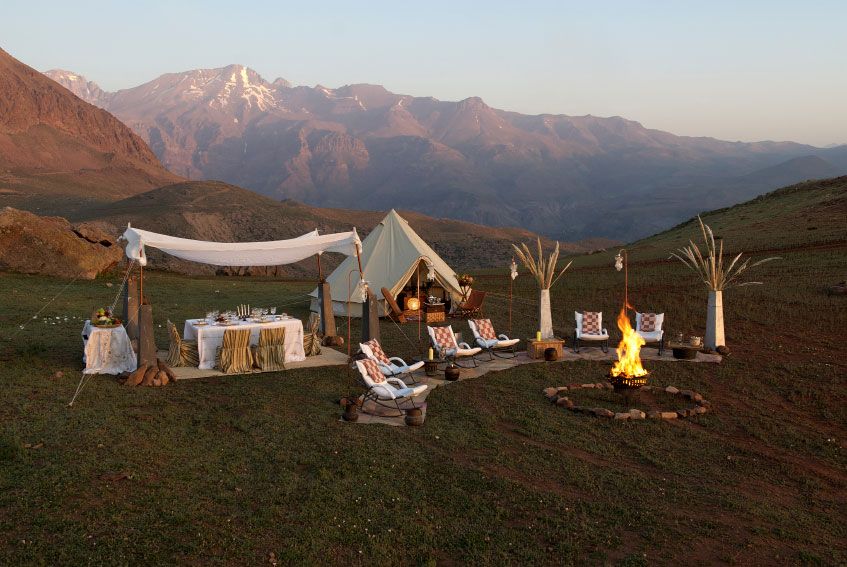 Photos Courtesy of TerraVelo Tours
It can't be denied that one of the best ways to enjoy nature and its beautiful landscapes is by getting out from behind our computers and experiencing it outdoors, firsthand. While some may not immediately consider a bicycle excursion to be the preferred method of travel, TerraVelo Tours is inviting active explorers to get out into the open on two-wheels for seven-day tours of Utah, California and Yellowstone and Grand Teton National Parks.
Their fully-inclusive trips mesh together the luxury world with the cyclist community on year-round adventures that offer personal connections, glamping experiences and culinary delights. "TerraVelo Tours provides moveable luxury camping with a rigorous and exhilarating cycling itinerary," states David Levine, co-founder of the luxury cycling tour company. "Our bicycle tours bring together a maximum of 12 guests for intimate dinners, amazing food and enlightening conversation, complemented by luxurious camping and amenities. Our guests are cared for by ten staff members, the highest ratio among bicycle tours."
Having cycled through 61 countries, Levine was previously a professional saxophonist aboard cruise chips before finding his real passion for bike touring during his first three-month excursion. Levine heads up the "Travelers" group which is open to all levels of cyclers. Riding 20-40 miles daily, this unit will focus on hikes, horseback rides and cooking demonstrations.
On the other end of the spectrum is the Peloton group which is for the more advanced cyclist. These riders will journey 70-100 miles each day through demanding passes that give way to beautiful terrain, all led by a Tour de France veteran. While on the journey, riders will learn tips on best training practices and can learn more about what it takes to be a professional cyclist.
At the end of each day, campers will end up at a luxury campsite outfitted with high-end amenities and furnishings. Each tent offers Tempur-Pedic mattresses, down comforters, Turkish bath towels, Molton Brown toiletries and sundries, Frette linens, rugs, and furnishings from ABC Home & Carpet and Mitchell Gold + Bob Williams.
Aside from the accommodations, TerraVelo promises to take care of every detail during the trip as well. "Just get yourself to the airport, and we'll take care of the rest," says Rebecca Martin, Levine's partner and co-founder. "Airfare, excursions, a masseuse, even the toothpaste are included in the experience. A private chef and sous chef will accompany us, preparing all our meals and snacks during each seven-day adventure. Our accommodations every night will be in luxurious, elegant tents, adding to the beauty of the scenery while providing supremely comfortable shelter. This is unheard of in our cycling world!"
During the mornings, a sunrise yoga session will be available for those looking to focus their chi for the day while during the evenings, entertainment including live music and a campfire will give guests the opportunity to interact with other riders under the starry sky. "We remember the magical moments in life. TerraVelo promises to be the highlight reel of your special movie," said Martin.
All itineraries are $7,850 per person (double occupancy) and include coach airfare from the lower 48 states, a bike and helmet (or your bike can be shipped), TerraVelo water bottles, all meals and accommodations, laundry service, all excursions, in-camp massages and full-size Molton Brown toiletries.