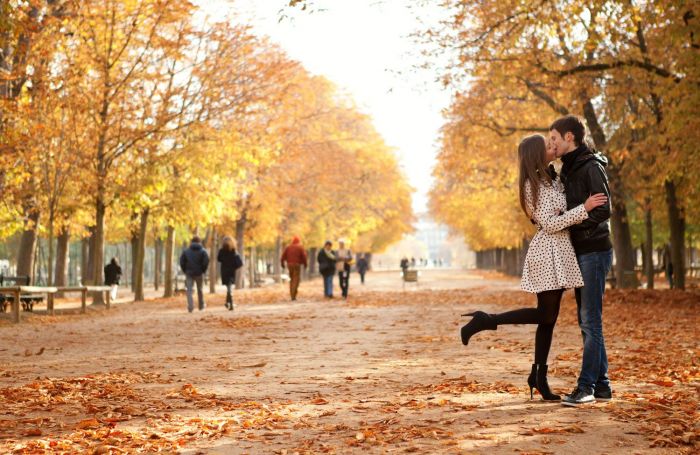 Photos Courtesy of Shutterstock
It's almost September, which means many of you are probably looking forward to throwing on comfy sweaters, cute boots and cuddling up by a fire as summer turns into autumn. With orange and red foliage sprinkling the ground, cooler weather and the smell of apple spices filling the air, we can't wait to head to some of our favorite fall destinations.
And if you're in love, this is one of the most romantic seasons to enjoy with your significant other. If you're dreaming of pumpkin spiced lattes and hay rides at harvest festivals, take a look at our list of seven romantic fall foliage locations to visit with the one who makes your heart beat just a little bit faster.
Aspen, Colorado
Since Aspen's high season is from December to February, a fall visit pretty much guarantees you an intimate vacation filled with more locals than tourists. Temperatures range from the mid-40s to the high 60s, making it the perfect location for hikes on its famed Fourteeners (peaks over 14,000 feet) surrounded by the 2.3 million-acre White River National Forest. It's difficult to predict the best time to experience the fall foliage, but September offers greater chances of the golden leaves.
Best Fall Foliage: September
Where to Stay: The St. Regis Resort Aspen
Room Choice: One Bedroom Suite
Date Idea: Start your day with a hike up Smuggler Trail (easy-moderate) before getting a couples massage and soaking in the hot tub at the St. Regis spa. For dinner head over to Piñons for a romantic evening filled with tasty new American cuisine and be sure to check out their extensive list of wines by the bottle.
The Berkshires, Massachusetts
Known for its world-class foliage, The Berkshires attracts New York, Boston and Philadelphia locals to its terrain during autumn. It's also notable for its many art galleries and antique shops, so you'll find many city-dwellers shopping among its stores on the weekends. Along its quiet country roads, quaint homes and breathtaking red and orange leaves make for a picturesque drive.
Best Fall Foliage: Late September to mid-October
Where to Stay: Blantyre, a Relais & Châteaux hotel
Room Choice: Paterson Suite
Date Idea: Request a picnic basket from the hotel a day in advance and the next afternoon, pick it up and head to the Berkshire Botanical Garden for lunch. Next, gallery hop and explore the beautiful exhibits and art collections that the region is known for. In the evening, choose one of the plays or musicals put on by the Berkshire Theatre Group and settle in for a night of live entertainment.
Stowe, Vermont
Sitting beneath the state's highest peak (4,395-foot Mt. Mansfield), are the rolling hills and valleys of Stowe, Vermont, a village which is more known for its ski slopes than its fall activities. Here, chilly mornings turn into crisp days with cool breezes while sugar maples along country roads turn into golden delights. White church steeples can be seen throughout the town and the air is rich with aromas of pumpkins, apples and wood smoke. The spirit of hospitality is present anywhere you go, so be sure to spend some time chatting with locals over a warm cup of hot cocoa.
Best Fall Foliage: End of September to mid-October
Where to Stay: Stowe Mountain Lodge
Room Choice: Mountain Cabins
Date Idea: Imagine soaring over Vermont in your own private hot air balloon while viewing the city's beautiful reds, oranges, yellows and greens mixing together for a truly breathtaking experience. The Vermont Foliage Flight is only available October 1-18. Book a flight in the morning and by mid-afternoon enjoy a day of wine tasting at Boyden Valley Winery located in a restored 1875 carriage barn.
Camden, Maine
Camden's coastal location has made it a postcard-worthy destination and one of the most popular destinations on Maine's coast. The town is famous for its fleet windjammers, both relics and replicas, that give the area a more romantic feel with their billowing sails against the sparkling waters. As the leaves start to change, yellow hues shimmer in the breeze on the state's native foliage such as sugar maple, oak, elm, birch and ash. Because of its many mom & pop shops, the region is a culinary mecca in New England for locally-owned dining establishments.
Best Fall Foliage: First two weeks in October
Where to Stay: Grand Harbor Inn
Room Choice: Waterfront Grand Suite
Date Idea: As a coastal harborside town, one of the best ways to view Camden is by boat. Maine Windjammer Cruises offers Fall Foliage excursions including an overnight weekend cruise starting at $495 per person/based on double occupancy. Cuddle up with your beau on the deck as you view spectacular autumn colors and enjoy a surf & turf BBQ dinner. If you're more comfortable on land, check out what's playing at Camden's Opera House.
White Mountains, New Hampshire
The White Mountains cover about a quart of the state and are considered the most rugged in New England and its 6,288-foot peak is the highest in the Northeastern U.S. In 1934, the peak recorded wind speeds of 231 mph, the highest wind velocity in the world. Because of its brilliant crimsons, warm goldens and radiant oranges, the range has drawn hundreds of painters during the 19th century. For avid hikers, The Whites have a number of alpine huts available operated by the Appalachian Mountain Club.
Best Fall Foliage: Beginning of October
Where to Stay: Mountain View Grand Resort & Spa
Room Choice: Summit Suite
Date Idea: Take a romantic four-hour Fall Foliage train ride through the White Mountains on Hobo Railroad and upgrade to First Class in the New York Central Private Pullman car for an ever better journey. You'll pass by scenic landscapes such as Lake Waukewan, Winona, and the Pemigewasset River heading from Ashland to Plymouth. We recommend using this time to turn off your phone, sit back and truly relax on your vacation.
Upper Peninsula, Michigan
With 300 miles of unspoiled forests, luminous waterfalls and red sandstone churches decorating the Upper Peninsula in Michigan, it's no wonder American poet Henry Wadsworth Longfellow chose to write about the stunning destination. Only about 30 percent of the state's population resides there, so what is left is an untamed region full of nature's beauty and buzzing with wildlife. In the Keweenaw Peninsula, the land was mined by prehistoric miners starting in 3,000 B.C. and the area held over 1.5 billion pounds of pure copper. Today, it is a land of old mining villages, ghost towns and century old pines.
Best Fall Foliage: End of September to October
Where to Stay: Landmark Inn
Room Choice: Penthouse Suite
Date Idea: Get a little adventurous and check out the "catcher's mitt" for lost ships at the Keweenaw Underwater Preserve. Here, couples can scuba dive into Lake Superior's waters and will discover a plethora of shipwrecks dating back to the 1800s at Eagle River, Eagle Harbor and Copper Harbor. At night, dry off and enjoy a fine dining evening at The Brownstone Inn's restaurant; their menu includes American classics and an extensive beverage menu.
Long Island, NY
New York is known for many things, and locals will be the first to tell you that during autumn, Upstate is the place to be. But Long Island also offers some of the prettiest landscapes and is definitely on our list of favorites for the season. During the fall, the isle's true colors are shown off as the region's maples change hues and apple orchards become ripe for the picking. It is also home to America's Historic Gold Coast mansions, the grand estates that defined the lavishness of the Roaring Twenties and the same homes described by Fitzgerald in The Great Gatsby. Throughout Long Island, early 20th century architecture can be seen and of course, the nearby Hampton estates mean may be rubbing shoulders with socialites, Hollywood celebrities and dignitaries.
Best Fall Foliage: September to October
Where to Stay: The Baker House 1650
Room Choice: The Loft Suite
Date Idea: Get your hands dirty and go apple picking at one of the city's many orchards. Share a slice of apple pie a la mode, sip on hot apple cider, and make your way through Hank's Pumpkintown Corn Maze, all the while really getting into the fall spirit with your date. For dinner, make reservations at Nick & Toni's—reminiscent of a Tuscan farmhouse—the restaurant serves rustic Italian and Mediterranean cuisine.