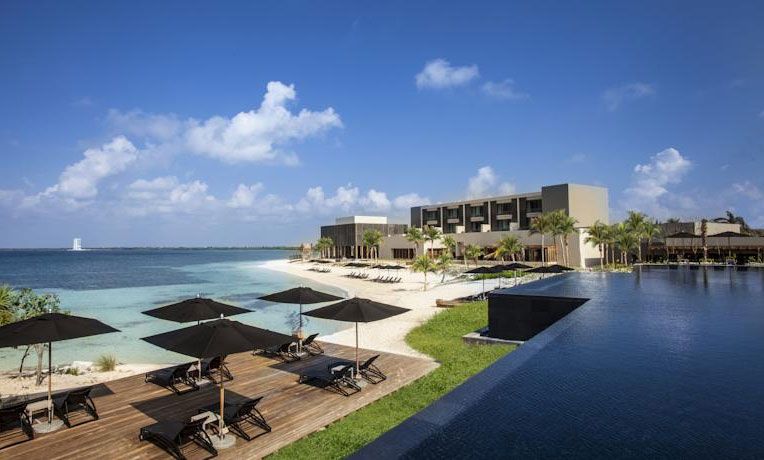 Photos Courtesy of Nizuc Resort & Spa
When you think of Cancun, Mexico, images of intoxicated spring breakers partying at Senor Frog's probably come to mind. But conveniently located only 15 minutes from the city's airport in an exclusive area called Punta Nizuc, there is a very, very different grown-up, luxury experience available.
With 274 suites and villas, Nizuc Resort & Spa is situated on 29 acres of land on the Yucatan peninsula and provides guests sweeping views of the pristine coastline, access to the only two private beaches in the area, and a 30,000-square-foot spa by internationally known ESPA spas, the only one in the Riviera Maya. The resort also features five swimming pools, a kids club, six world-class restaurants offering everything from Asian fusion at Indochine to Italian at Terra Nostra and Peruvian at Ni to of course, Mexican cuisine at Ramona. In addition to the fine dining options are several lounges where guests and locals from some of the area's most elite social circles can enjoy a drink or even a hand-rolled cigar in the hotel's Havana Lounge.
The resort and rooms are perfectly appointed in a clean, no frills, Mayan style full of earth tones straight out of a Restoration Hardware catalog, and no detail has gone overlooked from the beach bag placed in each room for use around the resort to the delicious surprises left in the room practically each time a guest returns.
But what really sets this place apart from the larger hotel chains is its staff. Give the kind, attentive, courteous servers, beach attendants, butlers and housekeeping staff, a day or two, and they will remember not only your name but all the details of your stay: how you like your coffee at the elegant breakfast spot Café de la Playa, the fact that you had dinner the night before at the poolside La Punta Grill & Lounge or that you snorkeled two days ago around the reef only 30 feet in front of the property.
The most memorable detail, hands down, is the way the staff greets each and every guest. Instead of a traditional wave hello or goodbye, they place their hands over their hearts and offer a slight bow, which tugs so deeply at your own heartstrings you just might want to pull them in for a hug! I know I did.
Here, the five best things to do at the resort and in the surrounding area of Punta Nizuc. Trust me – they are the farthest things from the tequila-drinking contests going on with the college crowd.
Visit the Nizuc Spa
At 30,000 square feet, the Nizuc Spa by ESPA offers more than your average massage, facial and body wrap. While their treatments are impressive, the Nizuc Thermal experience is unlike anything offered at other spas. Included in the experience is an aromatic steam room, an ice fountain with cool mist shower, a vitality pool with hydro-massage and more. It could be an entire spa day unto itself. Each 50-minute treatment includes the Nizuc Thermal Experience at no extra cost, so you may as well treat yourself and push your pampering plan into full gear. You won't regret that ESPA Personalized Facial when you are sitting, legs elevated, in a heated thermal lounger sipping green tea afterward. Set aside at least two or three hours for this, you may never want to leave.
Swim With Sharks
If you're visiting from June to September, Contoy Island, which is only a 30-40 minute drive from Punta Nizuc, is home to gigantic whale sharks. They aren't dangerous but are known as one of the largest fish on earth with some up to 49 feet long! When the boat anchors and divers are getting ready to see the whale sharks up close and personal, the water can be very rocky which can cause sea sickness for some. Wear anti-seasick pressure point wristbands or take Dramamine before you go to prevent looking green in all of your photos. Trips can be arranged through the hotel concierge.
Taste Everything
Nizuc Resort & Spa is known for its world-renowned restaurants and chefs, and while no one restaurant can be argued superior to the others, there is one dining experience to put on your list. Ramona, named for the hotel owner's mother, offers La Cava Santo Tomas, a four-course tasting menu served in a private cave-like room. Executive Chef Bladimir Garcia's menu includes foie gras terrine on top of fresh figs Carpaccio or piquillo chile stuffed with cod fish brandada and basil emulsion. If you like wine, try the wine pairings. Most people think of tequila, not wine, when they think of Mexico, but the small-batch Nizuc Resort and Spa private label is worth a taste, particularly the Vino Blanco Nizuc by Bodega Santo Tomas.
Explore the Islands
Isla Mujeres, which in Spanish means "Island of the Women," is a peaceful labyrinth of tiny streets only 20 minutes from Punta Nizuc by boat. The island, which only spans 4.5 miles, doesn't allow cars, making it a unique escape from the hustle and bustle of the rest of the area. Don't miss seeing the remains of an old Mayan temple or the Tortugranja—the government-supported Turtle Farm—a sanctuary designed to protect several types of turtles and increase the turtle populations. Between May and October, turtles are released into the wild and visitors can participate in this beautiful event.
Take in a Mexican Sunset
The best seat in the house is on the patio of Nizuc Resort & Spa's A-kan Bar, which is open to the public. From there you can watch the sky turn shades of pink, purple and orange while sipping a refreshing cocktail before dinner. The interior of the bar is breathtaking as well with floor-to-ceiling windows that climb two stories and a luxe chandelier pulls the room together. Sunsets in Punta Nizuc are fairly fast, so make sure you plan ahead and time it correctly; blink and you might just miss it. Once the sun goes down, and you've captured enough photos of the postcard-worthy views, try one of the newest additions to the bar's extensive cocktail menu: Baron Tequila. This gluten-free gem is found in some of the hottest bars and restaurants in New York City and Miami, which has made it an instant celebrity favorite. Try it served on the rocks or with a slice of orange sprinkled with cinnamon, a commonly used spice in the area.