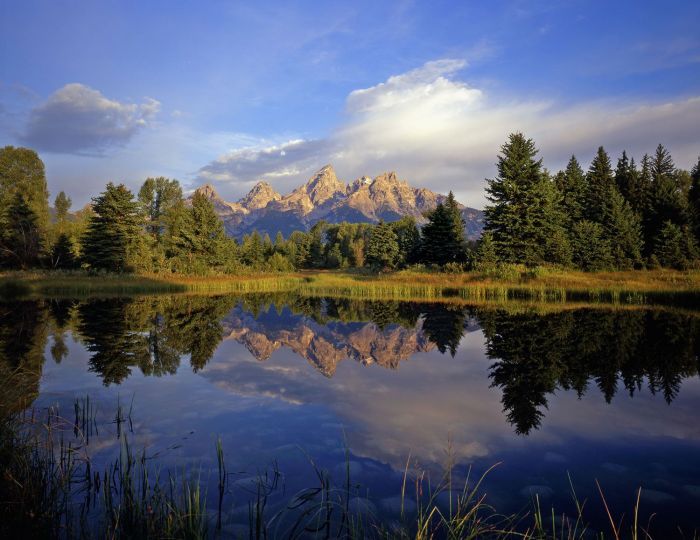 Photo Courtesy of Shutterstock
The majestic beauty of Jackson Hole, Wyoming often flabbergasts visitors. Surrounded by snow-capped mountains, this resort town is a year-round destination for nature lovers and outdoor enthusiasts. The peaks of Grand Teton National Park that frame the town of Jackson Hole are striking because they appear to stand alone, rising up over 7,000 feet tall out of the valley floor.
Photo Courtesy of Shutterstock
An old-school cowboy town with lots local color and modern panache, Jackson Hole offers travelers dining options from haute cuisine to cowboy saloons and plenty of entertainment options including art galleries, live music and of course plenty of active, outdoor activities. And don't be surprised if you bump into celebrity rancher Harrison Ford or Academy Award winner Sandra Bullock on the street; Jackson Hole is quietly catching up to Aspen as the preferred, understated alpine getaway for the rich and famous.
A weekend in Jackson Hole is where authentic Western sensibilities and wilderness adventures are balanced by comfort and style. Consider visiting Jackson Hole during the "shoulder season" months of April/May and October/November to avoid the busy winter season. If you're headed to Jackson Hole, Wyoming for a weekend, here's what you need to know:
Photo Courtesy of Shutterstock
How To Get There
Jackson Hole and its slopes can be accessed non-stop from 13 cities across the United States by flights on United, Delta, American and Frontier. There are a number of shuttle operators who can provide transport from the Jackson Hole Airport (JAC).
Photo Credit: Parm Parmar
Where To Eat and Drink
Jackson Hole is quickly becoming one of the best foodie destinations in the western United States. Begin your day with breakfast at The Granery Restaurant at Spring Creek Ranch, order a freshly made omelet with all the fixings, you won't be disappointed. Recent recipients of the prestigious DiRoNA Award, an Award of Excellence from Wine Spectator and honor of Best Hotel Chefs of America series at the James Beard House, the breakfast menu at The Granery is almost certainly a well worth visit.
Don't miss one of Jackson Hole's hottest tables at The Kitchen by Fine Dining Restaurant Group. Presenting a menu packed with local ingredients, plenty of fresh fish and a wine list endorsed by Wine Enthusiast, The Kitchen's warm atmosphere is intimate and family-friendly. Try the grilled Sherry-Honey Glazed Salmon with a delightful sauvignon blanc.
Photo Credit: Parm Parmar
For lunch Bin 22, Jackson's premier wine bar and shop, is the perfect stop with tapas-styled small plates on menu with wines by the glass. Grilled artichoke and house-pulled mozzarella are standouts along with other dishes; the chefs do an outstanding job. On the way out (and conveniently situated), guests must walk through the Wine Market, making it impossible to leave without picking up a bottle or two.
Photo Credit: Parm Parmar
The Westbank Grill, located at the Four Seasons Resort in Teton Village, is another fine dining experience with an authentic mountain vibe. Warm up by the large stone fireplace after a long day on the slopes and watch the talented team go to work in the open kitchen. Offering an impressive selection of local cheeses and charcuterie for starters, the restaurant's main attraction is a large variety of local meats cooked to perfection in the 1,800-degree infrared grill. Before ordering the mains, the melt-in-your-mouth Thai Tea Glazed Foie Gras Salted Caramel Waffle with almond brittle and bourbon-soaked cranberries, is a must. Each steak is cooked to perfection and accompanied with a sauce of your choice from huckleberry, béarnaise or peppercorn—just to name a few. Wines by the glass, from a vast cellar, are available to accompany the meal.
Finish the night by visiting the locally-owned Million Dollar Cowboy Bar and Steakhouse Bar, circa 1897, just west of the town square. Spend the evening dancing, drinking and meeting some very colorful locals and interesting tourists. Don't worry about not knowing how to do the two-step, everyone there is having a fun night out.
Photo Courtesy of Shutterstock
What To Do
Visiting Jackson Hole is all about getting out into the fresh air, and this ski resort is known as a destination for serious skiers. While the recently opened Casper lift provides access to expanded intermediate terrain, the majority of the mountain is advanced.
Photo Courtesy of Shutterstock
But there is plenty to do in Jackson Hole besides ski. A guided safari jeep tour through the Teton Mountain is an excellent way to get up close and personal with these majestic peaks. Jackson Hole Wildlife Safaris operates these tours year round. With a focus on wildlife and photography, these guides are some of the most experienced in the region. On the safari its highly likely that bison, elk, deer, moose, fox, coyote and bald eagles will cross your path.
Fitness aficionados can arrange guided hikes to the Tetons with local outfitters like Hole Hiking Experience. Book a "sampler" tour, which lasts a few hours, or consider a multi-day stay overnight in a luxury cabin in the mountains.
Photo Credit: Parm Parmar
Where To Sleep
Spring Creek Ranch, located on a wildlife sanctuary, offers a wide range of accommodation options from simple hotel rooms to condo town homes and villas. I heard that Hollywood celebrities, Jim Carrey and Sandra Bullock have even hidden away in their full service villas.
The wood-burning fireplace, found in every living room and master bedroom, are great to cozy up to in the cold evenings while gazing at the mountains (perhaps the best views in town!). Be sure to take advantage of the knowledgeable concierge, available 24/7, who can assist with dining reservations, advice on where to catch the best happy hour or live music in town, or even arrange specialist-guided tours.
Photo Courtesy of Spring Creek Ranch
Spring Creek's award-winning spa is the perfect place to rest and rejuvenate, while taking in these amazing views. Try the hot-stone massage to ease away the tensions of a busy life. The Amangani and Four Seasons Resort in Jackson Hole also both regularly top the list of best luxury hotels in the US and offer a great home base for your weekend.
Photo Courtesy of MADE
Shopping
Whether you're looking to bring home something special from your travels, or are a serious collector of art, Jackson Hole's art and gallery scene won't disappoint. The Horizon Fine Art Gallery, one of the city's original galleries, offers paintings, furnishings and jewelry from artists around the country. MADE is popular with tourists and locals, featuring handmade usable items from over 160 artists across Wyoming and the United States. If you love cowboy and native art, be sure to put Grand Teton Gallery on your list.