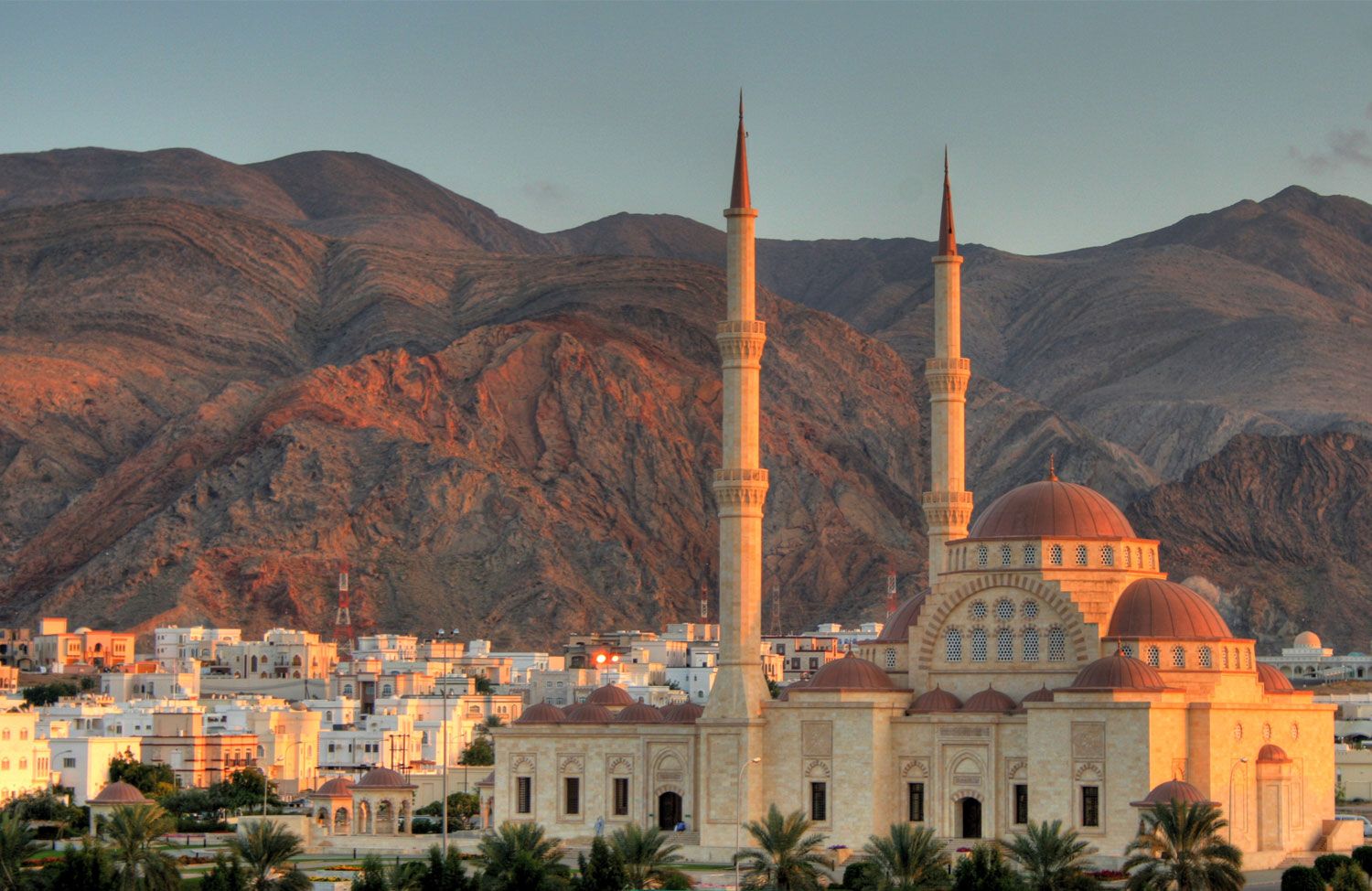 Photo Courtesy of Shutterstock
This year, we have a few places on our travel radar, one of those destinations being Muscat, Oman. With its many unspoiled landscapes, beautiful mosques and fascinating eastern culture, Oman offers wonderful surprises around every corner. If you've never been to Muscat, navigating the city can be tricky. So we enlisted the experience of cazenove+loyd (c+l), an award-winning travel company creating tailor-made luxury vacations, to design a 36-hour itinerary for those looking to visit the Arab country.
c+l has over 20 years of experience in the industry, and has teams set up across the globe working with locals in each destination to find unique places to take their clients. For Oman, Alex Wix, Department Head for Asia and The Middle East, used her seven years of trip-planning experience (which includes her own visits to over 35 countries) to help us map out the best quick trip to Muscat.
Photo Credit: Viator
Thursday
Sunset Boat Trip — 4-6 p.m.
On this two-hour cruise from Viator, you'll jump aboard a luxury modern Dhow (a lateen-rigged ship) to not only watch the sky filter through an array of colors, but to catch sight of dolphins at play in the Indian Ocean. You may even spot a few whales as you make your way past medieval forts and palaces along Oman's coastline. All the while you can sip on a complimentary glass of Champagne and snack on fresh nuts and dates.
Cost: $100 per person
Photo Credit: Oman Ministry of Tourism
Muscat by Night — 6-9 p.m.
After the boat ride, from Muttrah, drive along the Corniche waterfront and stop into the Muttrah souq. Dating back 200 years, this market and bazaar is one of the oldest in Oman and is characterized by its narrow winding alleys. Admire local crafts and wares with a private guide who will teach you the art of Omani haggling. Continue on to Al Alam Palace to view the 16th century Portuguese forts of Mirani and Jalali. To end the day, enjoy a Middle Eastern dinner at Kargeen restaurant. "Don't leave without sampling the traditional Omani Shuwa, a succulent banana leaf-wrapped lamb dish. Also worth a try are the hibiscus drinks and avocado milkshakes," shares Wix.
Cost: $300 per couple
Photo Courtesy of Greta Gabaglio/Shutterstock
Friday
Nizwa & Jebel Akhdar — 8 a.m.
On Friday, get an early start and make your way to Nizwa, which is about two hours from Muscat. It is considered the birthplace of Islam in Oman and lies on a plain surrounded by some of the country's highest mountains, and rows upon rows of palm trees. Each Friday, the city awakens to a lively cattle market which is wonderfully chaotic and fun to watch. Here, you'll also discover the famous 17th century Round Tower Fort and its souq which is renowned for its ornamental silver jewelry and intricately hand-carved khanjars (daggers).
Photo Courtesy of Shutterstock
Birkat Al Mauz — 12 noon
Next, visit the village and ruins of Birkat Al Mauz located at the entrance of Wadi al-Muaydin at the foothills of Jebel Akhdar. Stroll through dense date plantations and explore ancient, traditional-style Omani houses. Many homes still hold copies of worn Arabic books and scripts, now overtaken with dust and spider webs. Afterwards, continue to Wadi Al Madeen up the winding road to Jebel Akhdar, known for its fruit orchards and terraced fields. It is also considered the green jewel of the Al Hajjar mountain ranges.
Picnic Lunch — 2 p.m.
Enjoy a picnic lunch and hike around Jebel Shams and Oman's Grand Canyon. Take a moment to sit back and view the incredible vistas from the summit.
Cost: $430 per couple
Photo Credit: The Chedi Hotel
Dinner on the Beach — 7 p.m.
Once back in Muscat, get dolled up for dinner at The Beach restaurant situated along The Chedi's 1,213-foot stretch of private shoreline. View out onto the Gulf of Oman as you dine on creative seafood and sip on one of their fine wines. Providing a true Arabian atmosphere, the restaurant offers a romantic setting with fire pits and the sound of the water in the background. There's also a no sandals or shorts policy, so dress accordingly. "The swordfish carpaccio is to die for whilst listening to the local musicians and lapping waves on the beach," exclaims Wix.
Cost: At Guest's Discretion
Photo Credit: Royal Opera House
Saturday
Royal Opera House — 8:30 a.m.
On Saturday morning, set out with a private guide for the Royal Opera House, which sheds light on the various trends of the Renaissance. Built on the royal orders of Sultan Qaboos of Oman, the complex boasts Omani architecture and consists of formal landscaped gardens, a concert theater, high-end restaurants and retail shops. Next, continue to Shatti Al Qurum to see the Omani Heritage Gallery and shop among the native artisans' markets for goods such as Bedouin rugs, copper pots and frankincense from the Dhofari region. Wix recommends also visiting the Bateel date store where you can buy the sweet fruit in many forms including sparkling juices and balsamic vinegar.
Finally, visit Bait Al Adam where c+l can arrange a meeting with the museum's curator to tell you about the pieces in the various collections. Here, you'll find a unique array of paintings, photography, currency and even guns. End your adventure by visiting the Sultan Qaboos Grand Mosque, home to the largest chandelier in the world (8.5 tonnes of Swarovski crystal) and the world's largest single piece of hand-woven carpet.
Cost: $200 per couple
Photo Courtesy of Shutterstock
Lastly, the best time to go is between October and April and if visiting from the US, the ultra-luxe Emirates is the preferred airline. For hotels, The Chedi is our pick because it offers five-star accommodations within Omani-influenced rooms and villas. With six restaurants, three swimming pools, executive meeting rooms, a Balinese spa and a fitness center, it is great for both leisure and business travelers. They were also awarded the No. 7 spot on Condé Nast Traveller (UK) Readers' Travel Awards list for "Best Hotels in the Middle East, Africa & the Indian Ocean."
*Prices reflect travel with cazenove+loyd. They can be reached at +44 (0) 20 7384 2332 (UK) and 1-800-409-4233 (US).