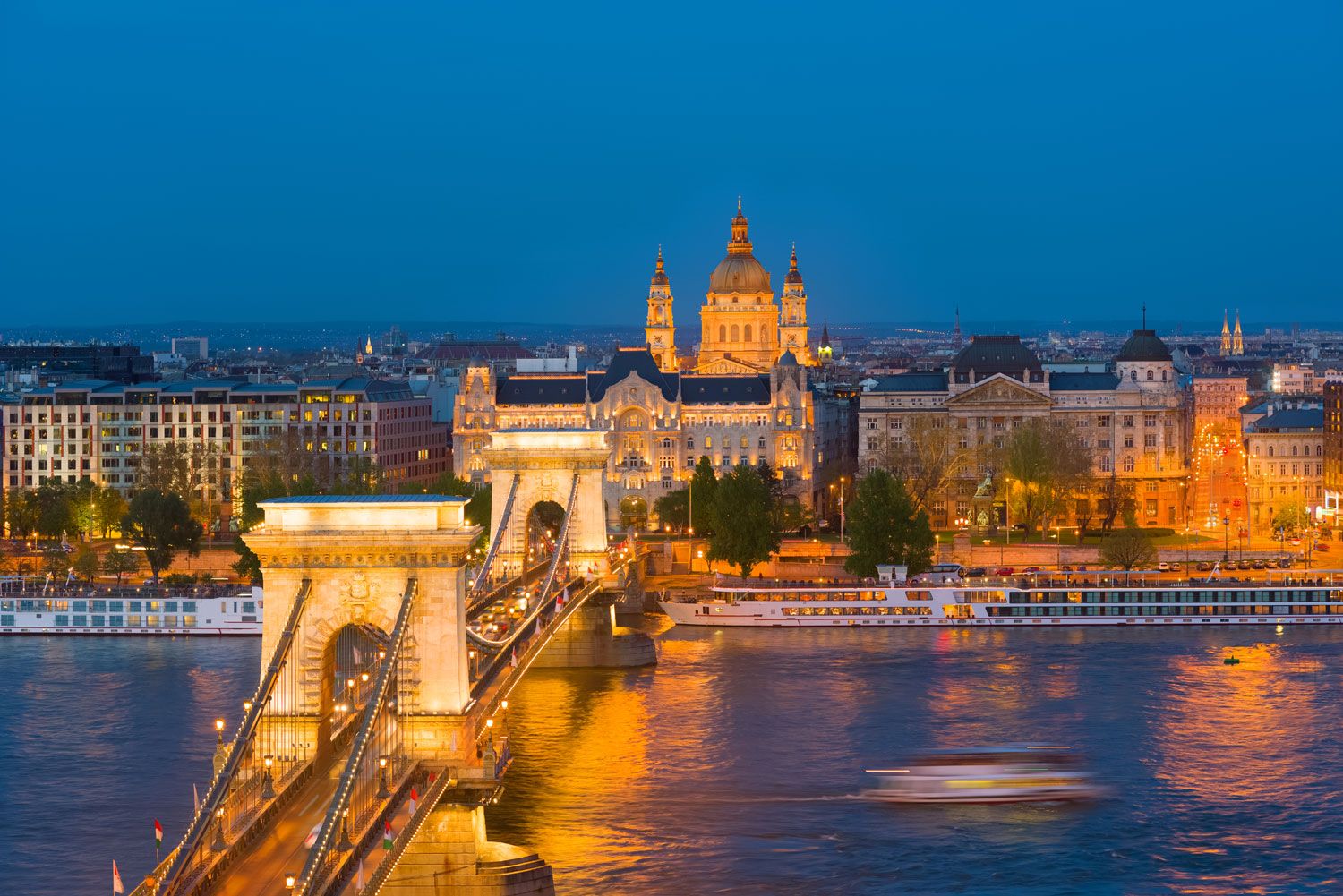 Photo Courtesy of Shutterstock
As soon as I read that Budapest's nicknames were either the "Queen of the Danube" or "the Paris of the East," I knew it had the makings of a fabulous getaway. So I was thrilled when I found out that my upcoming Viking Danube Waltz River Cruise would be departing from there. Unfortunately I only had 24 hours to explore Budapest's burgeoning food and cultural scene. If I had only known how much fun this captivating Hungarian capital was (light years removed from the cold war Communist city it once was), I would have planned a whole week to cover this eminently-walkable city. Clean, safe, hip, easy, and breathtakingly beautiful, this break-out destination has done an admirable spring-cleaning job of meshing together all the good stuff from its yesteryear with its revitalizations of today.
While strolling through Pest's unique neighborhoods you'll find palatial Ottoman-era hotels, Neo-Baroque palaces and historical beauties such as the Szechenyi Spa (a popular thermal bath that recently celebrated its 100th birthday), and an abundance of elegant historical coffee houses rubbing elbows with so-called ruin bars. About 15 years ago Budapest's ruin bar phenomenon began springing up as hipsters reclaimed derelict old factories and turned them into post-Communism cultural hangouts. The first ruin pub that is still wildly popular is Szimpla Kert (Simple Garden), an old stove factory that was converted into a huge open-air cinema, with pub, outdoor eateries and exciting recycled art like the table made from an old Trabant car.
Photo Credit: Corvintető
Another underground club, Corvintető, is surprisingly located on the rooftop terrace of what was once a scruffy old department store. Corvintető has a rep for hosting some wild parties featuring top DJs spinning until dawn (it's also rumored to be the city's best hookup spot).
The culinary scene in Budapest has undergone some dramatic changes recently. You can still find csárda, rustic eateries that specialize in regional dishes classified as "hungarikum," but you can also dine at acclaimed Michelin-starred restaurants, sophisticated international standards like Nobu or trendier spots serving lighter, farm-to-table versions of Hungarian favorites.
Insider Tip: Everyone I asked recommended Borkonyha, the third restaurant in Budapest to receive a Michelin star; but you need to book weeks in advance.
Photo Courtesy of Shutterstock
It's fairly easy to find your way around here once you realize that the main drag, the River Danube, flows north to south towards the Black Sea. There is a series of bridges which join the hilly Buda side, where you'll find the old Castle District and the Royal Palace to Pest, the flat, commercial east side, which is swarming with tourists sauntering down the grand boulevards.
Insider Tip: At some point you will most likely be walking on the renowned Chain Bridge, the first permanent stone-bridge connecting Pest and Buda. When you reach the Pest side you'll be in front of the Four Seasons Hotel Gresham Palace, which has a gorgeous glass-roofed Art Nouveau lobby, making it the a perfect spot to relax over a cup of tea.
Photo Credit: Palazzo Zichy
The fashionable 80-room, Palazzo Zichy, a restored 19th-century mansion (formerly the opulent residence of Count Nándor Zichy) is a perfect example of the renaissance of cool that has taken over Pest. Although it breaks just about every basic design rule, the eclectic blend of old-world charm combined with the modern-minimalist décor is most pleasing.
Perfectly located in the historic Palace Quarter in central Budapest, it is an easy walk to many top sites, such as the Central Market Hall, Jewish Quarter, the Hungarian National Museum and the Grand Boulevard. My spacious guestroom, styled out in soothing grey tones with a dramatic red glass–topped desk, overlooked a delightful leafy neighborhood parklette. The modern bathroom has a stellar shower, great lighting, plenty of mirrors and even a bidet.
Photo Credit: Palazzo Zichy
The complimentary buffet breakfast comes with many thoughtful touches such as two espresso makers, a DIY fresh-squeeze juice machine, optional gluten-free pastries, endless smoked salmon. Other complimentary niceties include a lounge that offers coffee, tea and bottled water until 5 p.m.; access to the sauna and fitness center; and free Wi-Fi throughout the hotel. In the evenings, the lounge morphs into a lively cocktail bar.
As wonderful as this all was, the best perk is the wonderful front of the house staff. Every person I dealt with was unfailingly hospitable and helpful, without an ounce of attitude, even when I spent a solid hour having them map out every stop of my itinerary for me. Returning at the end of a long day, I really did feel like I was coming home.
Insider tip: If you can't get reservations at the Palazzo Zichy check out their equally grand, sister hotel, the 64-room Hotel Parlament, another beautifully-restored historic building decorated in a similar minimalist style.
Photo Credit: Janice Nieder
For one of the most pleasurable, entertaining and fattening overviews of Budapest (coupled with just the right amount of history, geography and culture), sign up for one of Taste Hungary's culinary experiences. This indie tour company was founded in 2008 by foodie couple extraordinaire, American ex-pat Carolyn, author of many highly-acclaimed local culinary guidebooks and her Hungarian, wine-obsessed husband Gábor Bánfalvi. Lucky for us, the duo felt compelled to share their passion for authentic Hungarian food and drink with other like-minded travelers. The only difficult part is having to choose between their baker's dozen of tantalizing tours, such as their anything-but-basic four-hour Culinary Walk, the Central Market Walk and Vineyard Tasting & Tour, Grandma's Kitchen Lunch, or the trendy 21st-century Hungarian Cuisine Tour for a progressive meal which includes a Michelin starred restaurant.
I scored big time with an adorably-enthusiastic guide and part-time fashion model Elza, a Budapest native who eagerly shared many of her off-the-beaten-track secret finds as well as a wealth of knowledge encompassing food, Budapest's tempestuous history, architecture, contemporary art and hottest independent fashion designers. She ended a fascinating historical recap of the 1000 plus years of wars, invasions, and liberation by explaining with a big guffaw, that "Hungarian's excel at unsuccessful revolutions!"
Photo Credit: Janice Nieder
I'd highly recommend skipping breakfast to save room for the marathon of food samples, wine tasting and even a full-fledged meal that unfolds during the four-hour Culinary Walk. To begin the tour, we met at the historic Central Market, built in 1897 and still one of the grandest European food halls. It is easy to become immersed in the local culture as you watch housewives haggling over prices as they sniff the piles of paprika, sample a smoky sausage or stock up at the strudel stand on poppy-seed and cabbage baked goods. Elza wisely kick-started our tour with a shot of Unicom, a bitter Hungarian digestive concocted from a secret recipe containing 40+ herbs. This was followed by lángos, a favored street food specialty, that is a deep fried flat bread topped with garlicky sour cream and grated cheese.
In quick succession we nibbled on a variety of local charcuterie including a sausage made from horsemeat, pickles and slaws from the adorable basement pickle parlor (AKA the Smiley Shop). Little did we know that this was just a prelude to a humongous meat-centric lunch at Belvárosi Disznótoros. We joined the throngs of people there for a midday repast of fried pork belly, liver sausage, black pudding pork knuckle, goose leg and fried potatoes. For dessert we headed to the oldest family-run bakery and coffeehouse for a trio of rich cakes, which included a slice of the famed Dobos, a seven-layer Hungarian sponge cake layered with chocolate buttercream and topped with caramel.
Photo Credit: Janice Nieder
We then waddled into our final stop at The Tasting Table, which is located in the atmospheric cellar of a 19th-century palace. Here we met Gábor for a delicious and highly-educational Hungarian wine tasting session accompanied by a selection of fresh-baked bread, roasted pumpkin seed oil, and an assortment of Hungarian meats and cheese, including a non-pasteurized smoked blue cheese. Fortunately the knowledgeable staff all speaks English and are happy to introduce you to some special wines and share as much or as little info as you'd like on the different grape varieties and winemaking styles of each region. Before you go, check out their calendar for special wine classes, sommelier wine tours, and Thursdays at The Tasting Table with guest chefs, winemakers, or sommeliers.
Insider Tip: Consider a Food & Fashion tour because every boutique she recommended—particularly Paloma, a creative conglomeration of designer showrooms in a ramshackled old mansion—will blow you away. I was amazed by the futuristic creations at Timarcs, an exciting new pop-up by the exceedingly-talented young designer Tímea Mária.