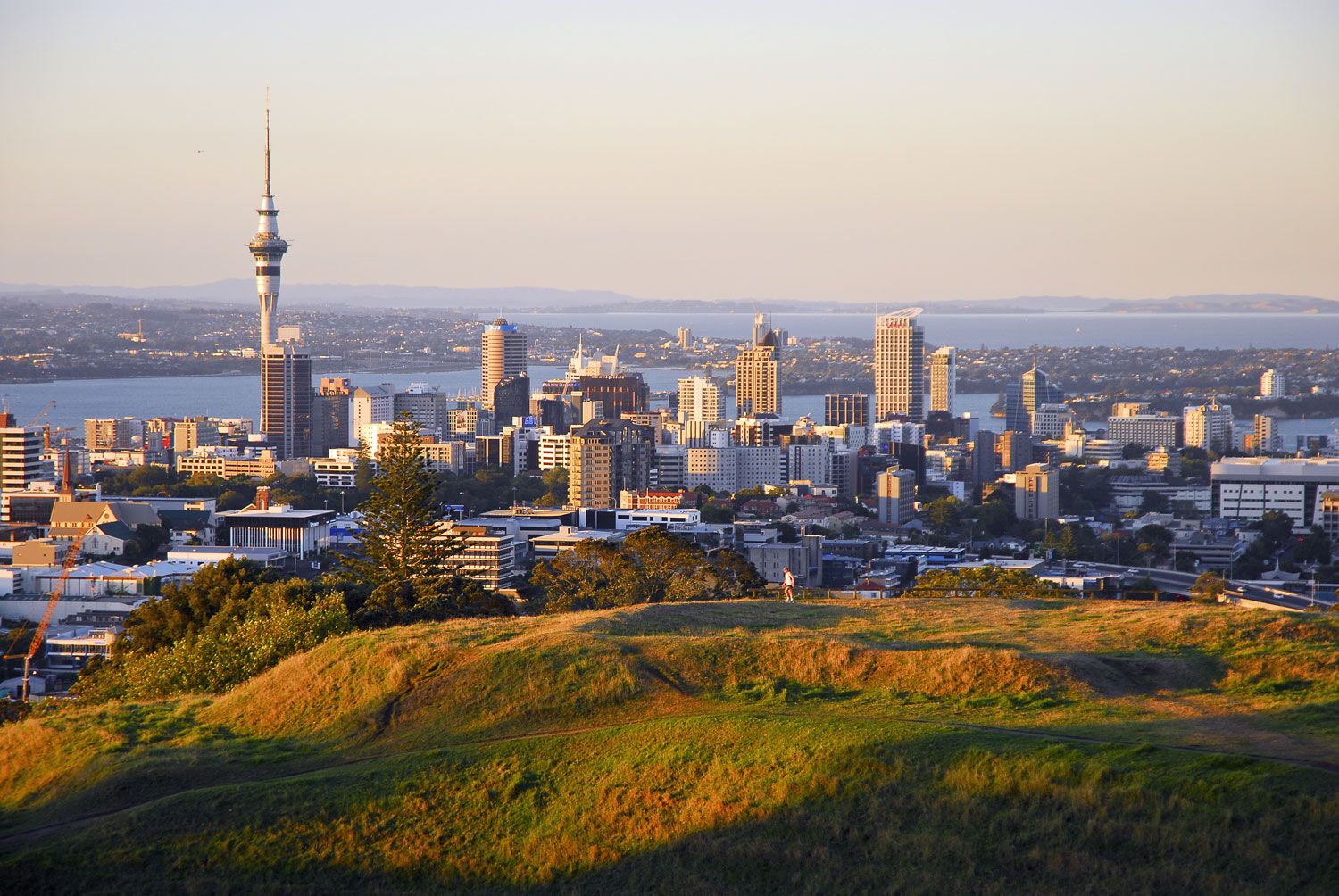 Photo Credit: NZGMW/Shutterstock
This past winter, contributor Jared Paul Stern embarked on a two-week trip across New Zealand. While there, he discovered some of the best destinations, activities, restaurants and sights that the country has to offer. In this three-part series, he'll highlight the very best in luxury travel from what to pack to which airline to choose and where to stay. (Part Two & Three)
For me, a great journey begins with a great jacket. Especially where several stops are involved and weather varies in each country, the right item of outerwear is essential. For my latest adventure, 10 days exploring New Zealand, I selected one from Belstaff, the storied British brand with advertisements starring David Beckham. I chose one in a dark navy blue twill with a corduroy collar and cuffs, from the brand's GSR (Goodwood Sports & Racing) line.
Photo Credit: Belstaff
I began my journey in San Francisco. Along with the Belstaff, I packed my other travel essential: a stainless steel Rolex GMT-Master II as well as a pair of Persol model 649 sunglasses with custom blue lenses. I never bring more than two bags along on any excursion: an expandable Tumi roller case made of indestructible ballistic nylon that can fit in an overhead bin in its scaled-down state, and a backpack large enough to contain a laptop, DSLR camera, Dopp kit, reading material and a change of clothes.
Photo Credit: Air New Zealand
For flights of a certain duration (i.e. more than five hours), I require certain comforts before committing to the journey. In pursuing this policy over the years, I've become something of a connoisseur where upgraded airplane seating is concerned. The introduction of "extra legroom" or "economy comfort" seating has improved things immeasurably for travel, so business class seating really has to shine in order to make the ticket price worthwhile.
Photo Credit: Air New Zealand
Having experienced their Business Premier, I would rank Air New Zealand up there with my other favorite, British Airways, which is saying a lot. They don't try to fob off angled recliner seats in place of true lie-flats, and serve enjoyable Champagne. Shortly before we began our descent into Auckland I was politely awakened with a cup of tea and a croissant by the cheerful Air New Zealand flight attendants in their tribal-inspired wrap dresses. I realized I'd arrived at the other side of the world. Here are the highlights of our stops on the trip:
Photo Credit: Hotel DeBrett
The Hotel DeBrett—a highly awarded, highly designed luxury boutique property in a historic building near the waterfront in Auckland's business and fashion district—was our home base in New Zealand's largest city. Its 25 rooms and suites are full of Danish Modern furniture in teak and rosewood along with Paul Smith-style striped carpets, pops of color and quirky works of art. The historic building, which dates back to 1925, has a long and colorful history, and was a near ruin when the current owners undertook a major renovation and restoration project. The layers of the place shine through the current iteration, giving it tons of character, the warm wood paneling giving off a deep glow. The design falls short of feeling forced. The rich architectural detail of the building gives it the necessary depth to handle the more fanciful flourishes.
Photo Credit: Hotel DeBrett
The DeBrett also has a welcoming, intimate vibe. The staff feel more like family and have none of the stilted mannerisms that betray corporate training. In such a foreign place, we immediately felt at home. At the heart of the hotel, a soaring glass roofed atrium lets in tons of light and prevents the interior from feeling too dark and cramped. It also lends architectural interest to the space, as well as an unexpected note when you first come upon the atrium, making it feel as if you'd discovered some sort of hidden cathedral. Off of the atrium is the House Bar, a historic element of the hotel that originally occupied the building, and has since been revamped with an eye towards its Art Deco design heritage.
Photo Credit: Hotel DeBrett
On our first day in the country we explored the city, pausing for a refreshing pint of beer on the bustling waterfront, before returning to the welcoming embrace of the hotel, which had done much to put us at ease and relieve the stress of long-distance travel. The atrium houses DeBrett's Kitchen, one of the city's best restaurants, which we were looking forward to trying out. Before dinner we gathered with the rest of the hotel's guests in the book-lined drawing room for a gin and tonic, a tradition that further adds to its intimate atmosphere. A glass wall gave an inviting glimpse of the restaurant where our table was being set for the evening meal.
Photo Credit: Hotel DeBrett
The Kitchen, as its name implies, is a warm and welcoming spot, with a fireplace at one end for casual gatherings. To begin, we ordered a twice-cooked goat's cheese soufflé with wild thyme honey, granny smith apple, walnut salad, and chardonnay vinaigrette. The delicious appetizer called for a glass of zesty pinot gris, something of a local secret, well represented on the DeBrett's extensive list. A perfect pairing. For our main course we had roasted duck breast with confit leg, Shitake mushroom, spinach, and sesame orange, and switched to a rich, smooth pinot noir. Meanwhile a charismatic jazz combo called the Caitlin Smith Trio had set up by the fireplace; she has quite a local following, as a diverse crowd turned up to hear her sing.
Photo Credit: Hotel DeBrett
For dessert we ordered a late harvest cabernet and settled in to see Smith do her stuff. She suited the style of the hotel to a T, stylish and sophisticated with a classic touch. After breakfast we'd be heading off on the rest of our journey, so after her closing number we settled into our cozy suite for the night. We couldn't have asked for a more beguiling beginning to our trip. The next day's plan called for a short flight to Wellington and then a helicopter ride to the first, and most impressive, luxury lodge on our itinerary, the Wharekauhau Country Estate. And we definitely wanted to be in top form for that.
Stay tuned for Part 2.