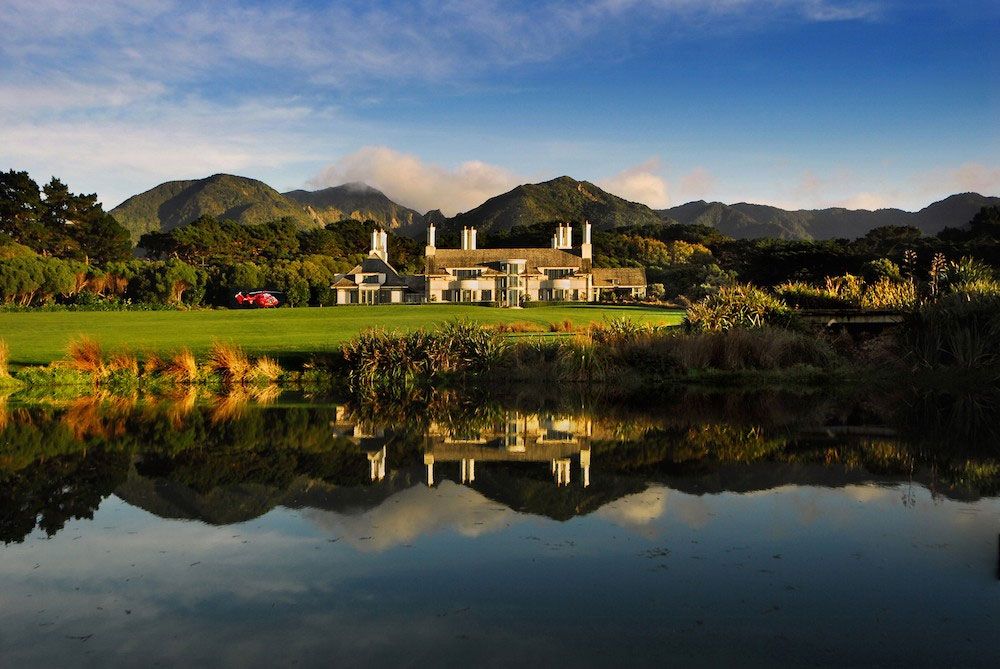 Photo Credit: Wharekauhau
This past winter, contributor Jared Paul Stern embarked on a two-week trip across New Zealand. While there, he discovered some of the best destinations, activities, restaurants and sights that the country has to offer. In this three-part series, he'll highlight the very best in luxury travel from what to pack to which airline to choose and where to stay.
Picture the perfect trip to New Zealand; stunning scenery, amazing food and wine, and a luxury lodge in the truest sense. Wharekauhau Country Estate is all that and then some. From Auckland (see Part I) we flew to Wellington and then boarded a helicopter for a short ride along the coast to Wharekauhau, set on 5,000 acres fronting Paliser Bay.
Photo Credit: Wharekauhau
As we touched down on the broad lawn in front of the main lodge, we were greeted by the sweet, half-remembered scents of late summer—fresh cut grass, wood smoke and ripening fruit—having flipped seasons as we crossed the world. Relaxed elegance is the prevailing ethos at Wharekauhau, a phrase much in use but rarely as apt as here. Our accommodations were in a series of private, interconnected cottages set off from the main lodge overlooking the ocean. There are only 13 of them on the property, allowing for a maximum of 26 guests at any one time.
Storm Watch Cottage proved to be a gracious bungalow furnished in a mix of British colonial and country-house style. Much like the main lodge itself, it was comfortable, airy and spacious with a warm palette of cream and tan plus polished wood and rich leather accents. Glass doors opened from either side of the sitting room onto a courtyard and lawn overlooking the bay. The bar comes complete with a bottle of Lighthouse, copper pot, small-batch distilled gin. The liquor was made in New Zealand by Wharekauhau's owner, who happens to be American billionaire William P. Foley, II.
Photo Credit: Wharekauhau
Soon we were summoned for lunch in the main lodge for the first of a series of extraordinary meals prepared by Mark Soper, the hotel's award-winning chef. Soper is a veteran of The French Laundry and the Culinary Institute of America, among others, as well as a dedicated forager for the bounty to be found on the estate's 5,000 acres.
Photo Credit: Jared Paul Stern
After lunch, Paris-based photographer Roberto Frankenberg and I climbed into the estate's Land Rover to try our hand at shooting sporting clays on a quiet section of the estate overlooking a riverbed dotted with stands of cypress and pine. Using a perfectly-balanced Beretta 12 gauge, we managed to hit some of the targets, though perhaps not quite as many as we would have liked (the scenery was too distracting). Wharekauhau's intense beauty, which turned out to be merely a prelude to what was in store for us on the rest of the epic trip, was riveting. The estate is also an actual working sheep farm or "station" as they're known in New Zealand. We took the Land Rover round for a quick look at some of the tens of thousands of Romney sheep dotting the fields and captured some of the best photos of the journey. Dark clouds and sunshine rolled in the sky above letting in dramatic patches of sunlight.
Photo Credit: Wharekauhau
Following our sporting and sightseeing activities on the estate we freshened up before dinner and a pre-prandial cocktail in the main lodge, with the property's intensely-likable Lodge Manager Richard Rooney. Other guests, looking well-dressed and well-heeled, were also assembled in the elegant lounge where we sampled the Lighthouse gin and other libations. Chef Soper also had a treat in store for us at the cozy table. He describes his culinary style as "a unique presentation of modern European food with a Kiwi twist." He uses the freshest of New Zealand bounty, and as much locally-sourced products as possible: "farm to fork and sea to skillet." The result was a truly memorable meal, featuring utterly delicious lamb selected right on the farm. To drink, Wharekauhau's excellent sommelier offered a sampling of delectable New Zealand wines carefully paired with each course, some from vineyards from the property's owner's portfolio, including some not available to the general public.
Photo Credit: Wharekauhau
The next morning we climbed into the Land Rover once again for a closer look at the estate's fragrant, but tidy, sheep farming operation. We watched as sheep dogs herded their charges and saw a demonstration of sheep shearing that yielded an impressive fleece that would later become finely woven wool. Some 10,000 lambs are born on the estate every spring. The farm tour segued into a wine tour as we left the estate to visit Martinborough, home to some of the area's 29 renowned boutique wineries. Some of the world's best Pinot Noir is produced there, though that is by no means its only appealing vintage. We were given a behind the scenes look at a few of the more interesting operations, including Schubert, Te Kairanga and Cambridge Road. All quite small but bottling spectacular wines of various descriptions.
Photo Credit: Wharekauhau
Some recovery time was required before Chef Soper's final presentation that evening, and so we visited the estate's petite but perfect spa, located at one end of a pavilion housing its indoor pool. A vigorous massage followed by a short nap put us right and ready for further pleasant surprises from Wharekauhau's kitchen and cellar. Soper believes chefs shouldn't "muck about" with the main element of the dish, be it fish, beef or lamb. Other ingredients are designed to highlight, accompany and complement it. His courses aim to "tell a story from start to finish," and impart some knowledge of the landscape that produced them. He was recently awarded the coveted title of Beef and Lamb Ambassador Chef, one of New Zealand's highest culinary honors and one which brings international acclaim.
Photo Credit: Wharekauhau
In 2014 Wharekauhau played host to the Duke and Duchess of Cambridge, aka William and Kate, and their infant son George. Following our enriching experiences, it was easy to see why the royal couple selected it. Tom Cruise, Nicole Kidman, Meg Ryan, the Rolling Stones, Bill Gates and Jack Black have all been guests there as well. Some of our last impressions of the hotel included wandering herds of cattle and deer, harrier hawks soaring over the paddocks and fields, red and black beech trees waving in the wind, thick patches of gorse brush and waves of wildflowers. Waving goodbye to Wharekauhau was hard. We hope to return someday soon.