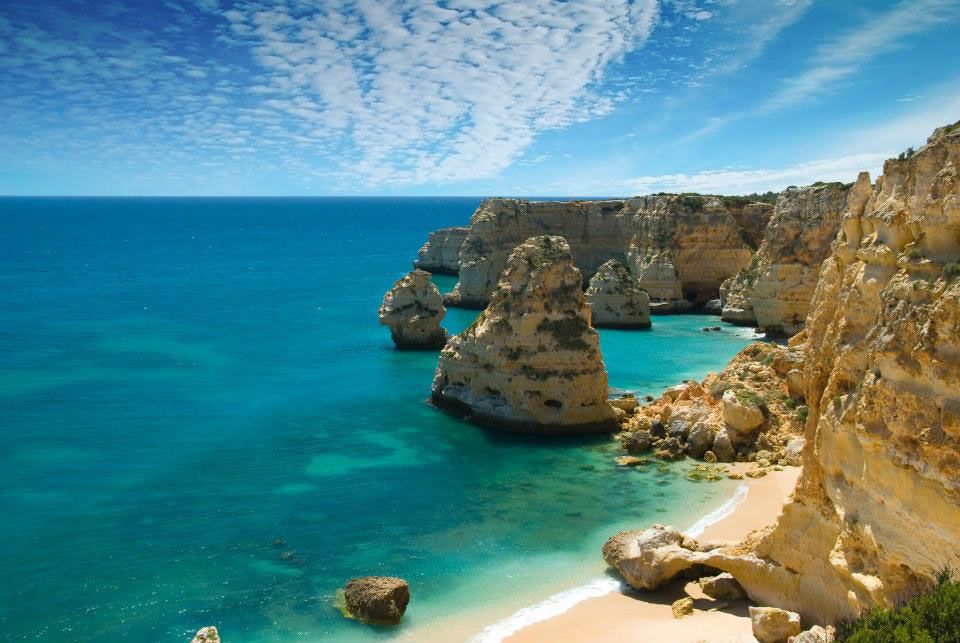 Photo Credit: Ricard12/Wikimedia Commons
Portugal's southermost region is well known for its sandy beaches and lively nightlife, but The Algarve also entices visitors because of its diversity. Here, golden cliffs drop off into the ocean's waves below and Moorish ruins remain where entire communities once lived. As a major tourist destination, former fishing villages have been turned into summer resorts, but if you look close enough, its history still lingers amidst high rise apartments and modern developments. However, this beautiful region still has plenty of treasures worth discovering and plenty of activities to hold any traveler's wanderlust interest. Here are a few tips on activities for navigating the region in three days:
Photo Credit: Columbia Hillen
Day One
There's no better way to get an overall feel for the region on your first day than via an off-road safari with Sagres Discovery Tours. Sandro, who started his company more than four years ago, has developed a wide following of international and local clients, and is familiar with even the most remote corners of the countryside. His guided tours by jeep traverses pine and eucalyptus forests, sweeping beaches and undulating hills in an area stretching from Sagres to Cabo de São Vincente (Cape St Vincent), Europe's most southwestern point. The tour includes a stopover in the rebuilt picturesque village of Pedralva—now a focus of traditional rural tourism—an 18th century Sagres fortress, the lighthouse at the cape, as well as a 30-minute nature walk in the Parque Natural da Costa Vicentina. Sunset, with a glass of wine, viewed from the cliffs near Sagres, is a perfect end to the trip.
Photo Credit: Columbia Hillen
After a day's explorations' try Michelin-star Willies restaurant near the Oceanico Pinhal Golf Course in Vilamoura. Opened 15 years ago, the eatery is located on a quiet residential suburb and resembles an elegant living room. Its sense of intimacy is enhanced by terracotta-tiled floor, satin curtains, low ceiling, brass ornaments hanging from its walls and a shelf lined with traditional gourds. A mirrored rear wall makes the room seem larger than it actually is. Start off with the house drink special, the Balalaika cocktail made with vodka, triple sec, lime juice and JP Moscatel De Setubal. The menu is classic French with duck breast magret with lavender sauce and chicory leaves as well as sole meunière with brown butter sauce among its mains. Desserts on offer include chocolate moelleux with Algarvian orange parfait and peanut butter ice-cream with pistachio brownie and passion fruit coulis.
Photo Credit: Columbia Hillen
Day Two
Renting a car is highly recommended to best see The Algarve, and Auto Europe is a great choice to do so. Start your second day with a leisurely drive to historic Loulé about three miles north of Faro. Try to make it on a Saturday, as the town is famous for its gipsy market at the end of Rua da nossa Senhora da Piedade. It also has a really good daily market in a hall on Praça da República, built in neo-Arabian style with art nouveau interior decorations. From there a network of cobbled alleys and streets leads you to a 13th century castle.
Photo Credit: Columbia Hillen
Afterwards head out of town for Vila Joya (House of Joy). It offers a wonderful alfresco lunch experience on a bare brick terrace with cane-backed armchairs overlooking the Atlantic, where you can surf in the sparkling waters below. The two Michelin-star restaurant's fragrant garden of exotic flowers, pine and palm trees present a perfect backdrop to fine dining. In the kitchen you have chefs Dieter Koschina from Austria and Matteo Ferrantino from Italy. While the menu is succinct, the presentation and flavors are sophisticated.
Reminiscent of El Bulli's experimental style, dishes are precise reconstructions of simple tastes with the most unpretentious of names such as gamba, avocado and tomato. The latter dish was intricately designed and reconstructed—more convincing than any fresh equivalent I've ever tasted—ringed by a colorful garland of prawns, dried smoked caviar, coriander mousse and borage flowers. Other intriguing taste combinations included savory macaroons with passion fruit and foie gras and with red beetroot and eel. To really get a glimpse of the full offerings, a tasting menu is the best option.
Photo Courtesy of Wikimedia Commons
Day Three
Having surveyed Algarve's landscape from a jeep and the comfort of a rented car, perhaps a boat trip is in order. Best bet is the guided tour to Ilha Deserta, Portugal's most southerly point and part of the Parque Natural da Ria Formosa. The one-hour boat ride, which begins in Faro harbor, passes through six-foot deep saltmarshes, a haven for nature lovers featuring more than 600 species of flora and fauna, including little terns, igrets, redshanks, grebes, flamingos and cormorants. The area is also home to the largest reservation of seahorses in the world. The island has one restaurant, Estamine, opened seven years ago and offers spacious seating and an alfresco, sea-facing terrace. Its menu is made up of seafood including bream, sea bass, tuna, octopus, mullet, as well as fresh clams from the nearby salt marshes. If you're lucky, you might bump into the island's sole inhabitant, Alves, a fisherman and guard, who's likely to offer you a glass of the local firewater (Medronho, a strong spirit) made from local fruits.
Back in Faro, spend a few pre-dinner hours wandering around its compact old town. The domed 16th-century Renaissance Convento de Nossa Senhora da Assunção houses the town museum where highlights include the third-century Mosaic of the Ocean; ninth to 13th-century Islamic artifacts; and paintings by local artist, Carlos Filipe Porfírio, based on local legends. See the tiny, exquisite Italianate Teatro Lethes dating from 1603.
Photo Credit: Piri Piri Steakhouse
For dinner, head to Piri Piri Steak House within the Pine Cliffs Resort a few miles outside town. With bare wood surfaces, open rafters and terracotta-tiled floor, it has a rustic charm and offers succulent prime cuts derived from countries such as Uruguay, Scotland, Argentina and the US. Alfresco dining is provided on a spacious wooden deck. A bottle of Filipa Pato's FP Baga was the perfect complement to my starter of Black Angus beef carpaccio drizzled with a delicate homemade dressing of ginger, peanut and chili. The New Zealand lamb was exceptional, Chef Frederico Oliveira creating a texture as soft as mousse on a bone.
From overland safaris to island boat trips, from lively markets in historical towns to fine food, The Algarve offers much more than just sunbathing on the beach.