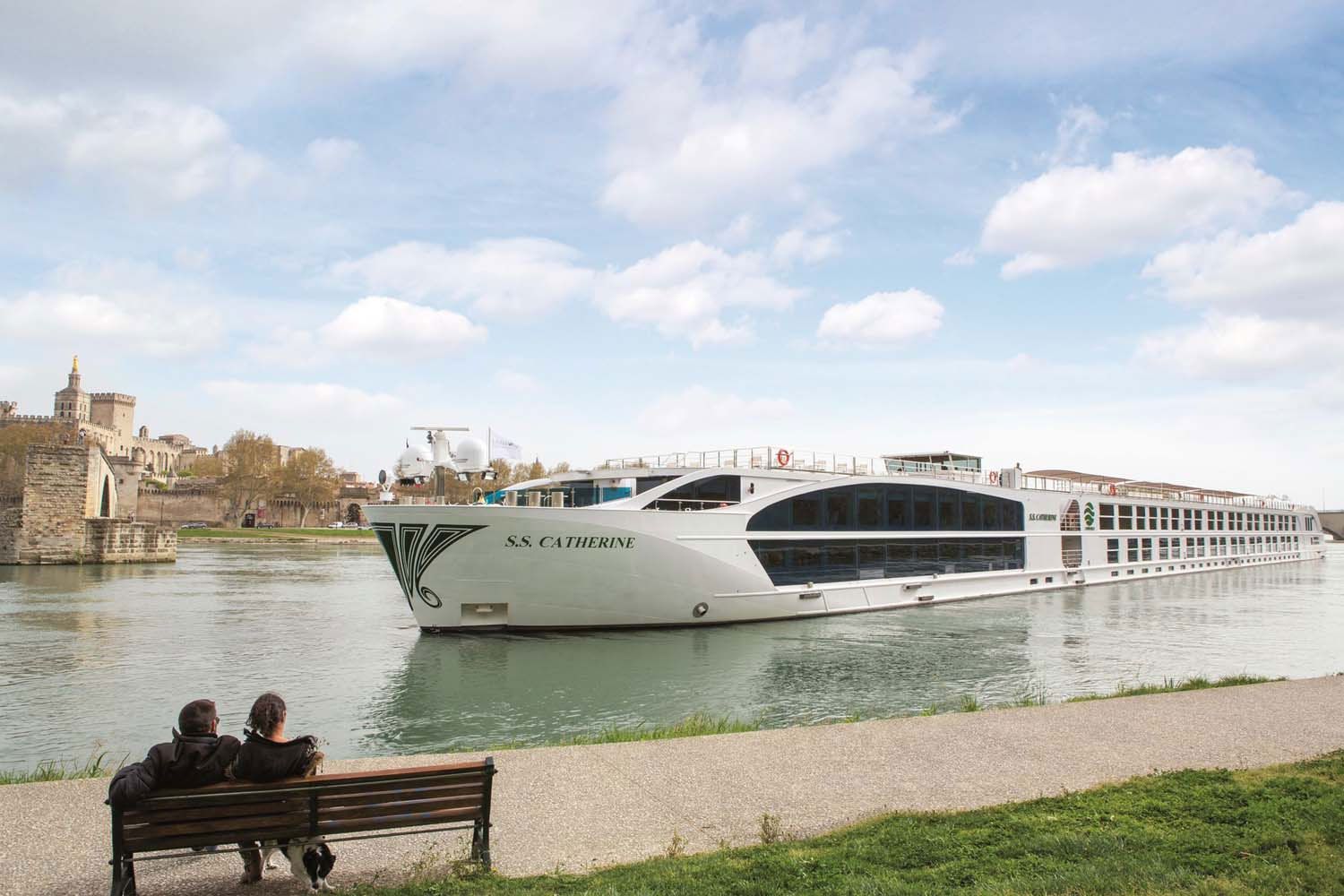 Photo Credit: Uniworld
We recently visited Provence aboard a weeklong cruise on the SS Catherine, Uniworld's newly-built river vessel christened by Catherine Deneuve. Gathering in Avignon, we immediately took notice of the boat's serene, palace-like atmosphere. Pictures do not do justice to the opulence and grandeur that we experienced.
As we entered the SS Catherine, we were assisted by impeccably-dressed attendants who whisked our luggage away to the cabin. The hallways are replete with museum-quality art collections hung on silk padded walls, and as we strolled passed them, we began to anticipate our stateroom décor.
Photo Credit: Uniworld
The cabin's interior features a verdant green color palette with uilt-ins, closets and surrounding mirrors. The lushly-appointed cabin included upscale amenities by L'Occitane, luxurious bed linens, towels and robes, plus heated floors and towel racks in the marble bathrooms. Many staterooms have balcony windows that electronically open and have remote-controlled screens.
The stateroom cabin beds are custom made by Savoir of London, and definitely added to our dreamy experience. The Murano glass chandeliers and trim—found throughout the public rooms and the distinctively-exotic design of Bar Leopard and its adjacent indoor swimming pool—adds a personal designer touch. The vessel, along with the entire Uniworld fleet, is decorated by the owner, Mrs. Tollman, and her daughter.
Photo Credit: Uniworld
For health-conscious guests, the boat features a state-of-the-art fitness center, swimming pool, and sundeck perfect for morning exercise classes. Dining is a virtual cornucopia of Provence and Burgundy's most beloved classics—all done with contemporary flair. From ratatouille, fresh fish, foie gras, lamb, duck confit, quail, escargot, homemade ice cream, decadent desserts and an endless array of carefully-chosen and aged French cheeses, this boutique ship has something for everyone. Special requests are also graciously accommodated. The daily dinner menu always includes a Traveling Light selection to further the resolve of guests who are determined to maintain their healthy lifestyle during the trip.
Wines are selected by the Master Sommelier to showcase the region and complement the cuisine. The complimentary wine and spirits represent the French cruising region of Provence and Burgundy. Wine tastings on board and complimentary vineyard visits, as well as optional in-depth wine tours, round out the offerings.
Photo Credit: Michael Reiss
Every port offers a wide range of complimentary excursions as well, taking into account various interests, activity levels and mobility issues. The specially-designed Vox Box, allows for easy access to the tour guide's commentary, while allowing for hands-free photo ops and closer inspection of an area. One of the highlights of our voyage included an in-depth walking tour of the medieval village of Viviers. We had the opportunity to visit a local resident's home and artisan potter's studio to experience a live organ concert in St. Vincent's Cathedral. It was an intimate cultural experience, organized exclusively for Uniworld guests.
Additional memorable moments included a crepe suzette demonstration by the Master Chef on board, and a breathtaking Night Tour of the Lyons illuminations, that helped secure a Lyon's as a UNESCO World Heritage Site. The onboard guest lecturer, who elucidated the life and art of Vincent Van Gogh, provided meaningful insight into this famous artist's life and times while he was living in Provence.
Photo Credit: Uniworld
Onboard entertainment includes nightly dancing to an upbeat jazz piano player and a singer, with local guest performers invited onboard several evenings. The all-inclusive nature of Uniworld's Boutique River Cruise Line makes it particularly appealing to guests who value being treated like royalty.