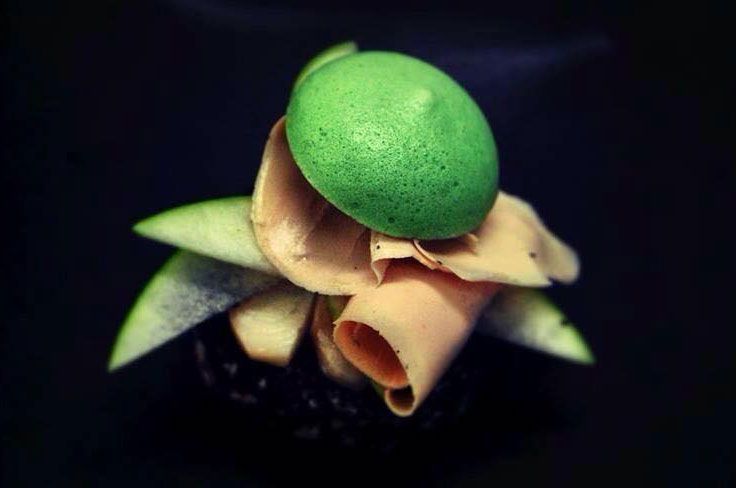 Photo Credit: Top Air
One of the worst things about flying is having to sit at an airport during a layover or flight delay. Thankfully, over the past few years, airports have been really stepping up their games by making our in-between stops more comfortable and even fun. Amenities like on-site spas, fitness classes, in-house hotels and museums are now par for the course in some of the world's most-visited airports. One trend that's also starting to takeoff (pun definitely intended) is the addition of renowned chefs opening restaurants inside these terminals. If you're making a stop at any of these destinations in the future and want a more fine dining experience, here are eight airport restaurants that boast Michelin-starred chefs behind their menus.
Photo Credit: OTG & Rockwell Group
Saison at Newark Liberty International Airport (New Jersey)
As a part of its much-needed $120 million renovation, Newark Airport also revved up its restaurant offerings, one of which is the French Bistro Saison. Known for being the first chef to secure six Michelin stars, the legendary Alain Ducasse has jumped onboard as a consultant for the eatery, marking his first involvement with an airport. Travelers can dine on dishes such as foie gras, coq au vin, roasted bone marrow, escargot and croissant bread pudding. There's also a pretty legit wine selection available, because flying should always involve adult beverages.
Location: Terminal C
Photo Credit: Altitude
Altitude at Geneva International Airport (Switzerland)
When it comes to beauty, Switzerland is one of the most picturesque destinations in the world. Complementing the European country's scenic location is Terminal 1's Altitude, a culinary concept serving classic French food. Overseen by Chef Fabien Legon, the restaurant is a joint venture by two Michelin-starred chefs Gilles Dupont and Thomas Byrne. Along with welcoming international leisure travelers, the eatery also caters to its business travelers by offering a conference center with seven private rooms and a lunch menu that changes bi-weekly. On its dinner menu, guests will find duck foie gras duo with nougat and green apples, Brittany sole meunière-style and sautéed veal fillet, sautéed mushrooms and green asparagus, carnaroli risotto.
Location: Terminal 1
Photo Credit: Porta Gaig
Porta Gaig at El Prat Airport (Spain)
Designed by architect Ricard Bofill, Porta Gaig's interior features minimalist décor with panoramic windows and modern furniture, but not much else. Lacking in bold colors and decorative ornamentations, the space allows the food to be the real focus of your visit. The restaurant is overseen by Michelin-starred chef Charles Gaig, who owns two other establishments in Barcelona, and serves Catalonian fare. Dishes include coquettes and cod fritters, pata negra and crispy Iberian pork.
Location: Terminal 1
Photo Credit: I Love Paris
I Love Paris at Paris' Charles de Gaulle Airport
The first Michelin Guide books were published in France in the 1900s, with 1926 marking its entry into fine dining ratings. So it's surprising that it has taken close to 90 years for a French airport to have its own Michelin-starred, chef-run restaurant. Opened this summer at Paris' Charles de Gaulle Airport, the aptly named I Love Paris restaurant is helmed by three Michelin-starred chef Guy Martin. The chef's menu features French fusion dishes such as pot-au-feu and Blanquette de veal en cocotte, veal ragout, roasted monkfish, and blue lobster and mango carpaccio. Designed by India Mahdavi its interiors were inspired by the Palais Royal and the space also features a Champagne bar (yes, please).
Location: Terminal 2E
Photo Credit: Plane Food
Plane Food at London Heathrow Airport
You may not be familiar with all the Michelin-starred chefs in the world, but we're guessing you're pretty familiar with Chef Gordon Ramsay. The energetic chef, restauranteur, TV personality and author has seven Michelin stars to his name among his 25 restaurants across the globe. Plane Food at London Heathrow allows travelers to taste the famed chef's fare without having to book a table months in advance. Plus, the dining experience is meant to be faster, with multiple course meals being served within 25 minutes' time. The menu consists of modern European cuisine such as beef carpaccio; salmon fish cake on leeks with a poached egg; crispy duck with watercress, chili and ginger; and Butter Chicken Curry with saffron and cumin rice.
Location: Terminal 5
Photo Credit: Lamoraga
Lamoraga at Malaga-Costa Del Sol International Airport (Spain)
As with many restaurants in Spain, Lamoraga at Malaga airport is all about Andalusian tapas. Under the supervision of two Michelin-starred chef Dani Garcia, the menu boasts contemporary interpretations of traditional Spanish gastronomic culture and cutting-edge culinary techniques. Guests can dine on gazpacho soup, chorizo or oxtail burgers. The sleek, minimalist eatery also has a small, yet refined wine list.
Location: Terminal 3
Photo Credit: OTG
Cotto at LaGuardia Airport (New York)
Michelin-starred chef Michael White is behind Cotto which opened at LaGuardia Airport last December. Having hinted at the restaurant in 2010, it wasn't until 2014 that the Italian trattoria finally saw its first travelers in its dining room. Decorated with black-and-white checkered tile, floor-to-ceiling windows and seafoam green chairs, the space is open an airy. Along with fresh-made pizza and pastas, Cotto serves quick eats such as antipasti and paninis. The garganelli served with radicchio, truffle butter and speck is a must-try. There's also a gelato bar, which is always a good idea.
Location: Terminal C
Photo Credit: Top Air
Top Air at Stuttgart Airport (Germany)
Stuttgart Airport in Germany has the world's only Michelin-starred airport restaurant. Opened in 2013 and led by Chef Marco Akuzun, Top Air serves gourmet European fare overlooking the Swabian Alps. With his artistic flare, Akuzun's presentation and flavors might just make you forget you're in an airport. His menu includes dishes such as delectable foams; Washugyu, a combination of Black Angus and Wagyu beef; and foie gras ice-cream.
Location: Terminal 1