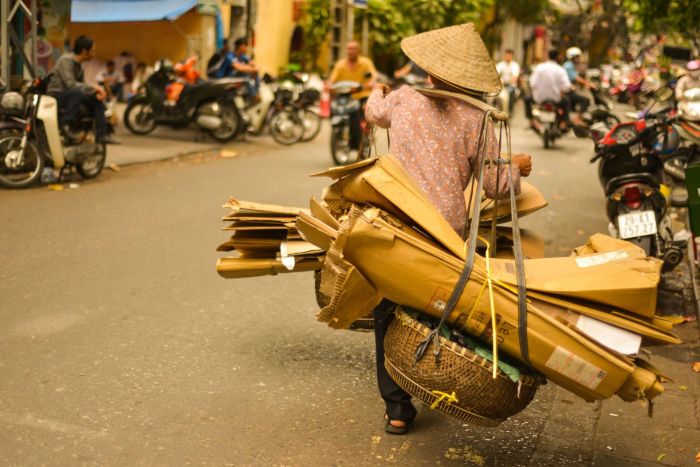 Photo Credit: Katie May Boyle/Shutterstock.com
At Virtuoso Travel Week Conference in Las Vegas in 2015, we learned about the "Hot 10," countries which have seen the biggest jump in year-over-year bookings. Southeast Asia, as a whole, is an emerging hotspot for travelers, and Vietnam tops the list as having seen a rise in tourism (up 270 percent from last year). This is in part due to more visitors seeking experiential travel rather than just a place to lay on the beach all day long.
Because Vietnam is so socially and historically rich, travelers are jet-setting to the country to really immerse themselves into the Vietnamese culture for personal enrichment. From bustling metropolises to rural jungles and ancient temples dotting the countryside, Vietnam has a lot to offer every type of explorer. When it comes to eating and drinking, be prepared for hearty bowls of Pho, fresh-baked French croissants and pastries, and of course, Vietnamese coffee and beer. If heading overseas in the coming months, here are some tips on where to go, stay and what to experience while in Vietnam.
Photo Credit: Klublu/Shutterstock.com
Best Cities to Visit
There are three places you should consider exploring during your first time Vietnam. Depending on what type of setting you're seeking, these destinations offer their unique looks at the country. Ho Chi Minh City (formerly Saigon), referred to by the French as the "Pearl of the Orient," is full of surprises. The constantly buzzing locale is Vietnam's largest city and is home to residents zipping by on motorbikes, streets lined with quirky coffee shops and outdoor markets, and peaceful pagodas resting among colonial homes. Here you'll find many contrasting elements such as luxury hotels resting next to cheap guesthouses and high-end shops looming over local street vendors.
Over in Hanoi in 2010, the city celebrated its 1,000-year anniversary and while it continues to grow and evolve, it is known for holding tight to its traditions and identity. Visitors will find that both old and new Vietnam are represented in the city with early-morning risers practicing Tai Chi at Hoan Kiem Lake to youth riding by on skateboards to class. This eclectic destination is a city on the move. In the Old Quarter, travelers can venture through museums, centuries-old palaces and modest temples.
Photo Courtesy of Shutterstock.com
Halong Bay is recognized for its over 2,000 islands jutting out of the Gulf of Tonkin, creating a breathtaking sight. Translated "Where the dragon descends into the sea," the islands were said to have been created by a great dragon with its tail gouging out valleys and crevasses. As it plunged into the sea, the area filled with water and left what are now the pinnacles of each isle. Looking at them, you can't help but wonder if that's true. The UNESCO World Heritage Site is the number one tourist attraction in the northeast with most opting for overnight boat tours. On the islands there are various caves and floating villages to discover.
Photo Credit: Hotel Nikko Saigon
Where to Stay
For Halong Bay, consider staying aboard a boat. Paradise Cruises offers four itinerary options among its ships. Paradise Luxury has four room options among its 17 cabins, and all come with air-conditioning, en-suite bathrooms, wood floors and some include decks. Paradise Peak is the brand's latest addition and offers only eight suites to provide an exclusive experience for its guests. Passengers can opt to have meals within their cabins or even arrange for spa treatments in the privacy of their rooms.
In Ho Chi Minh, there's no shortage of great accommodations. If you love a well-designed property, Hotel Nikko Saigon is a great choice and features modern and minimalist décor. Guestrooms are colored in earth tones offering a very Zen vibe. The five-star Caravelle Saigon in the heart of the city is another one of your best bets for luxury digs. Along with being only four miles away from the airport, the hotel has a fleet of Mercedes Benz's to transport guests, a spa, Club Vegas with gambling tables and slots, varying restaurants and a 7th floor pool. The apartment-style suites range in size from 721 square feet to 1,464 square feet and come with a bedroom, lounge area, dining room, study, two bathrooms and a private terrace.
Photo Credit: Meliá Hanoi
Apricot Hotel in Hanoi is a quaint hotel with only 123 rooms and sitting on steps away from Hoan Kiem Lake. The property is a good mix of modern luxury and traditional Vietnamese culture. Local art hangs on its walls and accommodations include original paintings and sculptures by renowned Vietnamese artists. Meliá Hanoi is right in the heart of Hanoi's business, government and diplomatic district. If you'd like to arrive in style, the property has its own rooftop heliport. It's played host to such notable figures as HR Princess Anne of the UK, Spain's Queen Sofia and members of the Brunei Royal family.
Photo Credit: Vietnguyen.photo/Shutterstock.com
What to Do
Hanoi's Old Quarter's markets are prime for sampling street food—and take a chance on some unexpected fare, you might surprise yourself with what you'll enjoy. Within the city is also the Temple of Literature, a 1,000-year-old dedication to Confucius and Vietnam's first university was established within its walls. The city is also the best place to catch a traditional music, theater, opera or puppetry show depicting Vietnamese myths and folklores.
Photo Credit: Jimmy Tran/Shutterstock.com
In Ho Chi Minh the Emperor Jade Pagoda, War Remnants Museum, Phan Thiet beach are all must-see destinations. For a cocktails and some dancing, hit up Dong Koi Street. Plan to also see the Cu Chi Tunnels. During the war, tunnels were built by guerilla troops in an effort to combat better-supplied South Vietnamese and American forces. Having created tens of thousands of tunnels, soldiers began transporting supplies and laying booby traps for opposing troops. Soon enough, American and South Vietnamese soldiers learned to navigate the tunnels and detect traps, gaining the name, "tunnel rats."
More than 20 caves are available to explore in Halong Bay, so pack your swimsuit and make a day of it. Since it's a water destination, there are opportunities for kayaking, swimming, snorkeling and fishing. There are also two- to three-day sea kayaking excursions for those who enjoy a more active vacation. The steep cliffs are also popular among seasoned rock climbers with their labyrinth of stones jetting out over the ocean.
Photo Credit: Dung Pham Hoang Tuan/Shutterstock.com
When to Go
Because there are opposing monsoon seasons in the north and south, there is no one perfect time to go if looking to hop between locations. The south (Ho Chi Minh City) is tropical and typically always warm, with its driest period from March to May. Although drier, you'll still feel the humidity and temperatures are in the '90s. Cooler than the rest of the country, the north (Halong Bay, Hanoi) boasts better weather in its winter months from November to the end of April. Temperatures range from 60 F to 90 F with year-round humidity. But if you're jonesing for a hot vacation, May to October will ensure you have plenty of reasons to jump into the bay.