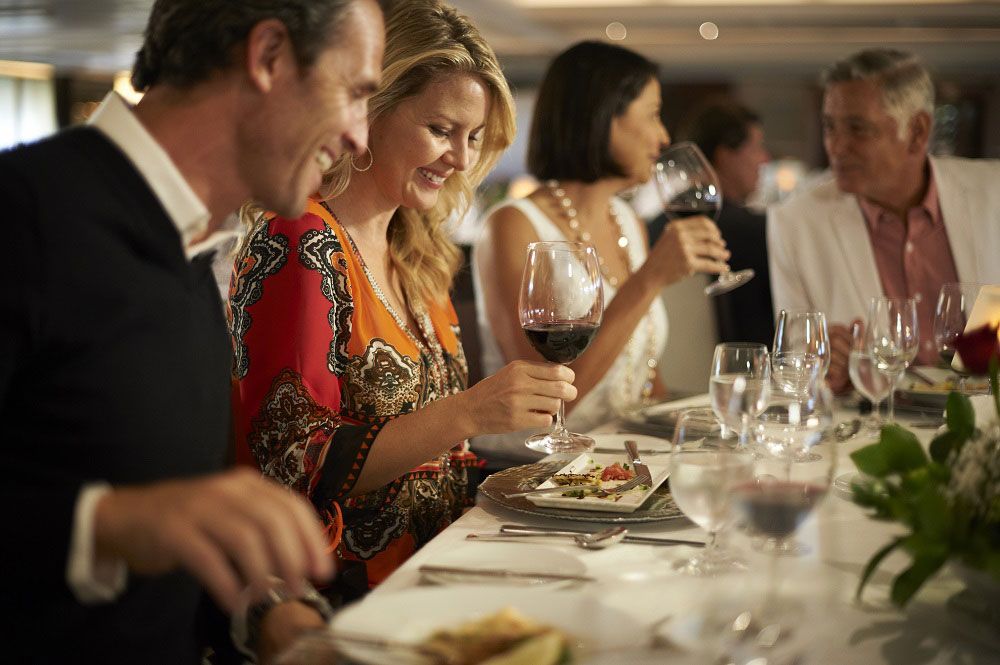 Photos Credit: Windstar Cruises
Gourmet dining at sea just keeps getting better and better. Like a perfect wine-pairing at a Michelin-star restaurant, award-winning Windstar Cruises has partnered with the James Beard Foundation to serve elevated culinary experiences aboard three 2016 themed cruises to France, Morocco, Portugal and Spain. The James Beard Foundation Collection will offer a trio of bespoke small-ship sailings catering to food and wine aficionados, and guiding passengers to the best culinary experiences at each port.
"It's very important to us to expose our guests to local culture and cuisine throughout their time on board, creating a more intimate connection to the world around them," said Hans Birkholz, Windstar Cruises' chief executive officer. "Our new James Beard Foundation Collection takes Windstar's commitment to local food culture a step further and is perfect for any traveler who approaches a new city with their next meal in mind."
The 2016 James Beard Foundation Collection by Windstar itineraries includes three sailings with two itineraries. Embarking on April 24, 2016, the eight-day "Culinary & Wine Delights of Southern Spain & Morocco" sails on Wind Surf from Lisbon to Barcelona, docking in Tangier, Morocco, and Málaga, Granada, Cartagena, Ibiza, and Tarragona, Spain. On June 10 and August 9, 2016 the 10-day "Culinary & Wine Delights of Spain & France" cruise aboard Star Legend, sails from Dublin to Lisbon in June. The reverse occurs in August with ports including Saint-Malo, La Rochelle, and Bordeaux in France, Gijon and El Ferrol in Spain, and Porto in Portugal.
"We are delighted to partner with Windstar to bring together the expertise of three James Beard recognized chefs with the cruise line's fantastic culinary itineraries," said Kris Moon, Vice President of the James Beard Foundation. "Guests will have the special opportunity to enjoy the cultural delights of these amazing locations in the company of some of our country's most accomplished chefs."
A James Beard award-winning chef will join each sailing as the on-board culinary ambassador to present cooking demonstrations and a special dish every night, plus a memorable on-shore foodie outing. Limited to 310 guests, each intimate cruise to some of the world's best small ports will also include regional wines with dinner, several pre-dinner wine-tastings with a sommelier specialist, multiple food and wine-themed shore excursions.
Naturally, regional food and wine highlights will include seafood from Galicia, sweet port in Porto, cognac in La Rochelle, and the famous wine of Bordeaux where an on-shore cooking demonstration will whet gourmet appetites. Stay tuned for James Beard House's January 2016 announcement of the host chefs and associated wine experts chosen for the three Windstar cruises.