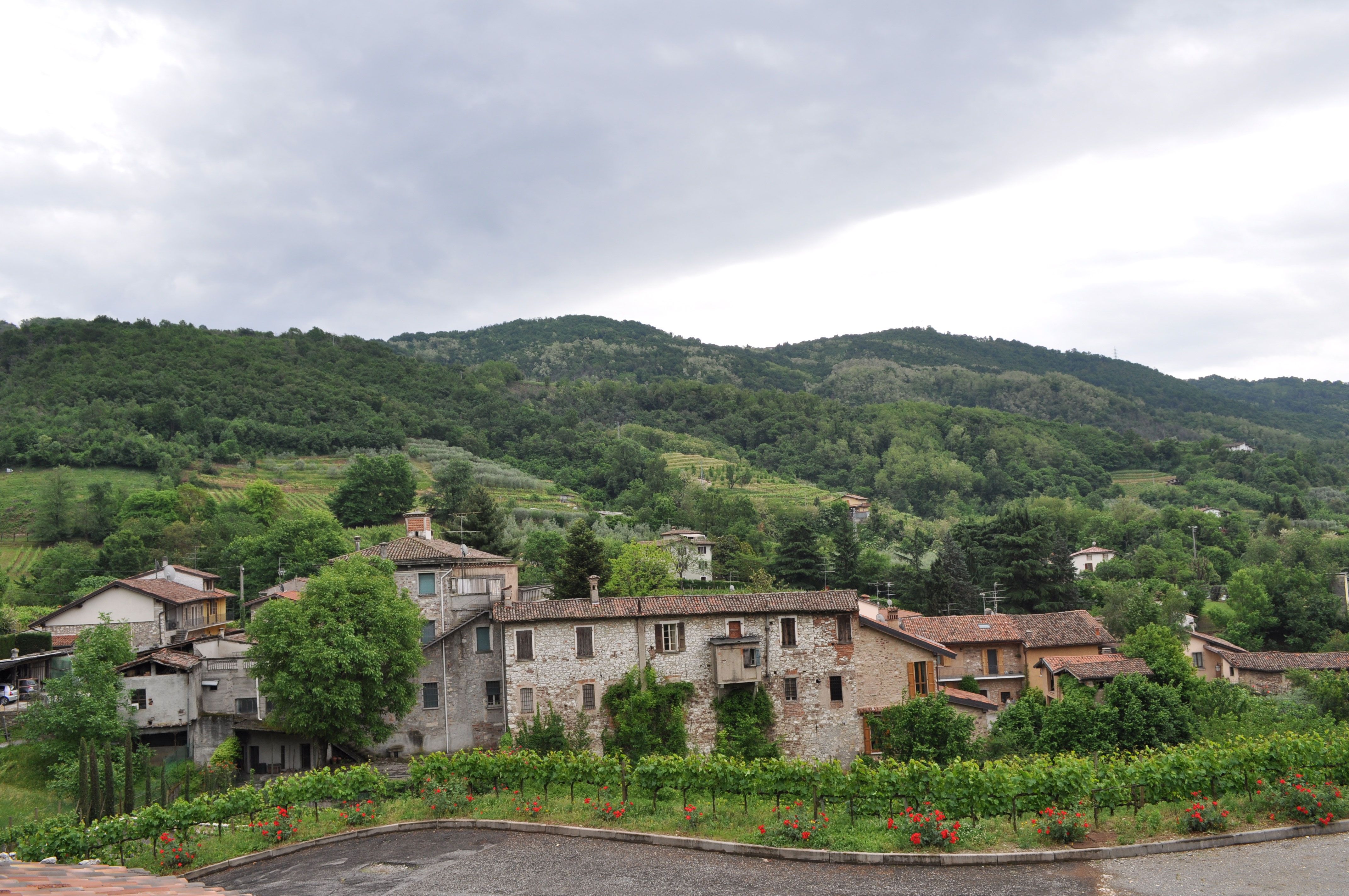 Photo Credit: Courtney Catchet
When it comes to Italy and wine, you most likely think of Tuscany as one of the country's best regions. But a little over an hour from Milan, tucked away in a tranquil corner of Lombardy, is a winemaking destination that you may not have heard of called Franciacorta. And it's Italy's next big thing.
Franciacorta is nestled between Lago D'Iseo and the Alps, and greets you with that perfect mix of medieval architecture and rolling green hills. Its award-winning sparkling wines are produced in the Champagne method and boasts over 100 wineries and highly-regulated standards of production. It is well on its way to becoming a viable competitor in the bubbly market. Its proximity to Milan and relaxed vibe have also made it the weekend getaway of choice among avid travelers, yet it still mostly remains an under-the-radar tourist destination.
Photo CrediT: Bertazzonipaolo/WikiMedia Commons
Getting There
Several major airlines offer direct flights to Milan from major US cities. Once you arrive, you can take a train or hire your own private car. Most wineries will help coordinate your transport, as well. We took a car service from Malpensa Airport arranged through our hotel. The ride was roughly 90 minutes, which included a break for photographs in front of the breathtaking Lake Iseo. Make the stop and take the pic, you won't be sorry.
Photo Credit: L'Albereta
Where To Stay
Accommodations in Franciacorta are varied but not as plentiful as one might find in other more well-known areas of Italy. This also means less tourists and not a selfie stick in sight. Cappuccini Resort is a charming hilltop property with elegant, understated rooms, a a romantic courtyard and an impressive on-site restaurant. The hotel and the staff are warm, professional and very Italian. For a more opulent stay, complete with Russian socialites and Middle Eastern royalty, the five-star resort L'Albereta is for you. It offers sweeping views, chic décor and the Henri Chenot Spa. Although Relais Franciacorta is less glitz and glamour, the rooms are comfortable and simple. It's tucked into the hillside close to a church where you can perfectly hear the bells ringing every afternoon.
Photo Credit: io/Wikimedia Commons
The Wine
When it comes to the wine, let's start off with what it isn't, which is Prosecco. The difference is Franciacorta is produced in the Champagne method. This involves a second fermenting in the bottle and takes a minimum of 18 months, whereas Prosecco is fermented in pressure-sealed tanks and is mass-produced. The silky flavor of the wine is uniquely delicate and pairs perfectly with rich, salty cured meats.
Photo Credit: Ronco Calino
Wineries
There are three distinctly different, yet equally charming wineries you should add to your To Do list. The mountaintop perched Majolini Winery is sleek, sexy and perfect for the fashion lovers. While you're there, check out all of the fashion and art displays by local Milanese designers. Next stop on your list should be Ronco Calino. Like most area wineries, they are a family-run business and their love of wine was their inspiration. Proprietor Lara Liberti's sweet and charming demeanor is typical of why everyone falls in love with Italy and its gracious hosts. The picturesque Il Mosnel winery is set inside the family estate, complete with beautiful landscaping and a grass tennis court. You feel more like you're visiting an aristocrat's home than a winery.
If you're looking for an alternative to Tuscany, or just a stylish yet laid-back place to do some wine tasting, this lovely corner of Lombardy should be next on your list. It won't be long until this Italian secret finds its way across the pond.