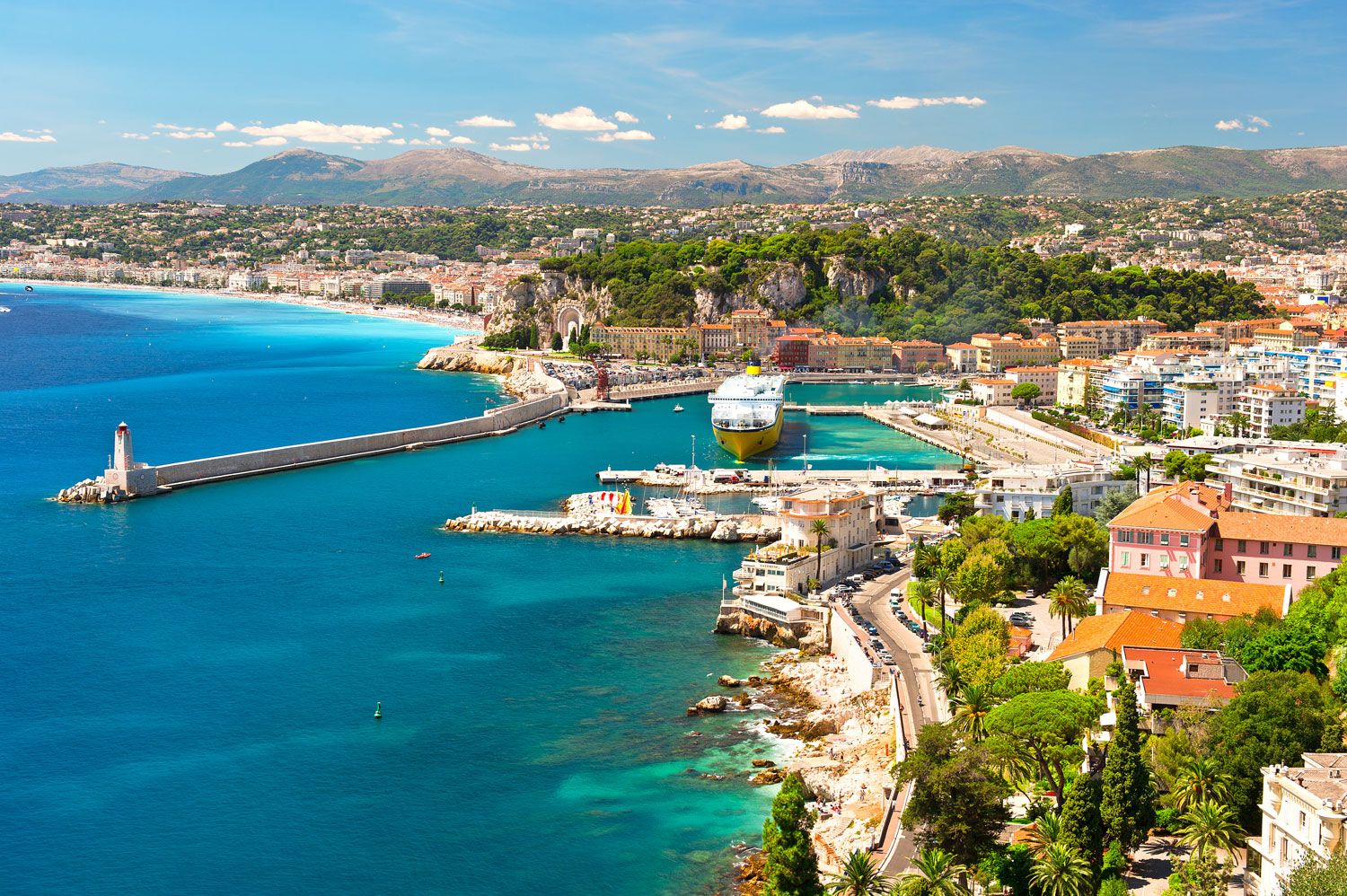 Photo Credit: Shutterstock.com
While some French Riviera hotspots are just about glitz and glamour, Nice offers a special blend of luxury mixed with homespun local neighborhoods, busy beachfronts, a thriving arts scene and an attractive old town center. As France's seventh largest city, the area is protected by surrounding hills, making its pleasant microclimate an attraction for many international visitors.
Photo Credit: Ivan Mateev/Shutterstock.com
Outdoor Sightseeing
Diversity is a hallmark of Nice and this applies even to the sightseeing tours it offers. One way to see the city is by taking a small tram that winds you through the streets and pretty squares such as Massena and Garibaldi filled with Belle-Epoque and Turin-style villas and their façades painted in Sardinian red, dark ochre and rose. Then, traveling up a steep road to the ruins of a 19th century castle and the site of the first settlers, enjoy panoramic views over the city, the Bay of Angels and the four-mile long beachfront promenade built in the early 1900s. From on high, the iconic blue chairs along the promenade are unmistakable. Initially appearing around 1900, they are now painted sky blue to complement the azure waters. Nice officials ordered about 2,000, but due to misappropriation, only 700 remain.
If you opt for the step-on, step-off bus tour on an open-top, double-decker, you'll travel further than with the tram, beyond the bustling city center and into the surrounding hills filled with sumptuous villas. Among the stops is Cimiez where the Matisse Museum is located next to the Roman remains of an arena. The bus also passes Jardin Albert 1st, the town's 82,000-square-foot park, an oasis of leafy green built over the Paillon River between the Promenade and Quai des Etats-Unis and featuring ornate sculptures and rare plants, including the Reclinata palm. Back in the city center, don't miss the impressive art deco façade of the Lycee Massena and the dancing fountain in the nearby square.
Photo Credit: Columbia Hillen
For something different, try A Taste of Nice, a three-hour walking tour combining history and food. Like a modern-day Mary Poppins, our guide arrived at Opera Plage pulling a small shopping pram filled with what she termed her "trolley of tricks," an assortment of Nicoise treats. Heading to the flower market on Cours Saleya, she provided insights into the town including the origin of its name (from Niki, the Goddess of Victory), the story behind the canon that fires every day at noon and how previously, Sardinian-owned Nice became part of France during the 19th century.
Value the exercise, for along the way you'll sample sweet candied fruit, olive oil, chocolates, white truffles, gelato, and a tasty sit-down lunch at Bella Socca that includes traditional dishes such as pissaladière, socca and les petits farcies accompanied by local wines and beers. After a brief tram ride to the local Liberation market you'll be rewarded with aperitifs of fresh greengage fruit with goat cheese and onion tarts and perhaps a surprise street rendition of the Nice anthem from friendly Jojo, a local character who spontaneously greets visitors.
Photo Credit: Lucian Milasan/Shutterstock.com
Cultural Immersion
Nice now boasts more museums (20 at last count) than any other French city outside Paris. Massena Museum, housed in the 19th century Palais Masséna, traces the town's history through painting, sculpture, jewelry, tapestries and historical documents. A fascinating collection of colorful posters illustrates how Nice has become famous for carnivals and fairs since the 1800s. Old menus from casinos and panoramic photographs from the 1700s through to the 1900s, as well as an 18th century smoking room complete with period furniture and even a gold bracelet supposedly worn by Empress Eugenie, provide a nostalgic trip back to golden days.
The Fine Arts Museum is not to be missed. It holds Jan Brueghel's depiction of flying fish in Water Allegory and his beautiful rendition of flowers and fruit in his complementary work Land Allegory. Admire the intricate skills of Louis-Ernest Barrias in his bronze and marble sculpture entitled Nature Unveiling before Science and the sense of utter solitude created by Luc-Olivier Merson in his painting Egyptian Scene.
Photo Credit: Kiev.Victor/Shutterstock.com
Opened in 1963 in a carmine 17th century Genovese-style villa in Cimiez, Matisse Museum houses the most comprehensive collection of the famed artist's work from his first Still Life with Books in 1890 to his sculptures, paintings, drawings and engravings. Most intriguing are his paper cutouts produced from his hospital bed after being diagnosed with cancer. Unfortunately, there is not much information on the artist's life or the artifacts, so read-up in advance to better enjoy your visit.
Until near-end January next year, Henri Cartier-Bresson dominates the Photography Museum with several rooms featuring his work in countries such as Romania, Turkey, the US and Spain. Don't forget to look up, the decorative ceiling is impressive.
Photo Credit: Palais Lascaris
Palais Lascaris was once the home of the powerful Lascaris-Ventimiglia family, this 1600s building in Genoese baroque style features interior courtyards around which winds a monumental staircase adorned with murals. Lavish upper rooms feature ceilings painted with mythological themes and an impressive collection of old musical instruments, including 18 harps and a serinette (bird organ), making it the second largest antique instrument collection in France.
The Contemporary Art Museum features works from the 1960s, 1970s and the present, including new realists such as César, Arman and Niki de Saint-Phalle and pop art by Andy Warhol and Tom Wesselmann. The temporary exhibition here is by American artist, Keith Sonnier, who combines bright neon light tubes with fabrics, ribbons, metal grids and curtains to explore the effects on materials, space and on the observer.
Credit goes to Anatole Jakobsky, writer and critic from the Republic of Moldova, who encouraged this particular art movement and donated more than 600 18th-to-21st century naive art works. Housed in a villa once owned by French perfumer François Coty, the Naive Art Museum houses paintings, sculptures, drawings and posters by artists such as Henri Rousseau, Séraphine Louis and Grandma Moses.
Photo Credit: Maison Auer
Shopping
Old Nice is a dense maze of narrow streets filled with stores of all kinds. Established in 1820 and still boasting a bright Old World façade, Maison Auer should carry a warning sign. Its shelves are filled with assorted candied fruits and chocolates of all shapes and sizes. No surprise it was a favorite of Queen Victoria when she'd arrive in town for her annual airing. With steel tanks built into its walls and shelves packed with an impressive variety of wines, Caves Caprioglio is also unique insofar as clients can also bring their own empty bottles for a fill-up.
For artwork there's no better place than Rue Droite, a tiny street filled with ateliers, as well as boutique shops such as Virginio Andreani selling cashmere and silk garments. For photography, check out Rue de la Prefecture where Jean Louis Martinetti has offered his creative designs since the 1980s. Across the street, Jimi Goldglass, a friendly German specializing in American landscapes, displays his work outdoors.
Photo Credit: Thés Chaguan
Head to Thés Chaguan for tea, it serves over 100 varieties, mainly Chinese, and you can also sit at table inside for a soothing beverage. Englishwoman Natalie and her husband Fabrice took over Espuno, a traditional bakery on Place du Jesus, just over a year ago and continue the work of Master Baker Andrei Espuno using a wood-fired oven. Their delicious tourte blettes and orange blossom, lemon, olive and anchovy fougassettes makes this place well worth a visit.
Maison Bestagno has been selling umbrellas since 1850 and this tiny store is worth stepping into just to admire the variety of colors and quirky designs. Olio Donato, a producer from Calabria, stocks white truffles and hazelnut paste as well as high-quality, extra virgin olive oil.
Nice requires at least a few days to absorb and enjoy fully. To really get your money's worth from the French city, purchase the Riviera Pass which provides free access to museums, buses, tram tours and offers additional discounts to attractions.