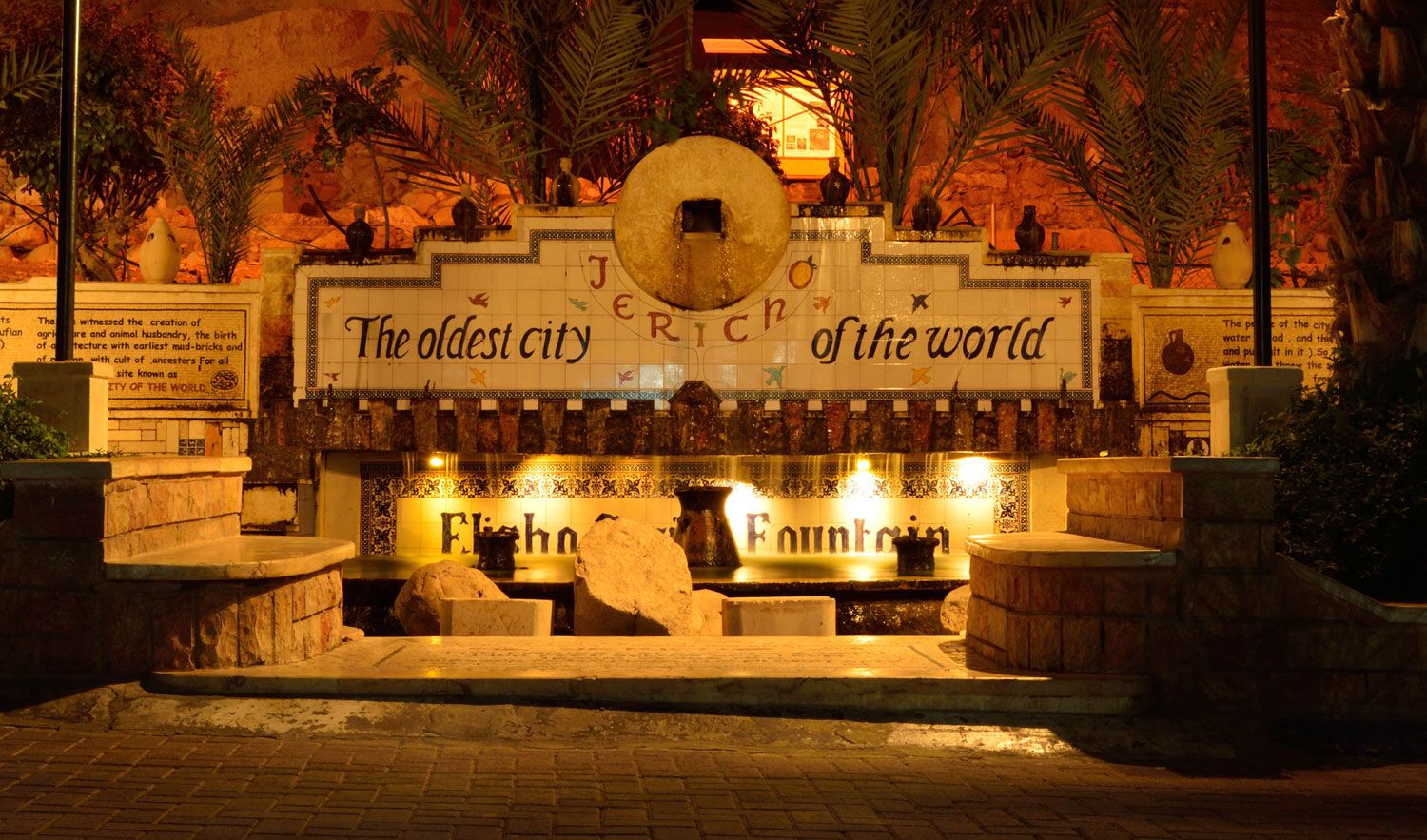 Photos Credit: Shutterstock.com
As a child, Jericho (to me), was a fantasy land where walls miraculously fell down at the blowing of trumpets and the marching of men. It was a biblical city that somehow never felt like an actual location that could be visited. Fast forward to present day, and the very real destination, is just as intriguing to my adult self as it was all those years ago.
Jericho has been called the world's oldest, continuously-inhabited city with a history that dates back over 10,000 years (take a minute to let that number soak in). Centuries upon centuries have come and gone and it has lived to tell its stories. It is here that archaeologists have found evidence of the first development of permanent settlements in the region, thus marking the city as one of the earliest adopters of civilization.
Located 22 miles from Jerusalem, the ancient destination has somewhat modernized over the years, but still remains a relatively small farming town. In its early years, around 8,000 BCE, inhabitants had grown into an organized community of about 2,000 to 3,000 people. Its residents built a stone wall around the city and moved from being hunters to farmers, acquiring a new progressive way of life. Unfortunately due to the outbreak of the Palestinian War in 2000, the city never became the major tourist attraction that the Palestinian Authority hoped it'd be following the 1994 Oslo Peace Agreement.
With so much history to be discovered within its six-acre landscape, it's hard to not want to see it firsthand. But because of its location in war-torn Israel, it is currently not recommended for tourists. The U.S. Department of State's travel warning (updated on December 16, 2015) states, "The Government of Israel and the Palestinian Authority both make considerable efforts to police major tourist attractions and ensure security in areas where foreigners frequently travel. Although these efforts to reduce the threat are not 100 percent effective, hundreds of thousands of U.S. citizens safely visit Israel and the West Bank each year for study, tourism, and business."
It goes on to state that travelers should exercise caution when traveling to the West Bank due to its increasing violence which has resulted in the death and injury of U.S. citizens and others. These are bleak times we're living in; but fear is a crutch that many travelers refuse to lean on. It's not safe, and may not be for years, but should you find yourself in Jericho, here are some helpful tips and information on its best sights and experiences.
Essential Information:
The best time to visit the Holy Land is from March to May or September to November. Holidays such as Easter, Passover, Rosh Hashanah, Yom Kippur and Sukkot attract a larger number of crowds and many businesses remain closed on these days. From Queen Alia International Airport in Amman, Jordan or Jerusalem, you'll need to hire a private car to transport you to Jericho since there are no direct-service taxis. Keep in mind that travelers do not visit the city for white-glove service, but rather to get a deeper understanding of the area's history and cultural experiences. That said, there are only a few luxury hotels on the outskirts of the city including the Four Seasons Amman and the Bab Al Shams Resort.
While there are few luxury tours taking place in Jericho proper, groups like Artisans of Leisure and Abercrombie & Kent offer VIP tours to Jordan and its surrounding areas. Or, should you wish to customize a private trip, Calvary + Company can arrange a getaway tailored to you. The group works with Special Forces veterans and have organized one-of-a-kind experiences for affluent travelers.
What to See:
Tell es-Sultan
The UNESCO World Heritage site of Tell es-Sultan (also called the Ancient City of Jericho), sits at 846 feet below sea level, and is the lowest and oldest town on earth. During the Early Bronze Age, the fortified town was one of the most flourishing Canaanite City-States in Palestine. Plagued by earthquakes, fires and battles, most of the city was destroyed and rebuilt numerous times over the centuries. Many religious events and beliefs are associated with the site, and it's impossible not to get a sense of history when exploring the area. Sand dunes and stairways (the oldest known stairs in the world) are scattered about the town as well as the remains of a tower that is said to have withstood seven earthquakes. Look for sign posts that identify significant areas and archeological remains.
Mount of Temptation & Monastery of the Qurantul
Rising 1,148 feet above sea level, the Mount of Temptation is chronicled in Christianity as the place where Jesus Christ fasted for 40 days and nights while being tempted by the Devil. Marking the spot where he was urged to make bread out of a stone, is the Monastery of the Qurantul which was built around the sixth century. Cut into the cliff face overlooking the Dead Sea to Jordan, it is an impressive feat of engineering. The area is filled with 30-40 caves where hermits and monks used to reside in the early days of Christianity. Getting to the monastery is no easy task, the ascent is steep and difficult. An unreliable (sometimes service is cancelled midday) cable car also stops just before the monastery, but you'll still be climbing stairs to the front gate.
Hisham's Palace
About a mile from the northern outskirts of Jericho and a short drive from Tell es-Sultan, Hisham's Palace was thought to be the residence of the Umayyad Caliph Hisham from 724-743 AD. Closer studies show that it was built between 743 and 744 AD by his nephew Walid II. It has been called the "Versailles of the Middle East" and boasts colonnaded courts, mosques, baths, mosaic flooring and royal buildings. Although it was destroyed by an earthquake shortly after its completion, there is still much to be discovered within its ruins. Representing a sample of early Islamic architecture, one of the palace's famous features is its beautifully-preserved Tree of Life mosaic housed within a bath house. It bears the image of a lion killing a deer under an orange tree, possibly representing the struggle between good and evil. Hisham's Palace's caretaker directs visitors to a cinema room where they are able to watch a 20-minute video on the site's history.
Herod's Palace
About a mile southwest of Jericho, the Palestinian heritage site of Telul Abu Alayeq (in Arabic) is located along the river banks of Wadi Qilt. Previously King Herod's winter residence, the palace sat within a lush garden city, and legend has it that Mark Antony gifted Herod's balsam groves to Cleopatra. Today the area shows traces of a network of aqueducts and channels used to exploit water from the surrounding springs. The fortress contained a large pool, round reception hall, two peristyle courtyards and a Roman bath. Northeast of the palace sits a large necropolis of around 50 tombs, dating back from the middle of first century BCE to the first century AD. Discovered between 1975 and 1977, the tombs were hewn in the limestone rock with a square burial room with loculi. Travelers visiting the palace and tombs will find a much easier walk than the trek to the Mount of Temptation, and the area features a café for food and drinks.
Nabi Musa
According to local tradition, Nabi Musa houses the grave of Prophet Moses, and is therefore a holy site for Muslims. The Old Testament states that Moses never entered the "Promised Land" (a.k.a. Palestine), but instead died in modern-day Jordan at Mount Nebo. Made up of a mosque, minaret and rooms, its main structure was completed in 1269 AD. The tomb is the ending point of an annual seven-day pilgrimage that starts in Jerusalem. At the tomb, pilgrims spend five days praying, celebrating and playing games around the shrine.