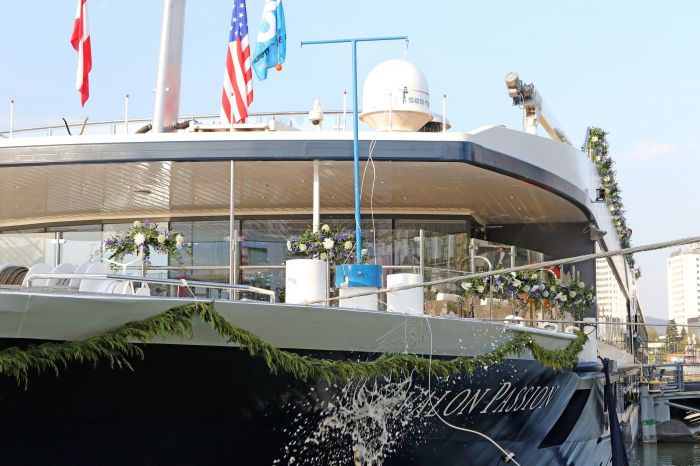 Photos Credit: Avalon Waterways
Inaugurated under sunny skies for an enthusiastic international crowd, Avalon Passion is poised to bring SuiteShips to even more Danube cruisers in the coming years. For Avalon Waterways, this was more than just a christening, it was an opportunity to prove to the travel community that, while it may be a young company, it's very much a leader in the river cruise category.
Its latest new ship, Avalon Passion (just a couple weeks younger than Imagery II) in the SuiteShip family, was introduced in 2011 with the Avalon Panorama. Both Passion and Imagery II could easily be slotted into Active Discovery itineraries in upcoming years, since they cruise the same European regions. The latter will sail the popular Romantic Rhine route, with extensions via Avalon's sister company Monograms to Switzerland or to London and Paris. Avalon Passion Itineraries will be: Legendary Danube, Blue Danube Discovery, European Splendor, and Grand Danube Cruise.
On all European sailings in 2017, Avalon Passion that will be offered the culinary initiative Avalon Fresh. In partnership with Wrenkh brothers Karl and Leo—two charming vegetarian chef brothers who come from a famous Viennese culinary family—the brand is developing a healthy program of farm-fresh, sustainable, regional recipes for all meals. The brothers are completely hands-on in recipe development, and are testing dishes on certain ships right now. It is their ambition that in 2017, Avalon passengers may be able to join a cooking class at their school in Vienna, or perhaps a foraging tour in a pristine wood outside Vienna. The recipes will pull from different European destinations to complement where the ships are sailing.
Inside cabins, beds face floor-to-ceiling sliding glass windows and the Avalon-trademarked Open-Air Balconies. It really does allow for an indoor-outdoor experience with panorama views not offered on other river cruise ships. The Avalon Passion pre-christening sail previewed a variety of activities included in the Active Discovery cruise that will be launched in 2017. Guests hiked, cycled, took lessons in Viennese waltz (with authentic costumes!), and interacted with honeybees and Lipizzaner stallions. Specific inclusions for that program are still being solidified, but if successful, will be expanded to more ships and routes in 2018.