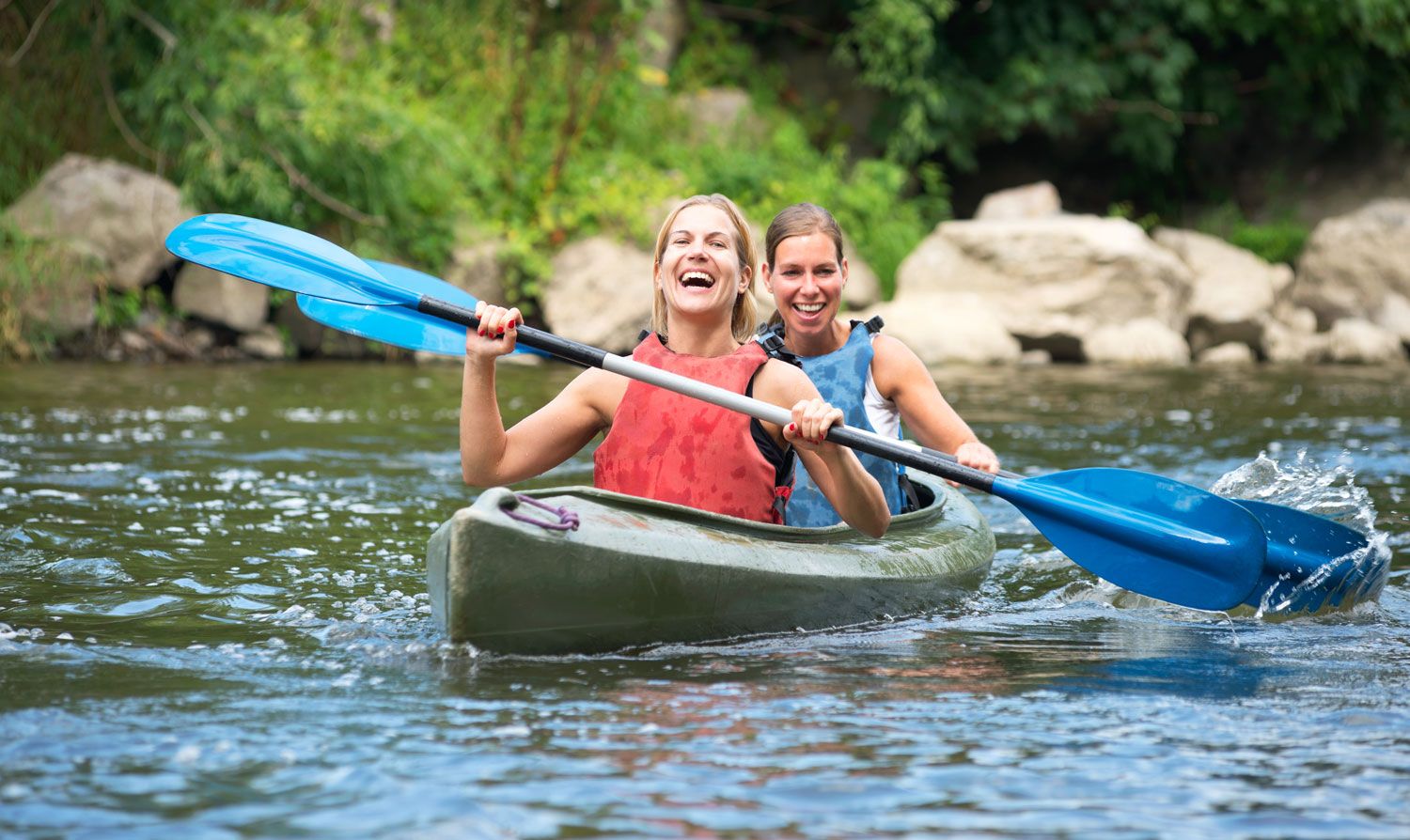 Photo Credit: Shutterstock.com
As Mother's Day approaches each year, offers for spa treatments, Sunday brunches and flowers flood our inboxes. While we're not ones to turn down a luxe massage, we know there are some mothers who seek the thrill of adventure over the sweet-smelling aromas of essential oils. To them, the best gifts are wrapped in exploration and heart-pumping activities. For this holiday, we've scoped out the best female-centric adventure trips for moms and daughters to experience together.
Photo Credit: Just Spas & Adventures
Surf & Yoga Retreat
Yoga and surfing just seem to fit together perfectly, and nothing says family time like a little shredding sesh with mom. Just Spas & Adventure's trip combining the two in Costa Rica sounds like a great winter excursion for moms and daughters. From November 13-19, participants will venture to Playa Hermosa to enjoy activities such as surfing lessons, paddle boarding, zip lining, horseback riding, morning yoga and meditation. Guests will stay in poolside villas featuring Indonesian furniture, exotic fabrics, hardwood floors and ocean views. Plus, private open air bathrooms come with granite stone tubs surrounded by tropical gardens. Dining options will focus on healthy dishes and a strong emphasis on using organic and local produce. Rates begin at $2,400 per person double occupancy and includes all yoga and surfing gear.
Photo Credit: Shutterstock.com
The Peruvian Andes
Promoting trips for women only, Canyon Calling's Peruvian Andes adventure is a nine-day excursion filled with plenty of sweat-inducing activities. Taking place from May 6-15, 2017, on your first day, you and mom will arrive in Lima to spend the day exploring the culturally-diverse city of 8 million people and its centuries-old architecture. Throughout the week you'll experience kayaking Lake Titicaca, white water rafting in Urubamba, discovering ruins in Machu Picchu, soaking in hot springs and wandering through Cusco and the Sacred Valley. Canyon Calling also recommends spending a few days on your own at the end visiting the Amazon and/or the Nasca Lines in the desert. Rates begin at $3,895 per person and include one internal flight.
Photo Credit: Adventure Women
Uganda Gorilla Trek & Wildlife Safari
Home to over half the world's remaining Mountain Gorillas living in their natural habitat, Uganda offers the rare chance to see these endangered animals on exciting safaris. Taking place within the forests of Uganda's Bwindi Impenetrable Forest National Park, AdventureWomen offers a female-based, 13-day trek (October 14-27, 2016) through the African jungle to see these creatures up close. For moms and daughters that like to get their hands dirty, this experience might be right up your alley. The treks can last from one to six hours over rough and muddy terrain at altitudes in excess of 7,500 feet. Along with tracking gorillas, you'll also spend time 4x4-ing through the East African countryside, birding, learning about the area's natural history and river cruising. Guests will stay in various luxury safari camps, lodges and hotels throughout the two weeks. Rates begin at $8,195 per person.
Photo Credit: Wild Women Expeditions
South Island Alpine Adventure
I think it's safe to say that New Zealand is on many a traveler's bucket list. The island's jaw-dropping natural landscapes have proven to be some of the most impressive sights in the world. On Wild Women Expeditions' 10-day trip from November 21-30, 2016, guests will explore the destination via kayaks, boats, hikes and relaxing at luxury accommodations. Led by professional female guides, half a day will be spent sea kayaking on Milford Sound while another day is filled with a boat trip into the glowworm caves of Lake Te Anau. Daily hikes include forging up Ben Lomond, Mt Shrimpton and the Kepler Track, one of New Zealand's Great Walks, and range from two to seven hours. Rates begin at $4,295 per person.
Photo Credit: AdventureWomen
Nepal Trekking in the Himalayas
From October 20 to November 4, AdventureWomen is taking female sojourners to Nepal for a low altitude trek through the Himalayas. With verdant valleys, towering mountains and ancient cities, this destination is a veritable playground for outdoor enthusiasts. Less physically challenging than the above Ugandan trip, treks are about five to seven miles a day and go at a slow to moderate pace. Because October to November is the start of the dry season, the visibility is clear and the country is lush following the monsoon. Along the way, women will participate in a safari by elephant to view the Bengal Tiger, go river rafting in the Seti River and take a scenic flightseeing tour around Mount Everest. In Kathmandu, you'll visit the ancient city of Bhaktapur and the Buddhist Temple Complex of Boudhanath. Guests will sleep in traditional-style lodges with electricity, solar-heated showers and flush toilets. Rates begin at $4,995 per person.