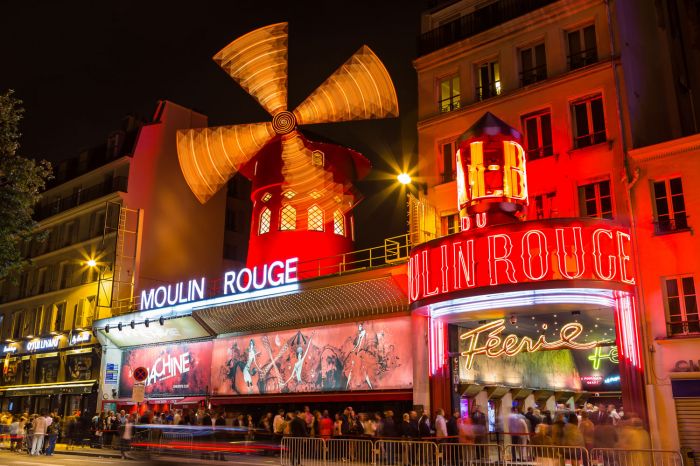 Photo Credit: Maziarz/Shutterstock.com
It's hard not to love visiting Europe, especially since country hopping is extremely easy. For jet-setters who frequent the continent, it's always great to find new ways to enjoy some of your favorite cities. So this year, instead of making the typical stops, consider having a theme for your travels. Many of today's most well-loved musical productions have been based on locations around the continent, making it easy to live out these productions in real life. If you've ever wanted to get a glimpse of the colorful Moulin Rouge, play the famous piano in Once or walk along the countryside where the Von Trapps sang their famous songs, these five itineraries are the perfect way to enjoy your next European jaunt.
Photo Credit: Walton's Music
Once — Ireland
Once is the kind of film that makes musicians fall even more in love with their craft. Set around a couple who meet on the streets of Dublin, Glen Hansard and Marketa Irglova (called "guy" and "girl") begin writing and playing music together whenever they can. Known for its 2007 Academy Award-winning song Falling Slowly, the movie went on to become a live production in December 2011. If you're looking to walk in the pair's foosteps, there are a few places to check out during your visit. For accommodations, the Merrion Hotel is the city's most exclusive property and is home to Patrick Guilbaud restaurant, the only eatery in Ireland to receive two Michelin stars. Nearby is Grafton Street which has a reputation of showcasing really great street performers (Damien Rice used to frequent the spot), and the location where Hansard was first seen playing guitar.
Across the street is Simon's Place Coffee shop where the pair chatted over a cup of tea. Later, sitting at the piano, Irglova begins playing Falling Slowly at Walton's music shop on South Great George's Street. To this day, the staff regularly receives requests for piano access in order to recreate that scene. After working all night on recording their album, the musicians head south to one of Dublin's most scenic places, Killiney Hill. It's a great spot for a picnic with the famous Sugar Loaf Mountain in view and the Irish Sea below. Before the duo decide to go their separate ways, they walk through Temple Bar, one of the city's most touristed destinations. On Saturdays, stroll the farmer's market on Meeting House Square and discover up-and-coming fashion designers on Cow's Lane.
Photo Credit: Shutterstock.com
The Sound of Music — Austria
While watching The Sound of Music, it can be easy to forget that The Von Trapps weren't just a fictional family, but a real life household that had to flee Austria during the start of World War II. Although some details were changed for cinematic purposes, the story of a singing family remains true, as does the location of their villa in Salzburg. Ever since it was released in 1965, fans of the musical have been heading to the city to experience the story and its location firsthand. If you're looking to sing in the hills of Austria this year, Trafalgar travel agency is offering a 10-day Sound of Music trip from May to September 2016. The experience starts in Munich and heads to Salzburg and Vienna while making stops along the way to enjoy local activities, sights and meals. Visits to Wilten Basilica, the Golden Roof, Mozart's Birthplace, Neuschwanstein Castle, Oberammergau, Mondsee Church, Melk Abbey, Wachau Valley, the Kunsthistorisches Museum and the Alpine resort of Berchtesgaden are all included. The package is priced at $2,156 per person and comes with a private Wi-Fi enabled luxury coach and four- or five-star accommodations.
Photo Credit: IR Stone/Shutterstock.com
Oliver Twist — London
Based on a character by Charles Dickens, Oliver Twist tells the story of an orphan boy who escapes from his apprenticeship to travel to London. What follows is a tale of young pickpockets, a loving old man and the quest for Oliver's true family. Although there aren't specific Oliver tours, visitors can participate in Charles Dickens literary excursions such as the one offered by Tours International. Guests will get the chance to view the Kent countryside which inspired the writer; Dickens World, a themed attraction; his home town of Historic Rochester where Oliver Twist's Nancy gives guided tours of the area; and Medieval Canterbury among other stops. The company can also customize the tour for a more high-end experience with services such as transportation in luxury motor coaches, one-to-one personal shopping appointments, luxury spa treatments and private classes and tastings. Price based on customized itinerary.
Photo Credit: Moulin Rouge
Moulin Rouge — Paris
Taking place inside a seedy-yet-glamorous nightclub in 20th century Paris, Moulin Rouge is the colorful love story between a young poet and the club's most notorious star. The musical became a hit almost as instantly as it was released and was even being nominated for an Oscar that year. The real-life Moulin Rouge opened at the foot of Montmartre in 1889 by co-founders Charles Zidler and Joseph Oller. Marked by a red windmill on its roof, it was expected to become a temple of music and dance and did so by introducing the world to the modern can-can. Aristocrats, artist and courtesans all gathered under one roof to drink the night away and enjoy the cabaret. To do the musical justice, a nighttime tour of Paris is the best way to do so.
Celin Tours' Moulin Rouge excursion includes dinner and a show at the nightclub featuring 80 artists and 60 Doris girls donning feathers, sequins and feathers. Following the production you'll head to Pigalle for some naughty adventures. Once known as place for mobsters and prostitutes, now the area is one of the liveliest quarters in Paris filled with sex shops, erotic museums, nightclubs and bars. Before the night ends, make stops at Vendôme Square, the Champs-Élysées and finish at the Eiffel Tower. Private, one- to three-person tours begin at $738 per guest.
Photo Credit: Shutterstock.com
Brigadoon — Scotland
Imagine stumbling upon a town that since the 18th century has not changed, even its residents don their Age-of-Enlightenment garb, 100 years later. This is the setting for Brigadoon, a musical based on the novel by Alan Jay Lerner which was set in 1947. When New Yorkers Tommy Albright and Jeff Douglas get lost on a vacation in the Scottish Highlands, they discover this mythical city which only appears once every hundred years for one day. While this town is of course made-up, there are still plenty of ways to get a sense of "Brigadoon" by visiting the area's ancient castles in the Scottish Highlands. Cox & Kings offers an eight-day Landscapes of Scotland private journey that ventures through Edinburgh, Iverness, Fort William and Auchterarder. Along with private castle visits, travelers will spend a night within the walls of the royal stronghold of Inverlochy Castle, search for the mythical Loch Ness, and experience bottlenose dolphins and seals in Moray Firth. While in Edinburgh guests can meander through the streets of the UNESCO World Heritage Site of the Old Town or enjoy retail therapy at the bespoke shops selling cashmere and other fine goods. Rates are priced at $8,225 per person until December 2016.