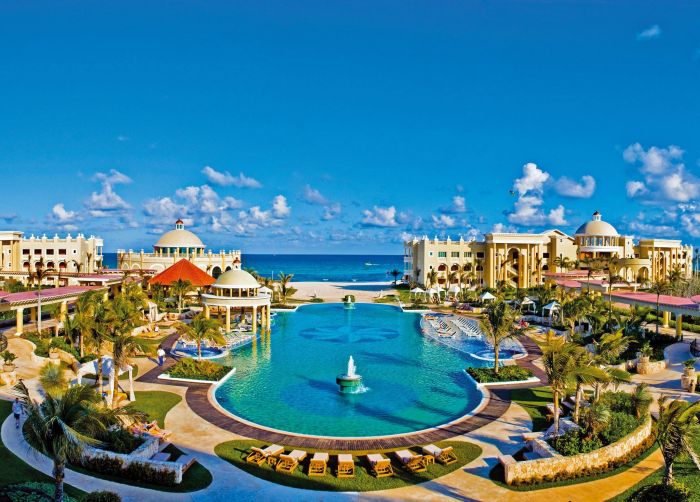 Photo Credit: Iberostar Grand Hotel Paraiso
About a 45-min drive outside of the more well-known Cancun, you'll find tiny Playa Del Carmen. Once known as a small fishing village, this little gem on the Caribbean coast is located in Riviera Maya. A great location for travelers from the East Coast, Riviera Maya is also home to another popular lover's getaway, Cozumel and the trendy, bohemian village of Tulum.
Photo Credit: Iberostar Grand Hotel Paraiso
Iberostar Grand Hotel Paraiso is a great anchor property for your "baecay" when visiting the area, it's adults-only, all-inclusive and surrounded by all the possible luxury you could imagine. When you're on a lover's getaway, your main objectives are privacy, luxury and ocean views...and every room at this property has just that. The hotel's private beach is a must-do during the day, but this Iberostar also features both a saltwater and a freshwater pool for those that may want to get a quick swim before dinner. There is also an option for Butler service, giving you 24-hour service at your fingertips.
Photo Credit: Iberostar Grand Hotel Paraiso
Although many travelers leave their wellness and fitness goals at home when traveling, Iberostar Grand Hotel Paraiso has an onsite yoga instructor that leads yoga classes of all levels to help you maintain your routine. There's also a gym so you won't have any reasons not to indulge in desserts and cocktails during your stay.
At the spa, guests can experience therapies such as the Caviar & Argan Facial, the Imperial Mayan Massage, and the unique Gemstone Scrub. This latter is slightly intense, but uses crushed diamonds, rubies, and sapphire particles that are used to harmonize your chakras. The restaurants on property have a range of food options outside of traditional Mexican fare that include a variety of cultures, vegetarian, vegan and gluten-free options. Or you can simply opt for room service and have breakfast on your balcony facing the ocean, because...why not?
Photo Credit: Cancun Adventures
The wonderful part of staying outside of Cancun is you get the flavor of the city, without feeling like you're directly in the tourist trap areas. Consider booking a catamaran/snorkeling tour, such as one with Cancun Adventures. The company will pick you up from Iberostar's lobby, transport you about 30 minutes to the marina in order to embark on a day trip to see Riviera Maya's beautiful waters, colorful reefs, while listening to music. Once docked for snorkeling, the fun begins. The crew opens the bar and serves lunch, so it's definitely a great way to get off the resort. Plus, the tour of the coastline starts early enough that you're back at your hotel to enjoy the afternoon at the beach before witnessing a Caribbean sunset.
Photo Credit: Iberostar Grand Hotel Paraiso
Playa del Carmen's main street, La Quinta Avenida or 5th Avenue, is where you want to be for nightlife. Anything goes on this main street where locals and tourists alike mix and mingle. Cabs to and from the hotel areas will cost you approximately USD $50 each way, but you're on vacation...so it's worth the splurge. Also, leaving the heels off is a great idea, ladies, this area is meant for exploring, drinking, dancing, and sore feet are not allowed to kill your good time. For dinner plans, you can find authentic Mexican fare on this avenue with restaurants like Carboncitos and a little Cuban flair at La Bodeguita del Medio.
For entertainment, Coco Bongo is legendary in this town for good reason. Nightly shows feature acrobats, dancing, music and sing-a-longs, giving you a bit of Vegas in Mexico. If you're looking for a straight nightclub vibe, this area is crawling with bars pumping everything from EDM to Hip Hop. While most bars have a cover charge, many offer complimentary entry to ladies, as well as the first drink.. Whatever your preference, if you love Cancun, but are looking for a more sophisticated Caribbean getaway, Playa del Carmen should be next on your list.