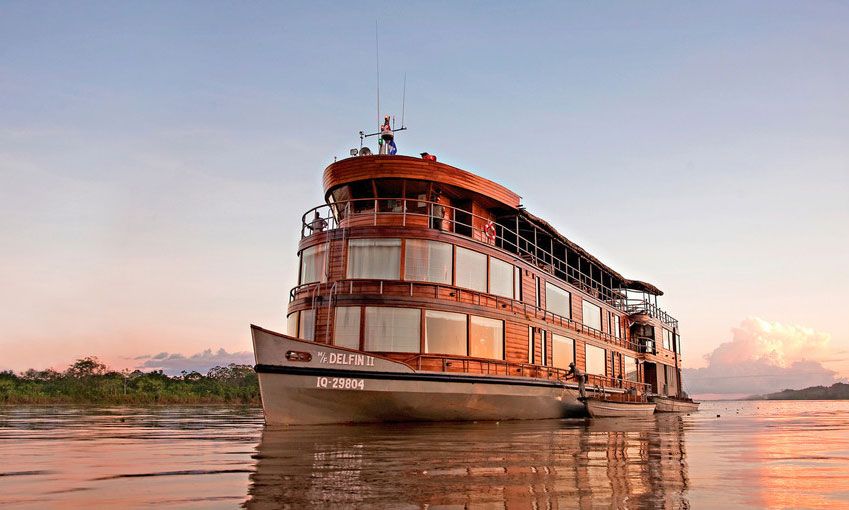 Photos Credit: Delfin Amazon Cruises
By the time I'd stroked the thick, fuzzy abdomen of a wild tarantula from a local tracker's hands in the jungle, I knew many travel "firsts" would be achieved in the coming three days. It's not the norm to have fished for piranhas in a creek, have mischievous capuchins leap upon your group's skiff as they help themselves to your banana supply or encounter the indigenous peoples of the Peruvian Amazon. Yet there was no retreating to some sweltering tent amongst creatures that hiss, but onto the Delfin II, a sleek, all-suite riverboat for travelers who prefer not to completely "rough it" in the world's most spectacular rainforest region.
Adventurers, gourmands and eco-travelers are all in good hands with Peru-based Delfin Amazon Cruises, which traverses Upper Amazon's malaria-free tributaries with two luxury vessels: the intimate four-suite Delfin I and the 14-suite Delfin II. Accommodations on both boats, clad in tanned local woods, feature generous panoramic windows which might reveal sights of pink river dolphins swimming past your cabin. If on the Delfin II, you likely won't spend much time in your suite with the elaborate Peruvian three-course lunches and dinners in the dining room, plentiful excursions and opportunities to sip pisco with your cruise mates. You'll be further occupied trying out its latest additions which include an enclosed deck lounge (a welcome respite from the flying insects) and a small spa and gym space.
Local and expert naturalists will have you up bright and early to seize the day for multiple excursions, and though it might be tempting to skip one to sleep in, be sure to participate in all of them. Doing so will preclude any regrets of missing flocks of blue-and-yellow macaws and kingfishers soaring overhead or watching your guide "tackle" five-foot-long white caimans (crocodiles) on a night trek. In one of the world's most-biologically diverse regions, experiencing the wildlife on this South American safari often left me speechless.
The dining program also allows guests the chance to sample the fresh bounty of the region. I acquired a deep fondness for the fruit-punch like nectar of camu camu, a sour berry exclusively grown in the region and now sold as a pricey health product in the US. I also enjoyed the delicate flesh of the doncella fish, grilled inside large bijao leaves and laden with diced tomatoes and onions. Beyond mealtimes, the main chef and team provide informative and exotic fruit tastings and a chance to take center stage and prepare a popular regional dish among fellow passengers.
The cruise line is devoted to social responsibility as well. On the final day, passengers get the chance to visit Puerto Miguel, an impoverished yet spirited 400-person village of indigenous Amazonians. Guests are encouraged to pack donation supplies for the village's sole grade school. You'll never forget the little ones' toothy smiles and the warm welcome of the staff and teachers. Vibrant woven crafts made by the community's women are available both in the village and on the Delfin II (all proceeds go to the school). Though you're lapping in luxury onboard and ticking off that Amazonian bucket list, you can still make a difference.