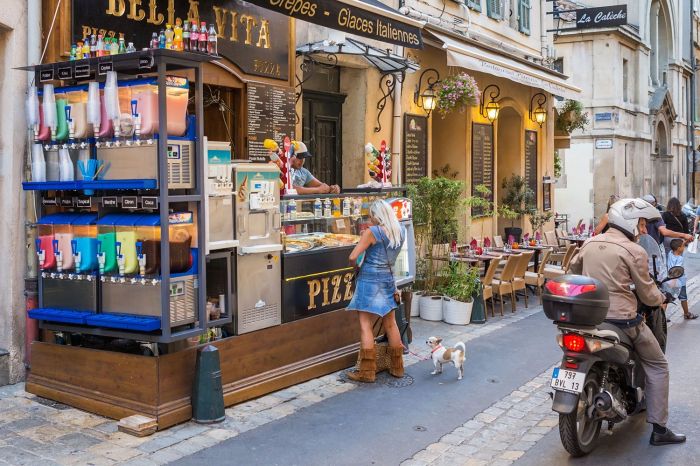 Photo Credit: Deymos.HR/Shutterstock.com
Aix-en-Provence in southern France has an intriguing history, its name originating from the Latin word linked to water. This was the first town in the old region of Gaul to be colonized by the Romans, who remained for more than 500 years. While there are few remnants of that era still standing, the basement of the Granet Museum has some painstaking reconstructions of broken statuary and ceramics, as well as Celtic bracelets and other artifacts.
Aix was rebuilt by nobility after the 12th century as the capital of Provence, becoming part of France in the 15th century. It was rebuilt again in 17th century under Louis XIV, the Sun King. Such colorful historical change is reflected in the varying architectural styles of the town's many ochre-colored mansions, street statues and fountains. It's also a region that enjoys around 300 days of delightful sunshine a year.
Photo Credit: Granet Museum
In terms of art, Aix is synonymous with Paul Cezanne. Having grown up as the son of a hat-maker and money-lender, the 19th century artist spent most of his life here, obsessed with painting the impressive Sainte-Victoire mountain from every conceivable angle, earning kudos in his later years including high praise from Picasso who ended up buying a massive château nearby. Visitors can view some of Cezanne's works at the Granet Museum, as well as those by Giacometti, Picasso, Léger, Klee, Rubens and Rembrandt. For further insights into Cezanne, visit his studio on a forested hill overlooking the town where his brushes, props, mechanical easel and even clothing (including his characteristically rumpled hat) are preserved. Another reason for visiting the Granet Museum is the 12th century Gothic church beside it, designed with multiple Maltese crosses, and the quaint cobblestone courtyard it faces.
Organized by the Aix Tourism office, travelers can participate in a two-hour walking tour devoted to Cezanne's life, including the elementary school he attended with close friend, novelist and playwright Émile Zola. Other interesting walks include The Visible is Invisible tour led by historian Frederic Paul who reveals some of the less obvious elements of the town's features, both new and old.
Photo Credit: Alain Dadourian
A second gallery worth visiting is the Caumont Art Center housed in an elegant 18th century mansion on Rue Joseph Cabassol, featuring a spacious garden terrace where food and beverages are served. Original furnishings are preserved there, including the bedroom of Pauline de Caumont (1767-1850), the lady of the house and the inspiration behind its bright décor. While emphasis at Caumont is on painters from the 14th to the 19th centuries, each year it hosts a major retrospective of a single artist. This summer the focus is on Joseph Turner and his 130 works of art reflecting his experiments with color and his passion for new pigments. The center also features a 30-minute film about the life of Cezanne. Immediately opposite its entrance gate is Book In Bar, the town's English-language bookstore and café.
If you're in the mood for laughter, music or theater, try Le Theatre d'Aix, which was transformed from a furniture warehouse by friendly Denis D'Antoni, who performed as a comedian in many venues nationwide including the Le Théâtre du Soleil and Piccolo Teatro in Paris. Opened just over a year ago after a one million euro investment, concerts (mainly jazz and classical), as well as dance and improv comedy routines take place in this relaxing and intimate venue, as well as daily performance master classes, exhibitions and anniversaries. Recently, the John Massa Quintet performed an excellent Soul Turn Jazz concert led by sax tenor John Massa. The group's diverse repertoire ranged from Otis Redding's Sittin' On The Dock Of The Bay to Georgia On My Mind, the Beatles' Hey Jude and the all-time classic Singing in the Rain. D'Antoni also runs the Café-Théâtre Il Piccolo in Aix.
Photo Credit: Columbia Hillen
Known as "The City of A Thousand Fountains," Aix has a plentiful supply of charming squares where you can simply sit on a terrace, sip pastis and see the world slip by. One such square, Place de L'Hotel de Ville, features a 12th century clock-tower built on the former Roman gate with statues depicting the four seasons, as well as a former 18th century grain store market—now the main Post Office and library—with reclining male and female statues carved high on its façade representing the Rhone and Gironde Rivers.
You can also take a leisurely shopping stroll along Cours Mirabeau, the town's busy narrow main street with its extra-wide sidewalks. Built in the 17th century, it is decorated with ornate statues, including one of former King Renati. Stores and cafés line one side and banks the other. Make sure to try the local candy, diamond-shaped calissons made of almond and melon.
Photo Credit: Columbia Hillen
Aix is also nearby to many other Provençal tourism options, with Marseilles just 30 minutes away and historic Avignon and Arles, where Van Gogh lived, about an hour away. For first timers to the region, a personalized bus tour is a comfortable way to see the region. One such excursion organized by Occitania brings guests to stunning, 1,312-foot cliffs, among the highest in continental Europe. The cliffs offer panoramic views over the Gulf of Cassis and the coastal resort of the same name, with the opportunity for a boat-ride out to the steep-walled calanques (canals) in the national park. Here sporty tourists participate in cliff-scaling exercises using support ropes or hike the many paths that crisscross the hills.
Photo Credit: Columbia Hillen
Completing the tour is a visit to local centuries-old vineyard Clos Albizzi. Family-owned since 1523 and part of the Cassis Domination, one of the oldest in France, it produces mostly whites from Marsanne and Clairette grapes. Marie Laure, the enthusiastic young enologist and daughter of the owner, guided us around the vineyard, ending the afternoon with a leisurely tasting in the cave, including her own specially-made boutique wine. If you're lucky, her older brother might even play his organ music while you're sipping.
A second tour, organized by Aux Champs focuses on Cezanne with countryside stops offering different perspectives of Sainte-Victoire, then to the village of Vauvenargues and the château where Pablo Picasso is buried and onward to the Bimont Dam and the nearby turquoise-color lake at the foot of the mountain. Both companies also offer other trips including ones to the famed Provençal lavender fields and museum. Year-round sunshine combined with a lively music, restaurant and art scene makes Aix-en-Provence an attractive southern France destination.