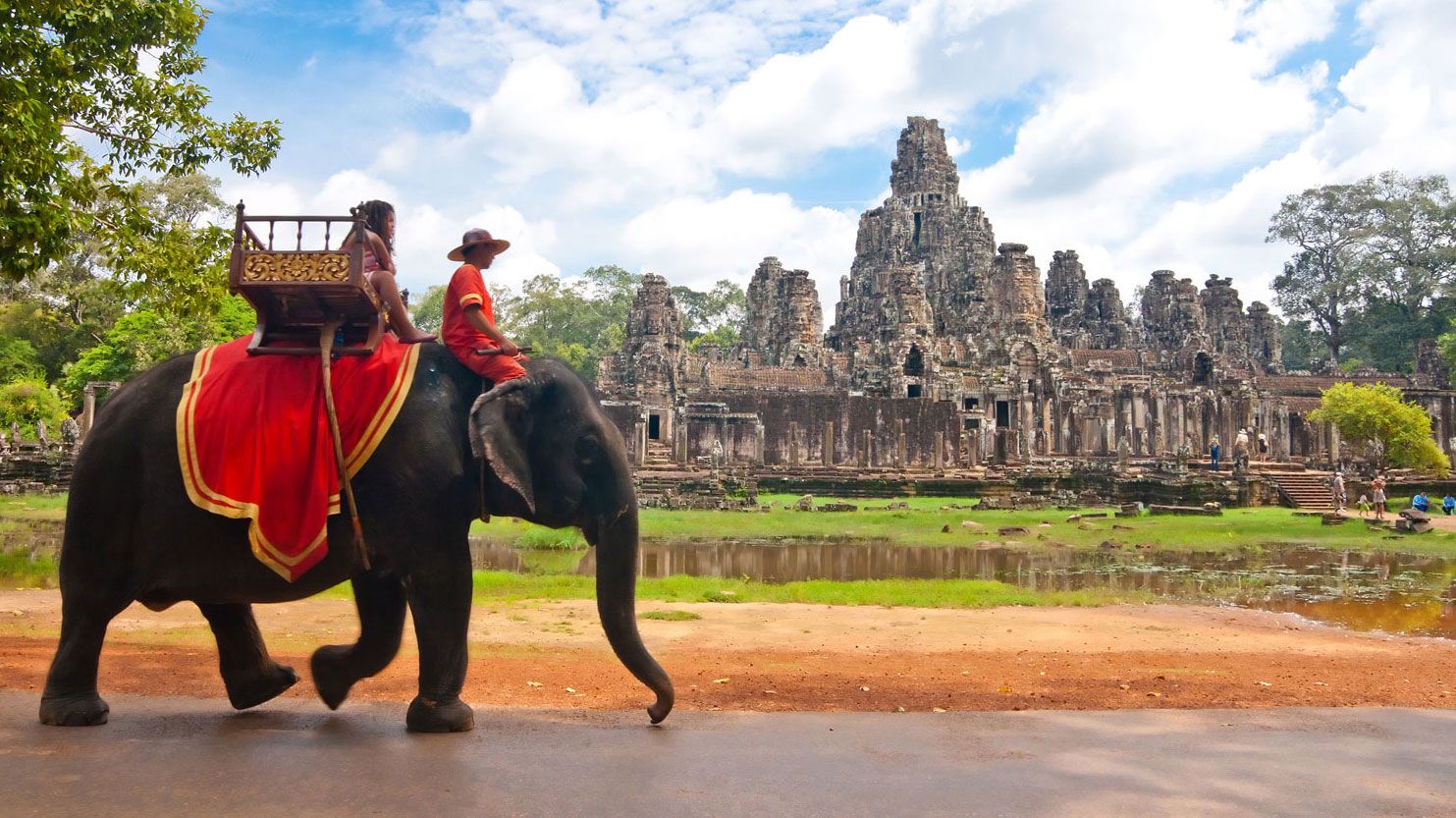 Photo Credit: GuoZhongHua/Shutterstock.com
Even with all the photographs in the world and the plethora of guide books on Siem Reap, there's a sense that nothing can really capture the beauty and intrigue of the destination without experiencing it firsthand. The stunning Cambodian city is a UNESCO World Heritage site, and a place where tuk tuks rule the streets, getting lost in the Old Market all afternoon is encouraged and striking temples serve as reminders of this city's deeply religious history.
Because of its proximity to Angkor Wat, it is also one of the most-visited destinations in Cambodia, attracting around one million travelers each year. Meaning "Siamese Defeated," its name comes from the battle that between Thailand and Cambodia that left the former in control of the region from 1794 to 1907. Following this time French explorers discovered the village and claimed it as their own.
Photo Credit: Shutterstock.com
As it began to grow and flourish, tourists started trickling in and in 1929, The Grand Hotel d'Angkor was built to attract even more guests. Yet, the temples of Angkor were still the leading draw for visitors, not the city itself. Following decades of war and the Khmer Rouge, the town remained under-the-radar, with barely a trickle of travelers visiting its soil.
Come mid-1990s, however, that all changed for the Southeast-Asian city. A wealth of new businesses began to open and transformed the area into modern, elegant and sophisticated retreat. Scattered around the town are a slew of shopping, dining and nightlife options, many of which boast Cambodian-made goods and products.
With its unrivaled beauty, religious sites and storied past, Siem Reap should definitely be on your travel bucket list. The multi-faceted city has much to be discovered so we created a guide to help you seamlessly explore this Southeast Asian destination.
Photo Credit: Shutterstock.com
Essential Information
Like most Southeast Asian cities, Siem Reap has both a dry climate and a tropical wet season, and the latter lasts much longer. To visit during the drier season, head to the area between November and March when you'll see temperatures in the high 80s and low 90s during the day. March to May are extremely humid so avoid those months if possible. Visas are required for entry into Cambodia. Although Cambodia has its own currency, US dollars can be used and are actually preferred. When packing bring light clothing, plenty of sunscreen and mosquito repellant, and temple-appropriate attire.
There are no direct flights into Siem Reap but there are three airlines offering daily flights from Phnom Penh. The 45-minute flight is the best option and will only cost you around $200 for a roundtrip ticket. If you're less in a rush to arrive at any certain time, you can also make the trip via ferry. Boats depart daily at 7 a.m. (between July and March) from the Phnom Penh Port on Sisowath Quay and are priced at $35 per person for the four to six hour trip. Tickets should be purchased in advance, but can be done so via your hotel or travel agent.
Photo Credit: Heritage Suites Hotel
Where to Stay
There's a surprising number of luxury hotels in Siem Reap to choose from. Among the 12 properties, guests can opt for anything from small boutique retreats to larger five-star resorts. Possibly the most lavish is Amansara, the jewel crown of Siem Reap hotels. A former guest house of King Norodom Sihanouk, the property offers 24 open-plan suites (some with plunge pools), a spa, an elegant dining venue and exclusive tours and shuttle service to the Angkor temples.
For something a little more discreet, Heritage Suites Hotel is located in a quiet neighborhood close to town but far enough away for some extra privacy. Having gone through a renovation in 2014, the hotel now features six guestrooms and 20 open-plan suites with marble baths, teak floors and modern design elements. Among their amenities, the property provides vintage car airport transfers, welcome drinks with fruits and canapés, in-room espresso machines, a salt water swimming pool and complimentary Wi-Fi in rooms.
Photo Credit: Shutterstock.com
What to See
Located next to the Royal Palace, the National Museum is one of Cambodia's must-see experiences. The Khmer-style landmark boasts 5,000 artifacts, 19th century works of art, archaeological treasures, relics that have survived the war and exhibits chronicling the various stages of Khmer cultural development. It's a good idea to book a guide (they're waiting by the entrance) while exploring so they can give you a better understanding of what you'll be viewing.
No trip to Siem Reap is complete without a tour of the temples of Angkor. Abercrombie & Kent offers an all-encompassing trip to Cambodia with a trip to these ruins on a 12 or 13-day trip. The 13-day excursion allows for three days at the Angkor complex with an expert local guide. If you'd rather go it alone, be sure to hit the temples of Wat, Bayon, Ta Prohm and Banteay Srei. Angkor Wat is the most famous and is a 2,624-foot-long series of bas-reliefs. Angkor is the abode of ancient gods and the earthly representation of Mount Meru, the Mount Olympus of the Hindu faith. It is believed to be the world's largest religious building.
Photo Credit: Tupungato/Shutterstock.com
To get a feel for real Cambodia, visit the Old and Night Markets, both featuring a labyrinth of stalls offering everything from stone carvings to lacquer figurines, ceramics, jewelry and local cuisines. If you're brave enough, try one of Cambodia's delicacies while venturing around such as crispy fried tarantulas, chicken feet and insects. The Old Market Area is open from 5 a.m. to 6 p.m. Once you're done picking up souvenirs, head to central Siem Reap for more upscale boutiques, fair-trade shops and art galleries.
Constructed in 2001 and opened in 2003, the Cambodian Cultural Village is an EPCOT-like theme park and is a great destination for travelers with children. The park features museums, miniature replicas of landmark buildings in the country and dance performances throughout the day. The village offers VIP services as well and electric car tours should you wish to avoid walking around all day under the hot sun.
Photo Credit: Cjmac/Shutterstock.com
In the evenings, catch a traditional Apsara dance, a Khmer performance named for the heavenly dancers that adorn the Angkor temples. Guests can participate in a dinner show combination which is offered through a variety of hotels and restaurants. One of the best shows takes place at Raffles Grand Hotel D'Angkor on Monday, Wednesday and Friday nights with a fine dining barbecue buffet.