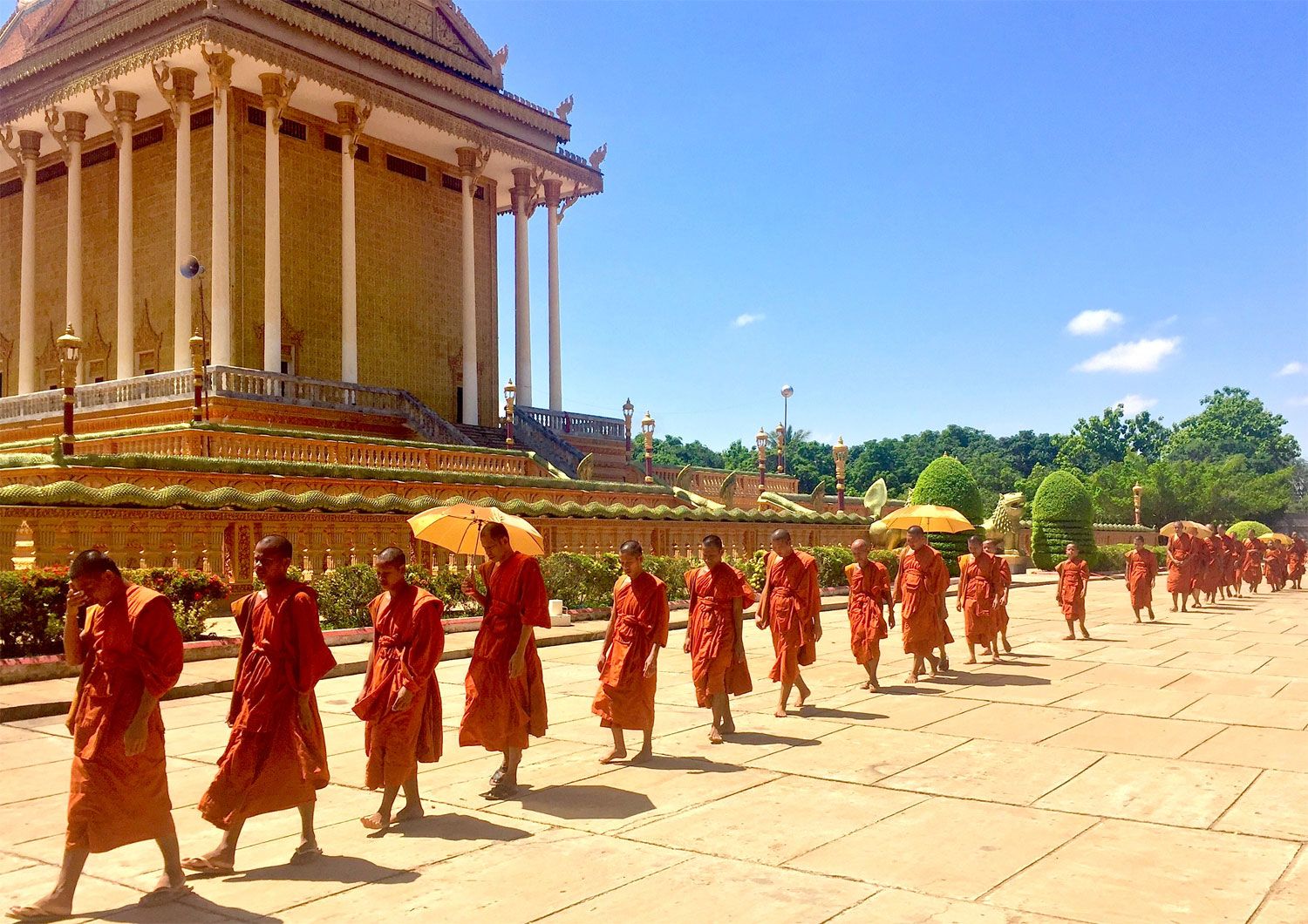 Photo Credit: JRN
This is Part One of a two-part series focusing on Viking River Cruises Mekong itinerary through Cambodia and Vietnam. In this section we'll discuss the ship itself, what to expect in Cambodia and some of our favorite aspects of the trip. Part Two will focus on Vietnam, highlighting the best of the journey and insights into life aboard the ship.
In my years experiencing Viking River Cruises, my love affair with the brand and its itineraries has grown even stronger. And I'm not alone in my adoration. Among its laundry list of awards, Viking was recently awarded "Best Cruise Line for Luxury River Cruises" at the Luxury Travel Advisor Awards of Excellence.
Since my last three Viking trips were all one-week cruises in Europe, I decided to embark on a 15-day Magnificent Mekong cruise which goes through Vietnam and Cambodia. Initially, I had some reservations about the hassle of a hotel/cruise ship combo and the longer time frame. Plus, this time I wouldn't be luxuriating on one of their signature Longships. The Viking Mekong, which was specifically built to traverse the "Mother River of Southeast Asia," is a much smaller wooden ship, accommodating just 56 guests. However, it turned out to be my favorite Viking trip to date.
Photo Credit: JRN
The intimate charm of the warm teak and brass, French Colonial-styled riverboat provides a cozy cocoon-like environment, perfect for taking in the ever-changing kaleidoscope of Mekong sunsets. Along the way you'll pass by tranquil fishing villages, colorful Dr. Seuss-like stilt houses, lush emerald green rice patties and majestic golden temples scattered along the Mekong.
To give guests a better understanding of where they're traveling to and from, our knowledgeable tour guide brought these two culturally-distinctive countries to life with his passion, storytelling, and humor. Whether he was herding us across a chaotic city street, reminding us to stick together, or sharing intimate stories about how the war defined his childhood, his unfailing humility, patience and genuine care added to the experience.
Photo Credit: JRN
The well-crafted itinerary includes showcasing ancient Khmer temples at Angkor Wat, the elegant French colonial capital of Phnom Penh in Cambodia, the intimate charm of Hanoi's old quarter, and the pulsating action of Ho Chi Minh City. For those looking to experience this same trip, here's a look at what we discovered in Cambodia. Siem Reap, Cambodia, the gateway to Angkor Wat, a UNESCO World Heritage Site and a masterpiece of Khmer architecture, was the high point of the trip. Notable excursions included the fortified city of Angkor Thom; Bayon Temple, famed for its gigantic smiling stone faces; the shimmering pink sandstone temple of Banteay Srei; and Ta Prohm. The latter boasts an atmospheric "kingdom of trees" where the twisted jungle growth, oozing like flowing lava, has become permanently intertwined with the ancient crumbling temple stones. After a long day exploring temples, we welcomed some downtime at the elegant Sofitel Angkor Phokeethra Golf & Spa Resort.
Photo Credit: JRN
Our next adventure was in Kampong Cham, Cambodia. During our visit to an orphanage supported by Viking, our guide cautioned us not to give the children money directly which would discourage them from going to school and turn them into beggars. Instead, if we wanted to support them, the students made beautiful paintings and crafty items that we could buy.
Phnom Penh, Cambodia's bustling capital city and the "Pearl of Asia," is filled with French Colonial buildings edged by a European riverfront boulevard, and huge Angkorian complexes such as the magnificent Royal Palace, where the king resides. The flip side to the palace's grandeur is an emotionally-devastating excursion to two sobering memorials of the Cambodian genocide. Your first stop is The Tuol Sleng Genocide Museum, a high school turned detention center where roughly 20,000 inmates were imprisoned and tortured. Only seven survived. This is followed by a tour of the Killing Fields, which marked the genocide of two million Cambodians (approximately a quarter of the total population) during the murderous Khmer Rouge regime.
Photo Credit: Natalia Davidovich / Shutterstock.com
Thankfully, your next stop is a little more serene with a stop at the Udon Monastery. This impressive Buddhist monastery is the largest in Cambodia, and guests receive a special blessing from monks while visiting. On your own explorations, be sure to explore the Central Market as well housed in an ornate, art-deco building with an oversize dome. You'll find unique crafts to buy at the Friends 'n' Stuff shop which sells products made by parents so their children can go to school.
All three of the five-star Sofitel hotels we stayed in were uniquely gorgeous. Transfers between hotels and the ship were seamlessly coordinated and problem free. In addition to the listed cities on your itinerary, there are also many off-the-grid stops at rural river villages clustered along the Mekong where you can interact with locals. Even your daily modes of transportation will add to the excitement since you'll experience everything from a comfy motor coach to more traditional methods such as a sampan (authentic wooden boat) oxcart, rickshaw, or cyclo ride.