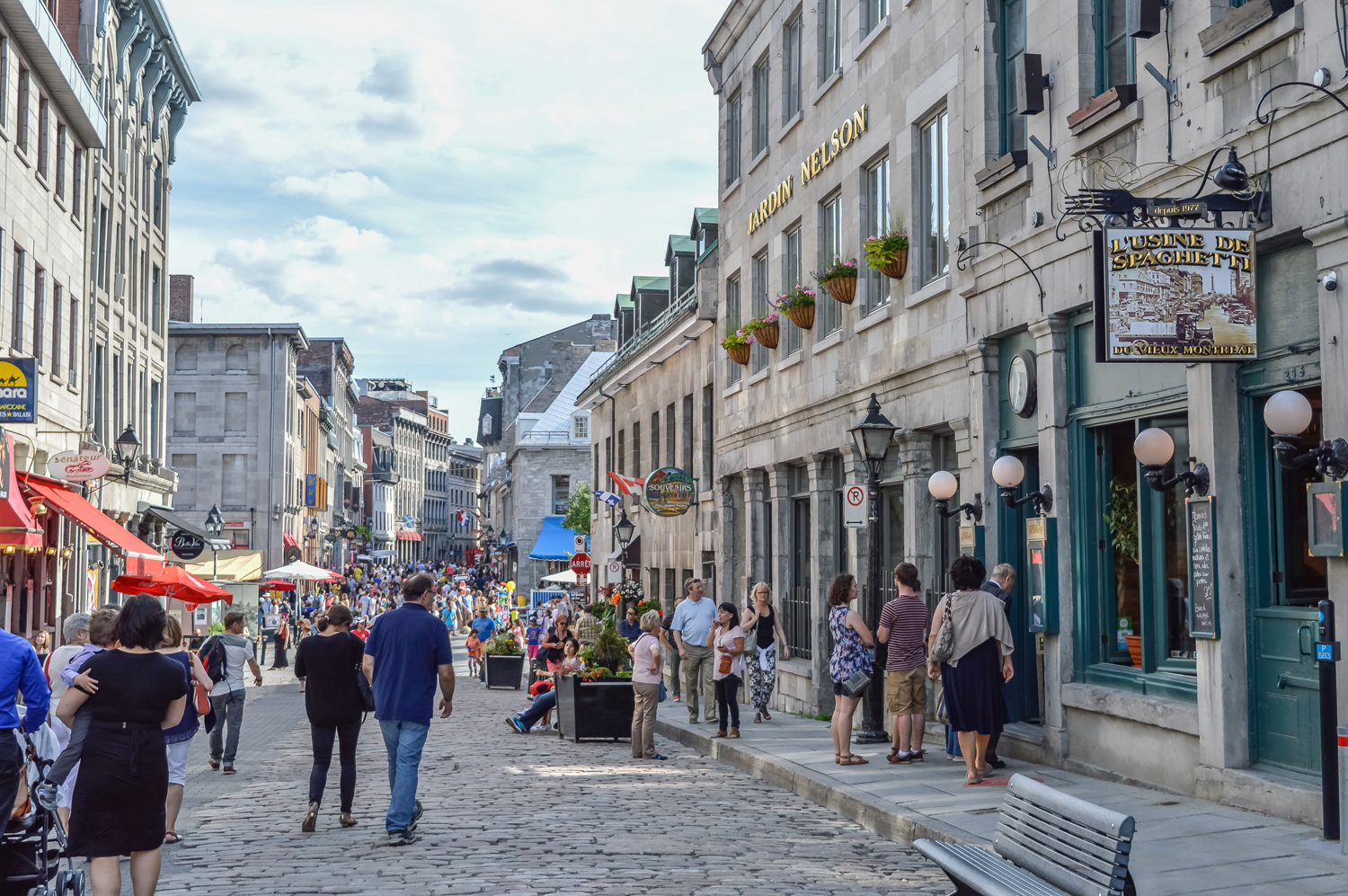 Photo Credit: BakerJarvis/Shutterstock.com
Montréal is possibly one of Canada's most diverse cities. It's a place where summer festivals showcase everything from jazz to French music and local culture. This destination is where the present meets the past through architecture and long held traditions, and is ultimately a city where visitors go to experience gourmet food and a lively nightlife. This year marks Montréal's 375th birthday, and if you have yet to visit The City of Saints, here's a quick guide on where to stay, what to do and how to get the best out of your Canadian excursion.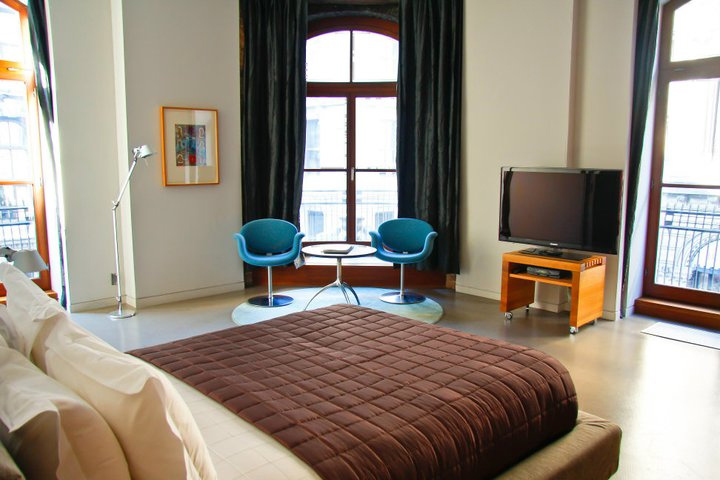 Photo Credit: Hotel Gault
It's hard to believe that Hotel Gault actually got its start in 1871 as a cotton factory. Now one of Old Montréal's smallest historic boutique hotels, its exterior retains the original, Paris-inspired Haussman greystone façade. Exposed brick walls, wood beams, and cast iron columns form the back bone of the hotel's minimalistic interior. All 30 loft-style rooms boast tile and concrete frames, brightly-patterned carpeted floors, blond-wood furnishings and rough brick walls. But that's where the minimalism ends. Luxury appointments include custom crafted mattresses, Casa Novea linens, and a nightly turn down service that includes a selection of fresh baked treats. Bathroom have heated tile floors while several feature freestanding soaking tubs. For larger accommodations, the 1,020-square-foot deluxe apartment rooms have private terraces, kitchenettes, living rooms, dining areas and work spaces.
Around the hotel, guests can browse the property's magazine library or rotating art exhibits featuring local painters, photographers and illustrators. Be sure to check out their signature cocktails as well such as the Kombucha Libre or Montréal Ice Tea. Wellness packages here include passes to Bota Bota and Scandinave les Bains, both spas a short walk away with saunas, steam rooms, and cold plunge pools. Bota Bota, once a ferry boat and now an indoor/outdoor floating spa is docked in Old Port while Scandinave les Bains is fully indoor.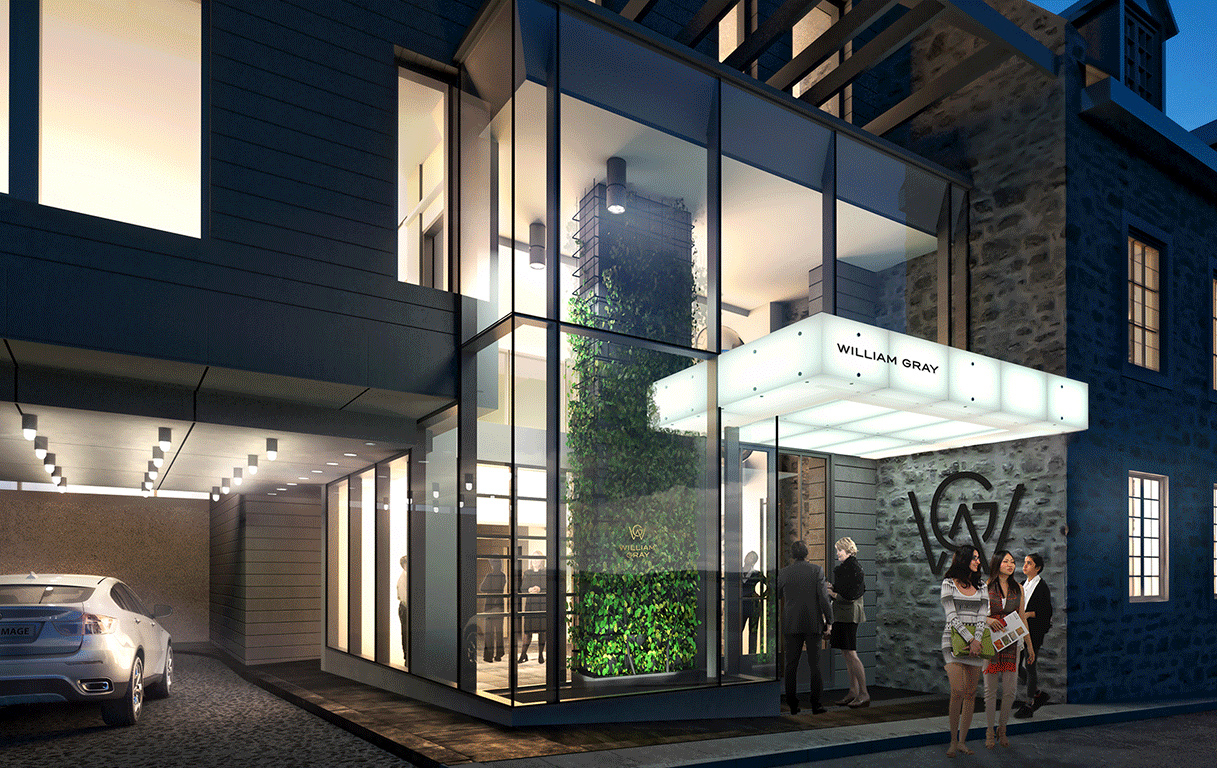 Photo Credit: Hotel William Gray
Also located in the heart of Old Montréal but overlooking Place Jacques Cartier, the newly-opened Hotel William Gray is an artful amalgamation of preserved historic architecture and bright, energy-efficient modern design. A newly constructed eight-floor, 127-room glass tower straddles 18th-century buildings. The interior is outfitted with regionally-produced furnishings and amenities all the way down to the doormats made from recycled rubber by a local artisan. Natural light is maximized in every way possible from floor-to-ceiling windows, light-toned wood flooring, concrete ceilings, and white sheer curtains. In the bathroom, Frette towels, multi-jet rain showers, and Le Labobath amenities await. The mini-bars also come with made-in-Montréal snacks to give guests a little taste of the local community.
Their rooftop deck and café with full bar provides spectacular views of Old Port, Notre-Dame Basilica, and Victoria Square among other historic landmarks. Now in its second location on the ground floor of the hotel facing Rue Saint Vincent, Café Olimpico appears as if it's been here for centuries with exposed rough-hewn beams, thick stone walls, and marble counter serving. The eatery serves espresso drinks along with locally-baked specialty pastries. Walk through the back of the café into the independent retailer Boutique OTH, which features local clothing designers as well as Canada's only Vans Partnership outlet.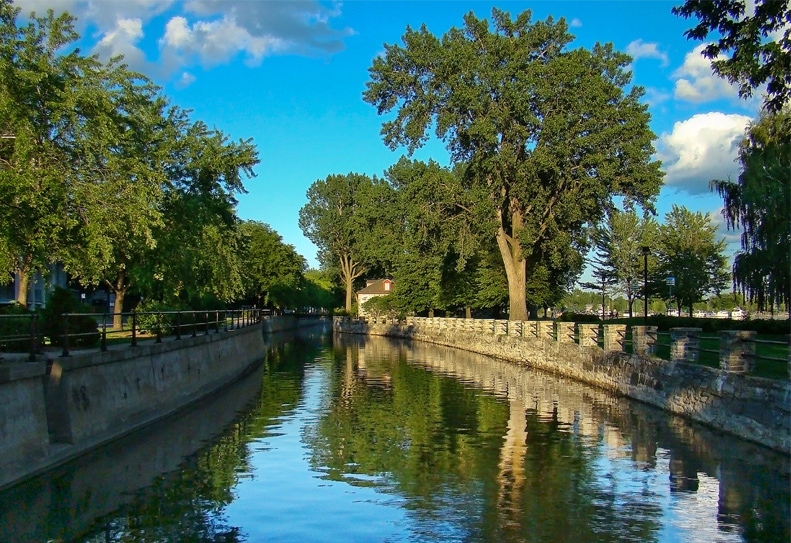 Photo Credit: Tango7174/WikiMedia Commons
The cranes are onsite at Rue de Bleury and the anticipation is building, but the doors of Hotel Monville won't be open for guests until July 2017. Under construction steps away from the Palais des Congrès and Quartier des Spectacles, Hotel Monville is shaping up to be a 20-story masterpiece with a sleek ultra-modern cubist glass exterior enclosing 269 guestrooms and suites.
When not sipping on Kombucha cocktails or picking out new clothes, there's plenty to explore around the city as well. Once a major trade route linking the Atlantic Ocean with the interior of North America, the Lachine Canal served as a key shipping route up until 1950 when it quickly lost its relevance due to increasing vessel size and completion of the St. Lawrence Seaway. Today the canal is purely recreational with boat tours and an accompanying nine-mile pathway open to bikes and pedestrians. Bike rentals can easily be arranged trail side at Ma Bicyclette. Ranked the third most beautiful urban circuit in the world by Time Magazine in 2009, this path follows the canal from Bonaventure Expressway west of the Old Port to Chemin du Muséein Lachine.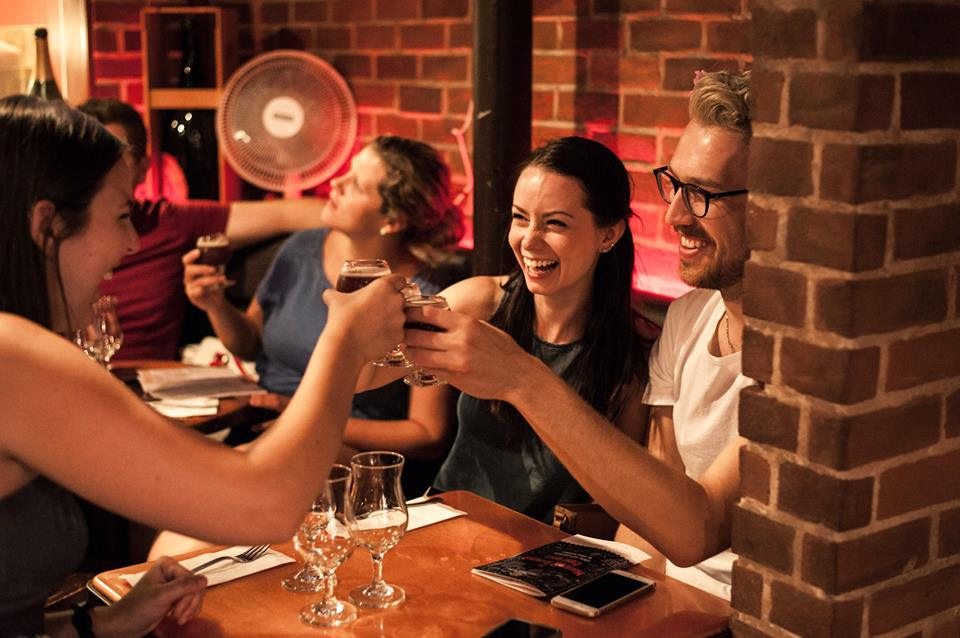 Photo Credit: Montreal Craft Beer Tours
Another great option for sightseeing tours is the Montréal Craft Beer excursion. Each 1.3-mile narrated walking and drinking tour through the Entertainment District includes three craft breweries with a total tasting of dix different beers. Beyond chugging the samples, your tour guide encourages you to look, smell, and note the flavor profiles of each selection. Tastings are further enhanced with food pairings like poutine, gravlax, cheeses, and several varieties of chocolate.
Co-founded by a community organizer and an entrepreneur, tours not only focus on breweries but on the neighborhood's historical and cultural aspects like the former Red-Light District, once the scene of hustling and brothels during the city's shipping heyday. Participants will get to walk past the sites of Montréal Jazz Festival and Just for Laughs Comedy Festival as well as public art displays and architectural throughout the trip.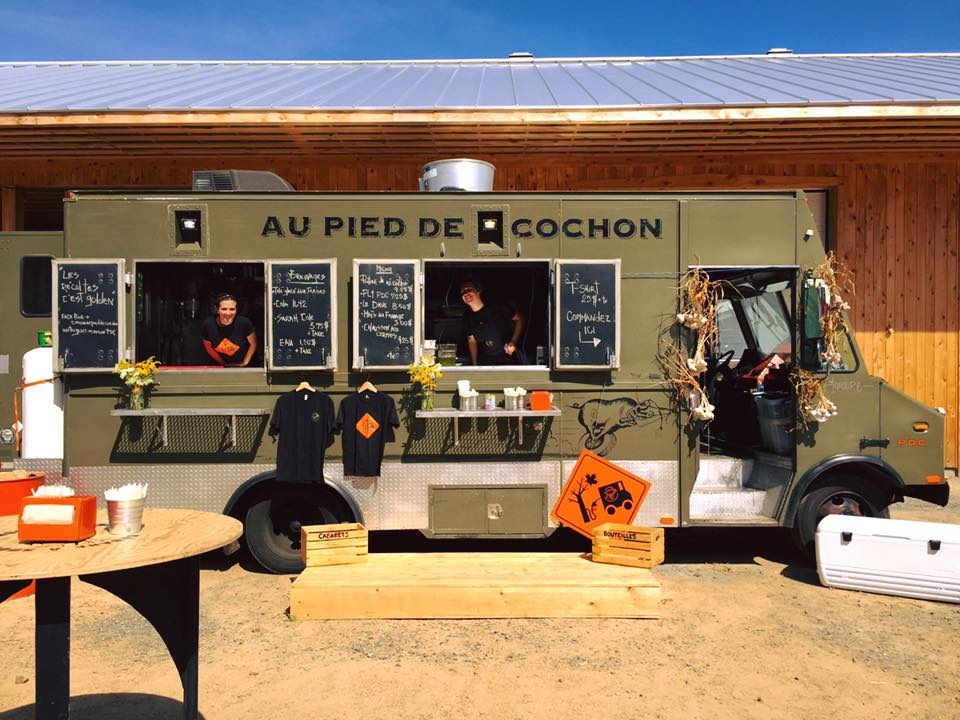 Photo Credit: Camion Au Pied de Cochon
Food trucks are a recent phenomena in Montréal. From 1947 to 2013, they were banned due to hygiene concerns and competition with established brick-and-mortar restaurants. But The Quebec Food Truck Association worked hard to light a spark that has now ignited roughly 200 food trucks throughout the city. Choices range from mainstays like grilled cheese and pulled pork to mobile haute cuisine like foie gras poutine by Chef Martin Picard at Camion Au Pied de Cochon and lobster truffle cappuccino by Chef Jérôme Ferrer at Europea Mobile. Montréal food trucks must be affiliated with an established restaurant or catering business and commit to periodically move from site-to-site, ensuring variety in each neighborhood.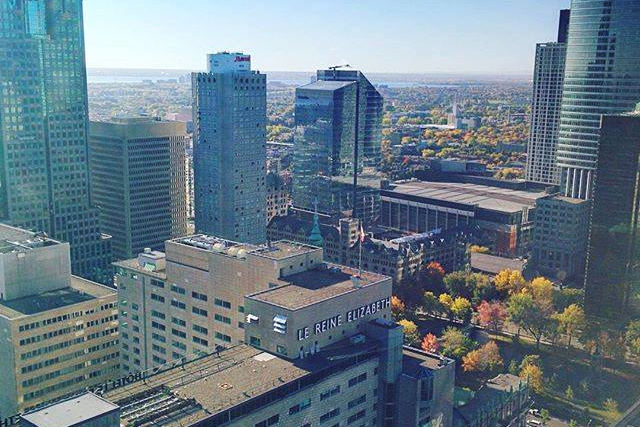 Photo Credit: Place Ville Marie
Au Sommet, atop Place Ville Marie, occupies the skyscaper's top four floors and is home to les Enfants Terribles Brasserie, Made in Montréal boutique, and #MTLGO. The latter is an interactive cultural exhibit exploring hockey, gastronomy, performing arts, and Montréal neighborhoods via 55 videos and 500 photos culled from city archives and social media shares. Select what appeals to you and print out an actual ticket which doubles as your personal Montréal bucket list for favorites to experience in person like the Biosphère's geodesic dome, riding a BIXI bike from the Plateau to Old Montréal or climbing the Clock Tower.
A recently opened Observation Deck on the 46th floor is the main attraction with stunning 360-degree views outfitted with the same digital telescopes used at Dubai's Burj Khalifa. There is also a four-season outdoor terrace with 12-foot-high bay windows and an urban garden. It is here that you can zoom in on the majestic St. Lawrence River, Jacques-Cartier Bridge, the Quartier des Spectacles or Mount Royal to the west providing Montréal's iconic natural backdrop.