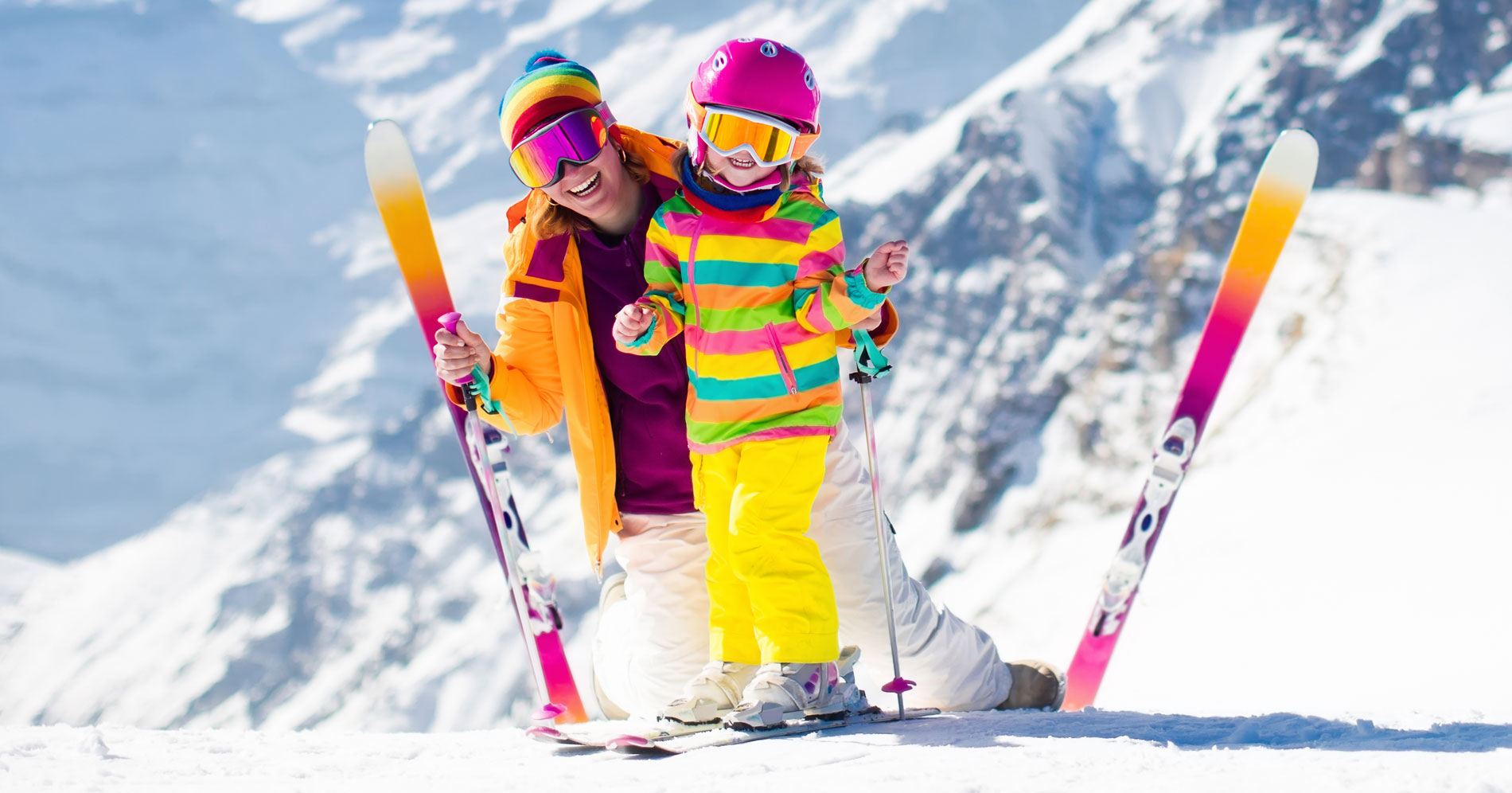 Photo Credit: Shutterstock.com
Ski season is officially underway, and we're guessing you're ready to hit the slopes with the family as soon as possible. One of the most beautiful destinations in the world for skiing, the Swiss Alps is home to a number of great resorts, amazing restaurants and envy-inducing pistes. But, with your little ones in tow, it's probably a good idea to know which villages offer the best amenities for your children and still have great services for you. So here are five resorts in Switzerland that are family-friendly and offer fun activities for children while not on the slopes: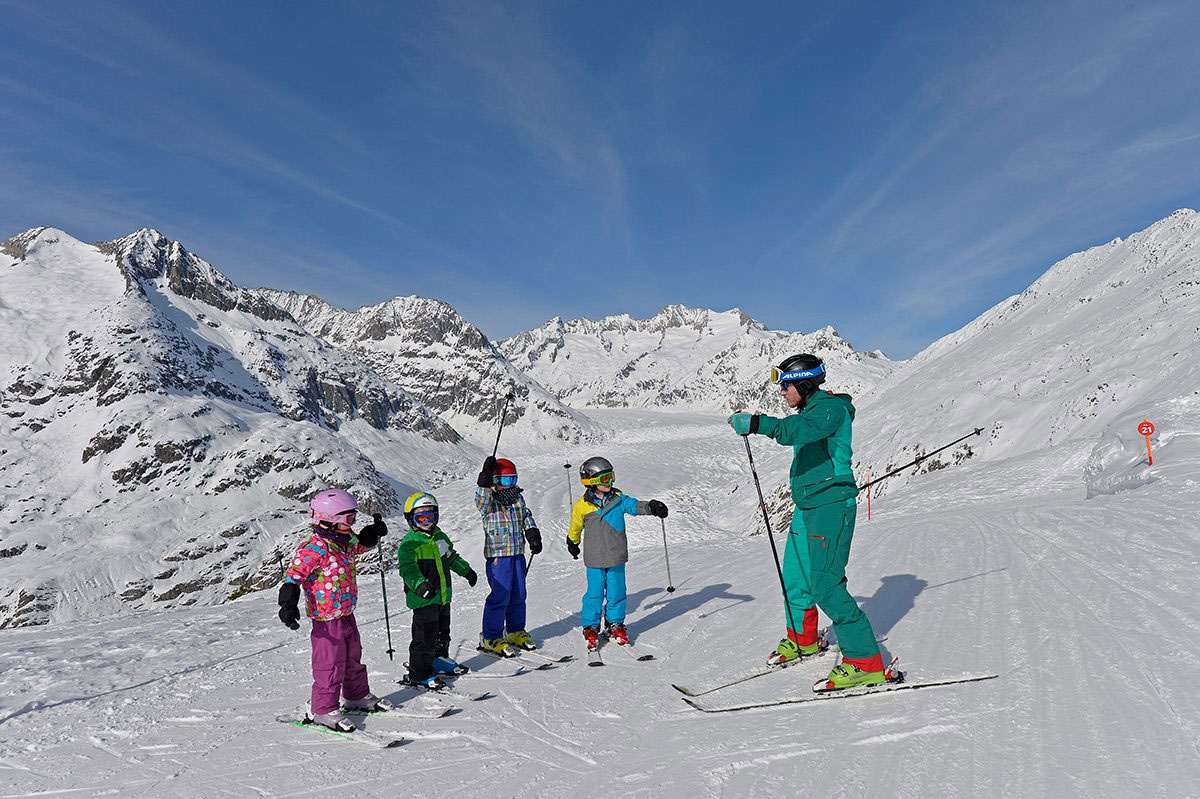 Photo Credit: Aletsch Arena
Aletsch Arena
Composed of three ski villages: Riederalp, Bettmeralp, and Fiescheralp, Aletsch Arena is a great destination for families. All villages are interconnected with ski lifts and offer gondolas, trams and various trails to explore. Plus it's a car-free zone so you won't have to worry about cramming your fam into a rental. This also makes it fun for children because they get to be escorted to their hotel by snowmobile or snowcat. Of the three villages, Riederalp was named the best ski school for children in the Alps, and kids can enjoy practicing on the beginner area in the center of the resort. For adults, Bettmeralp is a great area to work on enhancing your skills. The peak can be reached by a long gondola, and skiers can check out the experts-only tunnel through the mountainside. Be sure to spend some time at the top of Aletsch Glacier, it's the largest in Europe and offers some amazing views from the Eggishorn summit.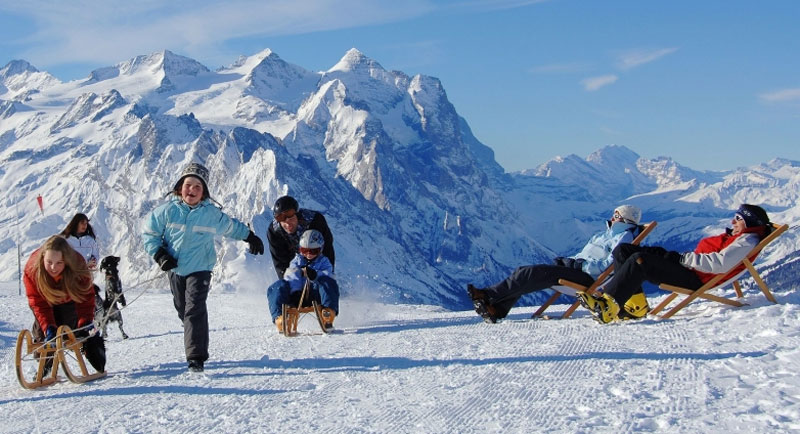 Photo Credit: My Switzerland
Haslital
Another one of Switzerland's best resorts is actually a little-known secret. Haslital in the Jungfrau is located in the Bernese Oberland, and its ski slopes cover three mountains: Käserstatt-Hochsträss, Mägisalp-Haagen and Planplatten. What's great about Haslital is that it offers skiers well-groomed runs and trails that are easy and fun to navigate. There are also family-friendly toboggan parties, sledding, Bavarian curling and ice skating opportunities within the area. The resort is home to Bidmi Skihäsliland, one of the region's best learning areas for kids. It features beginner lifts, a magic carpet, an igloo village and a fairytale house. Over at the Planplatten summit lodge, adults can take in the scenic views at Alpen Tower, a panoramic restaurant, while enjoying cocktails at its bar. At Hääggen-Mägisalp, the ski slopes include the Audi Snow cross park that offers free day and night skiing.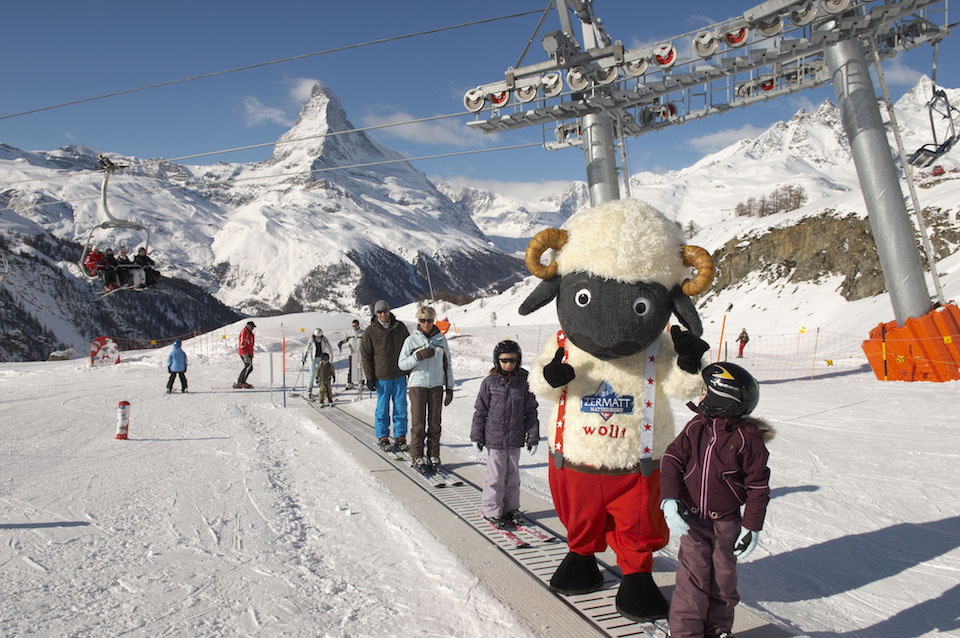 Photo Credit: Zermatt Matterhorn
Zermatt
One of the best known ski areas in Switzerland is Zermatt, thanks to The Matterhorn, the most photographed mountain in the world at 14,693 feet. Although this resort is great for families, this may be an area you explore once your kids are a little more intermediate. Zermatt's peaks are the highest in the region at 12,791 feet and cover 217 miles of prepared slopes. The area is also nice because there's so much to do around the car-free village, so you're never left without something to keep everyone occupied. For newbies, the Leisee Wolli park beginners' ski area is easy for all levels of skier while the Sunnegga Park includes an area to teach younger children to ski. Plus, many of the ski schools provide designated areas for children as well as various teaching options for young skiers. Or, if you need a break from the slopes, check out the large open-air ice skating rink and the toboggan run which goes from Rotenboden to Riffelalp. Another great perk of visiting Zermatt is that because it's so close to Italy, the whole gang can enjoy lunch in the next country over between runs.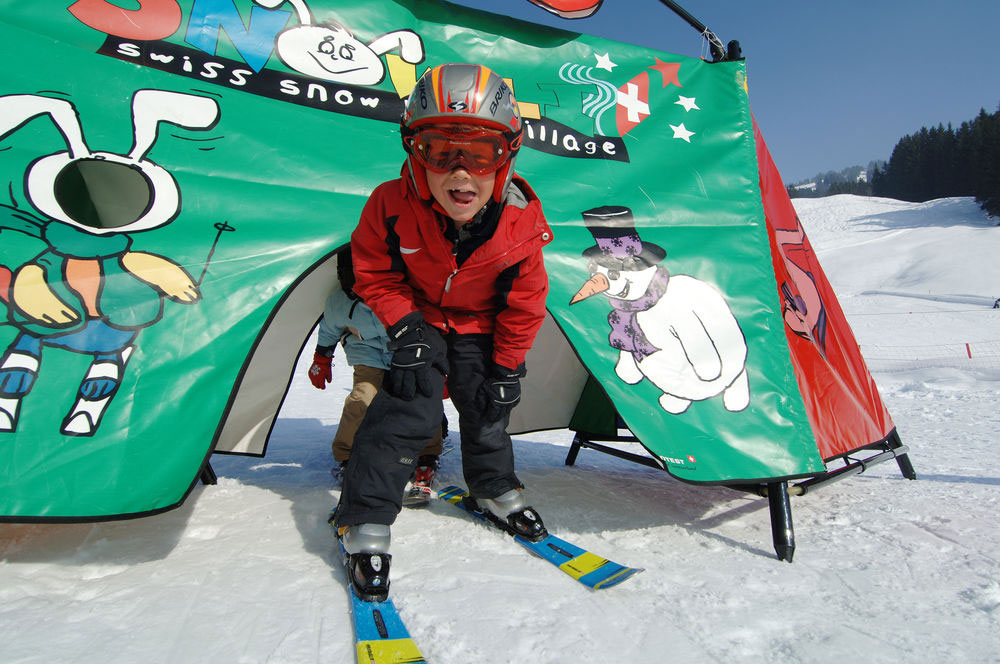 Photo Credit: Gstaad
Gstaad
Gstaad is definitely the place to go if you're in search of a swanky family vacation. Known for its high-end shops, gorgeous chalets and luxury spas, Gstaad is a favorite among skiing enthusiasts around the world. When it comes to families, the resort was named one of the safest according to a survey by Sonntagszeitung of the major Swiss ski regions. Spread over nine mountains, the Super Ski Region offers vintage lifts, moderate sized quiet slopes, nursery slopes, snow parks and free-riding facilities for teenagers, and ski schools with lessons for children. When not skiing, there are carriage rides, ice skating facilities, a bowling alley and snow parks to explore. Should you really wish to enjoy some adventure, take the family on a paragliding excursion, or just cuddle up in a hot air balloon experience over the Alps. There's really no going wrong either way.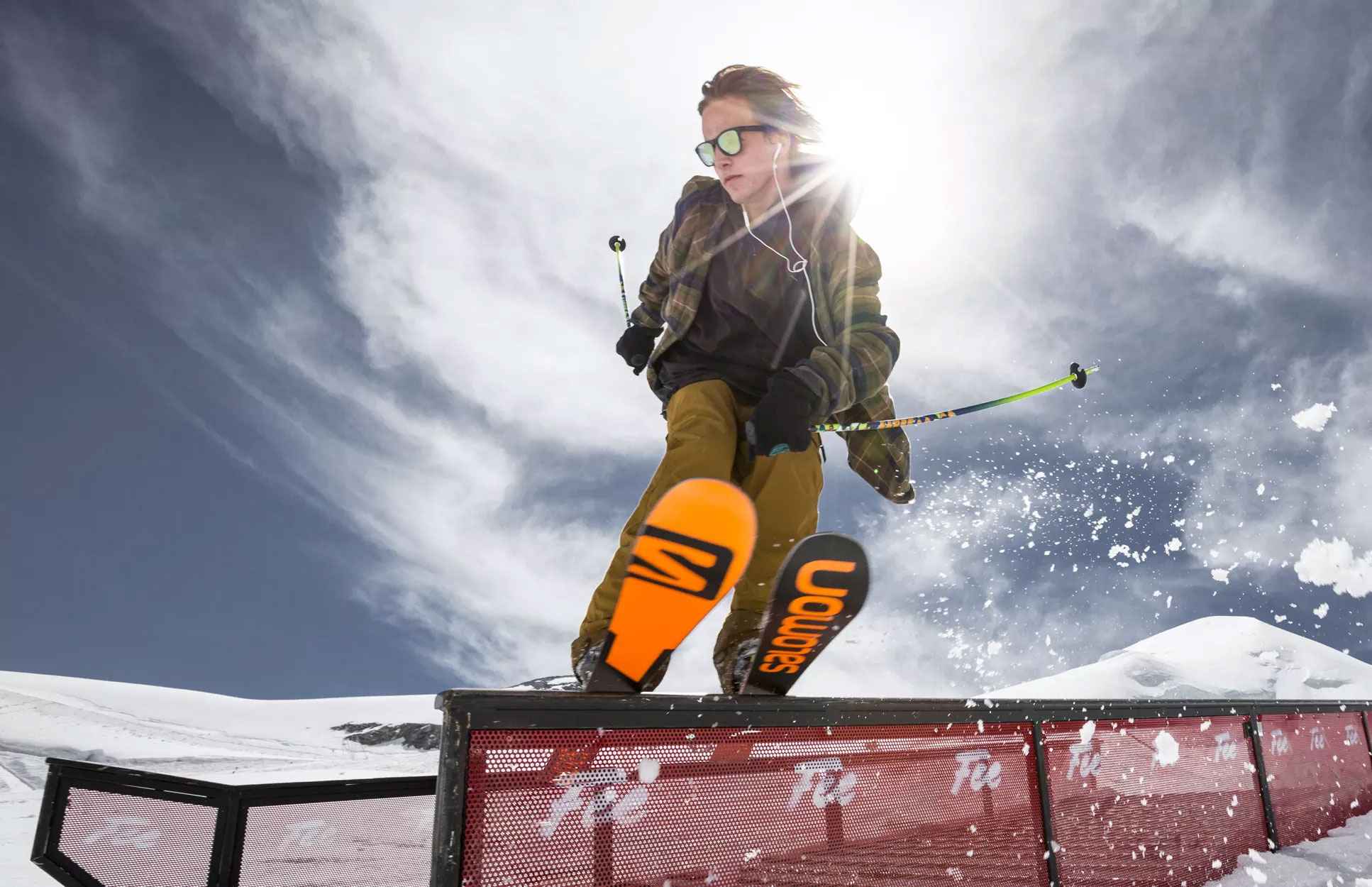 Photo Credit: Saas-Fee
Saas-Fee
While the car-free village of Saas-Fee in Valais is a good place for families with young children, it's also a great option for those with teens. The destination is considered a miniature Zermatt and is a traditional mountain village filled with (almost) car-free streets, old chalets and great off-slope leisure facilities. You won't find as many activities in this village as the rest of the resorts, but it's definitely a charming destination worth checking out. For children and teens there are a variety of parks such as the Pro-Line Freestlye Park, Funpark Kreuzboden and the Kid's Park. The later provides level runs and a plethora of snow toys to choose from. Your more advanced family members will enjoy the Morenia Winter Park with its obstacles arranged by difficulty level and the kicker line with tables from 5-15m for boarders. Great for intermediates, Saas-Fee's runs are also snow-sure and sit at exceptionally high altitudes. While there, looking into the Adrenali Cup Saas-Fee events which challenges families to enjoy a little healthy competition. The activities range from speed racing to sledding and elevation gains—how much elevation can you gain in a day?
For a safe holiday you should always consider using a ski helmet like those found at Globol Surf.