Photo Credit: Shutterstock.com
High on many bucket lists is a trip to Napa Valley, the much-heralded mecca of the premium U.S. wine production industry. Even after deciding to make this trip, there are a myriad of choices that make the planning a daunting task. Questions abound: when to go, where to stay, where to eat and where to sip the fruits of the vine. With well over 400 wineries and new restaurants opening, the possibilities seem endless and overwhelming.
There are a few surefire ways to address the quandary and get the essence of Napa. One solution is to plan a visit to coincide with FLAVOR! Napa Valley. This annual five day celebration held at the end of March, benefits the Culinary Institute of America and is designed to celebrate all things Napa. You can buy the weekend package to FLAVOR! Napa Valley or pick and choose those events and activities that speak to your dollars and senses. There are two taste-around events that give you maximum exposure to a wide range of the food and beverage possibilities that Napa offers.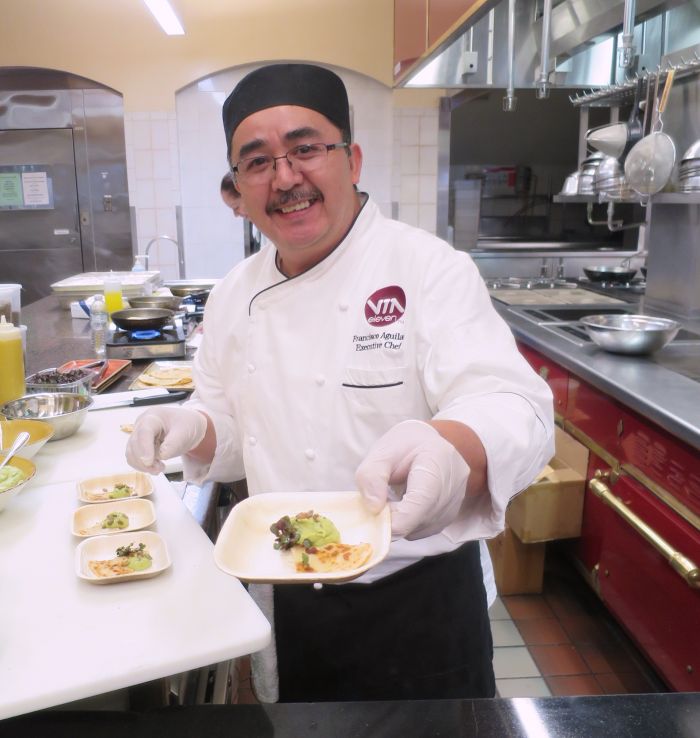 Photo Credit: Michael Reiss
One event, called "First Taste Napa," is held on opening night at the newly opened Copia Campus of the CIA. Many of the local restaurants that you would love to experience are all there, waiting to tempt you with tasty morsels that represent their culinary style. At the ready are some of the wineries one hopes to visit, offering up samples of varietals planned to pair with your nibbles. At the CIA Copia Campus you are in an iconic architectural space, hobnobbing with vintners, chefs, locals and in-the-know travelers who deem this kind of experience to be a quintessential way to "get Napa."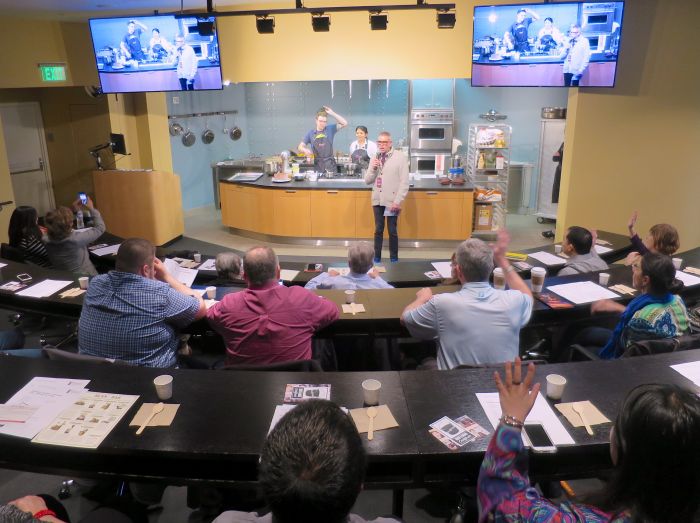 Photo Credit: Michael Reiss
You can then take in cooking demos and wine seminars as part of the event and get ready for the Saturday evening, the legendary "Grand Tasting" event, which is held at the CIA Greystone campus in St. Helena. There you will have access to the top chefs and vintners, all of whom are poised to showcase the fruits of their gardens and vines.
Stay at the Silverado Resort and Spa, the founding sponsor of this annual event. The resort is conveniently located near the weekend event venues. Lodging here is interspersed within sprawling grounds and two PGA-rated golf courses to enhance your experience of living large in Napa. Also on property is a top-rated spa—the largest in Napa—waiting to pamper you with signature treatments.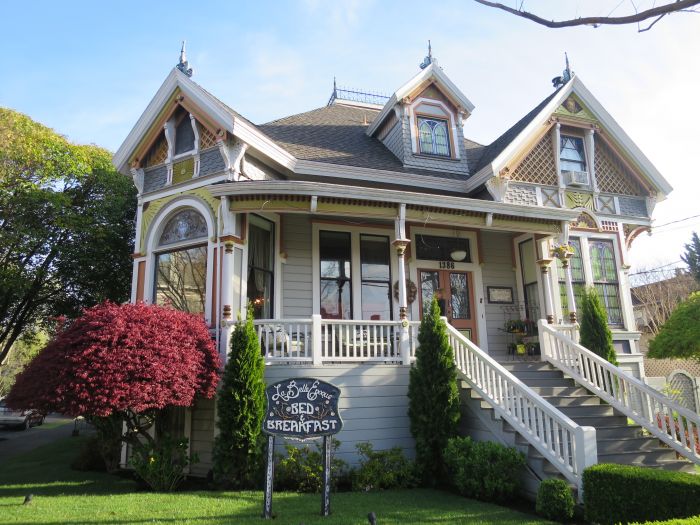 Photo Credit: Michael Reiss
If a cozy B&B in town is more your cup of tea, La Belle Epoque will fit the bill. Napa's nod to Victorian architecture is evident in its many 19th-century vintage homes. If you ever wondered what it's like to live in one, then book a spacious suite in this quaint space to experience the finest of what the era might have offered. At La Belle Epoque, innkeeper Tracy Mahr, has lovingly restored her authentic "Painted Lady" to a standard that far exceeds anything available in the area. Every nook and cranny is decorated with wonders and delights that celebrate a bygone era, and this careful restoration puts you in a magical space.
Whatever room or suite you choose at the hotel, your creature comforts will be addressed by an attention to detail that only a passionate and thoughtful innkeeper could provide. But any B&B is only as good as its host, and Tracy sets the bar high, as evidenced by the glowing comments from repeat guests, some of whom we met during our stay.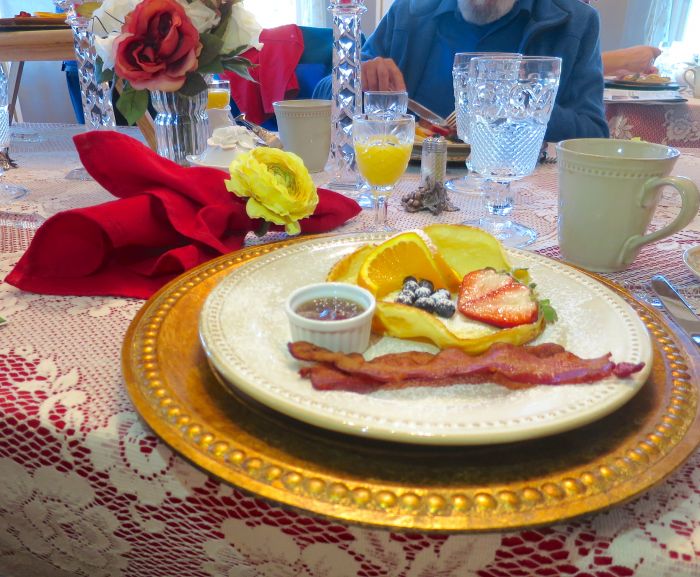 Photo Credit: Michael Reiss
Besides greeting you and making sure you are settled in, Tracy will charm you with her gracious presence and dazzle you with her culinary expertise. Breakfast is a multi-course feast served in an elegant dining room. One morning we were served "La Belle Epoque Poached Pears" for a first course, followed by a scrumptious "Eggs Italian," a dish that kept us happy all day. The next day Tracy served "cast-iron skillet Dutch pancakes with mixed fruit," so decadently good that we asked for another one. Be sure to make it back for tea time, when Tracy "pulls out all the stops" with her homemade goodies and an endless selection of fine teas and port wine.

Photo Credit: Napa Valley Wine Train
Before leaving for home, get your final fix of Napa with a trip on the Napa Valley Wine Train. This is one of the best, most efficient and cost effective ways to see the Napa Valley. Forget the limo, on your Wine Train "Quattro Vino" trip you are riding in a luxurious dining car rolling past the traffic jams. On the train, as you sip your complimentary Domaine Chandon Sparkling Wine, you have a clear, unobstructed view of the landscapes and vineyards that make this valley so iconic. Peruse the tasting menu that will be served between stops (at four wineries), but rest assured that you will enjoy bites of everything that meets your fancy.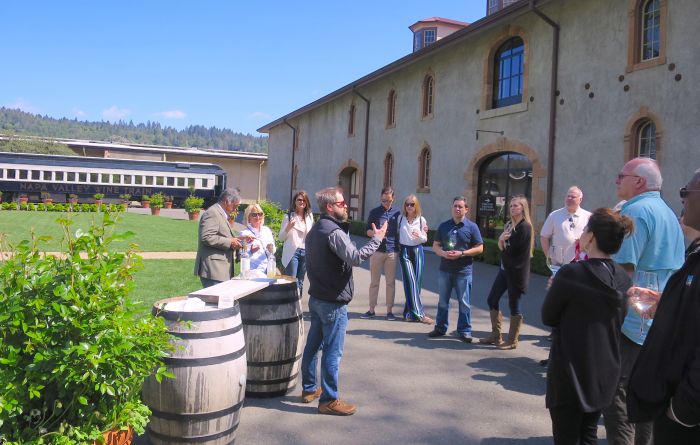 Photo Credit: Michael Reiss
At each stop, a dedicated winery guide will meet you as you descend the train, ready to give you the inside scoop on their winery's story. Besides the lore, you will enjoy curated tastes that bring the fruits of the vine to your newly-educated palette.
Back on board the Wine Train more bites, more sips, more viewing, conversation and points of interest are pointed out by the staff. The Napa Valley Wine Train "Quattro Vino" is one ride you wished would never end. When it does, you feel sure you've tasted some of the best that Napa has to offer.