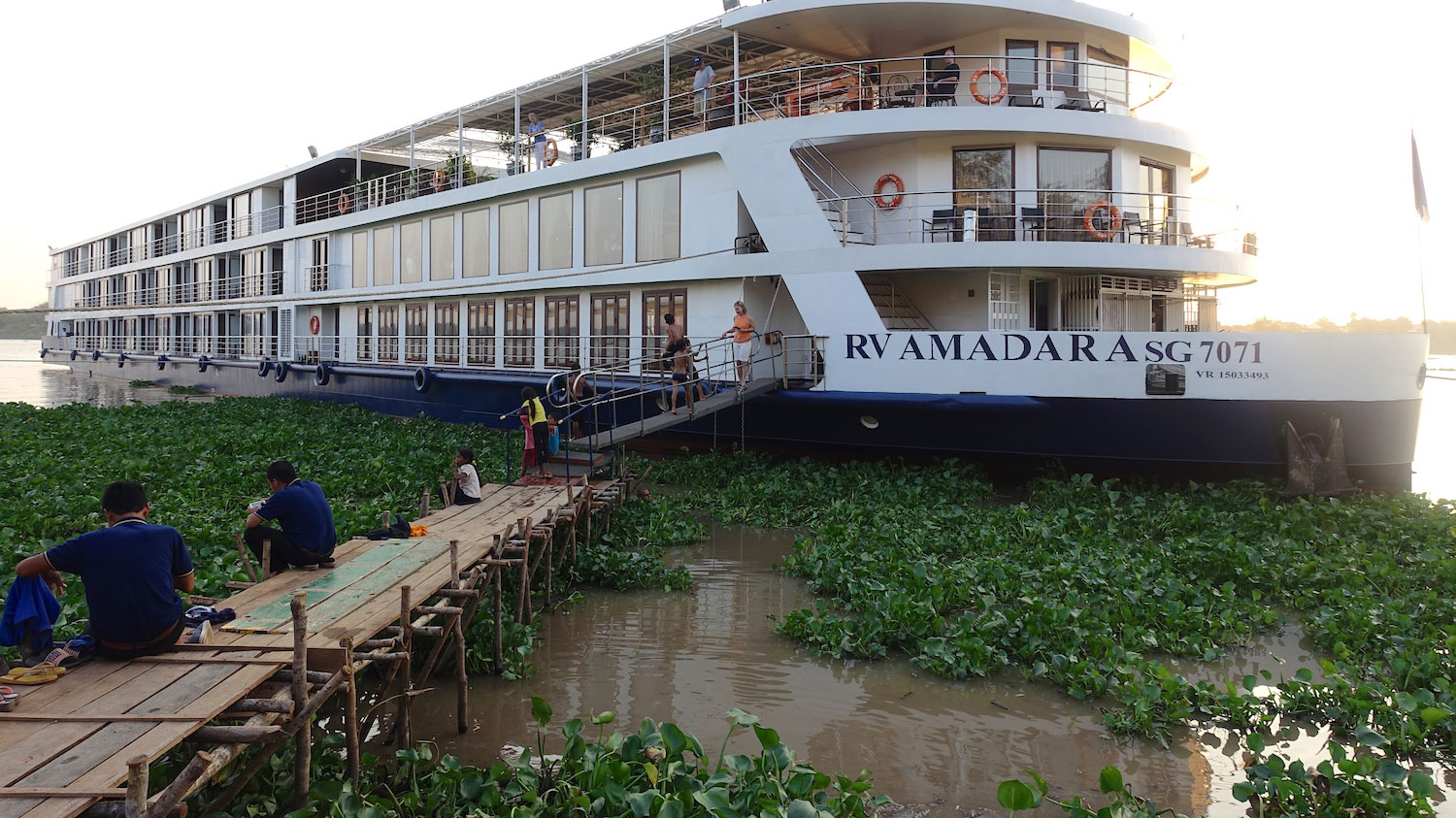 Photo Credit: Eric Rosen
Zipping from city to city on low-cost airlines or high-speed trains has become the norm these days. However, taking a river cruise is a delightful throwback to an age where traveler was gentler, more immersive and where the journey was just as important as the destination.
On a recent Mekong River cruise with AmaWaterways, the destinations were pretty spectacular, too, though. Here were some of the highlights from that journey aboard the AmaDara, which plied the waters from Vietnam's Mekong delta south of Ho Chi Minh City up to Kampong Chhnang at the mouth of Tonle Sap Lake in Cambodia.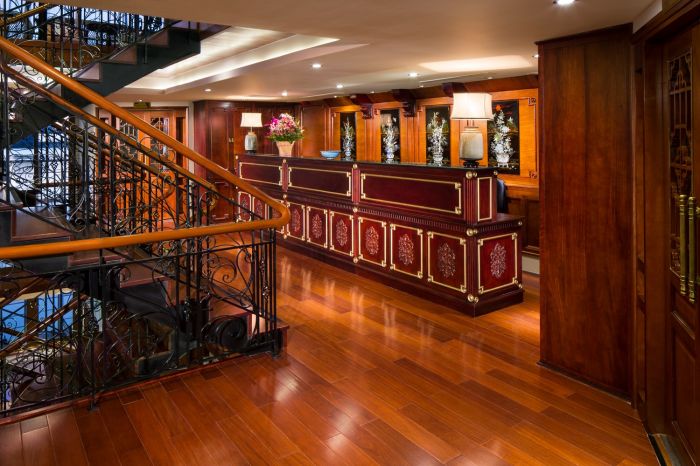 Photo Credit: AmaWaterways
1. Ship shape
Of course, what would a cruise be without an excellent vessel aboard which to enjoy it? Launched in 2015, the AmaDara is one of AmaWaterways' newest ships. Though it's one of the largest passenger vessels on the Mekong, it holds just 124 passengers, so by the end of a week of cruising, everyone is on a first-name basis. It seems to take just hours, though, for the crew members to recognize each passenger on sight, which is a truly impressive feat of service.
Among the ship's public spaces is a dining room at the bow of the first floor where guests gather morning, noon and night for set meal times. The menus change for every meal and from day to day as well, but more on that below.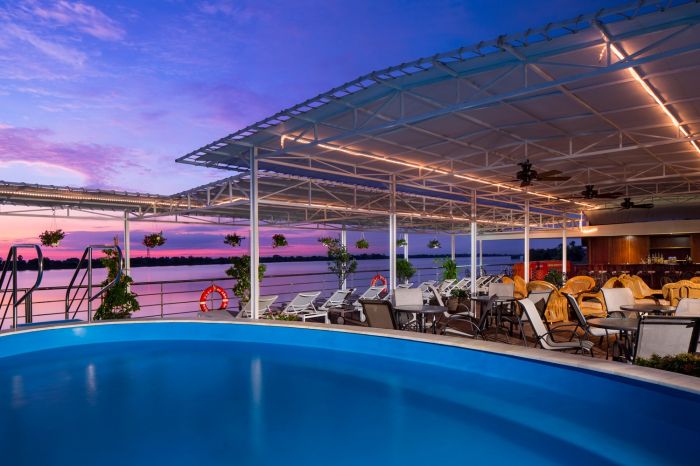 Photo Credit: AmaWaterways
One floor up is the expansive guest lounge and bar, where I spent time looking out the enormous windows at life on the river between catching up on work and emails. Guests can gather here to play cards and other games, as well as order drinks, or coffee and tea at any time of day. At the aft of this deck is the ship's specialty restaurant, The Chef's Table, where small groups of guests are treated to a special multi-course gourmet meal one of the nights of the cruise.
On the third and top floor is an outdoor deck with a bar and a wading pool I used to cool off on sultry afternoons, and lounge chairs where I took snoozes in the sun.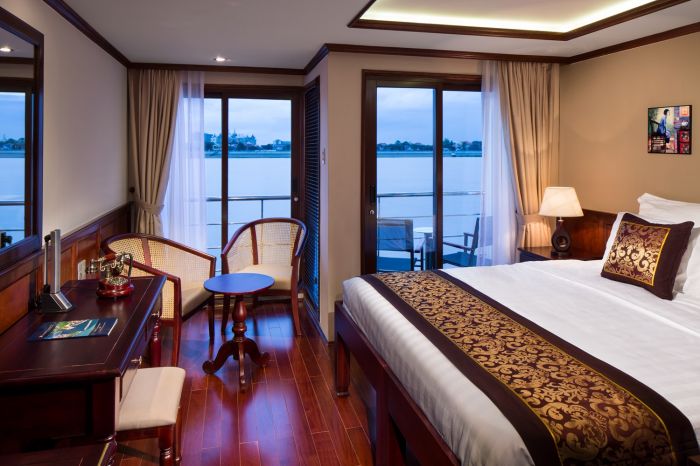 Photo Credit: AmaWaterways
2. Suite surrender
The ship has just three categories of accommodations: staterooms, suites and luxury suites. Staterooms start at 251 square feet and all have balconies from which to watch the riverbanks gliding by. Like the suites, which start at 366 square feet, staterooms feature elegantly carved wooden furnishings that evoke the traditional architecture of the Mekong Delta, crisp, hotel-style linens with brocade accent runners, writing desks, fully stocked minibars and flat-panel televisions with four live channels including CNN as well as a selection of pre-loaded movies and documentaries about Vietnam and Cambodia.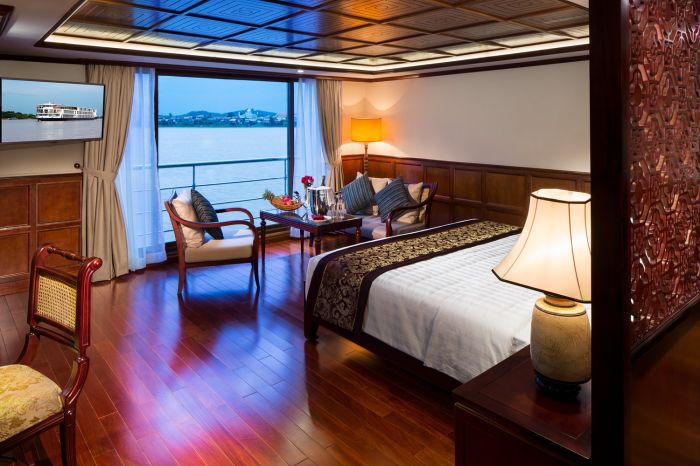 Photo Credit: AmaWaterways
The bathrooms include a vanity and mirror and walk-in showers, though suites also have separate tubs. Guests in suites also get free Wi-Fi in their rooms, and the extra space includes a sitting area with a loveseat and coffee table.
The two Luxury Suites, meanwhile, have hand-picked ceramics, a dramatic carved wooden screen that serves as the bed headboard and enormous bathrooms with dual vanities.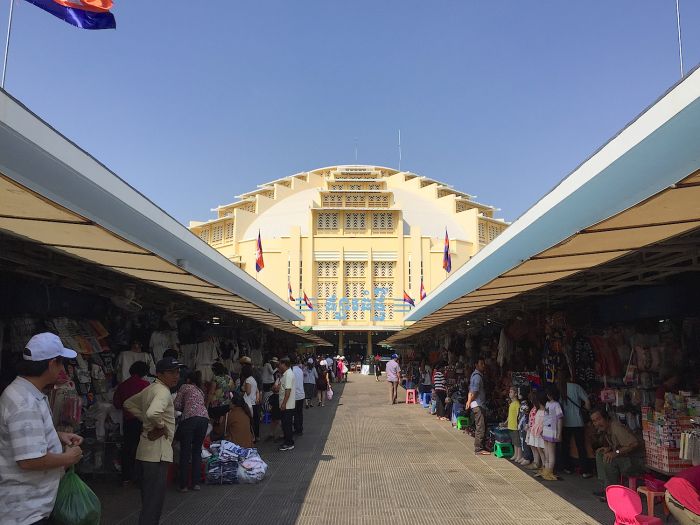 Photo Credit: Eric Rosen
3. Market research
On our second day, the cruise stopped at the bustling river port of Sa Dec where we explored the town made famous by the French writer Marguerite Duras and see the house of her lover, Huynh Thuy.
The more interesting component of the excursion, however, was the chance to peruse the foodstuffs at the local market, which sprawls along the riverbank and spills over into several side streets and covered markets. With guides and crew members to translate, I learned about local plants and vegetables including the mossy branches locals cook into a spicy soup, and gác fruit, whose crimson pulp is used to color sticky rice.
During the ship's two-day stop in Phnom Penh, I also found it well worth a visit to the city's Art Deco Central Market to search for souvenirs and sample street food at the myriad stalls in the back hall alongside the locals.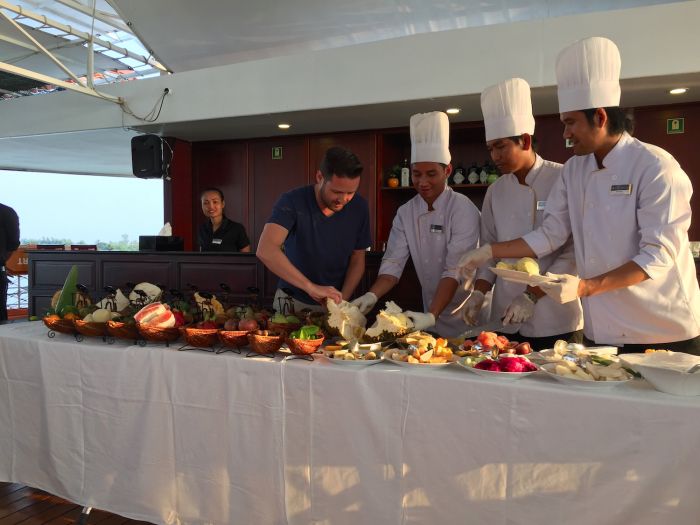 Photo Credit: Eric Rosen
4. Cut up
Speaking of market wares, one of the most fun crew demonstrations of the trip was the one where the onboard chefs showed off the cornucopia of exotic fruits known and prized in the region. We learned all about palate-pleasing treats like crunchy rose apples, tangy jackfruit, juicy snake fruit and sour sop. I got called up to help crack open a six-kilo specimen of notoriously pungent durian…and some of the passengers were even brave enough to try it!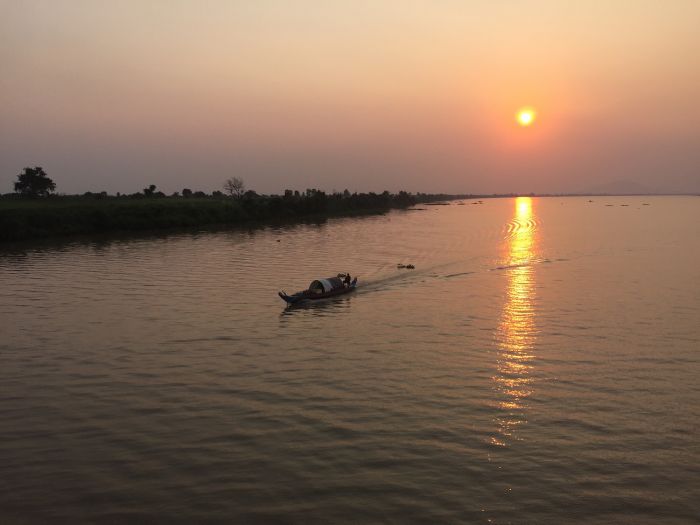 Photo Credit: Eric Rosen
5. Evergreen Island
One of the most fascinating stops on the journey was at the so-called Evergreen Island near the Vietnamese town of Tan Chau. After a breezy boat ride down the river, we cut through some canals to disembark on the small, agricultural island itself, and spent a couple hours strolling through the prosperous village where farming is still a way of life. Many of the families moved away during the turbulent years during and following the Vietnam War, but came back in the 1990s to reestablish their villages and their traditional métiers. Today, the town is a vibrant success story whose inhabitants are happy to invite visitors to see their homes and talk about their day-to-day lives, providing a unique glimpse into the local culture and a chance to interact with the people.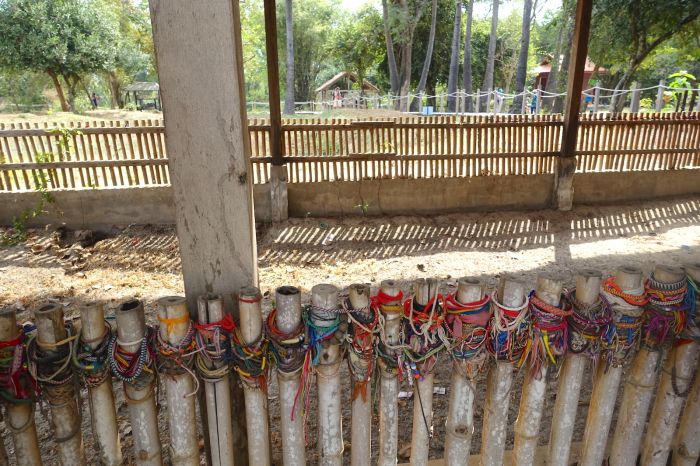 Photo Credit: Eric Rosen
6. Paying respect in Phnom Penh
The most moving day of the trip, and the one that left the most lasting impression on me personally, was the day upon which we visited the Killing Fields and the S21 Detention Center and Genocide Museum in Phnom Penh. Learning about the darkest chapter in Cambodia's long history and getting to meet survivors whose presence was a reminder of both the tragic past and the resilience of the human spirit was a powerful reminder of the important ways travel can teach us and expand our own experiences of the world.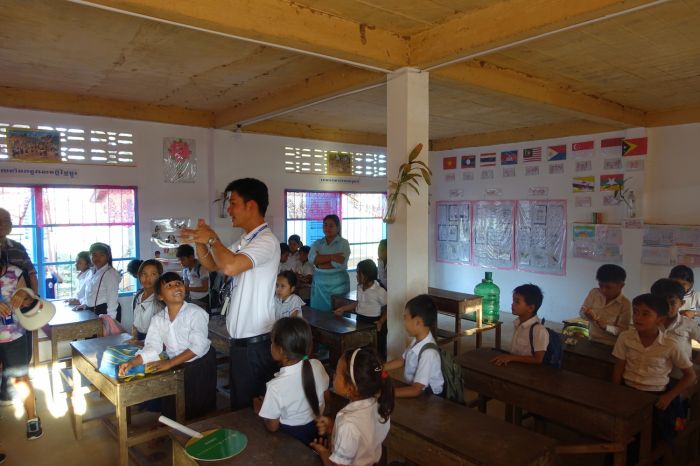 Photo Credit: Eric Rosen
7. Back to school
During an afternoon stop in the Cambodian village of Koh Chen, which is famous for its metalwork and jewelry, we also spent some time meeting children toward the end of their afternoon lessons. AmaWaterways helps support this particular school with various projects, and encourages guests to bring along supplies to hand out to the children and the teachers. Over the course of about an hour or so, we got to sit and talk with the children, ask them questions through the teacher and our tour guide, learn about what they were studying, and even have a sing-off where they serenaded us with a Cambodian version of "Old MacDonald Had a Farm," and we sang "Twinkle, Twinkle, Little Star" back.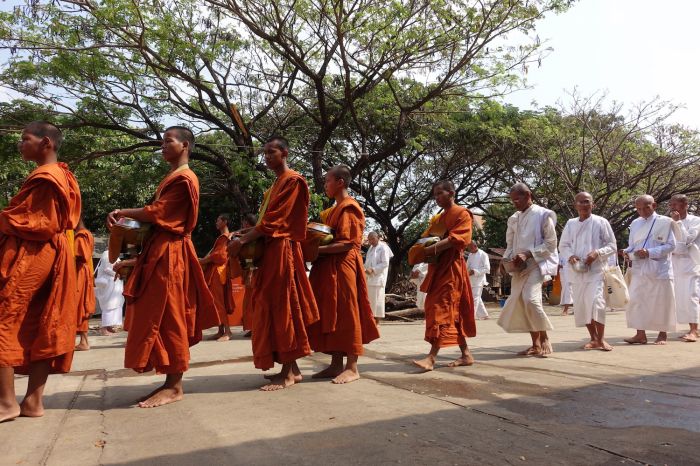 Photo Credit: Eric Rosen
8. Monk-ing around
On our second-to-last day in Cambodia, we took buses to visit the sprawling monastery complex at Oudong, a former capital city. After visiting the imposing temples here, we were offered a blessing by a pair of monks who showered us with jasmine blossoms. Then we were lucky enough to time it so we could watch as the saffron-robed monks and nuns all in white lined up for their midday meal, to which each had contributed the alms they had collected in the surrounding villages earlier that morning. The moment was a contemplative balance of spirituality and cultural interchange, which was soon lightened by the following activity.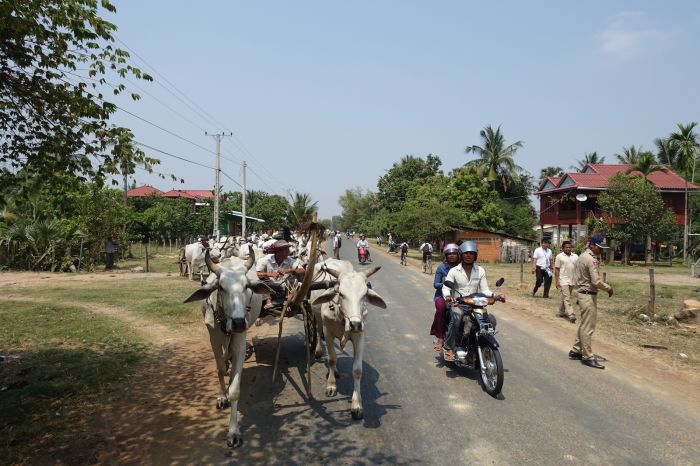 Photo Credit: Eric Rosen
9. Ox-cart derby
After another brief bus ride, we came to the town of Kampong Tralach and to one of the more active adventures of the trip: an ox-cart ride down country roads. We piled in pairs aboard traditional carts pulled by white oxen, some of whom were rather snuggly and happy for a pat on the head. One by one, we pulled out into the road and formed a parade line of carts as we drove past small settlements and raced against children on bicycles heading home from their morning lessons.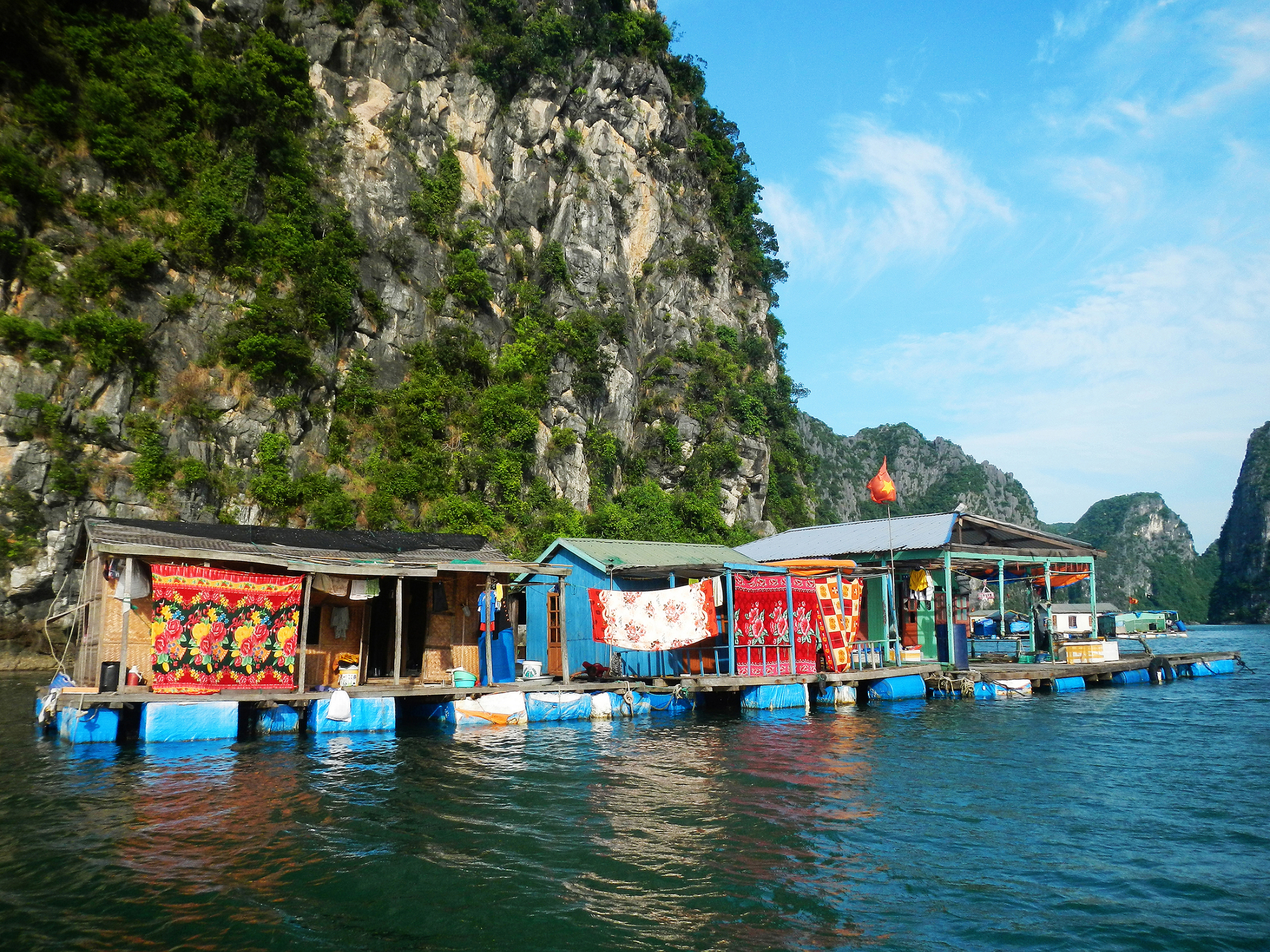 Photo Credit: Shutterstock.com
10. Floating villages and fish farms
We spent the final full day of the cruise on smaller boats exploring the wetland villages of Kampong Chhnang in Cambodia. Here, many of the people live in floating houses that extend out into the channel of the river and farm fish to sell at the local markets. The inhabitants waved and called out as we motored past, getting brief glimpses into the modest, floating houses along the way. All the while, our guides explained the origins and fascinating quirks of this unique, and fast-disappearing way of life.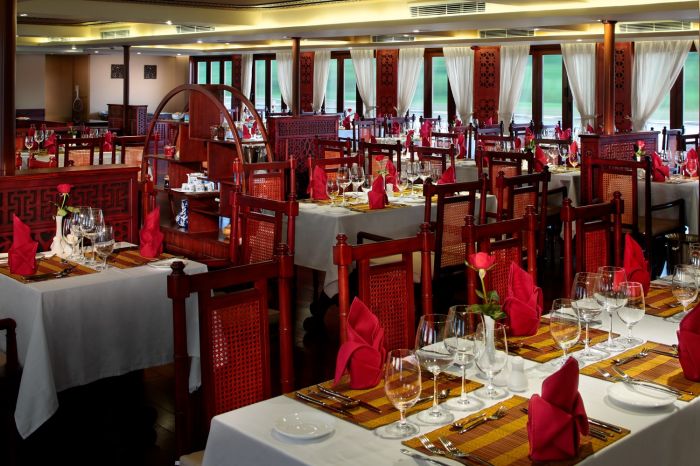 Photo Credit: AmaWaterways
11. Communal dining
The aspect of cruising that most embodies travel habits of yore is the dining experience. Because of set meal times and the small number of guests, meals end up being a convivial, communal experience where you end up meeting new people and making new friends every time you sit down to eat. Thanks to AmaWaterways' focus on its food and beverage programs, meals end up being so much more than just a social hour.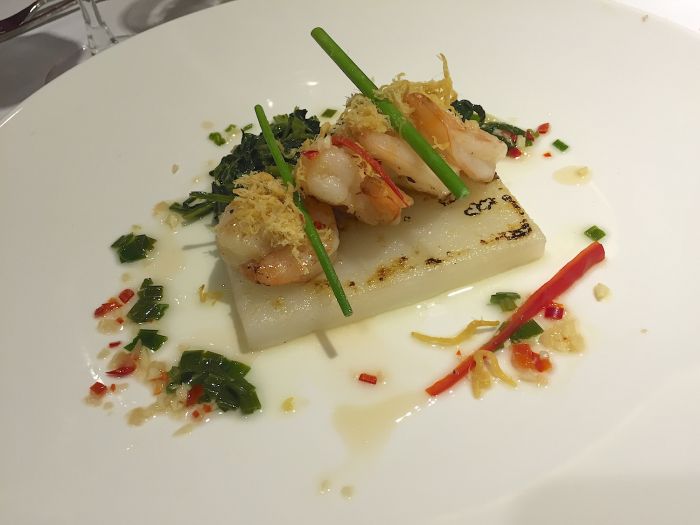 Photo Credit: Eric Rosen
Instead, guests aboard the company's Mekong cruises are treated to an appetizing assortment of Western and Asian dishes that changes each day. For dinner one night, you might have the pork ribs slow-braised in coconut milk with steamed rice and pickled vegetables; while the next, it could be crispy cobia fillet with tamarind sauce, red spinach, crispy carrot and coconut rice. For dessert at lunch, you might try the rich Vietnamese coffee crème caramel with dragon fruit, but save room at dinner for the homemade apple tarte tatin, or a selection of ice cream garnished with jackfruit and rambutan.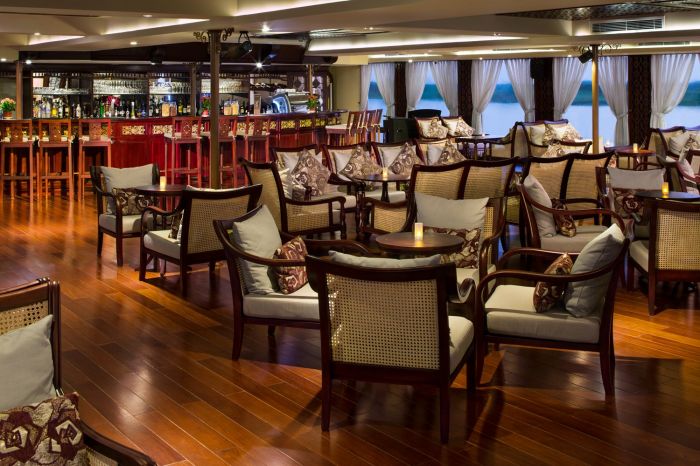 Photo Credit: AmaWaterways
While virtually all meals are served in the dining room (you can order lunch up at the pool deck, too!), the ship's signature dining experience is the Chef's Table, which each guest gets to attend once during the cruise. Here, a special kitchen team assembles a set dinner menu of specialties each day that might begin with sautéed scallops in a sweet wine emulsion with banana flowers or tea-smoked duck with watermelon, feta, Asian greens and cashews in a sweet vinaigrette. The main might be roasted barramundi or aged sirloin with garlic-roasted mashed potatoes before a dessert of white chocolate fondant with dark chocolate mousse and cherry cotton candy à la mode.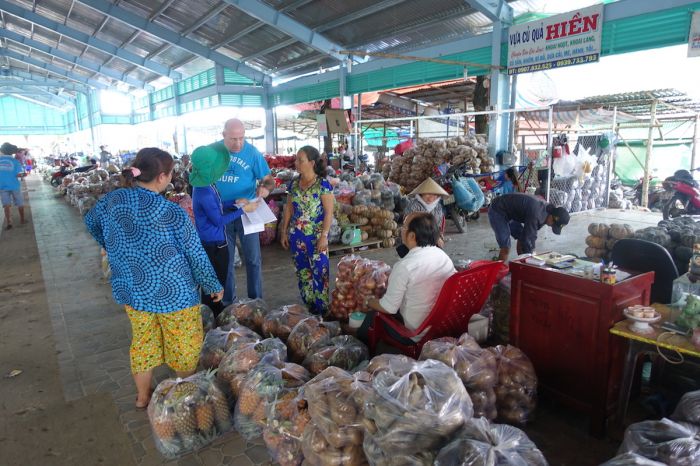 Photo Credit: Eric Rosen
12. Language lessons
The final, and most pervasive, highlight of the cruise had to be the service culture and warmth of the crew, nearly all of whom came from either Cambodia or Vietnam. Not only were they thrilled to teach passengers common phrases such as hello, how are you, goodbye, thank you and even clang-na, which apparently means "super fantastic" in Cambodian, but they were also enthusiastic about explaining local foods, customs, culture and music. In essence, each one was an ambassador for the area and their genuine and forthright hospitality put a personalized touch on every experience onboard. No wonder, the crew refer to their guests as the "Ama family." They certainly feel like family by the end of a weeklong cruise on the Mekong.