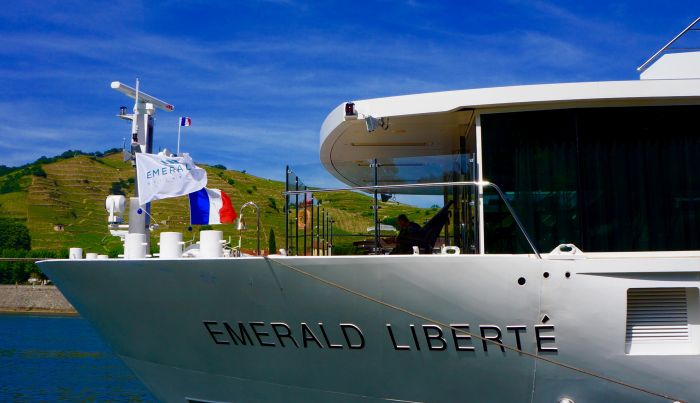 Photo Credit: Susan Kime
As usual on a great river cruise, it takes about a day for the jet lag to wear off. And then, we awaken to where we are. In this case, it was in the Burgundy region of France, on the Rhône. Our cruise ship was a new Emerald Waterways vessel, Liberté, launched in April of 2017, built for easier navigation on the smaller Rhône and the Saone rivers. And here we were, in Arles, on the Rhone.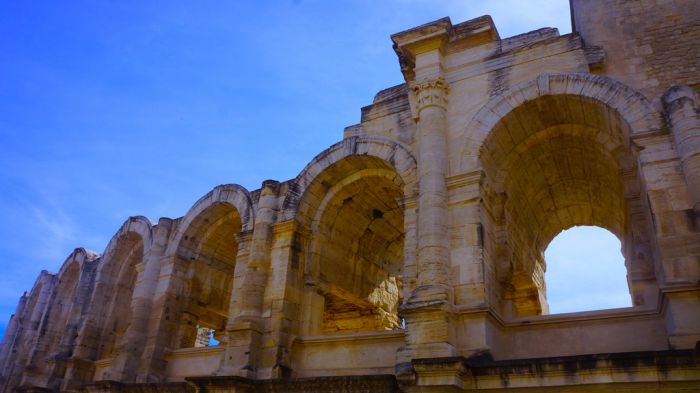 Photo Credit: Susan Kime
There are few towns that combine significant Roman architectural history with art history, but Arles certainly does. It was a walled Roman city, a metropolis actually, where the Roman amphitheater, called Les Arènes, is still located and well-preserved, even though the amphitheater was built in 46 BC. It seated over 20,000, had three tiers, and was used for gladiator battles. Seneca, the great Roman historian wrote about it. Today, it is venue for bullfighting, operas and rock concerts.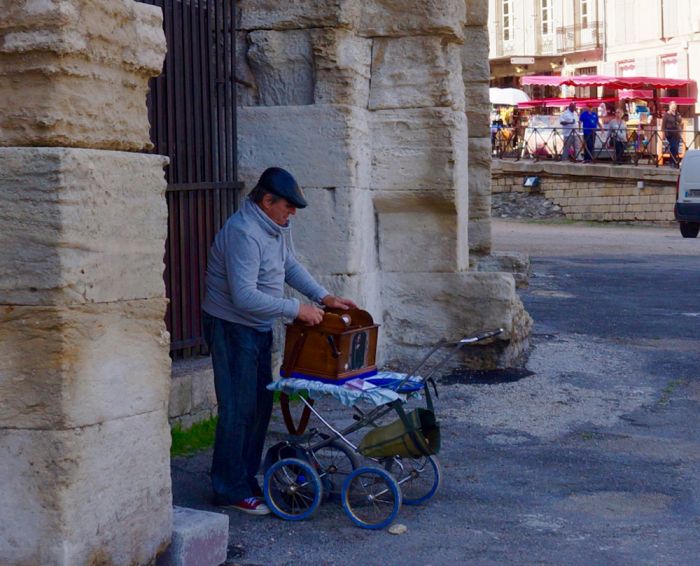 Photo Credit: Susan Kime
Walking on these ancient Senecan paths, touching the stones, and remembering Seneca, lost in thought, suddenly we heard Edith Piaf's plaintive song, La Vie En Rose, sung by a street musician, who played a small hand organ. It was an unusual sense, this disparate combo of ancient and familiar, yet together creating a memorable, Arlesienne balance.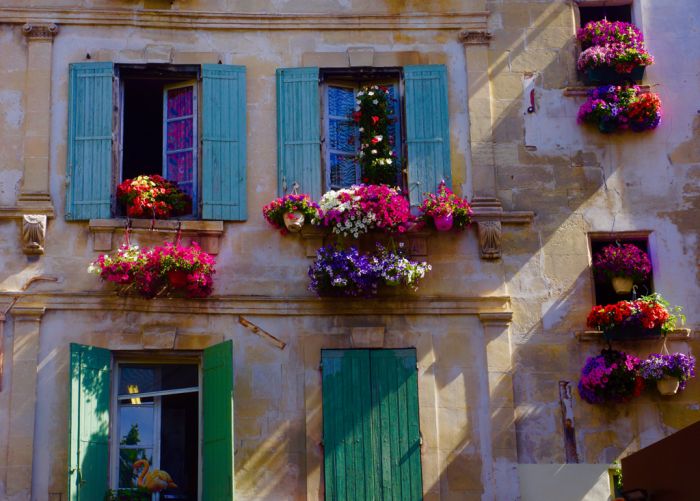 Photo Credit: Susan Kime
But that was just the first sensory surprise. Just as culturally significant, and perhaps more meaningful to many, is Arles' relationship with Vincent Van Gogh, who spent his last years in Arles, and produced hundreds of his most famous paintings, including his Sunflowers and Starry Night. The town, according to our guide, has really not changed too much since 1889, so it was again exhilarating to know we walked the same streets he did, especially down to narrow street to the Hôtel-Dieu, the sanitarium where he stayed during his most manic, dark times, often painting Arlesienne subjects through his perceptual chaos of color.
(A word about the meaning of the word hôtel in French. The word is derived from the same origin as hospital: a safe place where ill and troubled visitors were accepted, and where doctors provided pastoral and medical care.)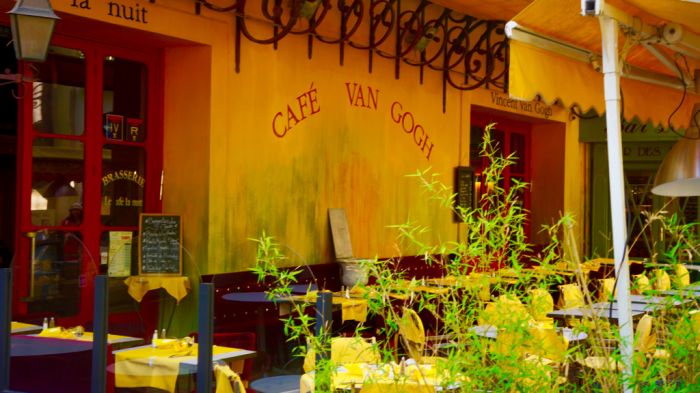 Photo Credit: Susan Kime
The Hôtel-Dieu accepted Vincent, who continued to paint the diffuse colors of Arles. We saw them, too: in the flowers, Madagascar jasmine, honeysuckle, red hibiscus; in the yellow and blue buildings, in the homes with profuse flowers hanging from the windows in decorative, colorful counterpoint. And, we walked the garden that Vincent painted—also, not much different from what he painted in 1888. It was in the garden where he wrote to his friend, Emile Bernard, "I exaggerate, I sometimes make changes to the subject, but still I don't invent the whole of the painting; on the contrary, I find it ready-made—but to be untangled— in the real world."
Photo Credit: Susan Kime
Walking in the Hôtel-Dieu garden, we sensed that troubled spirits like Vincent's could re-gain some sort of temporary balance—as they worked at disentangling the chaotic colors of the garden and the world outside.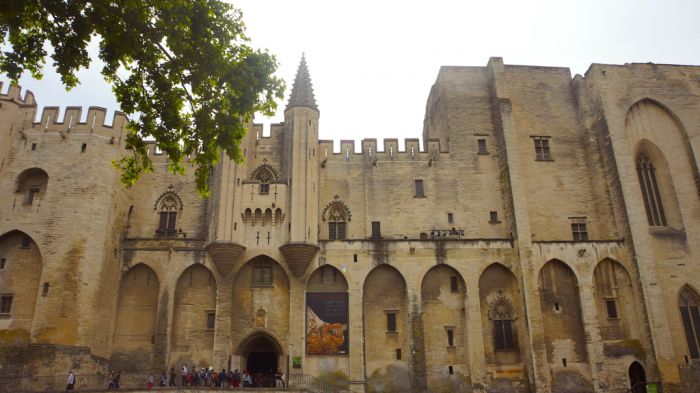 Photo Credit: Susan Kime
Avignon
The scent of the street jasmine lingered as we again boarded the Emerald Liberté, traveling to Avignon, City of Popes. If we were not overwhelmed by the sense of the artistic coloration in Arles, we were truly overwhelmed by the strength of the faith-held architectural dominance, symbolized by the Papal Palace in Avignon.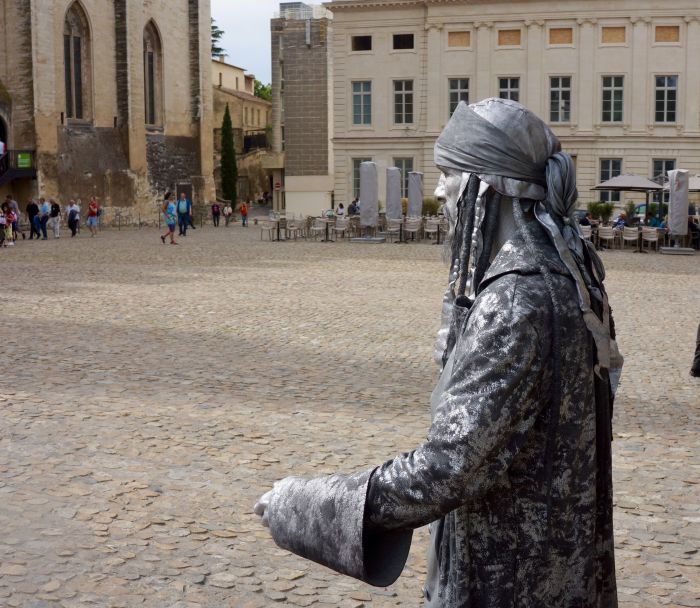 Photo Credit: Susan Kime
To see the Papal Palace is to see the power of the Papacy during the Middle Ages. This palace was the most important monument in Christendom during the 14th century and is the largest building of the Gothic period in Europe. In 1309, Pope Clement V (1305-14), moved the papal court from Rome to Avignon, and it remained there for the next 67 years.
From a distance, the Palace appears to be a giant castle; stones stained by time. Visitors can tour the interior to see the vast rooms. But again, as we made connections with these medieval architectural visions, the human scale (like the organ grinder outside the Arles amphitheatre) intruded. Here he was, right in front of the Palace: a silver coated and painted mime who looked like a Pirates of the Caribbean statue. Tourists put money in his hat and he would move. The Mime's mostly stationery presence seemed to gently confront the sweep of religious and Medieval history, bringing all who saw him, back into the 21st century. Or the 19th.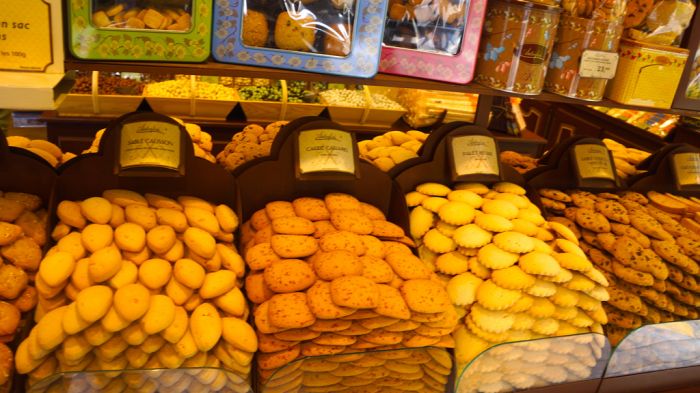 Photo Credit: Susan Kime
After spending the day in Avignon, eating cookies at Autrefois, a great patisserie, we returned to the Emerald Liberté, and were surprised by a unique culinary experience: a Top Chef finalist in 2013, Fabien Morreale, was aboard, creating a special dinner for us.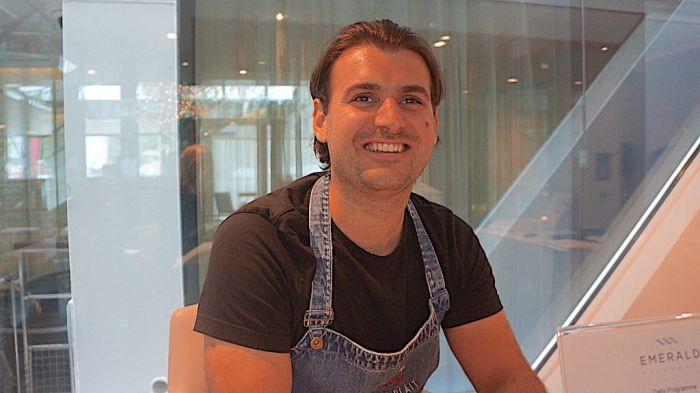 Photo Credit: Susan Kime
We came to know he was from Martigues, a coastal area southeast of Avignon. He spoke some English, and was passionately interested in creating new taste designs, all from farm to table.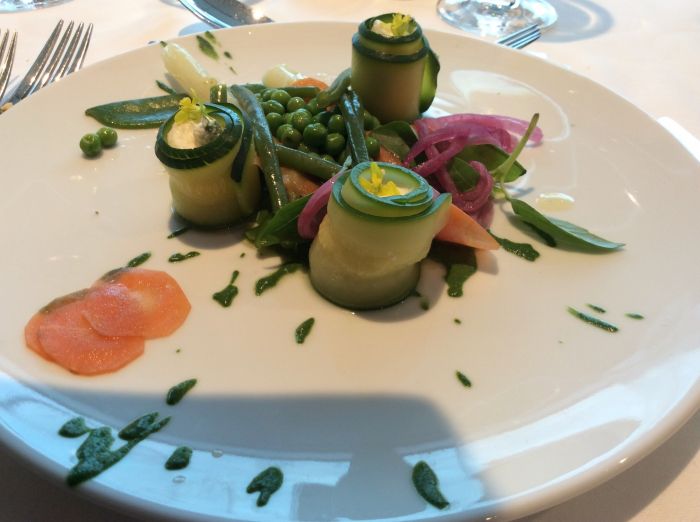 Photo Credit: Susan Kime
His dinner was exceptional, simple, fresh and well-designed: cold, green vegetables from the region, Sisteron Lamb, a specialty of Provence, confit with lemon, and for dessert, a fresh Strawberry tart, with a choice of Petit Bourgeois, 2016 (white) or Fleurie, 2015, a red Beaujolais. Like all our Emerald Liberté dining experiences thus far, the Fabien meal was simple, sensual, memorable.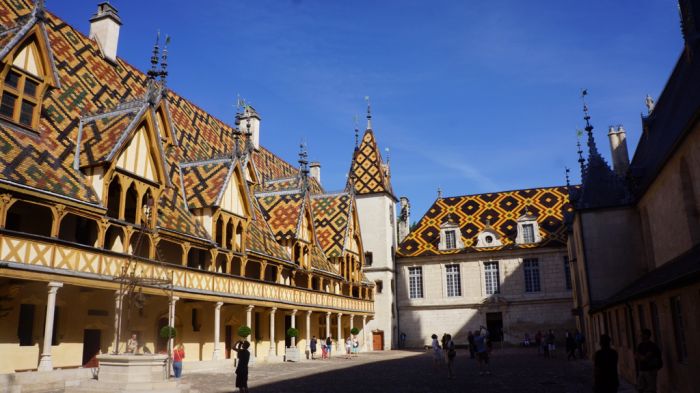 Photo Credit: Susan Kime
Beaune
Having been to Beaune before, we knew it was renowned for two very diverse things that ultimately combined to make Beaune as famous as it is. First, Beaune is known for its great wine, as the town lies in the heart of Burgundy's most famous vineyards: Pommard, Corton-Charlemagne, Romanée-Conti, Meursault, Santenay and Savigny-les-Beaune. And second is yet another Hôtel-Dieu, similar to the one in Arles, as both were places where the poor, infirm and mentally ill came for attention.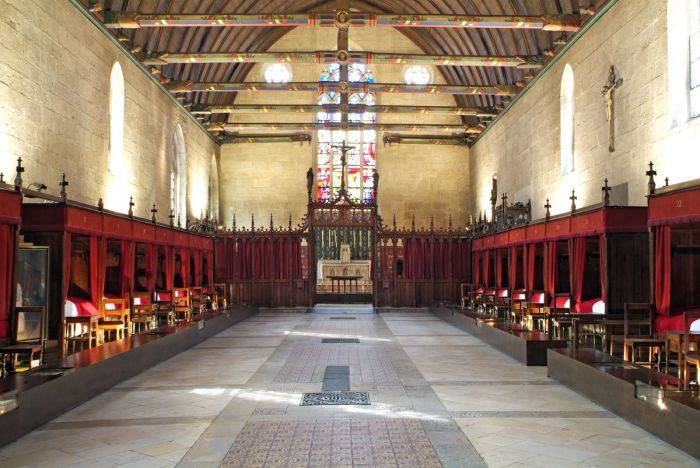 Photo Credit: Susan Kime
However, the Hôtel-Dieu in Beaune was, for centuries, also called The Palace For The Poor, because of its quality of beds, food, and medical services. It was opened in 1443, and remained as an active hospital until the mid 1970's.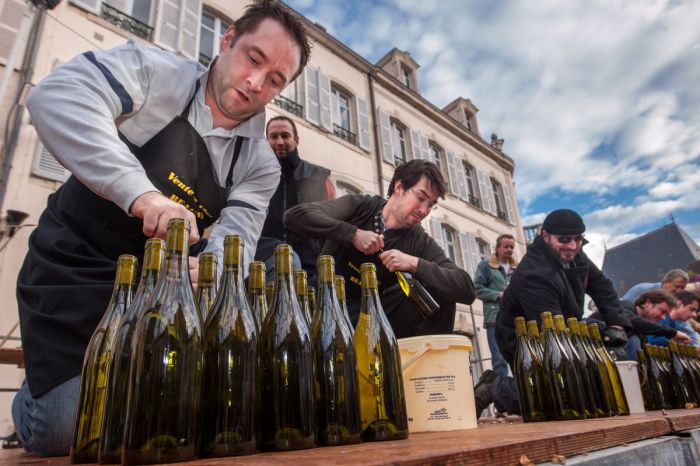 Photo Credit: Beaune-Tourism/Wine Auction 2016
Both renowned dimensions of Beaune combine each year for the famous Hospices Du Beaune Wine Auction, with Christie's auctioning the best Burgundies of the area, to benefit the philanthropic work of Beaune's modern hospitals, retirement homes, as well as the upkeep and maintenance of the Hôtel-Dieu; its history and viticulture.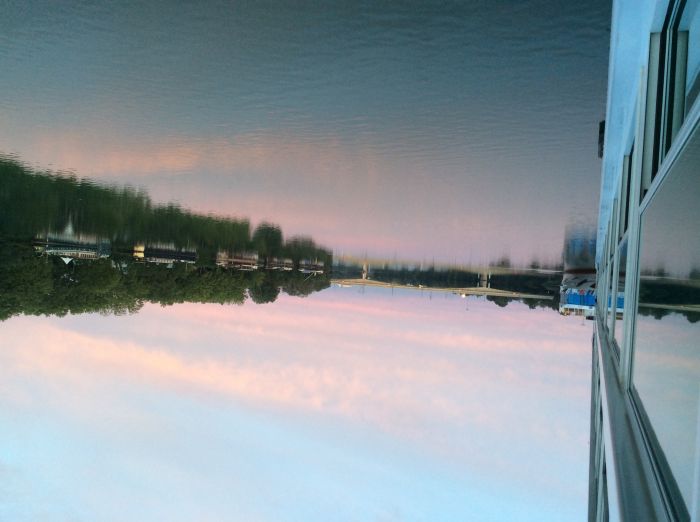 Photo Credit: Susan Kime
These destinations were only a few of the many we enjoyed on this sensory journey. On the last evening of our cruise, our Captain spoke of some interesting statistics: we had been gone for nine days, and had used 32 tons of water and had consumed 300 plus bottles of wine. Yet, we could not imagine, nor could we calculate, the amount of great education we consumed, the amount of enjoyment we received, and the number of memories we accrued. Those amounts were inside each of us, all living, all accessible, all priceless.