Photos Credit: Stellenbosch Wine Routes
South Africa's most populous city has been steadily growing its reputation as a cultural capitol over the last decade or so. The winning combination of winemaking, art and natural beauty often puts Cape Town at the top of avid travelers' must-visit lists. Stellenbosch, located 45 minutes outside of the city, is the area's most posh postcode. The small town has attracted artists and musicians for decades, and is home to South Africa's oldest music conservatory. While you're wandering through the oak tree-lined streets, you may encounter a number of galleries and permanent sculptures that put the arts scene on full display for tourists. For an experience that's a bit more off-the-beaten-path, consider an artsy escape to some of the region's finest wineries.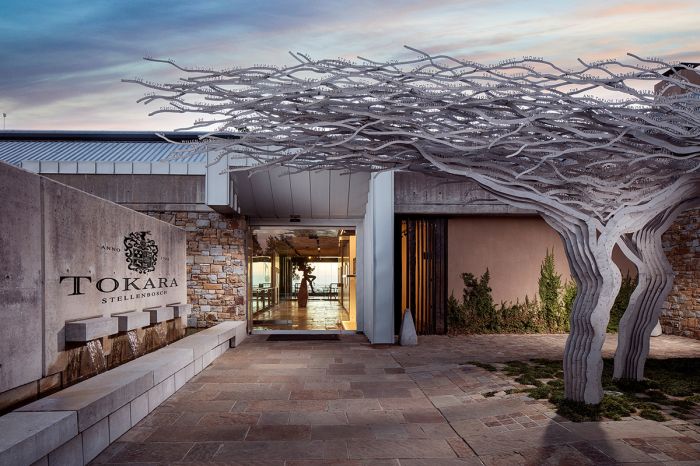 Once visitors leave the center of Stellenbosch, they are treated to more than 150 vineyards that stretch across miles of lush farmland. Among them sits Tokara, a modern estate that is home to a collection of works produced by local artists. The destination is picture-perfect—expect spectacular, sweeping views of False Bay and Table Mountain. Each year, Tokara holds a Wine Made Art event, where they introduce new vintages and invite artisans from across the region to create art using the year's selected red wine.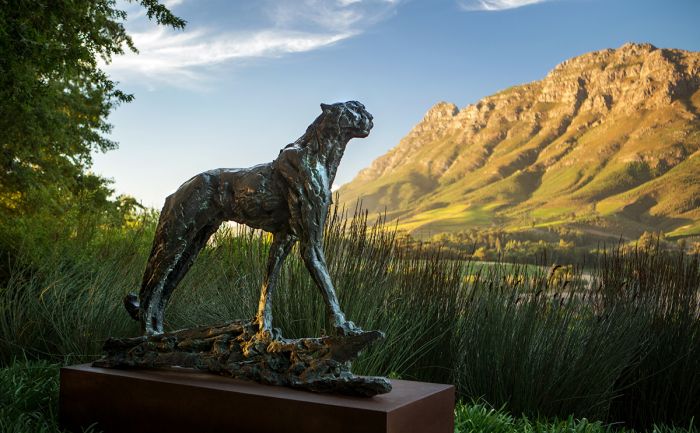 One of the world's most interesting contemporary art destinations also resides in Stellenbosch at the Delaire Graff estate. The grounds themselves are a work of art, with breathtaking floral gardens and towering sculptures commanding much of the landscape. Laurence Graff, the head of the estate, is a lifelong collector and lover of art that carefully curates his collection of pieces from up-and-coming South African artists. Dylan Lewis, one of Africa's preeminent wildlife sculpturists, features several life-sized cheetah statues that appear to prowl elegantly throughout the estate.
For those seeking a dose of high art, the Zeitz MOCAA is opening its doors in September 2017. The museum is Africa's first major museum dedicated to contemporary art, establishing an even stronger arts presence in the region. On the last Thursday of every month, visitors and locals alike are welcome to join in the #artystellenbosch event, which takes art-lovers on a free gallery-hopping event complete with a glass of local wine.