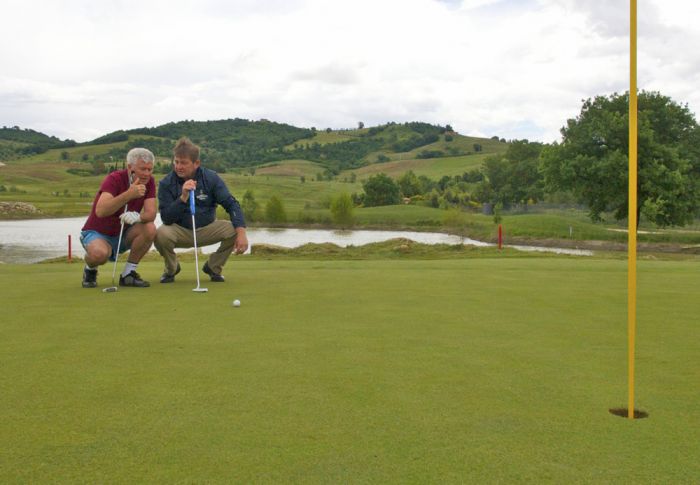 Photo Credit: Columbia Hillen
Gourmet cuisine and golf make a perfect match, as ace luxury resorts have clearly demonstrated. Here are a few properties throughout Europe to help you score a hole-in-one.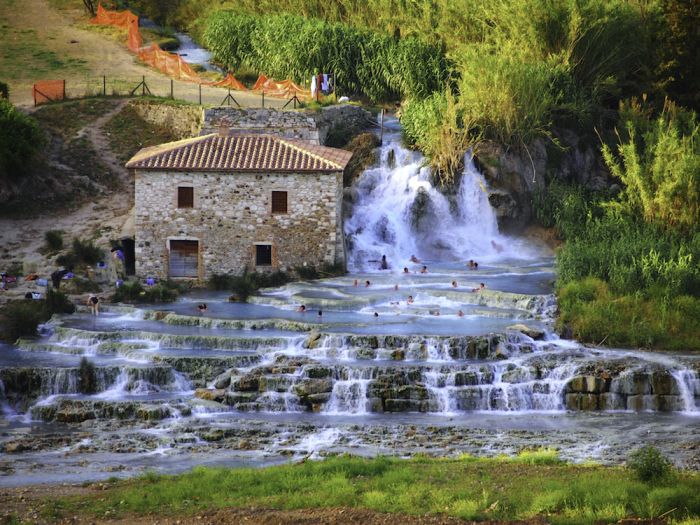 Photo Credit: Columbia Hillen
Italy
The first glimpse of Terme di Saturnia Spa & Golf Resort in southwest Tuscany is a large speckled building near a splashing waterfall with people sitting contentedly in the midst of the foam. Welcome to the thermal baths of the Maremma region. Since ancient times, this area among the Grosseto hills has been home to numerous underground, sulfurous hot springs, lauded for their health-giving qualities. While a highlight of this five-star hotel, a member of The Leading Hotels of the World, is its much-heralded healing waters, it is also a very attractive golfing destination.
A long, winding road skirts the hotel's eco-friendly, Bermuda grass course. Set over 173 undulating acres, this 6,907-yard championship course emanates colors, ranging from yellow to ochre, from orange to burgundy. Lakes, brooks, large bunkers carved into the fairways and the wide, expansive greens challenge intelligence and precision in choosing the right club. Deer, porcupines, hares, tortoise, pheasants, wild boars, various local species of dove and countless other Maremman birds are visible in the early hours of the morning. For integrating this landscape into the design of the golf course, Terme di Saturnia Golf Club was awarded the Green Commitment—Scenery Category Environmental Award by the Italian Golf Federation.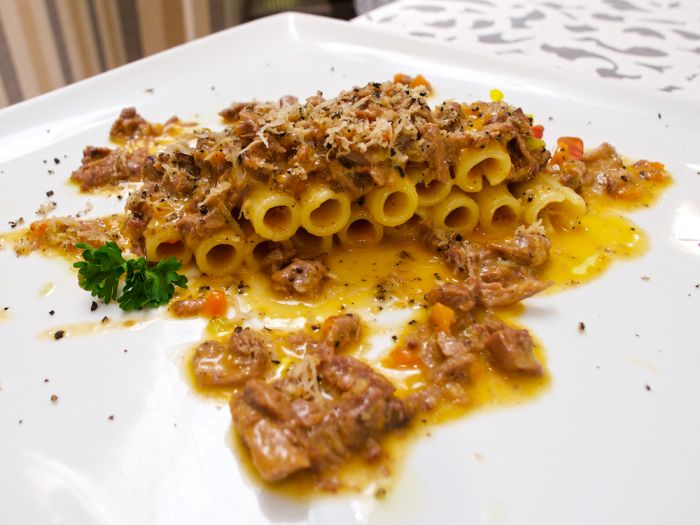 Photo Credit: Columbia Hillen
Hungry after a challenging round? No better place to stop than the hotel's Michelin-star All'Acquacotta restaurant, with food prepared under the guidance of Executive Chef Giuseppe Zibetti. Here, even the bread reflects diverse cuisine with notes of saffron, chamomile, unsalted, Tuscany-style red onion, and focaccia with tomato and oregano. Their specialty ingredient, La Maliosa, is a zesty olive oil named after the hotel owner's daughter, from the family estate of the property's owners, the Manuli family.
Two excellent starters are carpaccio of veal overlaid with light yogurt and tuna cream; and a trio of foie gras, one with tiramisu and another as a hazelnut and pineapple lollipop. Highlights among the second plates are rigatoni with goose ragout and black truffle sauce—a delightful example of authentic Italian meat sauce with added umami from truffles. Mains include seared deer terrine, a crumbly meat-loaf nestling on bread, with black cabbage and potatoes, cream of leek, crispy polenta and raspberry sauce, a gourmet version of traditional Tuscan dish, crostini. Inspired by merenda, a midday snack of prosciutto, pecorino cheese and pears served with a glass of wine, the chef has created a dessert called Taste of Maremma, a tube of spiced Morellino wine jelly filled with pear and sheep's milk ice-cream. After-dinner drinks reflect characteristic flair—delectable chocolate bonbons filled with Sambuca, grappa and rum, handmade near Puglia.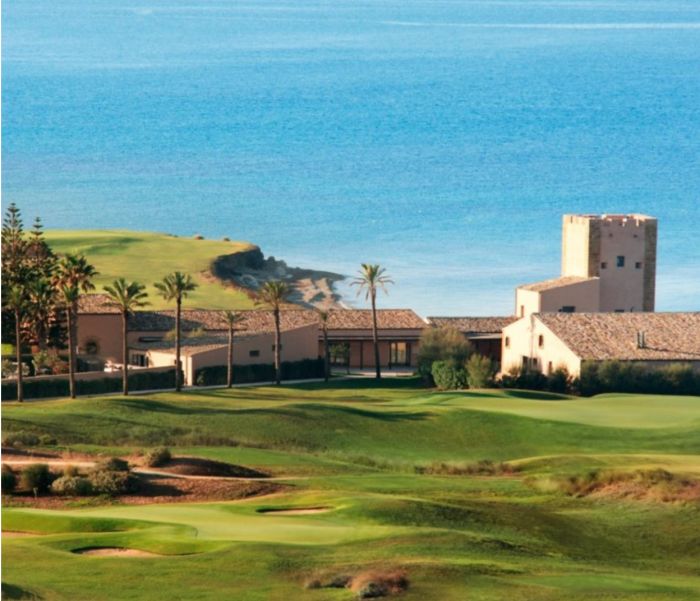 Photo Credit: Rocco Forte Verdura Golf Resort
Overlooking a sweeping stretch of the Ionian Sea, golfers are in high heaven at Rocco Forte Verdura Golf Resort & Spa. Encompassing 568 acres of gently undulating land in southwest Sicily, the golf course is one of many leisure activities guests are offered.
Costing around €140 million (approx. $167.5 million USD), the property is the brainchild of hospitality entrepreneur, Sir Rocco Forte. Diverse golf facilities cater to all skill levels and include an 80-yard-wide driving range, two 18-hole courses designed by California-based Kyle Phillips—East (7,221 yards) and West (7,474 yards)—and a 9-hole course (1,056 yards), all meandering around orange and olive groves, and a mélange of indigenous flora.
Tee times are arranged at 12-minute intervals to ensure free-flowing play and the clubhouse is built around a small piazza. The club has signed up to the Italian Golf Federation's initiative of advanced tees even during competitions, ensuring the appropriate level for all players. The Rocco Forte Open, formerly known as the Sicilian Open, part of the PGA European Tour, was played here this year.
Lessons are an integral part of the club's vitality, and one-on-one lessons or group clinics with Niall Cameron, a friendly Scotsman, and his PGA qualified staff, are available. A former European circuit player with wide-ranging international knowledge of the game, Cameron is a natural born seanchai (storyteller) who doles out golf tips with fascinating anecdotes that help one reduce that obstinate handicap.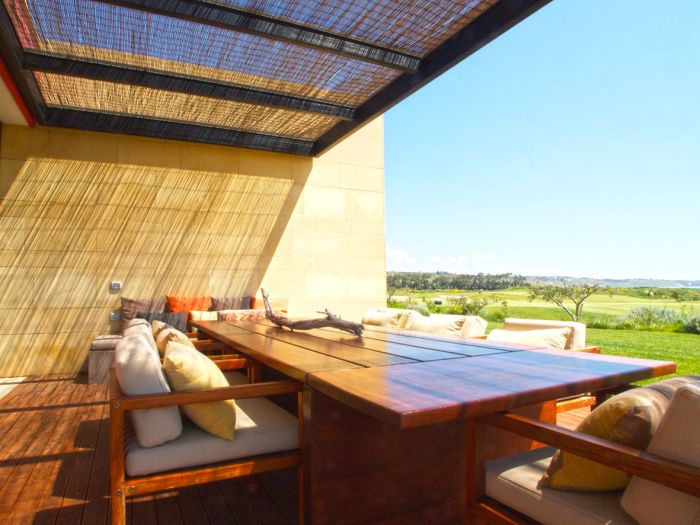 Photo Credit: Columbia Hillen
Resort guests have five restaurants to choose from: Zagara, with a distinctly Mediterranean menu; Amare, a beach-side seafood restaurant; Liola, offering traditional Sicilian cuisine; Buon Giorno, serving breakfast; and Granita, a casual dining and cocktail venue (the Sicilian mojito, Kalos and Coppola are well worth trying).
Buffet breakfast at Verdura's is one of the most varied I've ever sampled, with 40 to 50 different menu items to select from, including a large range of local cheeses, cold cuts and smoked local fish. There was even artichoke paste, an item one doesn't often see at a breakfast buffet. This wide variety of cuisine styles, under the guidance of Executive Chef Paolo Platini, means guests can enjoy dishes ranging from crisp cutlet Milanesa and grilled cuttlefish (sepia) at Granita, to the flavorsome traditional pasta con le sarde, sea-bass baked in salt and Sicilian cassata dessert at Liola, and the flamboyant, flower-decorated walls of Zagara. The property also offers special golf and gastronomy packages.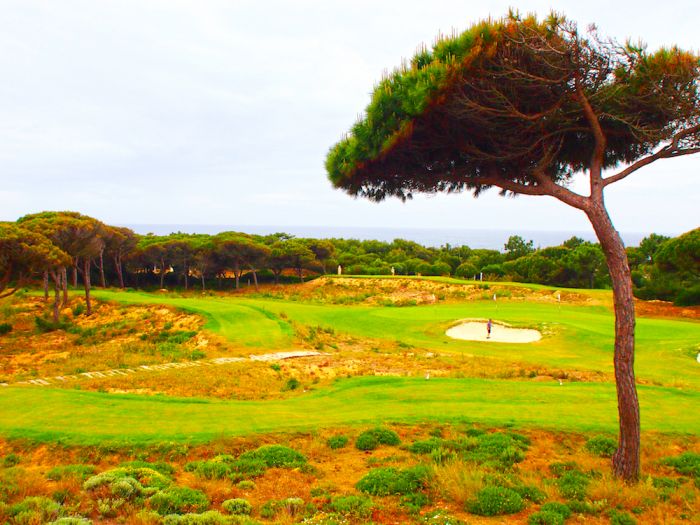 Photo Credit: Columbia Hillen
Portugal
I hereby award The Oitavos outside Lisbon with a gold star for having the widest corridors I have ever seen, with easily enough space to drive a car through. In fact, at auto promotion events, that's exactly what happens, with organizers making full use of the hotel's extensive ground-floor open plan. Set on a 168-acre estate on Portugal's Atlantic coast, within the Sintra Cascais National Park, this Y-shaped, 142-room property designed by architect and decorator, José Anahory, sits right on the scenic Estoril shoreline.
One highlight of this five-star hotel is its Arthur Hills championship golf course, Oitavos Dunes, which encompasses both umbrella pine forest and sand dunes with magnificent views of the Sintra Mountains, the ocean and the westernmost point of Continental Europe—Cabo da Roca. "The course design is much like those found in the British Isles," said Hills, describing the par-71, classic Nine Out, Nine Back layout. "It has an open links appearance and turf characteristic. Every hole is influenced by winds from the Atlantic."
Fancy staying in the middle of a golf course? Truly addicted golfers can literally 'tea-off' after breakfast from outside their own front door in the Oitavos' 1,076-square-foot villa, the Forte, complete with private swimming pool, sundeck and personal butler service.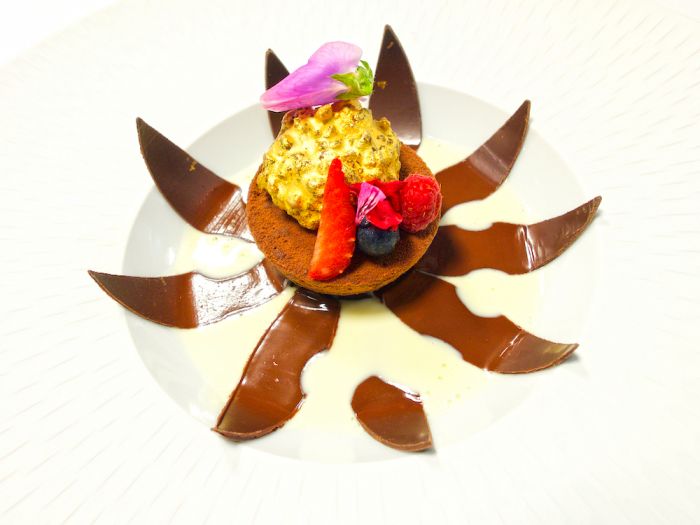 Photo Credit: Columbia Hillen
A not-to-be-missed experience here is dinner at the Chef's Table inside the spacious kitchen. A starter of black eyed bean salad with dried tuna and a sprinkling of red pepper and red onion served as a prelude of greater things to come. A second starter of sweetbreads and crawfish in a tarragon and Muscatel sauce illustrated how almost anything can be combined in culinary fashion if skill is plentiful. The scallops were soft and mellow, lightly kissed on a hot pan flavored with butter, garlic, coriander, mustard and lemon confit. Then the finale—a 40-day matured Portuguese Black Angus steak accompanied by an aromatic Douro red wine from Vila Regia, which hails from the northern vineyards of the hotel owners, the Champalimaud family. Dinner ended with a dark chocolate dessert that literary opened its petals before our very eyes when the pastry chef delicately dripped sweet, creamy sauce over it.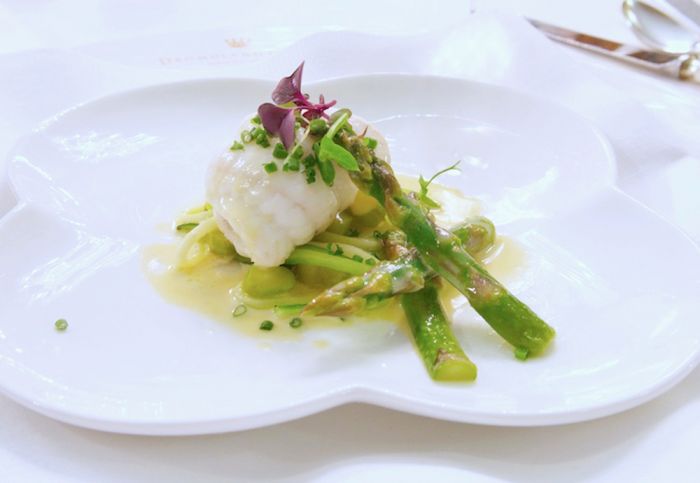 Photo Credit: Columbia Hillen
The hotel's award-winning Earl of Thomond restaurant is elaborately decorated with oak wainscoting and offers an elegant dining experience. With the owners celebrating its half-century anniversary as a hotel, we enjoyed a special Nostalgic Tasting Menu. Paired with French and Australian wines, the eight-course dinner was a culinary odyssey through some classic dishes such as prawn cocktail served with foie gras pâté and smoked salmon Mimosa; Tournedos Rossini with truffle sauce in place of the traditional Madeira sauce; and fillet of sole Princess with poached sole rather than the pan-fried version. In addition to tasting menus, there is also a diverse à la carte offer.
Alternatively, there is The Fig Tree Restaurant in the golf club which features beamed ceiling and subtle lighting, with a rich claret wallpaper etched with finely drawn images of architects' compasses and rulers in soft charcoal. The menu changes daily, but a sample includes duo of salmon and hake with wilted greens, mashed potatoes and chive cream; and chicken breast stuffed with leek and potato, wrapped in bacon, with tarragon sauce. Alternative dining at Dromoland Castle includes pub grub at Shannigans Gastro Bar or picnics on the estate.